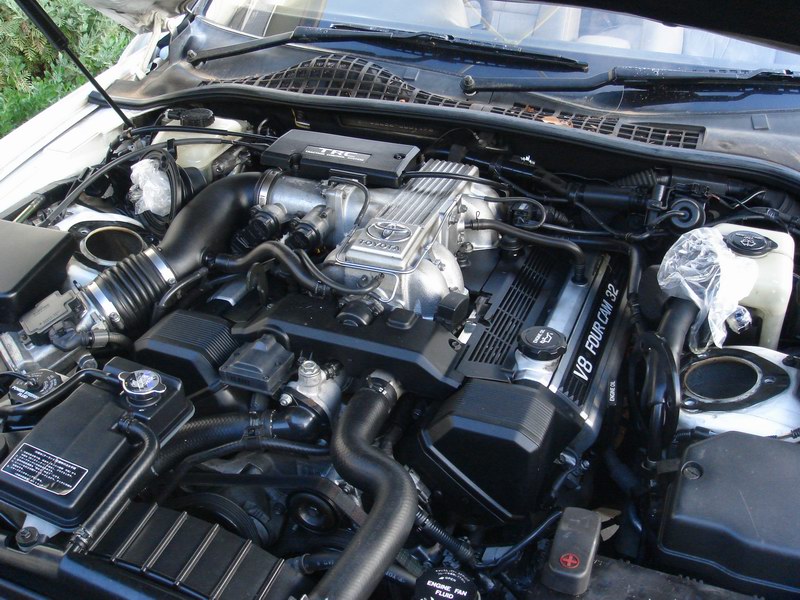 The engine bay - like many cars - balancing a 50c coin on the engine, then starting it and revving the car to 4500 rpm doesn't make the coin fall over. The plastic bags are to help prevent dirt entering the hydraulic lines while the struts are getting serviced.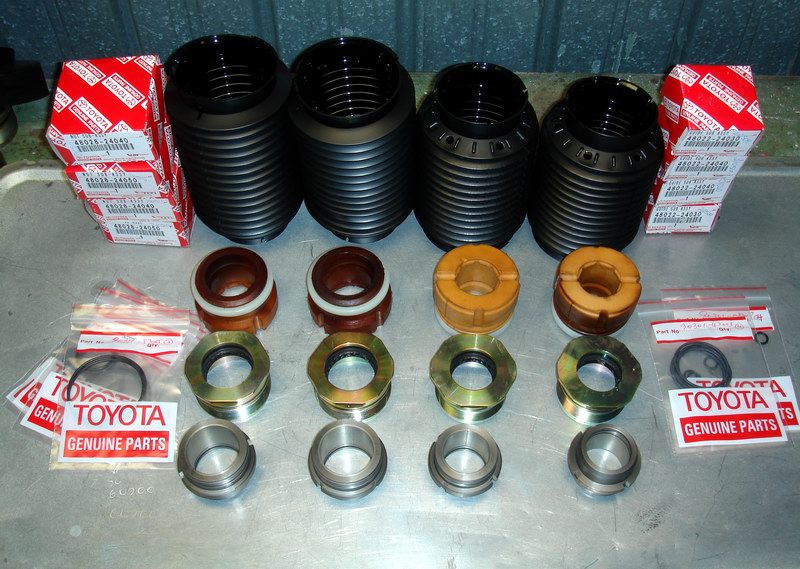 Brand new Toyota parts for a strut rebuild. Unlike airbag struts from a UZZ31 which are throw away items when worn, UZZ32 oil hydraulic struts can be rebuilt. Brand new boots, bump stops, seals and guides from the rebuild kit available from Castle Hill Toyota - I always ask for James Sloane and he posts the parts to me pronto. I love the look of the new boots - so shiny on the inside and soft on the outside - pity we never get to see them. The prototype nitrogen accumulator has been finished and is looking strong - more on those later.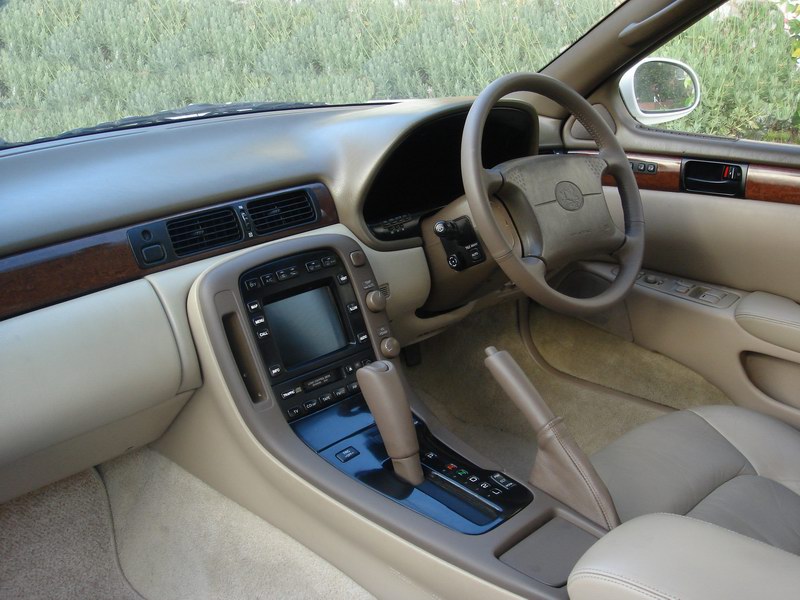 The wheel, shifter, handbrake grip and handbrake cover have been recovered in new leather. Really gives the car a lift having all four bits recovered. New leather looks great and feels terrific.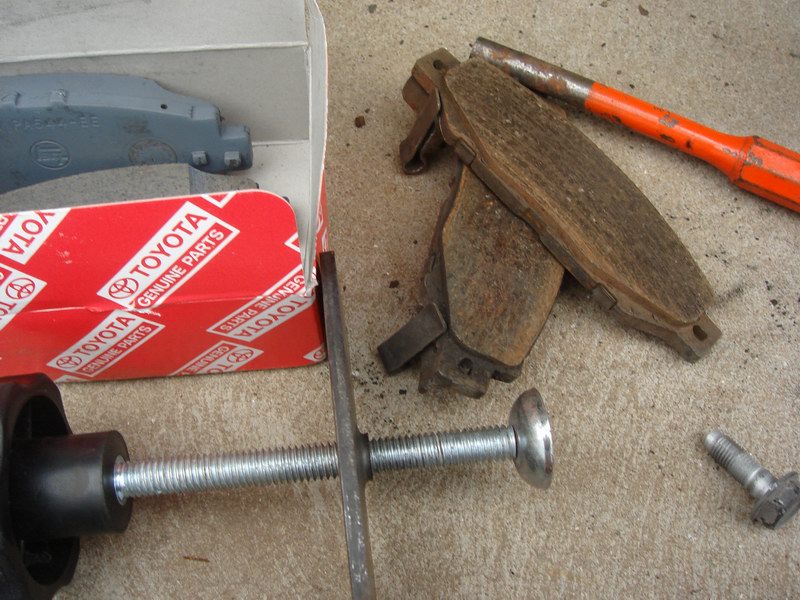 Rear pads were getting a bit thin so I replaced them with new Toyota pads. One of the sliders was a bit stiff so out they both came for a clean and fresh grease. The TRC master cylinder and lines have been flushed with new brake fluid.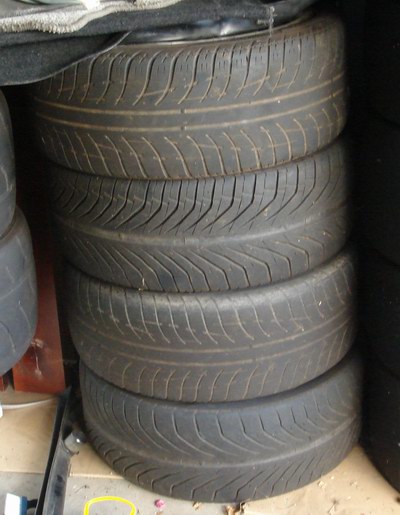 Tyres are worn.
February 2006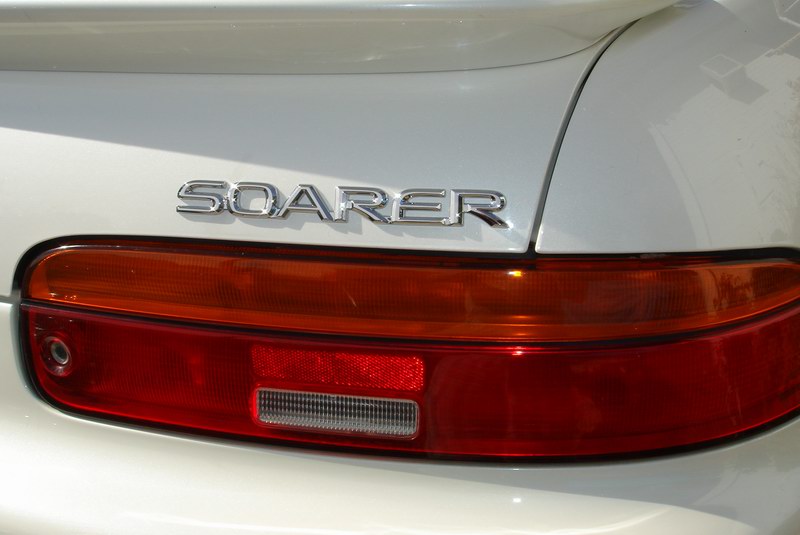 This wasn't a very well planned project. My Father in law saw the UZZ32 ad and I made the call. David, an American Real Estate agent, answered and told me the story. David knew all about the Lexus SC400 as he used to have one back in the USA. Now in Australia he wanted an Active V8 with the advanced hydraulic suspension rather than airbags or springs. He had spent a wad of cash on the car. When the dash started blinking he didn't get it fixed, he bought a new dash for example. That was 26 000 km ago so that is what is showing on the odometer. David reckoned the car was on 50 000 km when the dash went Blinky putting it now around the 76 000 km mark in total - but there was no history with the car. But I was too late! The Commonwealth Bank Finance unit had re-possessed the car and it was no longer David's.
Finally the car came up at Auction. I was really only browsing I told myself. During the auction it was apparent that some young guys were keen on the car. Would my gold credit car fend off the resourcefulness of youth? It was a close run thing but in the end she was mine. I guess the appeal for me was having something Active to do again. I had sort of nearly done everything to my own Active and wanted some new Active blood to get my interest. I have a soft spot for Actives. I probably wouldn't have been moved if it wasn't an Active.
The car was delivered the next day. Bone stock as a rock Active UZZ32 with 18 inch rims. The paint is very good.
I gave the transmission a 12 litre Type-IV flush. New engine oil and filter too. The motor is a gem. Smooth and quiet with no tapping noise. 50 cent piece will balance on it's edge while motor is running and wont slide off until over 4000 rpm. These are such great motors.
New genuine Toyota air filter.
New serpentine belts. UZZ32 Actives are the only V8's with two belts. The suspension pump gets it's very own belt. I think the two belts are cheaper than the one big belt on other models.
I put a set of bearings through the idlers while the belts were off. It's easy and cheap and gets rid of any future squeaks. The three serpentine belts bearings were (NTN Bearings) 6301LLU/2A 6301LLU/2A 6203LLHC3/L412 - yes two were the same.

For interests sake only the two timing belt bearings (Koyo / NSK Bearings) Idler PU306630RR9H Tensioner 62TB0630B01 EA7L 410 (Koyo Part No. PU286217ARRGH is likely interchangeable with this NSK part)

I bought one of these chrome flying lions for the front - undecided whether to fit it or get a stock badge.
The interior copped a full leather re-trim for the handbrake, shifter and steering wheel. So the driving position is terrific with the bright shiny new dash and new leather. Very nice.
I pulled all the shocks and am re-sealing them.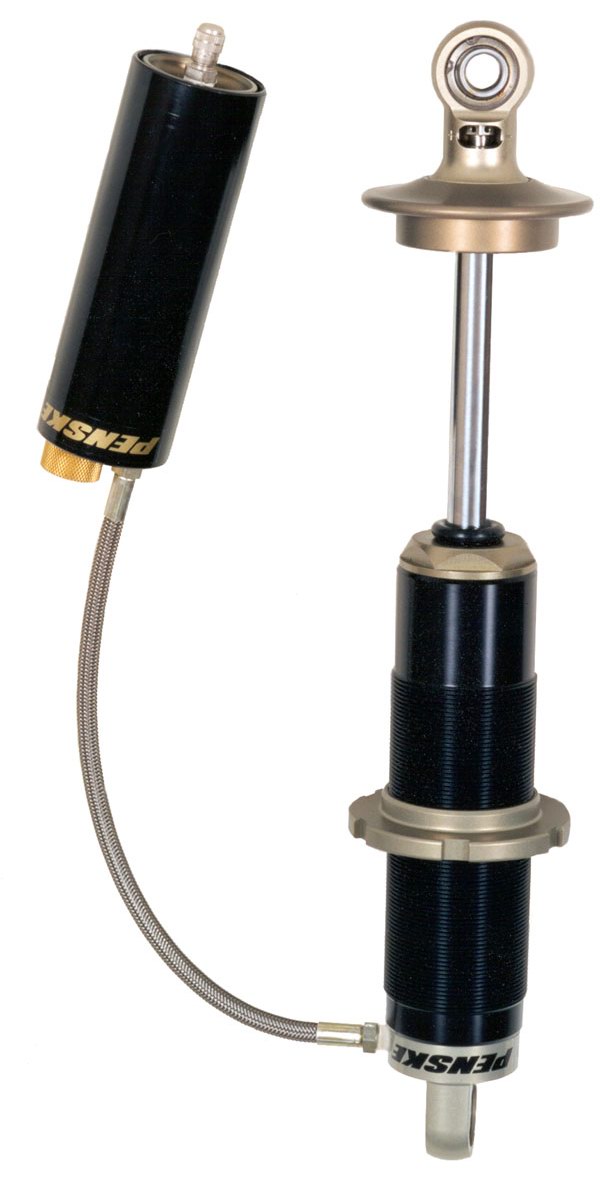 The Active nitrogen accumulators will be getting some Penske remote fill nitrogen fittings. Then the shocks can be checked and re-filled with Nitrogen for years while on the car. No mucking about for this baby.
While the shocks are being re-conditioned I'll put some rear pads in and flush the Brakes and TRC master cylinder. The Active V8 comes stock with the larger Twin Turbo brakes. I was thinking of giving it a BFI but in the end I left it stock. If I was keeping it I would for sure, but who knows what the next owner will want so stock it will remain. In two months time it should be ready for sale. I'll even include a copy of High Performance Imports featuring the Active with quotes like "best handling Soarer"etc so the new owner can impress friends :)
More Active reading:
| | |
| --- | --- |
| | Active Suspension and Active 4 wheel Steer A Toyota technical paper all about the UZZ32 Soarer. Read why it stops quicker, turns sharper and out handles every other Soarer. |
| | Bleeding the UZZ32 hydraulics Changing the old suspension hydraulic fluid for new Toyota fluid for a smoother compliant ride and better handling. A successful suspension test is essential for a good bleed. |
| | Active Suspension Computer Diagnostics Richard Ashcroft has a UZZ32 - after an alarm install the suspension wouldn't work! It was a loose plug! Here's the list of all the pinouts for the computer and range of standard values and problem locations. |
| | Active Suspension Test Detailed instructions on how to make your UZZ32 dance in the driveway - great part trick and terrific for lifting the before an oil change. |
| | UZZ30 Owner drives the Active UZZ32 - Peter Kerwin, a UZZ30 (US spec SC400) owner, looks at both the UZZ30 and UZZ32, features, ride, cornering/handling and loud exhausts. |
| | UZZ32 in a Magazine Martin Donnon was editor of HPI, he drives my UZZ32, order back issues too. Look carefully on the left hand side of the cover and you will see "ACTIVE SOARER" - that's the bit about my car. Back order issue number 31. |
| | UZZ32 Active Shock rebuild - $160 gets you the parts you need - not that complicated. |
UZZ32 4ws rear wheel control arm bushes.

Andrew Vlamos has made a limited number of these bushes for the Active UZZ32 Soarer. We will all need them so get yours now.

UZZ32 Owners List If you are not on the list please email me again. Now with thumbnails of the cars so send me a pic as well. Email list will have bounce updates soon. (you know it's a 32 when it has TRC, blank and Height switches - no TEMS switch).Includes some stats, info and pics, email list and owners list.
Cutting open the UZZ32 Nitrogen Accumulator

Active Soarers have piston accumulators that leak nitrogen and cause the dreaded suspension bounce. Here's one cut open with the faulty o-ring exposed before being re-built.

UZZ32 Active Strut Eye Bushes

Andrew Vlamos has now completed all the bushes to make our fabulous UZZ32 like new. These bushes are easily damaged by leaking oil from the struts.

UZZ32 ACTIVE suspension Error Codes

If you have one of the rare V8's with 4ws and active oil suspension then these Error Codes can help diagnose problems. Thanks to Jeff Harper. It's an Adobe file so you'll need the Adobe reader download.