I've seen many wheels now. A lot of the wheels I see have been painted, attempted and failed re-covering or just plain worn out. Porsche, HSV, BMW, Momo, Holden, Ford and Toyota wheels.
Handbrake cover in leather $65
Handbrake grip recovered in leather $40
Shifter recovered in leather $55
Steering wheel recovered in leather $190
Registered Postage and handling within Australia is $25 for 4 piece pack, $20 less Handbrake, $15 less wheel and $10 less handbrake and wheel.

I suggest some bubble wrap around the items and then insert into a "tough bag" available from the post office. Boxes can be expensive if they get the tape measure out to calculate volume. "Tough Bag" is the way to go.
Please email me at

for more information. Usually takes 3 business days before sending back. I will only send express post to PO boxes or business address (costs more) otherwise it's registered post (more secure that way).
Links for removal instructions and covers:
South Australia is lucky to have Holden Commodores and Mitsubishi Magna's made locally. There is a lot of expertise in the State. Planetsoarer can now offer Original Equipment Manufacturer (OEM) quality leather re-trim of Soarer and Celsior steering wheels (or any car wheel) for $190 + postage and handling. The quality is exceptional - made by the same guy who trims the leather wheels for the factory cars. He does the leather wheels on Commodores, on Magnas and now he's doing Soarers and Celsiors! He doesn't do roof linings, he doesn't do seats, he is a wheel and gear shifter specialist.
Check out these pics: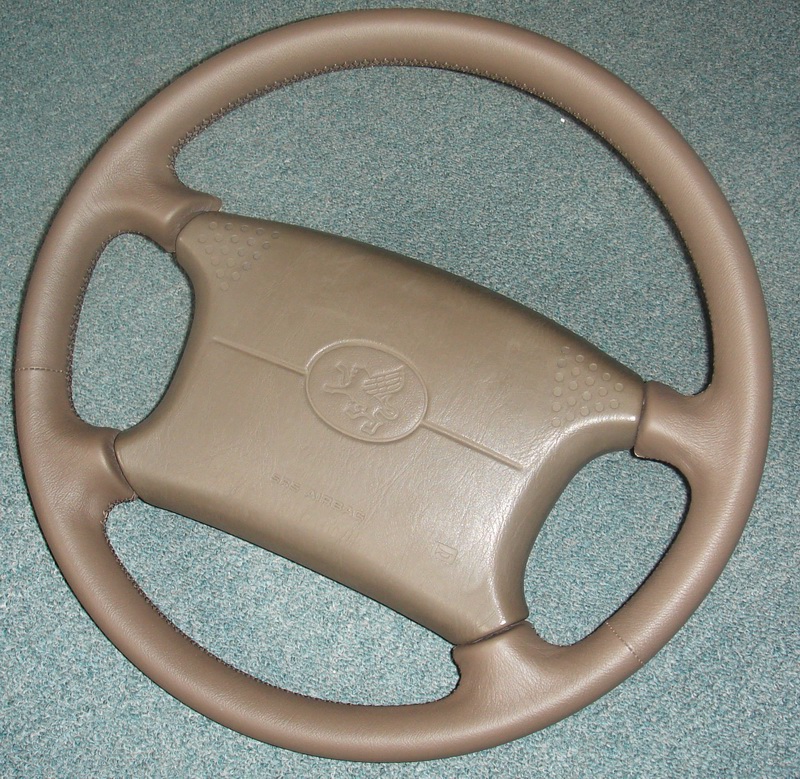 The finish is so tight and smooth - I am so happy with the quality. The tan colour is an excellent match.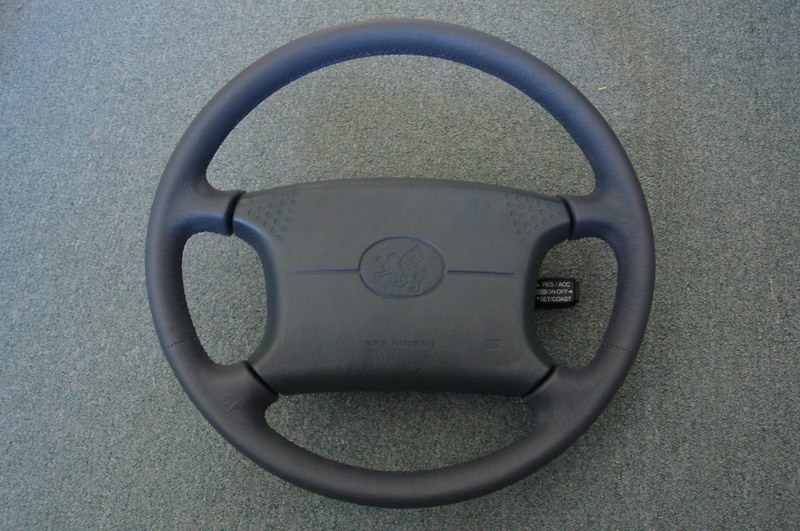 The spruce or grey interiors are not exact. There is light grey or dark grey. This is a light grey rim on my spruce steering pad. I have seen a dark grey interior which would be good for dark grey, and a light grey spruce and a darker green spruce. All very confusing! This is what I would call a darker green spruce horn pad. It is from a Limited V8. I have seen twin turbos with a lighter grey spruce - maybe is the sun? Beats me - but it's not straight forward.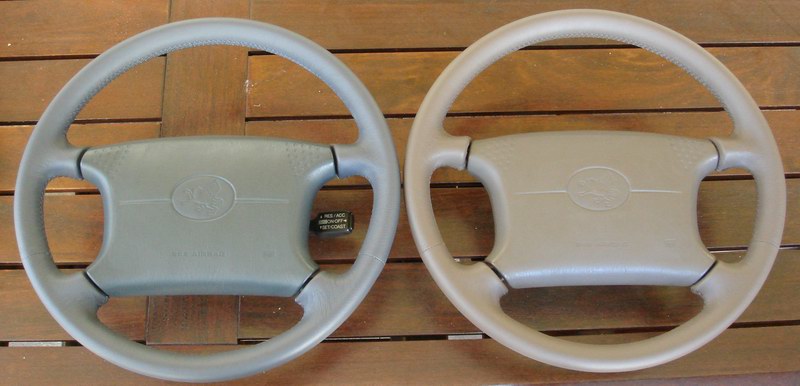 Light grey rim and tan trim.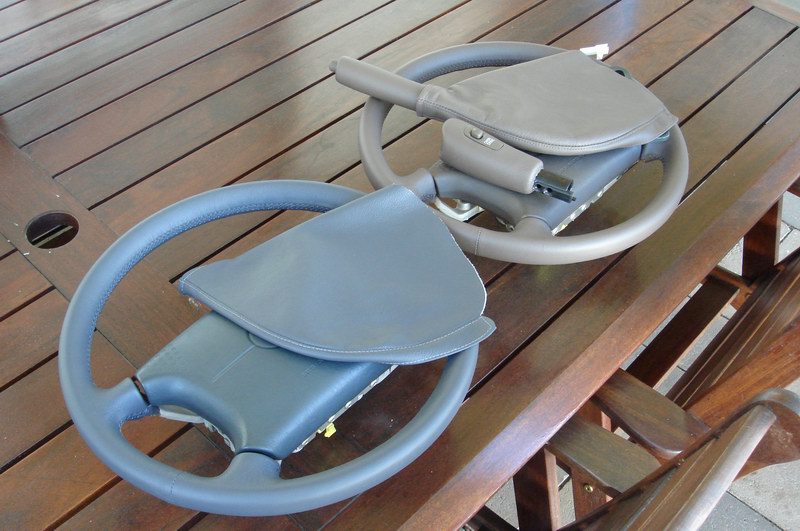 Notice the change in hue for the light grey rim to the more greener spruce horn pad. On top is the light grey handbrake cover. Different lighting conditions make it look different. Two people I have shown reckon the light grey is a good match for the spruce and that the dark grey would be a bit too dark. Light grey is a bit too light, dark grey is a bit too dark.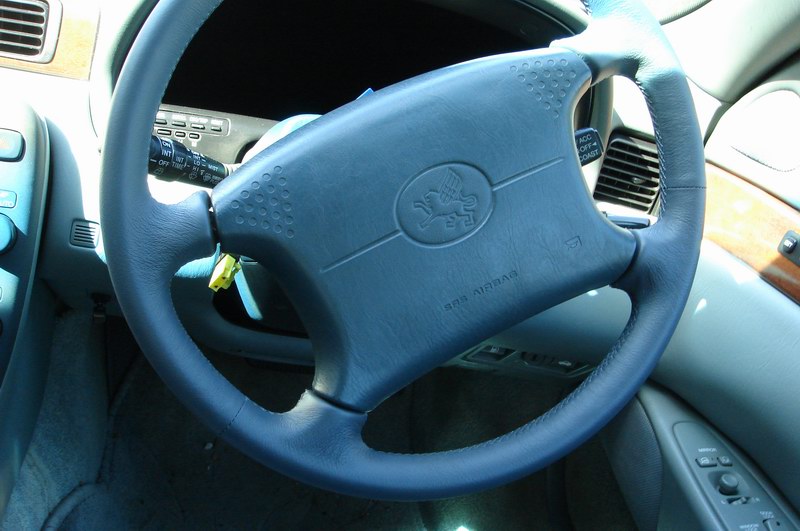 Light grey rim in a spruce V8 limited. Direct sun, shadows, flash - all change the appearance of the colours.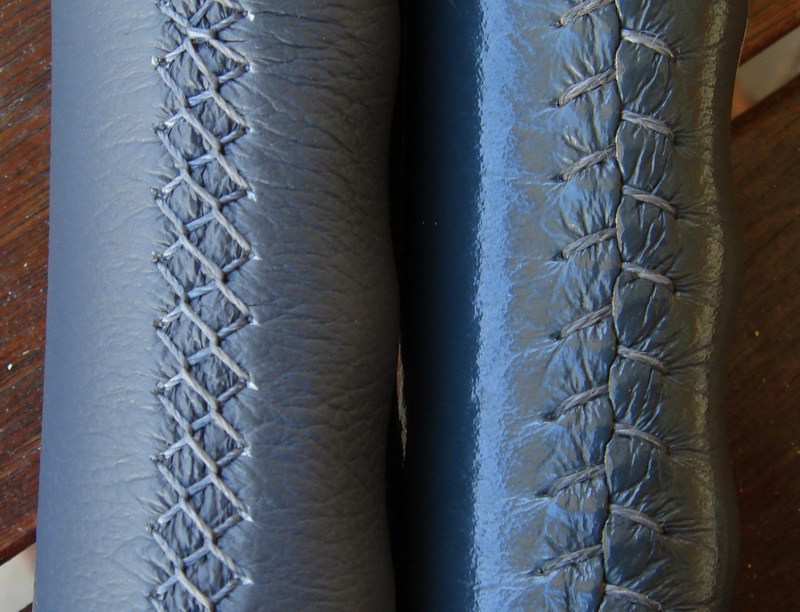 Light grey on left with smooth stitch, spruce on right with original stitch.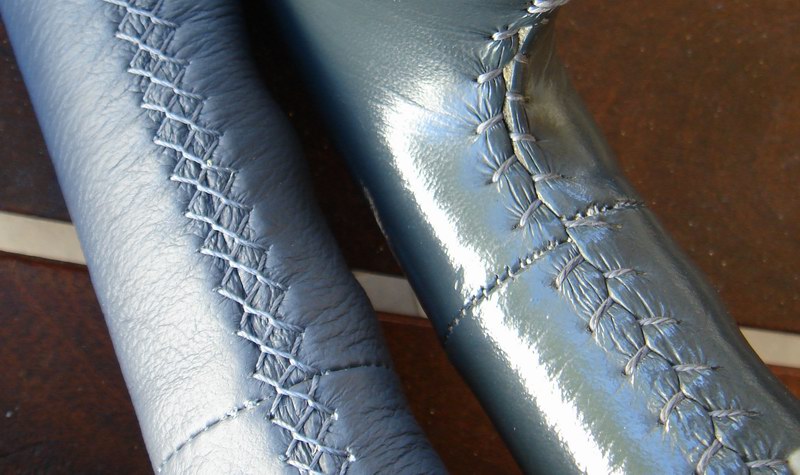 Nice new leather on left versus shiny worn leather on right.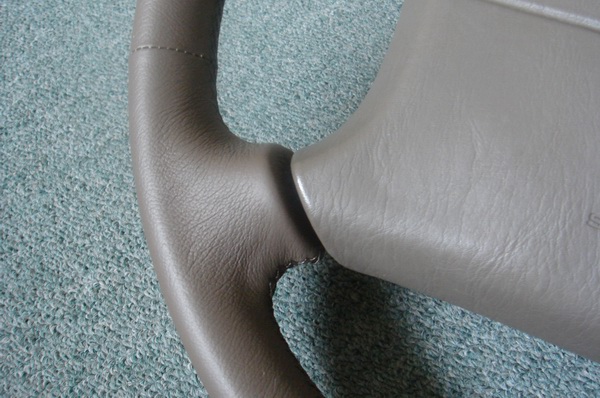 Most original wheels I have seen are now worn smooth - the new leather is grained much like the steering pad. New leather feels so much better than old leather or old leather repainted. The smell and the feel is, well it's like new! The colour is not exact but it is acceptable. The Spruce colour is slightly darker than original but looks great.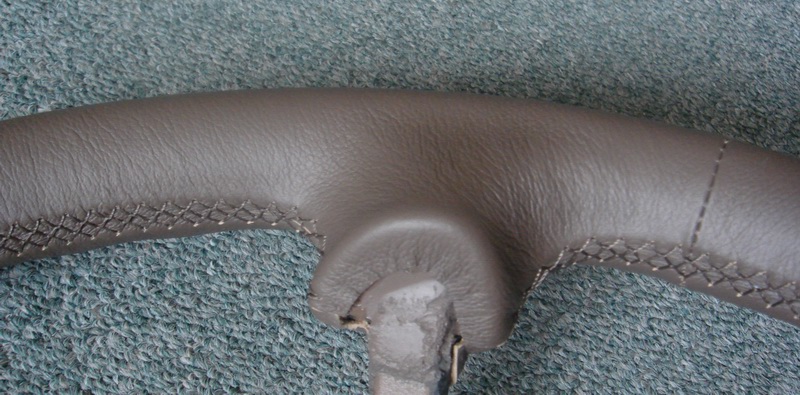 I prefer this style of stitching - it gives a smoother finish and looks more stylish than the stock, simpler "baseball" style stitching. If you look at your stock Celsior or Soarer wheel you will see the stock stitching is bumpy and gathers the leather more. You can specify original style stitching or this type of stitching. There are several colours to choose from besides the stock tan, black and Spruce colours. Suede is also available for circuit racing - Suede offers much more grip. Two colour is also available for a little extra. The $190 is a change over price. Sometimes I have available a changeover wheel for a refundable deposit - most times I'll need your wheel first and I'll send it back in three days. If you really need a changeover wheel then contact me first - Depending on where the changeover wheel is, I can send you one in your colour, then you can send me your wheel after you have fitted the new one and I'll refund the deposit. The deposit for a changeover wheel is $120 refundable.
Soarer automatic gear shifter recovered in leather - $55
Soarer handbrake cover (no need to changeover - this item is ready to go) - $65
Soarer handbrake handle - $40
Celsior steering wheel - $190
Celsior automatic gear shifter $55
(foot operated parking brake means no handbrake handle and no handbrake cover)
Please email me at



if you would like your wheel re-trimmed in quality leather. I'll need to know
colour you want (Brown, light grey, dark grey, black or black suede - click here to see colours)
stitching style - original baseball stitching or newer smooth style stitching. Click here and scroll down to see original stitching
and if you want a new matching handbrake cover and gear shifter ( the shifter is probably best done in original style stitching? It is the same as the steering wheel but smaller stitches - think about if you want matching stitching for both wheel and shifter)
Click here to see pics of the handbrake shifter kit and gearshift recovered in matching leather.
I only have limited steering wheels for Celsior and Soarer to changeover - most times it's easier to send me your wheel and I'll send it back within three days. Four bolts to remove them. The cable can be removed by bending back the tab carefully to release the cable from the guide.
Payment is by PayPal, direct deposit, or money order.

Any steering wheel can be done, (even genuine Max Rob 13 inch black Mad Max wheels for your old Ford.....), not just Soarer and Celsior.