Saturday 26th October 2002
Words by Peter Kerwin, Pictures and captions by Peter Scott. Peter Kerwin owns a gold UZZ30 (US spec SC400) and takes Peter Scott's Green UZZ32 with Active Suspension for a drive.
Entry into Peter's typically optioned SC400 Limited couldn't be easier - having the steering wheel move well clear is one option I do wish I had on my more basic 4.0GT. Even though I've had the car nearly 3 years, I still lose control of my steering when I try to adjust it using the two levers. Having your nose too close, chin above or adjusting it anytime at speed is often memorable.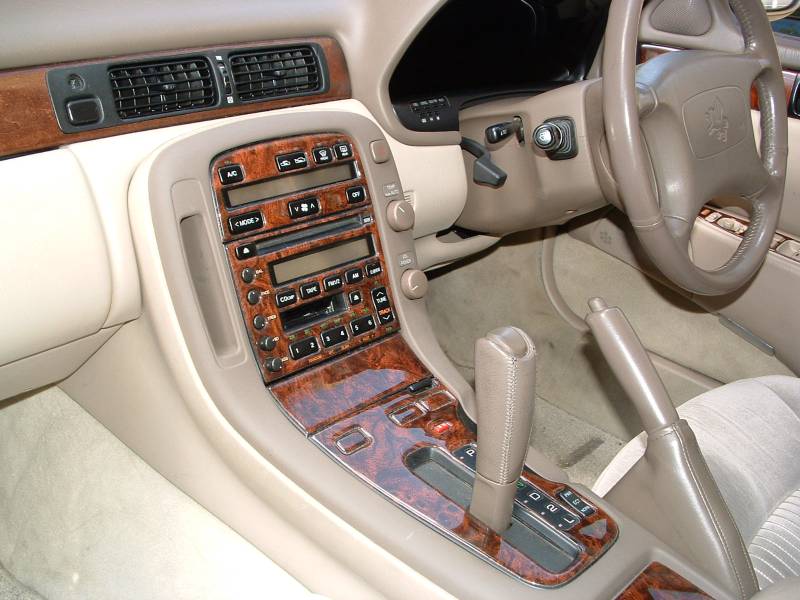 UZZ30 - Three blank buttons. No TRC, no High/Low, no TEMS sports switch. Cd slot (skips) in dash means no stacker in boot. Manual steering column controls, velour seats, aftermarket woodtrim on console etc, no airbag, no self-cleaning rear view mirrors, non-LCD dimmer rear view mirror, rear wiper is optioned on this car..
My first impression on hitting the starter was the nice sounds from the modified exhaust - windows open - beautiful. Starting my near stock UZZ30 (intake mod only) releases little more than a few quiet hums from belts and accessories. Peter's UZZ32 lets you know there's really a V8 ready to go.
The steering of the UZZ32 even at driveway parking speeding was much lighter (UZZ32's have lighter steering than other Soarers - might be the big combination power steer/suspension pump - they never leak and never damage the alternator being underneath alternator and with separate drive belt-Ed) - not quite like going from a truck to a car, but certainly noticeable. What I'd forgotten was the UZZ32's 4WS system assisting me (turning circle of '32 is 1m or 3 feet less-Ed). My basic (slightly noisy worn power steering unit) UZZ30 does need a light grip on the steering at near stationary parking speeds on concrete - Peter's UZZ32 is simple one-finger spin.
A usually rough riding (even for a Soarer) badly sealed road was more comfortable in the active suspensioned UZZ32. My UZZ30 wallows a little over some undulations while the UZZ32 had a quite different ride across the same dips. The impression was a series of slight vertical corrections where my car would have sunk deeper and bounced a little. Though I'd thought my car had reasonably precise steering, the very slight horizontal movement or roll I'd always endured over this rough winding road was absent in the UZZ32.
Over this road at normal speeds the UZZ32 was quiet - the exhaust didn't really intrude on a very quiet interior, but it was downhill. Heading up the freeway this changed. Adding power was to the accompaniment of a very satisfying V8 sound - something I think I imagine rather than hear in my Soarer. With the windows up the interior didn't resonate like a Boy Racer's 180SX with tomato can exhausts, but it may get a little intrusive on a long drive with passengers - you can hear the exhaust and not just the hum.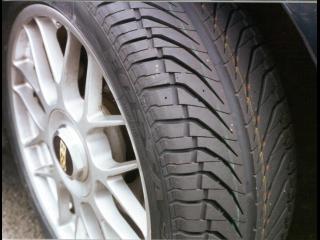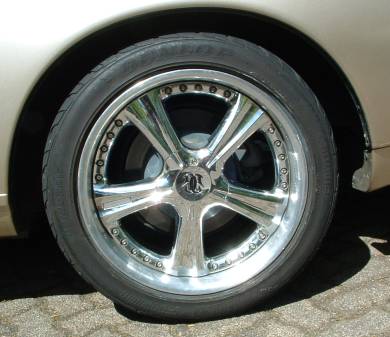 Kuhmo 712 Ectas (left) were a lot quiter on the road compared to the Dunlop Formula FM901's pictured right.
Peter's Soarer has quieter Kumho tyres than my Dunlop Formula FM901's, however, when I'd had the Dunlops fitted 10 months ago I couldn't believe how quiet they were compared to the previous cheapies that had been on the car. I had driven much noisier tyres on Soarer test drives when buying my car, and thought wide tyres couldn't be much quieter, but obviously they can.
Leaving the freeway on a quick winding climb the 32's suspension does a clever job of making a relatively heavy car feel like a light and nimble one - Go Kart like, as Peter reminded me. The accompanying V8 exhaust sound around the bends took 30 years away like magic and the grin was involuntary. I thought my essentially stock UZZ30 handles quick corners well, but against the active suspension there's a more rubbery feel to each manoeuvre. As Peter explained, the 4WS logic jumps in, where mine would have slid the rear a little, and expands the envelope some more. Even beyond that it doesn't let go dramatically - it's easily corrected. My car slides earlier and recovers with a slight lag - sometimes making things a little interesting for a quickly passing instant!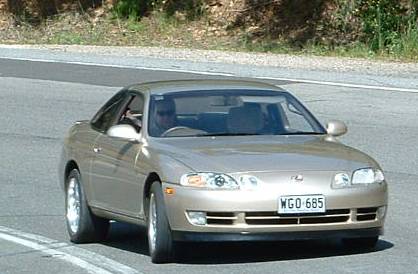 UZZ30 has springs, sway bars and traditional shock absorbers - same as US spec SC400.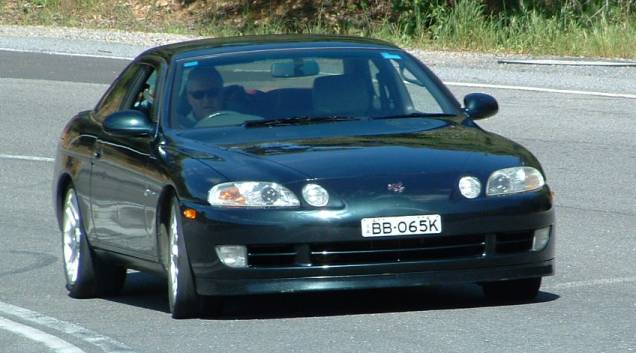 UZZ32 has no springs, no swaybars and no traditional shock aborbers. It is a rare limited edition flagship model with 4 Hydropneumatic cylinders at each corner, a pressure control valve unit, tandem hydraulic pump, 3 vertical G sensors, 4 height sensors, longitudinal and lateral G sensor and a yaw velocity sensor controlled by a A-Sus computer working with an A-4ws computer sensing 4 wheel speed sensors, NE sensor, steering sensor, main and sub throttle position sensor, shift position sensor and brake pressure with failsafe backup systems.
No Soarer outbrakes, out corners, out swerves, out handles the UZZ32.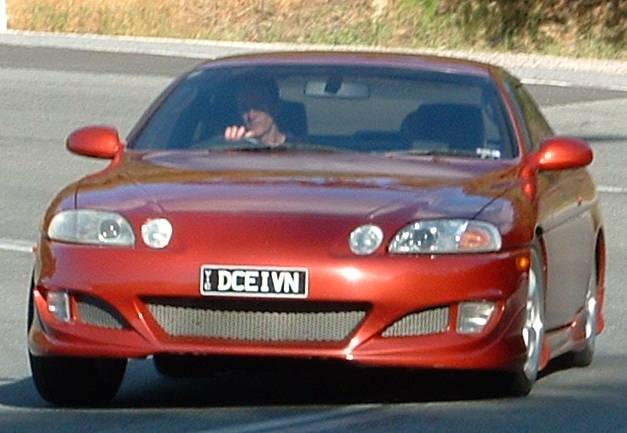 Twin turbo Soarer with custom sports coilover suspension
Back on the freeway Peter's UZZ32's 'soft-touch' indicator stalk had me fooled for a while - a long while for the owner following I suspect! I doubt it corresponded to my lane weaving at all for the first few kilometres. It's one of those things that you use for a while before forming an opinion. I find my mechanical indicator stalk needs a 90° recovery from an 80° turn before self-cancelling - I'd happy give the 'soft-touch' one a trial in my car if that was an option.
With cruise control on, the modified exhaust on the UZZ32 didn't intrude much at 115kph though selecting Overdrive on and off was quite audible inside. My UZZ30 does near silent Overdrivechanges - just a slight change in hum and an RPM change that passengers wouldn't hear.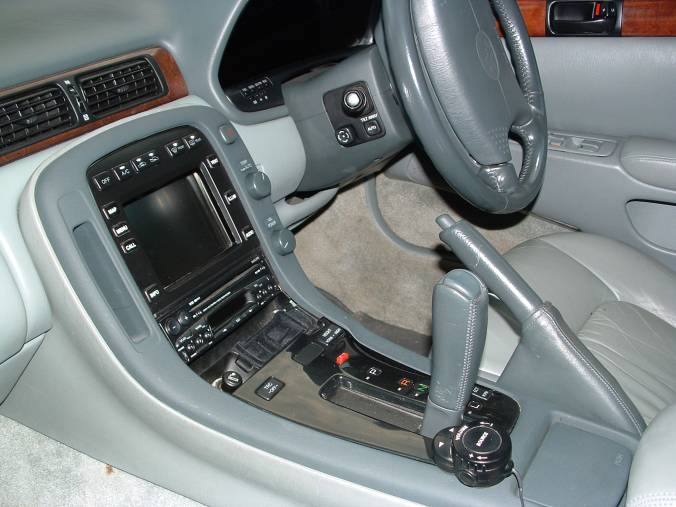 UZZ32 gets leather, EMV screen, TRC button, Height button no TEMS button - UZZ31 only. Power tilt steering column with memory and auto return, self clean rear view mirrors, LCD dimmer centre rear view mirror, Japanese SatNav, Airbag.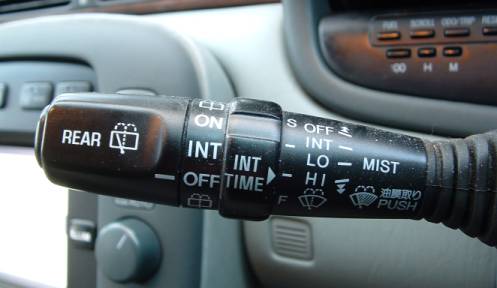 Rear wiper control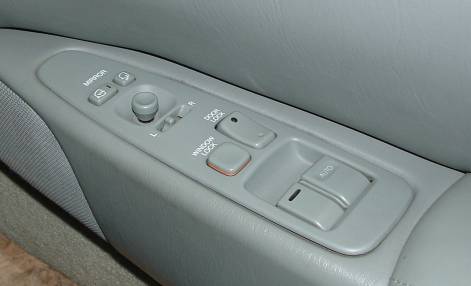 Power retracting rear view mirrors, Ultrasonic cleaning function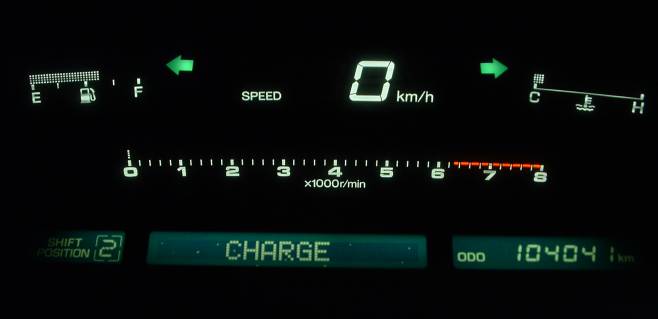 All Japanese spec Soarers get digital dash
My stock exhaust does sound like there's a lot of gas wanting to get out, but backing up with no where to go. Peter's higher flow exhaust system gets rid of these 'puffing' noises. The 32's active suspension and other normal accessories do suck some power early on to drive the pumps. With less initial load my UZZ30 does get off from a standing start a little quicker, or it would do if Peter hadn't improved his original exhaust system from front to back quite so thoroughly. There is an impression that Peter's car lags a little from zero to maybe 30kph, but that quickly changes to a distinctly better response once the RPM is up and at speed.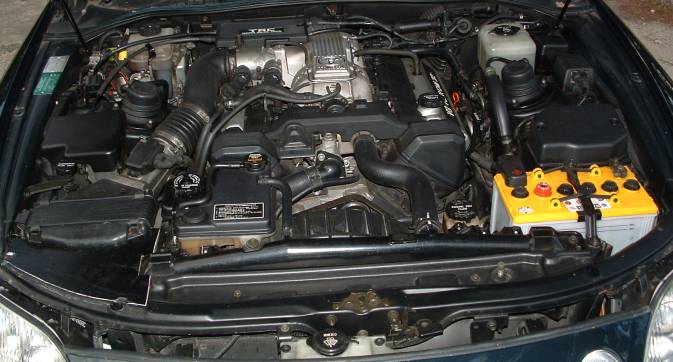 UZZ32: Rubber covered shock towers with "Active" stamped on them. TRC and throttle butterflies on throttle body(big TRC sign on cover). Different power steering cap and fluid container. No vacum booster for brakes. ABS and master cylinder combined, electric hydraulic brakes. Second windscreen washer reservoir back left where ABS is on UZZ30. All Japanee Soarer V8's have Toyota badges, Crowns have V8 badge.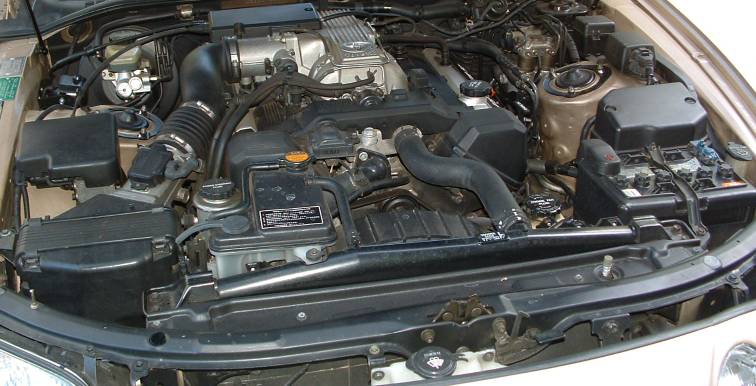 UZZ30: Flat shock mounts - no TEMS or Active, no TRC butterfly or sign, ABS is back right where washer bottle is on UZZ32. UZZ30 washer bottle is front right where UZZ32 has suspension valve body. Vacum boosted brakes. Power steering reservoir is metal and round, not square plastic. One ribbed accessory belt, UZZ32 has two, separate for suspension pump/power steering pump.
I may need to replace some worn exhaust components in my UZZ30. As much as I like the growl (and the need to grin every time I hear it) of Peter's V8, I guess for a car I use all the time, it may be a little too sporty for everyone on board, especially on a long trip. Peter may say my tyres humming (quietly, OK?) are even less appealing!
I will probably make a partial exhaust component replacement and see how it affects the interior as I go. I certainly don't mind that subdued V8 growl outside the car - it seems a waste to take it away so completely. Peter suggested removing the two central 90° mufflers and replacing the rear ones with Lukeys. Just a little more of the good noise outside, hopefully no interior resonance, and improved flow. I thought my original oval exhaust tips were just right for the cutaway curve of the rear under-body, but Peter has slightly larger ovals that fit even better - at least to my eye while driving behind my own car for a while.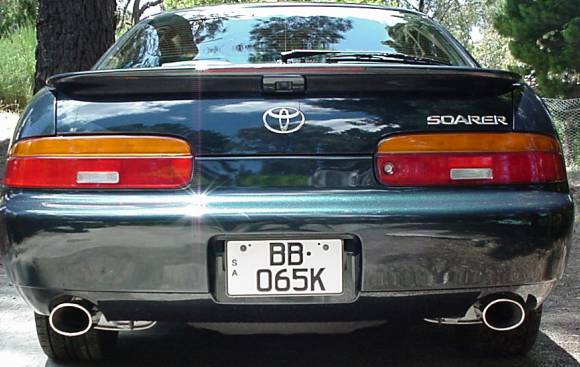 Custon Stainless rolled lip tips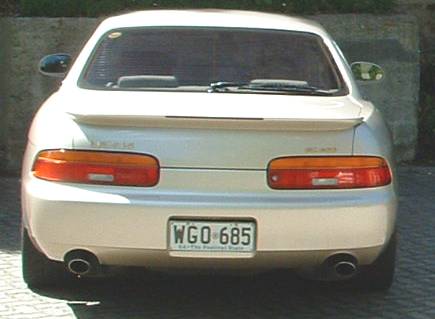 Stock tips
Overall Peter's UZZ32 is very enjoyable car to drive. The active suspension and 4WS is an option that certainly works at several levels of skill - definitely not a gimmick. It does handle rough road bumps and highway speed much better than the basic coil sprung UZZ30, and the 4WS makes even slow suburban driving easier.
On getting back in my car it did feel slightly truck-like for a few seconds as we followed each other back up the hill. Peter's UZZ32 does do a nice job of quick corners. He proved this by leaving me behind on each subsequent bend despite me thinking I was doing rather well.
Being a nice guy he did say he probably knew the road better than I did.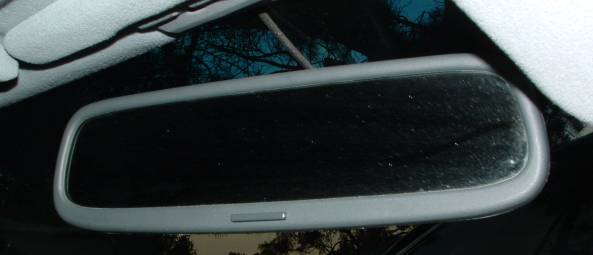 LCD rear view mirron in UZZ32 - some get optional headlight detector auto dim as well (not this one)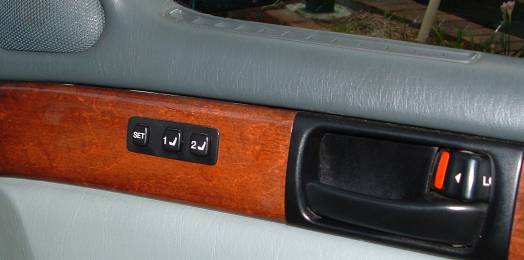 Memory seats - not available on all Soarers.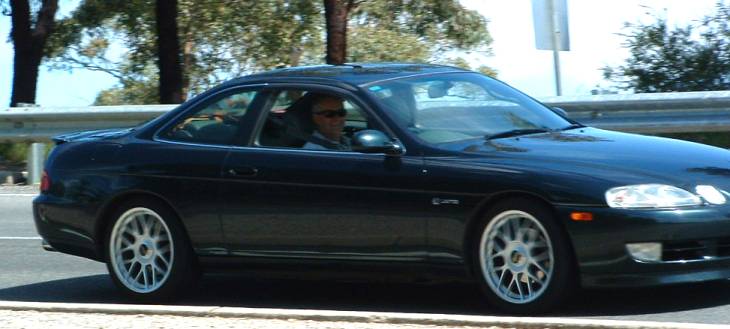 Peter Kerwin with the UZZ32 grin!