Dyno Day
Octane 'n Oil
The first ALSC dyno day was on January 12th at Caulfield Jag in Victoria - they have all the data files on the computer so go there to get yours done for a quick and easy comparison. You can read more about the day on the ALSC website here. Got to News and Events, Melbourne, then Jan 12 dyno day.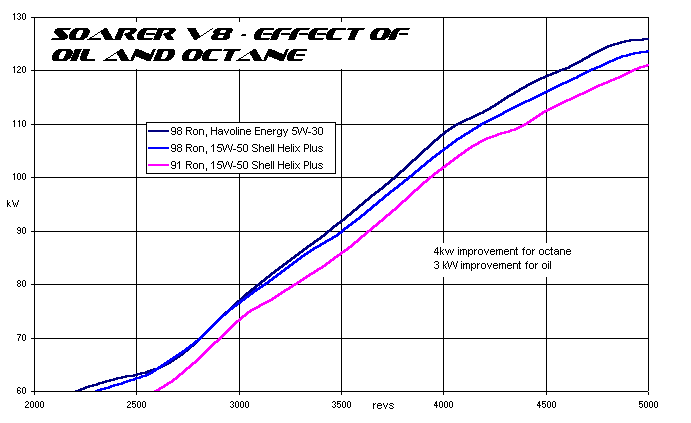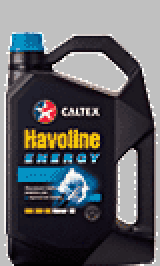 An Oil change and high Octane fuel gave a 7 kW difference at the wheels right across the rev range - not just peak, that's a 9 % improvement! - excellent value.
The Pink line is my car - I had been driving for a few days filling up with 91 octane unleaded petrol. I had about 7 litres left in the car during the run.
Then I drove down to the local Mobil service station and back to the dyno again after filling up with Mobil Synergy 8000 98 octane petrol. This gave the middle light blue line. The Soarer V8 has dual knock sensors and retards the timing so you can run safely on normal unleaded. Put the good stuff in and you get good results - well worth it - an improvment throughout the rev range of about 4kW.
Then I was out in the carpark changing the oil. I had brought all my oil change stuff over from Adelaide in the boot. Changed the filter as well. I did have Shell Helix Plus 15W-40 in the engine with about 3500 km on it. Then in went Havoline ENERGY. The oil is available from Caltex service stations and is the Halvoline brand. The type is called Energy 5W-30 (semi-syn). Smaller Caltex stations may not stock it and only stock the cheaper oils. Cost is $40. They also have a full syn for $46. I wanted to try it because I had read several independent reviews of this oil and claims of 6% better fuel economy. This was over Mobil 1 5W-40, so one of the conclusions of the test was that there was more to it than just a thin viscosity rating. After fitting the new oil and filter I drove around the block and on to the dyno. An improvement again over the whole range of 3kW. This is hardly a scientific test - maybe any oil change would have helped, but I am only one bloke and I was only buying one oil this time I am afraid - next year we might try it again.
On the trip back my car went from just over 8 km/litre (on way to Melbourne) to just under 10 km/litre (on way to Adelaide - flat ground, not much wind) - a massive fuel economy improvement cruising at 100 km/hr. The graph on the EMV (and confirmed at the pump) clearly showed the savings. The only difference was the oil, 98 octane fuel and Rob's new pump (we replaced the fuel pump while over there). Technically you could argue they all contributed somewhat - more testing needed to separate out the contributions.

Interestingly the fuel dropped down to 9km/litre when I inserted the old fashioned stormwater pipe and sealed it to the standard airbox (my first ram air attempt from the old days.

It went back up to 10 when I removed it and re installed the BFI part 1 intake and BFI part 2 under headlight bit. There was no BFI part 3 modded airbox as I had the standard airbox in. I don't know if that makes any sense or not. But driving back at night for 800 km by yourself there is plenty of time for testing. I have since modded the standard airbox again and made a few improvements to the whole lot.
Slick 50?
I would never ever never ever......never use slick 50 in my 1UZ-FE.
Slick 50 are in the trouble in the US for misleading ads.
Every single independent test of Slick 50 has failed to find any good news - only bad.
I have countless examples of the stuff making engines fail. Engines run the same length of time with no oil whether they are slicked or not (Briggs and Stratton)
Engine failures I have read were related to clogged oil galleries.

In Australia we have the V8 supercar series. Larry Perkins uses ULX-100 (not synthetic) (this is a rumour - he is sponsored by Castrol). This is the oil that Autospeed tested and later pulled for editorial reasons. If you search for ULX-100 on Autospeed you will get the link but no content (wished I saved it way back then). They got more power from an oil change but decided afterwards that it wasn't rigorous enough, they got a lot of flak for it - they are very careful nowadays.
The Stone brothers use Havoline oil.

None of them use Slick 50. Slick are being sued for telling a load of bullshit in the US.
Maybe it is ok, maybe it's not - but I sure as hell won't base my decision on whether to use it by reading the side of the pack. Some goes for any product. I want unbiased scientific testing from a reputable source. Slick 50 - read more about it here: skeptics dictionary

This is the oil used in the test: Havoline Energy. I have oil analysis on the way for Penrite HPR and Shell Helix. It will be a while before the Havoline gets analysed (4000 km to go). After that I will try a full synthetic. I don't know if a full synthetic versus a semi synthetic will make a measurable difference for the V8 regarding wear etc. If I had a TT it would by full syn all the way (oil around turbo gets real hot). Mobil 1 and Repsol are top stuff.
I get my engine oil analysed after a change, doesn't cost much - you can read more about oil and see my analysis on the home page.
1. Fuel and Oil 2. Custom Intake 3. Air Filters 4. Extractors 5. TTs and V8s (downloads)