The Celsior / LS400 suspension certainly doesn't appear as "beefy" as the SC400 / Soarer suspension. The upper arms look spindly and bolt to sheet metal and they are cast iron. The Soarer arms are alloy and bolt to a big aluminium cross member. Soarer upper bushes are solid rubber while Celsior upper bushes are those HEIM types- they are kind of like a roller / rose joint in rubber. They actually have moving parts. They are the same as the Soarer rear wheel upper bushes. HEIM bushes are famous for self destructing. The Soarer rear wheel upper bushes are the ones that fail after the front lower bushes. Replacing these pesky HEIM bushes with long lasting rubber bushes (like the Soarer front upper bushes) is a good upgrade and should see my Celsior ride perfect for years to come.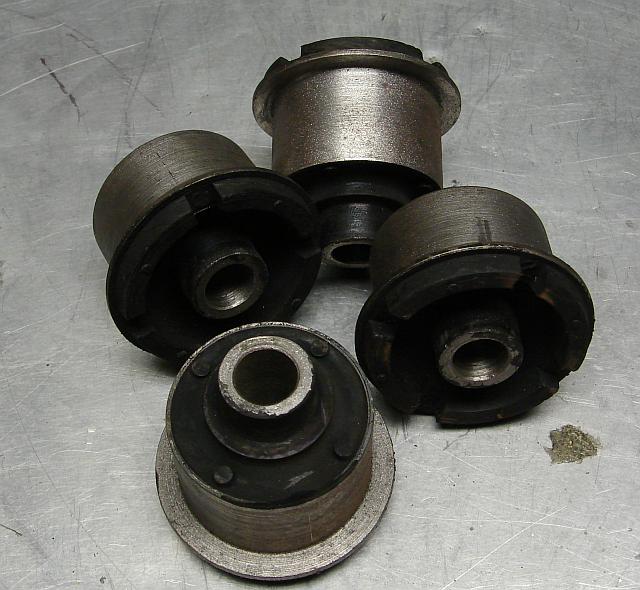 These are the famous solid rubber Vlamos bushes - I bought this set for $285. They arrived very quickly in an express post bag. I have read some stories about people changing bushes at home with no press! Amazing stories of drilling holes in rubber, burning rubber with flames on the back step and careful use of hacksaw blades and sand paper to remove old bushes. Sounds a bit hard for me so I dropped my arms and bushes off at Pedders (a suspension shop) on the way to work and picked them up on the way home. Cost was $25 to have the old bushes pressed out and new ones pressed in. I thought that was good valve.
When installing the arms I made sure I used a jack to lift the suspension to the correct ride height before tightening the arms. The rubber has to be in its neutral position while at normal ride height. This allows the rubber to twist evenly over bumps and potholes and always return to the no stress position .
The clunk is finally gone and the car is now perfect. The steering response has dramatically improved and the ride is heavenly. This is the best thing I have done to my Celsior. I am so pleased, yet again, with these Vlamos bushes.
Vlamos bushes are available here: http://www.vftbushes.com/
Location: Queensland, Australia
Telephone contact: Andrew Vlamos 0411 227 007
E-mail contact: sales@vftbushes.com
If the sales@vftbushes.com e-mail doesn't work try him on (vlamos@bigpond.net.au)
February 2005 2 1/2 years, 60 000 km Bush update

How are the bushes holding up after 2 1/2 years and 60 000 kays? No worries mate....

Otober 2002 Silent Rubber Bushes with Shock Control Slots - At last, proper non squeak quality riding control arm bushes - I love them! So good that Toyota resell them.
October 2003 Upper Control Arm Bushes Andrew Vlamos can now provide superb Upper bushes to match the lowers - get that new car feel back again.
March 2006 Celsior (LS400) Balljoint replacement

My balljoints were stuffed and making the steering wheel shake. The Pedder's drive on shock test confirmed that my front shocks are worn as well.

May 2007 Toyota Celsior / Lexus LS 400 shifter removal and leather recover.

I got the wheel and shifter recovered in my Celsior and she's a beauty mate. Shifter is a pain to remove compared to the Soarer.

July 2005 Celsior shopping.

Always fancied one, the 15 year old import rule meant they were better value then ever. Time to go shopping.

July 2005 The Celsior arrives from Japan

Always fancied one, the 15 year old import rule meant they were better value then ever. Time to go shopping.

September 2005 Celsior Compliance

The Celsior is now complied and registered. Changes include seat belts, intrusion bars, side mirror and fuel filler restrictor. Allow $1200. Some States don't need belt change now!

Lexus LS400 and Toyota Celsior tutorials