| | | |
| --- | --- | --- |
| | Time Attack : Phillip Island 2004 | |
2004
by Peter Scott
Personal bests at Phillip Island to 2004
Justin Hughes "Juzza"

2004

01:56.32

Naturally aspirated V8 !!! (2009 update: still fastest NA V8 and fastest auto Soarer)

150rwkw auto V8, slicks, Headers, Exhaust, BFI, Greenstuff, TT Brakes - UZZ-31




Garry Morris




01:56.67

1:56.67 Philip Island TT Stock 2nd hand Slicks

David Ross

22-Feb-04

1:57.43

200 + rwkW Vvti turbo Soarer, roll cage, manual, semi-slicks

Peter Scott

May-04

1:57.75

140 rwkW UZZ32, V8 auto Soarer, V8, slicks

Karl Hardy

Nov-03

1:58.33

380+ rwkW Twin Turbo Soarer, roll cage, manual, slicks

Juzza Hughes

4-Apr-04

1:58.74

140 rwkW UZZ31 V8, auto, airbag Soarer, stripped, slicks

Robert Hayden

May-04

2:00.41

212 rwkW TT auto Soarer semi slicks

Stan Johnson

1-May-04

2:00.56

178 rwkW Twin Turbo Auto Soarer slicks

Steve Malkin

Nov-03

2:02.10

200 rwkW Twin turbo manual twin turbo Soarer street tyres

Mark Stott

4-Apr-04

2:07.21

Twin Turbo Soarer street tyres

Robert Hayden

Apr-03

2:08.47

UZZ31 V8 auto airbag Soarer street tyres

Aaron Elliot

Apr-03

2:14.34

UZZ31 V8 auto airbag Soarer street tyres
Phillip Island ALSC Sprint Weekends are hosted by your friendly ALSC members who's wealth of circuit experience makes the experience for novices, newbies a memorable one. And spectators are admitted free.
The Phillip Island Racing Club site: http://www.piarc.com.au/
The Phillip Island Circuit site: http://www.phillipislandcircuit.com.au/
Phillip Island timed sprints are 5 sessions of three flying laps.
30 May 2004 ALSC Phillip Island Results (the Soarers):

Peter Scott
1:57.75

V8
1730 kg (3814 lb)
145rwkW (194rwhp)

auto UZZ32 4.0L 1UZ-FE V8, leather, TV, 2nd hand Michelin slicks 240 front/rear. Active suspension, active 4ws, TORSEN diff (4.08 gears), BFI 3, stainless braided brake lines, TT brakes, slotted rotors, trans oil cooler, shift kit, headers big exhaust, 4 point harness, Suzuki GTi seat, Apexi RSM, OEM pads

Robert Hayden
2:00.41

TT
1560 kg (3439 lb)
230 rwkW(308rwhp)

auto JZZ31 2.5L 1JZGTE Twin Turbo, 225 Bridgeston Potenza semi slicks, fully adjustable TEIN coil overs, TORSEN diff, FMIC, dump pipes, BFI 3, 440cc injectors, MOMO carbon fibre race bucket, custom suede steering wheel, 4 point harness, Apexi RSM, greenstuff pads.

Stan Johnson
2:00.56

TT
1560 kg (3439 lb)
180 rwkW(241rwhp)

auto JZZ31 2.5L 1JZGTE Twin Turbo, 2nd hand 245 Pirelli slicks front, 265 Michelin rears, slotted rotors, BFI, 4 point harness, Apexi RSM, Feredo DS2500 pads.
4 April 2004 ALSC Phillip Island Results:
Juzza Hughes
1:58.74

V8
1640 kg (3615 lb)
145 rwkW (194 rwhp)

Auto UZZ31 V8, auto, airbag Soarer, interior stripped, slicks, CUSCO mech LSD (4.08 gears TT ratio). TT front brakes, headers & full exhaust.Greenstuff pads.

Karl Hardy
1:59.21

TT
1560 kg (3439 lb)
400 rwkW(536 rwhp)

Manual Twin Turbo Soarer, roll cage, manual, slicks

Stan Johnson
2:00.83

TT
1560 kg (3439 lb)
180 rwkW(241 rwhp)

Auto JZZ31 Twin Turbo, semi slicks, slotted rotors, BFI, 4 point harness, Apexi RSM, Feredo DS2500 pads.

David Ross
2:01.81

VVTi T
1560 kg (3439 lb)
200 rwkW(268 rwhp)

Manual Vvti turbo Soarer, roll cage, street tyres, CUSCO mech LSD.

Mark Stott
2:07.21

TT
1560 kg (3439 lb)
156rwkW(209rwhp)

Manual Twin Turbo Soarer, street tyres
2003 ALSC PIARC Champions:

Turbo Soarer

V8 Soarer

1st David Ross

1st Peter Scott

2nd Karl Hardy

2nd Justin Hughes

3rd Steve Malkin

3rd Rob Hayden
http://planetsoarer.com/#phillip
2004 sprint calendar:

August 21/22 weekend
September 25/26 weekend woo Hoo! - the big Sexpo one - book your time off work now!
November 13/14 weekend - End of season bash.
Don't forget to check the sponsorship offer by Sexpo here: http://www.alsc.aus.as/messages/180/22997.html
Victorians can get free CAMS License @ $86, free PIARC membership @ $50 for the year, free Entry Fee (2 Days) $ 180.00
free Fire Extinguisher @ $35 and a free Decals @ $??? and free Bonnet restraint by Juzza.


I don't know if the decal kit will be as extensive as this one!
All you need is cahs for accommodation (shared with other ALSC members makes it cheaper), fuel, and food. Further costs to you could include an oil change and some brake pads, and $50 for a Helmet.
The September weekend is big one with interstate guests arriving for the biggest ALSC PIARC event ever! Don't miss out.

When staying at Phillip Island ALSC members choose to stay at Banfields, a 4.5 star Best Western Motel in Cowes just minutes from the track.
Banfields
192-198 Thompson Avenue, PHILLIP ISLAND (Cowes), VIC 3922
Phone: (03) 59522486 Facsimile: (03) 59523056



http://banfields.bestwestern.com.au/

"Banfields" is a unique Complex situated two hours from the Central Business District of Melbourne. Nestled on beautiful Phillip Island in the South Gippsland region, we have everything to offer the discerning traveller.

Boasting spacious grounds and excellent facilities, Banfields has become a Premier Property, hosting conferences, private functions, family retreats, live shows and screening the latest release movies.

Upon arrival you will be greeted with a warm and friendly welcome by our professional staff. They are able to advise you about the many attractions available.
---
Saturday 29th May 2004 - Familiaristion day
Saturday morning I arrived bright and chipper, pulled the front wheels on to install the slicks and spotted my new TRD pads down to the metal. They had lasted 73 km or 42 minutes at Mallala - they were brand new!
A cold sweat broke out - I had left my bag of spare pads at home - there are no pad shops at Phillip Island.


TRD pads are great for the street - Mallala race circuit killed them in 70 kms (43 miles) - wrong pad for the job.
BUT
Stan had some new TRD pads - he was happy for me to use them - yay! Thanks Stan!
Luckily at Phillip Island many cars arrive in fancy trucks. I just looked for the "brakes R us" truck and talked to them about brakes and pads etc. They weren't surprised at the pad wear at all. They had seen it all too often. Of course the solution was a $900 set of pads - just like all the other race cars. They thought the $500 control pad they were forced to use in their class wasn't good enough. When I turned up with my $200 TRD pads all thin and worn out they were amused at my naivety - "of course they didn't last kid, they're street pads....etc" I'm starting to understand the huge chasm between street pads and race pads. I still like to think that I'm a hot stuff driver braking and cornering to the limit - but it only takes one proper race car driver driving me around in my own car to realise that really I'm just a total amateur.
I remember reading about Mark Webber turning up to a Jaguar customer drive day and driving each of the luckily Jaguar owners for a few laps in their own car. Each of them were absolutley flabbergasted at his skill and control and speed. Sometimes I like to think that given the opportunity, 45 less kigrams, 10 inches less height I too could be a formula 1 driver! - but really I'm just a like the flabbergasted street car owner at a drive day.

My rear disk was cracked as well - noooooo! Bloody Mallala - Thankfully Rob said I could have his spare disk - thanks Rob!


These old rusty disks cracked at Mallala - time for the bin pronto.
The more I go to Phillip Island the more I learn about myself as a driver. Like all of us I used to think I was pretty hot behind the wheel. I used to think I was a good braker - I mean how hard could it be? - you just press the pedal and slow down.
After having a racing instructor drive my car showed how little I knew I new about racing, steering and braking. I'm getting better - but still no race car driver.
Every Saturday morning when Phillip Island is on I go with an instructor - it's very humbling. I used to think I could brake and steer and control the car as fast as anyone - that it was only the car that prevented me from going faster. Now I realise that I brake and steer like a pussy!
The 5th lap with the instructor is the best one - they have a feel for the car by then and the things they can make the car do is amazing. So much to learn! I did a Formula Ford Course at Adelaide International Raceway couple of months back - that was an eye opener too.
Rob and I had our usual Sat afternoon racer boy session, diving up under brakes, drafting 10mm apart bumper to bumper coming on to the main straight - bags of fun!
My second set of TRD pads was stuffed end of Saturday - Rob though he might have some spares at home so I grabbed those as well! - thanks Rob!
And I used Rob's super duper MiNes computer - perfect gear changes and over rev - mmmmmmmmm 7500 rpm in a V8 soarer - yum! - Thanks Rob!

Sunday, in goes new stock pads - need 2.5 sessions hopefully out of them. After 1 session down to 2 minutes. Second session a bit better, got a personal best with a low 1.59 - still not near super fast Juzza in his airbag V8. Change out stock pads - they are stuffed after 32 km - turned to glass - cooked to oblivian. They still worked ok, not great - but surviving.
Changed pads for 2nd set of stockies - man I wish I had the Feredos DS2500's now. Pumped up slicks from 24 psi to 27 psi. Front outer edges are destroyed - put 8 inch 38mm offset front wheels on back to protect them, put 46mm offset 9 inch wheels on front. Only tell Rob - he agrees not to tell anyone - thanks Rob!

OEM stock pads suffered a bit in the heat !

Third session went well. Fourth and 5th were good too. Suze comes running over with 3rd session times - something is up. She asks me again what was Juzza's time I wanted to beat - 1:58.74 - how could I ever forget that SMS he sent me, I pray for just 0.09 of a second, my previous buffer over him, it's a 1:58.19 ! I grab Rob and we cheer for me! - Then I think I hug and shake hands with everyone I can see. I have just beaten the fastest, meanest, baddest V8 driver of all - my arch nemisis Juzza! Whoo HOo!
I can't wait for him to cook some of his famous toast, immaculate cheese on toast is my favourite - if he knows I'm in a rush he does me butter and vegemite. Juzza's toast is best because it's made with love.
Thanks to Team Hayden again and the Generous Stan Johnson (pad money on way stan!) to keep my Soarer circulating at the Island - I would have been lost completley without those special friends.
And to Juzza who drove me onwards and upwards, whenever I thought I couldn't go any faster I just thought of that funny deep voiced lanky bastard cooking me some toast and I thought "If Juzza can do it then so can I..."

hmmmm - slicks...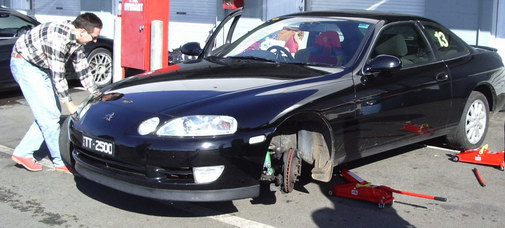 I think Rob is adjusting his fancy Tein coil overs here.

Stan Johnson had some 2nd hand slicks as well.

265 slick on Stan's car.

Adrian's beautiful WRX STi with new semi slicks (1:58.56)

Wayne (1:59.61) in his orange GT just pipped Matthew (2:00.27) in his black 290 kW (388hp) V8 Ford GTP. Both manual quadcam 32 valve 5.4 L V8's with $2000 of new semi slick race rubber.

Robert Dunn's 4.0L turbo six Falcon XR6 manual, Unichip sticker on back so power could be 300 kW? (400hp) 1:57.85.

2:07.97 George's Honda S200

Ross (1:50.03) GT40 replica - I was standing around this car admiring it with others and the conversation turned to how cool it sounded. This car roars - nothing sounds better than a V8. I was telling people how I could hear it coming up behind me and the sound of it roaring past. Then one of the old guys there says, "you know there is one other car here that sounds great...." and he was talking about my car!

Todd Willing designed this Camry based race car 1:57.59

David spent thousands preparing the car, new Recaro racing seats, service and tune - it was already to rock n roll. Except for one thing. The mechanic guy still had the lock nut for the road wheels in the workshop miles away. David had the BBS racing rims and tyres in the car - but now couldn't remove the stock road wheels. Look how sad he is :(
I had to think quick.....

I quickly dashed over and rubbed his tummy - it was all I could think of at the time. It cheered David at the time and would surely bring me luck......

Les's Red NSX (2:00.97),Bruce's Silver B4 (2:03.6), my V8 Soarer (1:57.75), Rob's TT Soarer (2:00.41) and Adrian's black Subaru Sti (1:58.56)

Dusk on Sunday and Rob and Suze stayed to the end helping put the car back into road trim.
Personal bests at Phillip Island:
Justin Hughes "Juzza"

2004

01:56.32

Naturally aspirated V8 !!!

150rwkw auto V8, slicks, Headers, Exhaust, BFI, Greenstuff, TT Brakes - UZZ-31




Garry Morris




01:56.67

1:56.67 Philip Island TT Stock 2nd hand Slicks

David Ross

22-Feb-04

1:57.43

200 + rwkW Vvti turbo Soarer, roll cage, manual, semi-slicks

Peter Scott

May-04

1:57.75

140 rwkW UZZ32, V8 auto Soarer, V8, slicks

Karl Hardy

Nov-03

1:58.33

380+ rwkW Twin Turbo Soarer, roll cage, manual, slicks

Juzza Hughes

4-Apr-04

1:58.74

140 rwkW UZZ31 V8, auto, airbag Soarer, stripped, slicks

Robert Hayden

May-04

2:00.41

212 rwkW TT auto Soarer semi slicks

Stan Johnson

1-May-04

2:00.56

178 rwkW Twin Turbo Auto Soarer slicks

Steve Malkin

Nov-03

2:02.10

200 rwkW Twin turbo manual twin turbo Soarer street tyres

Mark Stott

4-Apr-04

2:07.21

Twin Turbo Soarer street tyres

Robert Hayden

Apr-03

2:08.47

UZZ31 V8 auto airbag Soarer street tyres

Aaron Elliot

Apr-03

2:14.34

UZZ31 V8 auto airbag Soarer street tyres


Complete history to 2004
| | | | |
| --- | --- | --- | --- |
| ALSC Member | PIARC Session | PIARC time | Car type |
| David Ross | 22-Feb-04 | 1:57.43 | 200 + rwkW Vvti turbo Soarer, roll cage, manual, semi-slicks |
| Peter Scott | May-04 | 1:57.75 | 140 rwkW UZZ32, auto Soarer, V8, slicks |
| David Ross | Nov-03 | 1:57.98 | 200 + rwkW Vvti turbo Soarer, roll cage, manual, semi-slicks |
| Karl Hardy | Nov-03 | 1:58.33 | 380+ rwkW Twin Turbo Soarer, roll cage, manual, slicks |
| Juzza Hughes | 4-Apr-04 | 1:58.74 | 140 rwkW UZZ31 V8, auto, airbag Soarer, stripped, slicks |
| Karl Hardy | 4-Apr-04 | 1:59.21 | 380+ rwkW Twin Turbo Soarer, roll cage, manual, slicks |
| Peter Scott | Nov-03 | 1:59.24 | 140 rwkW UZZ32, auto Soarer, V8, stripped, semi slicks |
| David Ross | Jun-03 | 1:59.30 | 200 + rwkW Vvti turbo Soarer, roll cage, manual, semi-slicks |
| Juzza Hughes | Nov-03 | 1:59.33 | 140 rwkW UZZ31 V8, auto, airbag Soarer, semi- slicks |
| David Ross | Apr-03 | 2:00.34 | 200 + rwkW Vvti turbo Soarer, roll cage, manual, street tyres |
| Robert Hayden | May-04 | 2:00.41 | 212 rwkW TT auto Soarer semi slicks |
| Stan Johnson | 1-May-04 | 2:00.56 | 178 rwkW Twin Turbo Auto Soarer slicks |
| Stan Johnson | 4-Apr-04 | 2:00.83 | 178 rwkW Twin Turbo Auto Soarer semi slicks |
| Stan Johnson | 22-Feb-04 | 2:01.42 | Twin Turbo Auto Soarer semi slicks |
| David Ross | 4-Apr-04 | 2:01.81 | 200 + rwkW Vvti turbo Soarer, roll cage, manual, street tyres |
| Steve Malkin | Nov-03 | 2:02.10 | Twin turbo manual twin turbo Soarer street tyres |
| Peter Scott | Apr-03 | 2:03.92 | 140 rwkW UZZ32, auto Soarer, V8, semi-slicks |
| Stan Johnson | Nov-03 | 2:04.02 | Twin Turbo Auto Soarer semi slicks |
| Peter Scott | Jun-03 | 2:04.20 | 140 rwkW UZZ32, auto Soarer, V8, semi-slicks |
| Juzza Hughes | Jun-03 | 2:05.10 | 140 rwkW UZZ31 V8, auto, airbag Soarer, semi- slicks |
| Mark Stott | 4-Apr-04 | 2:07.21 | Twin Turbo Soarer street tyres |
| Karl Hardy | Apr-03 | 2:08.02 | 380+ rwkW Twin Turbo Soarer, roll cage, manual, street tyres |
| Juzza Hughes | Apr-03 | 2:08.28 | 140 rwkW UZZ31 V8, auto, airbag Soarer, street tyres |
| Robert Hayden | Apr-03 | 2:08.47 | UZZ31 V8 auto airbag Soarer street tyres |
| Stan Johnson | Apr-03 | 2:11.72 | Twin Turbo Auto Soarer street tyres |
| Stan Johnson | Jun-03 | 2:12.40 | Twin Turbo Auto Soarer semi slicks |
| Aaron Elliot | Apr-03 | 2:14.34 | UZZ31 V8 auto airbag Soarer street tyres |
---

Links:
| | |
| --- | --- |
| | Car Preparation for Trackdays Is taking your finely balanced Soarer on a racetrack the ultimate drive? It could well be. If you like steering, braking and accelerating then perhaps a trackday is for you. |
| | |
| --- | --- |
| | Phillip Island pt 2- Action! More Soarers at Phillip Island - the full results, every car cornering, a look at street tyres and some VCD screenshots. |
| | |
| --- | --- |
| | Phillip Island II June 2nd 2003. Rain put a dampener on things - but David Ross cracked 2 mins! |