November 2003


Peter Scott
Well this is a real big page. But it's a big story! And If I can spend hours getting it together and then uploading it using the trusty 33k dial up modem then I reckon you can download it!
7 Soarers turned up for the last Phillip Island Sprint for 2003, 8th/9th November. Next Sprint is April 2004 ! Arrrrgghhh - so far away! As usual the Saturday (my favourite) is for familiarisation - longer sessions, driving instructors, relaxed and fun. Sunday is timed sprints - 5 sessions of three flying laps.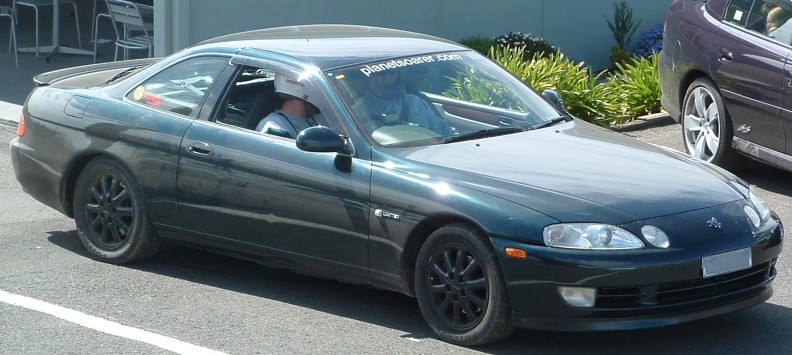 Sat. am - instructor about to show me that compared to him, I'm a pussy!
I always grab an instructor first thing Saturday morning. They are free! What a bargain - Get a real race driver to drive your own car, show you what it can do, take care of it, give you feed back, show you the track and then let you drive and talk you through each corner - driver instruction is the key to fast laps. A traditional part of Familiarisation Saturday at a PIARC sprint is the availability of instructors. I tell him a bit about the car, the sort of times I'm doing and what I want to get out of it, if anything, in particular. Today I tell him I want to go faster around Corner #1 and general racing lines around whole track (as usual). Sprinting is all about fast qualifying. No need to protect the racing line or anything like that.
The car is so dusty because of the gravel entry road to the track. Silver tape covers the plates and rego sticker because it's cool to do so. AND if you have an HSV or STI then you just might get a no more warranty recorded against you from "secret agents" taking notes at the track. I don't know about that but it's supposed to be a good idea. Another rumour is that insurance will use track work as an excuse against you for a regular road claim. Hmmmm - anyway we all remove or tape plates like everyone else and tape over the rego sticker. I don't like to be paranoid about stuff like that, when I'm sprinting with the Porsche club in SA no one takes off their plates.
Anyway I reckon it's always a good idea to grab an instructor to drive your car around the track and then swap - he drives you then you drive him. It can be a bit uncomfortable getting someone else to drive your own car on the track - but sometimes you just have to make a leap of faith. Unlike stories at other tracks where cars have been damaged, PIARC pride themselves on having a 100% success rate with instructors driving your car. And boy can they drive. I find it also helps to settle the nerves, let the instructor take me around in the car - get familiar again with the track, get in the groove - always more to learn. The experienced driving instructors always impress me. No doubt they can drive my car faster than I can. The instructor points out braking markers I never noticed before - the double and single line at the end of the straight, where to turn in, how to do Southern Loop in two parts to make the run into Honda corner longer. Driver training would have to be the most important part to fast laps. Then grip (tyres) and power (not just peak power but torque delivery). My instructor today (forget his name, Dale??), he likes to sit closer to wheel than me, and he likes the wheel as high as it can go - not down in his lap. When he brakes he brakes hard - in a straight line, when cornering the wheel is continually being worked as the car is on the limit - no picking a smooth line and sticking with it - it's attack driving and the car is alive. Plenty to learn from him. After a few laps we pull in and it's my turn. Got my new lines memorised, and I've cut 1.5 seconds of my personal best with him in the car - felt like I wasn't even trying too! Great value. After three laps he has refined my lines, we pull in and he talks some more. I'm chuffed when he says I'm a good driver and that I didn't scare him unlike some drivers! woooHooo! - now I'm ready, sort of.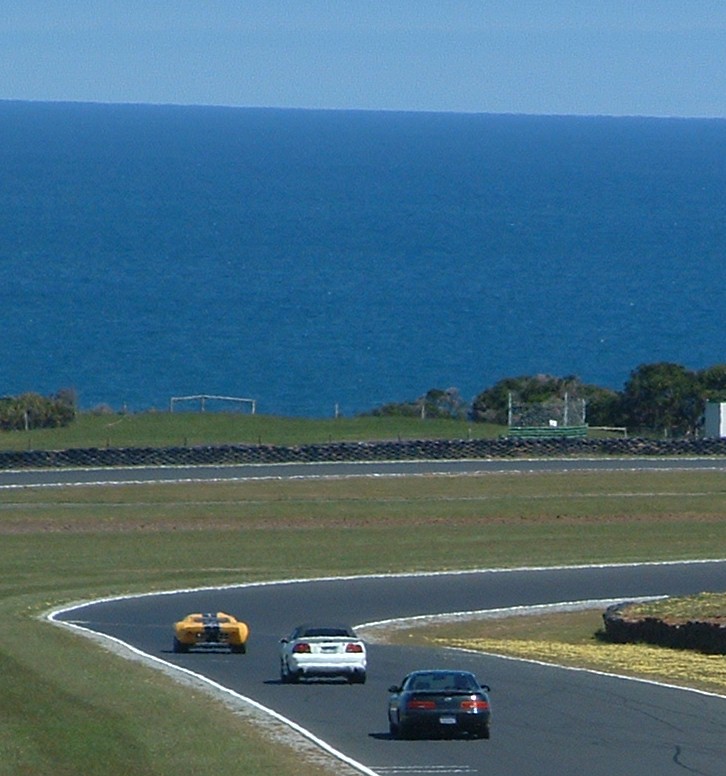 Replica GT40, yellow, Saleen supercharged? Mustang and my V8 auto Soarer - Turn #1. That's Bass Strait - over the horizon is Tasmanian and then Antarctica.
That's a replica GT40 with an 8 trumpet 302 Ford -sounds great - three of them there this weekend - red, yellow and black. This yellow one does the same sort of times as me - around 2:00 minutes flat. The white Saleen Mustang was pretty conservative. In this shot I'm still accelerating at over 215 km/hr (135 mph) approaching the braking white line (the yellow GT40 has just gone past it). I go over the double line (just in shot) hit the single line, brake hard then yank it into the corner and floor it again going into Southern Loop (#2).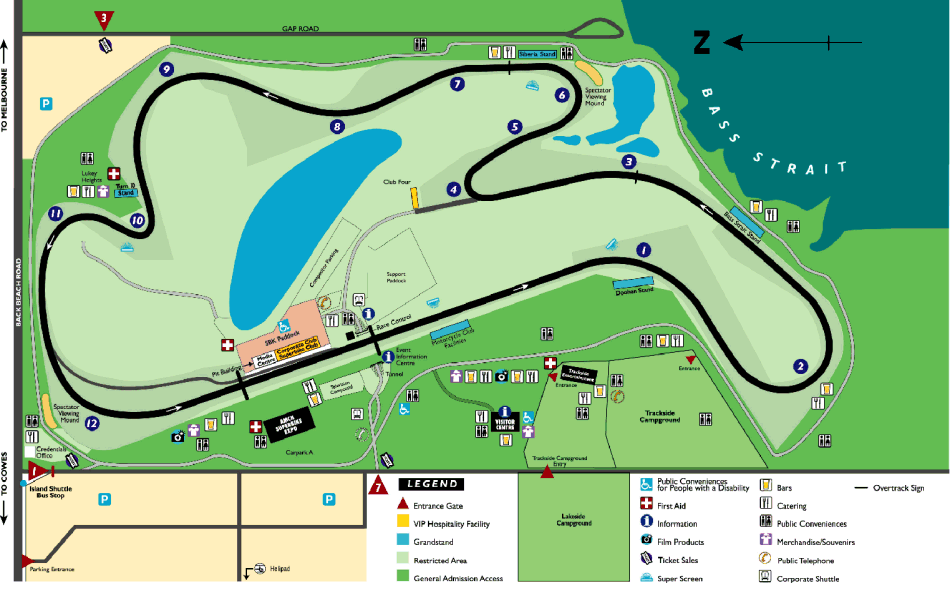 Phillip Island Race Track - Victoria Australia - I'll refer to the corner numbers (blue circles).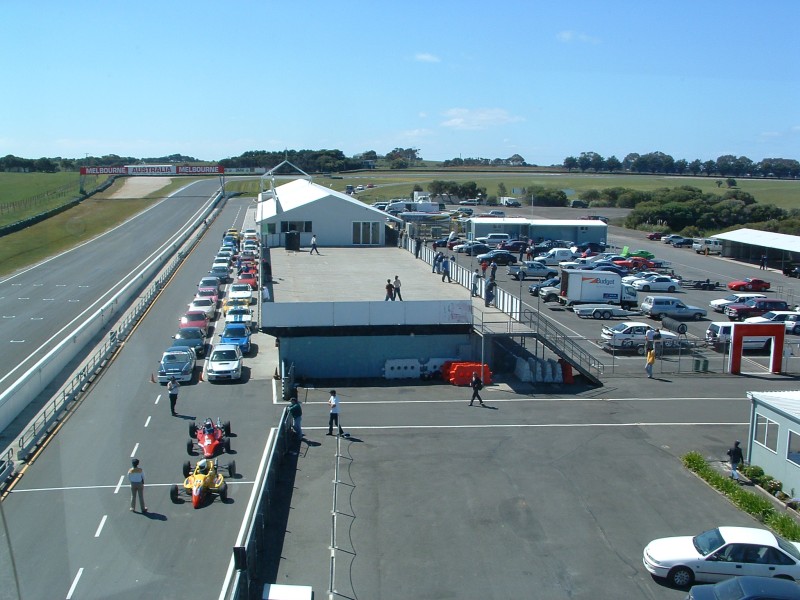 That's us lined up in pit lane, main straight on left, carpark in front is where to meet instructors, big viewing platform above pits - plenty of parking for car trailers etc out back.

The Banfield on the Island is a 4 star Best Western - has only the cinema, a heated pool, Barby area and restaurant too. Steve and Nikky finally arrive and we all catch up. Banfields is close so it only takes 5 minutes to get to track for an 8am opening. The big dirt/gravel entry track is annoying as ever with the cars getting dusty. We set up by Stan in the pits and back against unused pit doors to unload our stuff after registration. Time to line up and the three of us get in Blue group - not sure if Karl is going to make it or not yet. After registration and getting a yellow number it's time to unload the car and head over to scrutineering. Steve takes a little longer as it's his first time and he has to fill out extra forms for a CAMS licence and Phillip Island Auto Racing Club (PIARC). All Steve did was bolt a $35 fire extinguisher to his regular road car, empty the car of spare wheel and loose change and he's ready to sprint.
Stan had camera's mounted in front and rear bumpers - some great footage of Juzza following out of the pits and out of Southern Loop. Stan even managed to spin with rear bumper cam running - boy does the scenery flash by in a spin!
Like most drivers Juzza is a bit reluctant to let others drive his car - even (or especially) the professional driving instructors. The first thing I do every Sat is get an instructor, they drive my car, it gets me into a fast groove, relieves built up tension, reminds me of the right lines - always a great thing. Then we pull into the pits and the instructor lets me drive - he's coaching me and I'm getting better. I cut a couple of 2:02 laps (1.8 seconds faster than previous personal best) in a row with him sitting there. My Blue session hasn't even started yet - free driving instruction from the pros is like an extra session.
First session we're out and sometimes I creep up on Juzza in the corners but he always powers away from me in the straights - a real strong UZZ31 - still with standard headers! I'm watching Juzza and comparing his lines to the freshly implanted instructor insights - hmmmmm I think....... Meanwhile my car is bouncing terribly around right hand corners - Honda corner and turn 1 at end of main straight make each lap a pain.
After the first session I impolitely browbeat Juzza to go and get a free instructor session - I make suggestions that perhaps just maybe the real fast instructors just might have a little something to offer. I am in two minds of course - I want him to be better but I don't want him to be faster than me!! Anyway finally he is annoyed enough to go and grab an instructor just to shut me up. He manages to grab a hold of Chris Muscat - Chris always wins the Race Car class in his 1:37 'ish RX7 sports sedan. Chris asks Juzza what he can possibly do for him since Juzza is already doing 2:02's in the V8 ! - Juzza just asks to show him a few things.
They go out for a few laps and come back to the pits. We see them talking in the car from the viewing area, both are making racing lines with their hands. It's obvious they are getting on well. Juzza says "thanks very much Mr Muscat" and Chris says " you can call me Chris now Juzza" and Juzza says " ok Mr Chris Muscat Sir". Apparently driving with Chris Muscat has that affect on you.
We shout and wave to Juzza and he gives us the thumbs up and comes bounding up the stairs. His eyes are as big as dinner plates and he whooping it up and saying "Wow" and "FahnnnnnCahhnnnnn" etc. Juzza tells us the VERY BIG differences between the speed of Chris and himself in his car. Reminds me of Stan's favourite driving instructor story when they took him for a drive in his car. No matter how fast you think you are in your own car there is probably a driver somewhere who could drive it faster.
The next session we decided to pull into the pits at lap one so we can bunch up and get some video footage. Juzza and I take off taking it in turns to do 2 laps in front. It's a 15 min session on Saturdays - plenty of time. So Juzza and I have the whole track to ourselves - the rest of the group are at opposite ends of the track. We dice and slide and generally drive the cars as hard as we can - it's exhausting stuff. Often we are nose to tail around corners - we know and trust each other on the track now.
Once Juzza goes to deep into Southern Loop - he goes wide and is forced to slow down - doesn't look like he's going to spin so I take the inside line. Then going up the hill into Lukey heights (left hander up hill) I go in far to hard and out goes the tail at 160 kph - the car is going sideways on full lock smoking out Juzza behind. The car doesn't go any further than 80 odd degrees and starts the dreaded snap back - I manage to catch with some aggressive wheel work and on we go - my heart pumping a million miles an hour! Juzza is suitably impressed when we get back to the pits - we had a great drive.
I'm pretty much stuffed towards the end of the day - Juzza is winding down - they call another session for us and Steve "too much track time is barely enough" Malkin is keen to go. So out we head, Stan me and Steve in a group. It is now I realise that driving at 10 tenths is so much harder than just fast cruising. My fast doesn't glow red hot and I'm feeling cool and refreshed! I follow Stan and he is sliding around on those Falken Azenis - doesn't look as if there is much grip left in them. Later on Steve and me are fanging around - I can catch him in corners but coming out of Siberia and down the main straight he takes off. We often come onto the main straight me in front and I pull over as he sails past - then I close in again through the twisty back stuff. Following Steve you soon see he is a smooth consistent driver. I start applying more pressure following him closely around the tight stuff. But Steve "McQueen" Malkin doesn't blink, nothing breaks his concentration and he smoothly out powers me out of every corner - a very cool driver. Steve's got the Michelin Pilot Precedas - "nothing touches them in the dry" is the common magazine review comment.
I don't get to see Karl much on the track Saturday - he got stuck in another group early - I see him a couple of times and I reckon he's driving a tad conservatively the few times I'm following him.
Karl has some crazy plan to go back to Melbourne and watch the Rugby, Stan pops home to modify camera and get some fuel for Steve and extra supplies.
Sunday is busier than Saturday - more competitors - a different crowd to Saturday. Less track time, just three flying laps per session and that's that. We do manage to squeeze in 5 sessions - but it's not like Familiarisation Saturday with long 15-20 minute free sessions. Saturday is a more relaxed day - Sunday a bit more tense - no driving instruction on Sunday. Saturday is more about learning and laughing and having a good time. Sunday is more competitive.
Phillip Island Sprints Nov 2003

Lap Number

1

2

3

4

5

6

7

8

9

10

11

12

13

14

15

total (15)

Best

David Ross

Vvti Turbo Manual

2:07.53

2:03.58

1:59.29

2:01.24

1:59.99

1:57.98

2:02.52

2:00.34

2:00.78

2:02.22

2:00.14

2:00.30

2:02.02

1:59.58

1:58.33

30:15.84

1:57.98

Karl Hardy

Twin Turbo Manual

-

-

-

2:02.34

2:03.54

2:04.77

2:02.62

2:01.62

2:00.18

2:00.07

2:00.82

1:59.36

1:58.99

1:59.92

1:58.33

-

1:58.33

Peter Scott

V8 Auto UZZ32 Active

2:03.35

2:01.42

2:00.67

2:01.44

1:59.91

1:59.24

2:00.15

2:00.72

1:59.99

2:01.11

2:00.89

2:00.80

1:59.66

1:59.86

2:01.84

30:11.05

1:59.24

Justin Hughes

V8 Auto UZZ31 Airbag

2:02.90

2:02.02

2:00.30

2:03.25

2:04.16

2:01.69

2:02.07

2:15.28

2:01.94

2:01.12

1:59.33

1:59.41

2:06.98

2:18.39

2:07.46

31:06.30

1:59.33

Peter Goodin

Twin Turbo Manual

2:05.48

2:00.32

2:00.69

2:02.09

2:00.42

1:59.48

2:05.02

2:01.44

2:04.39

-

1:59.48

Steve Malkin

Twin Turbo Manual

2:08.46

2:04.99

2:03.72

2:14.81

2:04.94

2:03.84

2:05.12

2:17.44

2:04.34

2:07.07

2:05.24

2:04.34

2:05.29

2:04.62

2:02.10

31:36.32

2:02.10

Stan Johnson

Twin Turbo Auto

2:14.54

2:10.63

2:08.48

2:10.95

2:06.18

2:06.59

2:06.66

2:09.28

2:06.80

2:08.25

2:04.42

2:05.55

2:09.89

2:04.02

2:05.21

31:57.45

2:04.02


Now this looks easy - but it's bloody hard working getting it right. And bloody Steve Malkin on the right in the red kept jumping higher than the rest of us - I asked him more than once to take it easy but he has steel springs for legs and is severely lacking in the thermal mass department. Notice how each of us have there own individual style - Synchronised jumping is a sport of beauty and style - a chance for each of us to express our individuality.


That's me on the left and Juzza on the right. Stockish V8's with tyres do just fine at the Island - and we have the best fun in the world. It's just great to sprint hard and fast at the Island then cruise home in full V8 leather luxury with TV and big stereo - Nothing beats the V8 Soarer in our unbiased opinion. :)



Officials love PI Sprint days because everyone is driving their own car - people take care of their own and respect others. It isn't some crazy race with competitive team drivers driving team cars. When I see this photo I just want to get out there again - I love driving here and the Mustang and GT40 guys are always there and top blokes too.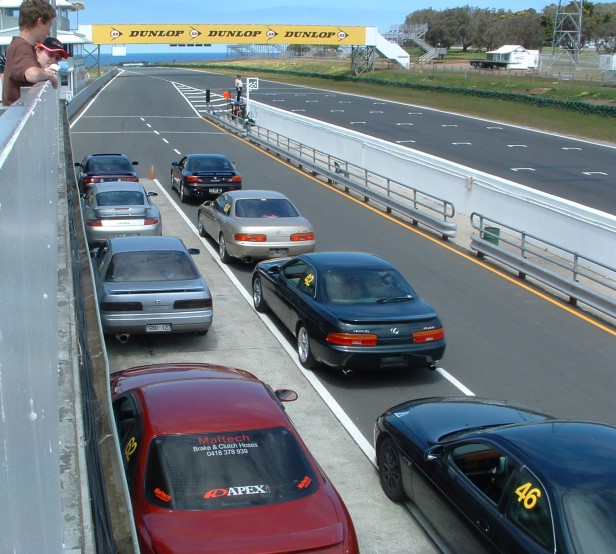 James and Nikky watch as we wait our turn - still get butterflies in the tummy waiting here. Without doubt the best $90 I have ever spent.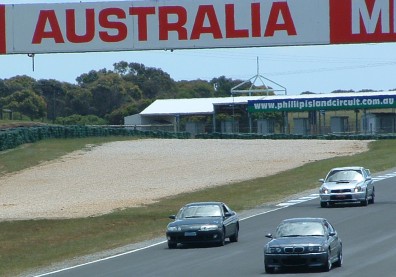 Me and the silver STI had similar lap times. This M3 was slow around the back - he waved me on then left me for dead down the straight - got him next corner. He struggled with grip on his street tyres and I left him behind - but in a straight line Man these M3's go hard. Or was it an M5? - hmm, forget now.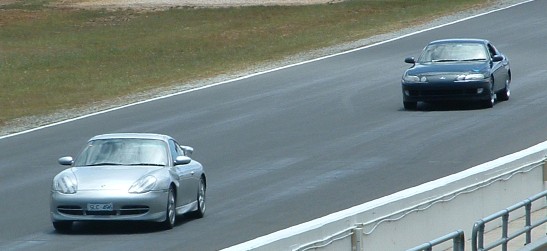 Silver Porsche slower than me (Juzza chasing here)- but not because it's a slow car. Driver attitude and tyres (hence grip) make a big difference to lap times. Times don't matter on the Saturday - it's important to just enjoy and give it a go. The Porsche was pure road car having a blast.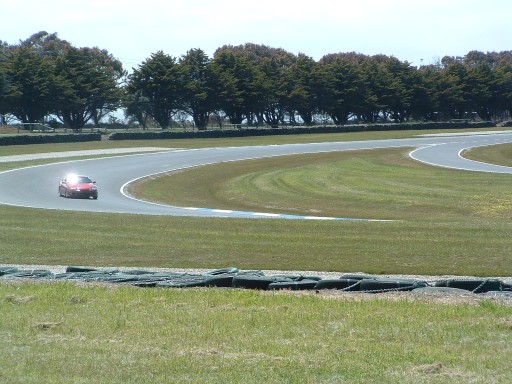 Steve Malkin in his pure street manual twin turbo Soarer. As you can see you don't have to mix it with other cars - plenty of room to have your own piece of heaven. And what a track - so much room, so smooth, so much runoff - pure bliss. Sometimes you look at the track and with it's perfect layout and condition and just marvel that we are allowed on it! YeeeHaaah!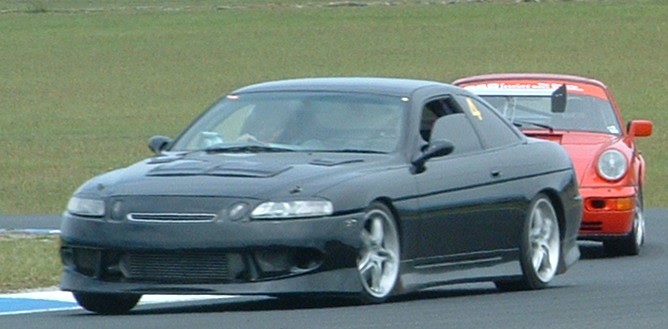 Karl Hardy black Soarer. That red Porsche behind him and me lapped nose to tail for a whole session (not this session - earlier on) - a blast. Porsche drivers give it a go! This one went around corners on three wheels - inside front wheel in the air. After a great session it is common to find the other driver and just chew the fat - it is such a bonding experience. I love it.


Steve Malkin hot on the heels of Stan Johnson.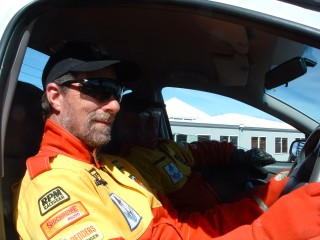 This guy is fully trained. He volunteers to hang around all day ready to leap to our rescue if anything goes wrong! Another reason to save speed for the track.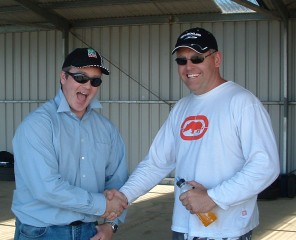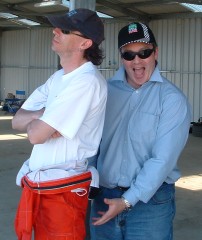 Karl was very gracious when I entered the sub 2 minute club before him, Juzza didn't cheer up until I told him his buns were still smaller and tighter than mine.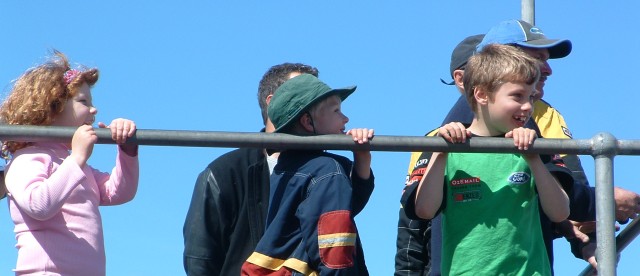 One Soarer is good, but get 7 of them lined up ready to go and it's Wow! time for the kids. So we wave and rev the engines for them. hahaha. We are Soarer ambassadors after all!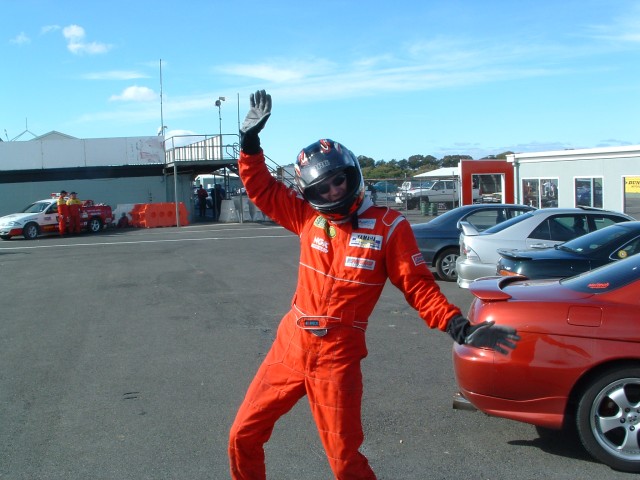 Well you guessed it - here is Juzza when he read that he did in fact break 2 minutes - he felt it in his waters that he did it the previous session - didn't even have time to take the helmet off before he started the Juzza dance.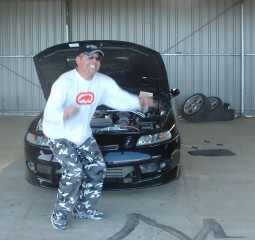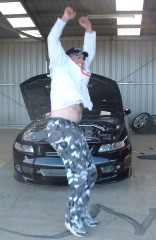 Karl Hardy likes to practice everything he does before doing it for real - he has the same attitude to making kids too. Here he is getting ready for the big jump photo. Like me Karl looks better on the ground walking around rather than in the air, he's not really designed for getting big air.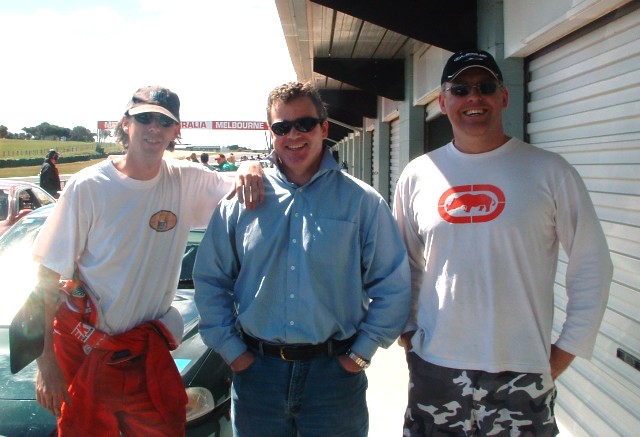 Juzza, me and Karl. Great mates, great times.
---


Karl Hardy
Name three (or more) memorable moments from the PI weekend.
Passing Chris Musket, Chasing David Ross for 6 laps and holding my own, Keeping a Porsche driver that used to pass me at bay.
How important is driver training and what would you recommend to Newbies?
I think it'd be good...... Hmm maybe I should do some!
In order of merit name three things you would change to go faster.
Refrain from sex the night before so my Kahonas are as BIG as Possible, Listen as carefully as possible to PETE!, Take my carpet out Like PETE Did!
Something you'll not do again.
Have SEX the night before a big day at the Island
One of the favourite bits of the track and why.
Coming onto the straight and hitting BOOST........coming out of any corner actually
What you will do different next time.
Not go back to Melb for the rugby and return on 4hr sleep!
What would you say to people who haven't tried it.
You only live once! I'm sure its something you have all dreamed about doing
You don't have to go out there doing crazy speeds. Come along on a Sat, get there early (8am) and go in the Instructors car. Or get some advanced driver training before coming along. There were 2 women there one in a new Audi havin' the time of her life and I think doin' a 2:09!
Just do it! OK There's a great group of guys and girls there willing to help and support you any way they can. It's awesome fun!
HI GUYS YEAH WHAT A GREAT WEEKEND!
David sounds like I'm not the only one who's going to peel! I started the weekend off in my usual style. Easing into things getting used to the new set up and almost lack of third gear. I was a bit knackered after having some kind of weird gastro,flu bug thing which made me feel like I'd been hit by a truck and then reversed over!
But it was Pete Scott's call on Fri arvo that got me all fired up again. Pete your a legend! Oh and quite funny at moments as well!
It wasn't until late Friday that Phil from Geelong Tune Up had actually called with his 4th and FINAL attempt at blending gearbox oils with some kind of friction modifier to give me a third gear. It wasn't pretty but at that stage I had no choice. All the way home I was going up n down gears to circulate the GOOD OIL around the old Getrag.
Phil was going to call me at 6am on his way through with the Porsche (He was testing at TH ISLAND. He had left earlier and called me when passing Dandenong. I woke still feeling a bit off but couldn't resist I Fired up the Black beast and headed for the Island. It was a great reception I felt like some kind of celeb and the words "He's here" rang around the carpark.
I went straight to the PIARC office and made sure I could attend the weekends events YES there was room for me yippee! So it was off with the treads and on with the sticky bald rubber. I felt like a bit of an outsider as there wasn't any room left in BLUE group (the group that the ALSC Die Hards were in & I was hanging out with the Porsche guys and Phil the mechanic who was helping to set my car up. I had a great day Saturday trying different lines, different gears and was giving the quick guys a fright by Blasting down the straight I even passed Musket that RX& race car thing that's bloody quick! That was the highlight of the weekend, Oh and there was that lap when I held that Porsche off and the 159 lap ah sooo many great times!!!!

Sat night I had to go to the Rugby so I headed back and returned again Sun blurry eyed eyes still full of sleep. There was an eerie misty rain hanging around then like magic the cloud peeled back and exposed a beautiful Hot and sunny day. F N orsum. I grouped with the Soarer boys Stan, Juzza, Pete, David, Steve, and the other 7 or so guys that were in out group. I did my usual trick of letting the field go so that I had the track to myself. Which usually works but I forgot about a little yellow rotary. It caught up with me as I was zig zag warming the rubber and heading for the start line for my first timed lap. Bugger I thought if I let him past he'll root my lines if I don't he will try and pass and might hit me or run me off??? What the Fu*# am I to do. I made the decision right there to run my own way and if they were fast enough to pass then they had to earn it. To my surprise and his shock my car was quite a bit faster in a straight line but he was gaining on the corners but all in all I held my own and there was no passing me this time.

I was feeling more confident and was holding off a 911 that was giving me a little curry at times (Yes the red one that Danny mentioned) and a couple of others that had a go. I was narrowing down. 202, 201, 200, Then BINGO the old 1;59 You bloody Rippa!!!!! David was on fire with a 1:57 I think so I decided after a a few words of wisdom from Pete it went a little like this
( Get out there and put your foot into it you big nancy boy! and don't touch the middle peddle that's for wimps! You don't want to be a wimp do you? Well do you? God damn it answer me BOY!!!)
GET OUT THERE AND FOLLOW MR SEXPO YOU CAN GO WHEREVER HE CAN GO JUST CHASE HIM! Get the picture! So I did NOW I WAS PISSED. No-One talks to me like that. So I chased David around and around for 6 laps Shit we were really flyin' another rotary thought he would take on the Black Soarer Duo only to loose it on HONDA CORNER under brakes and I was hard on Dave's rear again (and I'm not talking about SEXPO HERE) It was orsum corners were fast under brakes I could see Dave's rear sway side to side until he hit the gas and picked a new line Then BOOM away again to the next corner. Cant wait to see our last few times. We all headed back to the pits for tyre changes and the Oh What A Feeling Photo SHOOT. What a laugh!!!! Aaaaaahhhhhhh Its all GOOD! Thanx to all you guys that came down. You all make this event Sooo much fun! Thanx Stan and family for having us after the Soarers had left the Track and headed back to the Stables to prep for the next PI TRACK DAY
---


Justin Hughes
Name three (or more) memorable moments from the PI weekend.
Tailing a new Carrera around the track for 5 laps without him getting away. b. Chris Muscat driving my car faster and harder than I thought possible. c. Doing a Sub 2 Min' time in my UZZ-31. d. Rearranging the Motel Room with Pete' and 'Tash' to suit ourselves. e. Spinning 520 Degrees @ 160 KPH up Lukey Heights
How important is driver training and what would you recommend to Newbies?
1st timers should definitely have a tour around with a qualified Race Driver (not one of us !!!!) - after that; new things can always be learnt each and every weekend - right Pete ????? Hahaa !!
In order of merit name three things you would change to go faster.
a. Slicks. b. Headers. c. Supercharger.
Something you'll not do again.
Crack the Shits over Nothing !!!!
One of the favourite bits of the track and why.
... out of Siberia (#6) and through the kink up to Lukey Heights (#9) - Oh Yeahhhhh !!!!
What you will do different next time.
Beat Peter Scott.
What would you say to people who haven't tried it.
I extend a challenge with a Virtual Gloved SLAP on the Cheek for any other V8 Soarer driver to be faster than me at the next round.
I really need the "HRL" Chip to give me 8,000 revs and perfect 3rd to 4th change.
More Photos from my film camera.................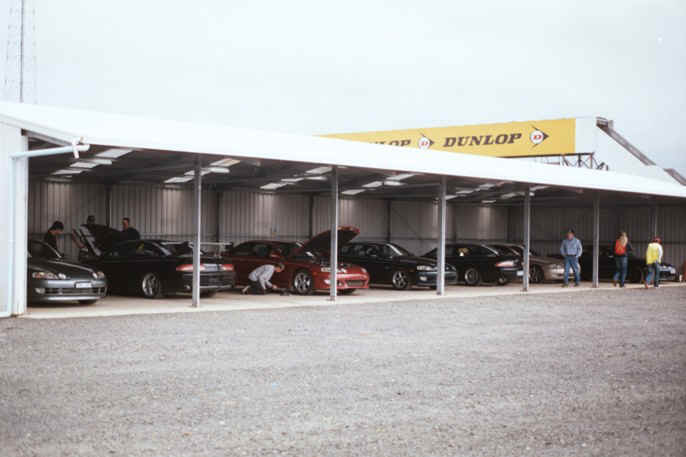 In The "Off Limits Garage" !!!!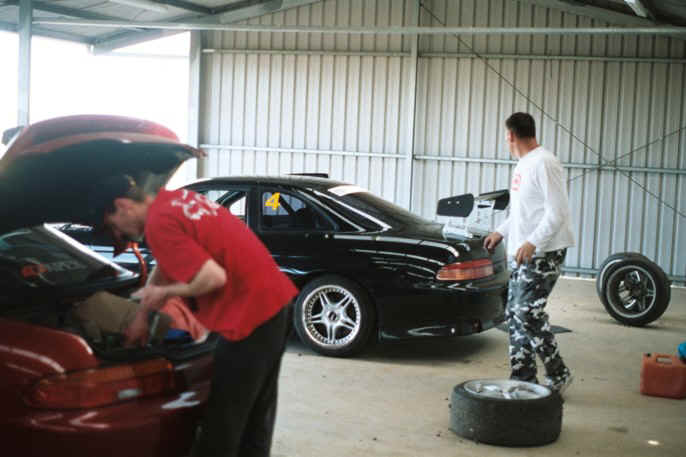 Steve and Karl Looking for more Speed ... ("It's round here somewhere Steve, you look in the boot and I'll check over here" ) !!!!!!




David Ross has time for quick Yawn after Flogging us all ... AGAIN !!!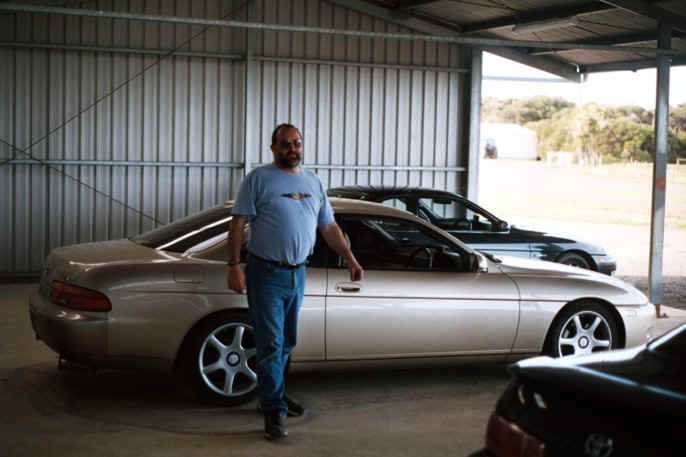 .. the look on Stan's face after me impersonating Rob Hayden saying "You're a Pussy Stan" !!!
I had to run away straight after taking this photo, 'cause Stan looks like he's built for comfort but boy, can he run FAST !!!



Peter Scott with his Black Pudding coming over to give me a good Eckythump !!!!!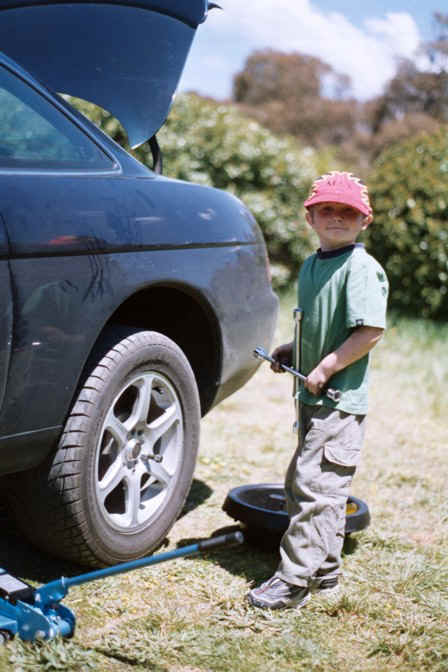 My Pit Crew
---



Steve Malkin and Nikky (photos)
Name three (or more) memorable moments from the PI weekend.
First laps of the track, the last session on Saturday with Pete Scott following quite closely. Having an absolute ball all weekend, enjoying other club members comments, encouragement and jokes.
How important is driver training and what would you recommend to Newbies?
Driver training for road driving is very important, but as far as training for track driving you don't need much, just common sense. You will learn a hell of a lot by being on the track and pushing your car in a safe environment
In order of merit name three things you would change to go faster.
More Practise, Front mount intercooler, tuning, machined or new brake discs, Tyres
Something you'll not do again.
Go down with half worn brake pads (spares will be taken next time)
One of the favourite bits of the track and why.
Coming out of Siberia(#6) through to MG(#10). This is one section l become fairly comfortable with over the weekend. It flows nicely and suited the car well. It is quick, smooth and very exciting as you come over the top of Lukey Heights and drop down and begin to brake hard.
What you will do different next time.
Push the Michelin's (Pilot Precedas) harder until they actually let go, I think they have a far bit more speed in them so l need to explore their limits further.
What would you say to people who haven't tried it.
Do yourself a favour, get the extinguisher, bonnet restraint, pay the dollars and have the time of your life. You will learn more about your car and its capabilities than you ever imagine. And you are bound to learn about car control which will one day help you on the roads.
Well what a weekend!!! As Juzza said this is the best time you can have anywhere.
So with the $30 fire extinguisher, a secondary bonnet restraint, a 4 point harness and a quick check over of the car, Nikky and I headed to Phillip Island on Friday night.
Saturday morning we pay the dollars get the car checked and were ready to go. First session out I took it fairly easily getting used to the track and what the car is capable of. The times for the first couple of laps were in the 2:17's and by the end of Saturday my unofficial best time was 2:05. I was pretty happy with the times, lets bring on Sunday and the official timing.

So early Sunday morning l had to change the rear brake pads and then we headed to the track. Same procedure as Saturday, do the paper work get the car checked and get ready.
So by the end of the weekend l had a best time of 2:03:72 on Street Tyres.



After giving the soarer a real hard time for 300km the only thing to go wrong was that a part of the catalytic converter decided to make it's way down the exhaust and sit in the muffler.

Just like to thank all that attended the weekend for the help and support, this is the best thing you can do with a Soarer, you learn so much about car control in a safe environment and not once did we see a police car pointing a bloody radar at us doing 220+ kph OH WHAT A FEELING!!!!!!!

Bring on the next event

To anyone that likes driving a Soarer fast (and l know of about 50 that attended the West Coaster) this IS A MUST.
---


Stan Johnson and James (tech guru)
Name three (or more) memorable moments from the PI weekend.
(1) The look on Juzza's face when he saw his first sub two minute lap time (2) Same as above for Pete (3) Going off at Southern Loop again (Its a tradition I can't break) (4) The oh what a feeling photo shoot. (5) Juzza's commentary on headrest cam
How important is driver training and what would you recommend to Newbies?
Driver training will probably have the biggest effect on your lap times. When you go out with the real professionals you find that your car is much faster than you thought possible.
In order of merit name three things you would change to go faster.
Brake later and less, Stickier tires (I'll try a set of Bridgestone 540s next time) Try and be smoother
Something you'll not do again.
Back off in the middle of turn 1
One of the favourite bits of the track and why.
I like the twisty bits Honda (#4), Siberia (#6) and MG (#10). I'm still not confident on the high speed turn #1.
What you will do different next time.
Faster through turn 1, go out with an instructor, follow the faster soarer drivers more closely ( right up the clacker)
What would you say to people who haven't tried it.
Best fun you can have with your clothes on!
I drove down Saturday did the usual registration etc. Got out on the track an was quit happy with how things were going. Gave my son James a passenger ride. He then tells me I'm too old and should move over for the younger generation. He'll be able to get a licence for the next meeting so he may get a drive. Drove home again and then back on Sunday morning. As Pete said Sunday is a bit more tense.
Had to push the car through Scrutineering because you aren't allows to start "race" engines before 9AM (you really find out how heavy a soarer really is when you have to push it). Got out on the track and had a great time got a personal best but not the sub 2 minutes I had been hoping for. In my case the driver is the limiting factor as the car is capable of much better times. Best moment for me was the look on Juzza face when he got his sub 2 minute time. Had a great time over the week end with all the crew. A great bunch of people with a common interest in a great car. If you think about it you have a 12 year old design beating current model $80,000 and more cars. Best bang for buck going. Under 2 minutes is bloody fast for a 1700 kg production car. Special thanks to Danny and the others who came down and supported us even though they didn't run. If we can get 12 entries next time we can have a session to ourselves so lets see a few more "Newbies" It's so much fun and you can go as fast or slow as you want. From Steve's post it looks like he's been bitten by the bug. Be warned I is very addictive. Come on down and give it a try If you haven't tried it you should do it at least once, even if its only a cruise round on the Saturday. You will learn more about your car and your abilities in one day than in 5 years on the road. I would be great if we could get 12 cars down there and have a session to ourselves
---


David Ross
Name three (or more) memorable moments from the PI weekend.
1. Coming out of MG and accelerating all the way around turn 11, then turning into the last corner under full acceleration after having just changed into 4th gear and then mounting the ripple strip on the exit.
2. Out braking a Commodore into turn 4. He was only a couple of metres behind me on the approach, but had to go straight up the pit entry road after I turned into the corner, but he couldn't.
3. Going over the top of Lukey Heights with an open wheeler right behind me, I went to turn into MG and when I looked for the apex of the corner I spotted the open wheeler spinning on the infield, out of the corner of my eye. I had to make an instant decision as to whether he was going to spin back onto the track in the middle of the corner. He pulled up before re entering the track, and I left him in his own cloud of dust.
How important is driver training and what would you recommend to Newbies?
I have to admit that I haven't had any driver training, but will do so when I can get down to The Island for a Saturday and believe that it is likely to help my times. We never stop learning!
In order of merit name three things you would change to go faster.
1. Better (bigger) tyres. 2. New sway bars. 3. More power.
One of the favourite bits of the track and why.
Lukey Heights and MG. Get it wrong, and your stuffed.
What you will do different next time
Go faster!
What would you say to people who haven't tried it.
You idiot!
Arrived Sunday morning and stood in a line, in the rain for an hour to register for the day.
I have recently bought a new set of 265 and 245 'R' spec tyres, but forgot to pick the front ones up on Friday and found the workshop closed on Saturday when I went there.
I made the decision to put the R spec on the back even though I would have to run street tyres on the front...well, what an experience! Who amongst us has ever driven a Soarer that understeers, instead of the usual power oversteer? Imagine turning into a corner at 180kmph, only to find you have to keep winding lock on because the car is just not turning in. Once I got used to it, it was manageable, but I will never complain about the oversteer the car normally experiences ever again.
The new rear tyres were just fantastic allowing me to get on the power much earlier than previously. I think once I have the R specs on the front, I will be aiming to get the current 1.57:98 down to 1.55:00 with everything else 'as is'. We'll see!
I say again, for those that have not tried this, you just don't have any idea what you are missing.