April 2003
by Peter Scott
Phillip Island Part one click here.
It's true what they say - too much Phillip Island is barely enough. All of the Soarer guys that went are changed forever. We don't care about street driving, stoplight drags, quarter miles or dyno days so much anymore - we know that circuit sprints where man and machine bond as one is the ultimate. Everyone's a winner!
Well the final results for the day came through- you can download the entire list of all 111 cars and times at the PIARC site: http://www.piarc.com.au The shortcut to the pdf file is here: http://www.piarc.com.au/PIApril03.pdf
Interesting to go through - but let's just look at us for this page. (Scroll right to see all the session times etc.....)
car number

name

Car

Personal Best

rwkw

mass (kg)

rwkw/tonne

tyres

Top Speed kph

session 1

session 2

session 3

session 4

session 5

Personal Best

Overall position (out of 111 entrants)

663

Craig Dean

TT Supra

1:51.95

race radials

?

1:56.83

1:55.79

1:56.18

1:53.51

1:54.92

1:53.81

1:54.88

1:54.74

1:55.47

1:51.95

1:52.76

1:54.32

1:51.95

9

2

David Ross

JZZ30 VVTi turbo manual

2:00.34

192

1560

123.1

Yokohama Advan Race Radials

220 +

2:06.46

2:04.68

2:22.15

2:02.39

2:02.74

2:05.19

2:05.05

2:00.58

2:06.98

2:01.58

2:12.33

2:00.34

2:00.34

35

32

Peter Scott

UZZ32 Active V8

2:03.92

137

1730

79.2

Pirelli Pzero Race Radials

178 (limited)

2:06.09

2:06.26

2:06.21

2:05.41

2:05.61

2:06.24

2:05.50

2:05.22

2:05.55

2:06.46

2:06.33

2:05.59

2:07.05

2:08.92

2:03.92

2:03.92

44

100

Craig Dean & Tim

Supercharged UZZ31 Airbag V8

2:06.72

est. 170

1640

103.7

Falkens

200 +

2:08.11

2:06.72

2:06.84

2:07.89

2:07.90

2:07.75

2:06.72

57

130

Karl Hardy

JZZ30 TT manual

2:08.02

380

1560

243.6

Yokohama DNA Grand Prix

220 +

2:23.31

2:22.12

2:16.55

2:16.64

2:14.56

2:13.78

2:14.51

2:14.82

2:12.96

2:11.08

2:11.89

2:08.02

2:34.08

2:15.00

2:11.61

2:08.02

63

42

Justin Hughes

UZZ31 Airbag V8

2:08.28

est.130

1640

79.3

Dunlop FM901

178 (limited)

2:14.68

2:11.44

2:15.10

2:17.97

2:10.12

2:09.21

2:09.28

2:08.41

2:16.14

2:49.62

2:18.54

2:09.68

2:10.21

2:09.52

2:08.37

2:08.37

64

60

Robert Hayden

UZZ31 Airbag V8

2:08.47

138

1640

84.1

Kuhmo Ecstas 712

201

2:14.78

2:17.05

2:09.80

2:14.93

2:09.90

2:13.35

2:14.24

2:08.47

2:08.84

2:08.47

66

117

Stan Johnson

JZZ30 TT Auto

2:11.72

168

1560

107.7

street

178 (limited)

2:22.58

2:22.51

DNF

2:16.72

2:16.24

2:14.70

2:21.90

2:14.08

2:18.19

2:12.16

2:12.88

2:11.72

2:11.72

80

140

Aaron Elliot

UZZ31 Airbag V8

2:14.35

142

1640

86.6

Kuhmo Ecstas 712

178 (limited)

2:20.06

2:19.68

DNF

2:16.88

2:18.31

2:14.35

2:14.35

89
Street tyres are great for the street, not so great for the track - some street tyres are better than others on the track. The Dunlop FM901 are terrific on the track, but the noise is quite intrusive, the Kuhmo's are quiet, but a bit slippery for track work. MOTOR magazine (Jan 2003) did a big tyre test of the second rung performance tyres. For example the Michelin Pilot Preceda was tested instead of the ultimate Michelin Pilot Sport. The tyres were typical tyres you would go shopping for on a Soarer. So if you want to do fast dry laps on a race track check the following table:
Dry braking and laps, relative score out of 10
(four) 235/45/17
Michelin Pilot Preceda
9.85
Super quiet "absolutley eat anything else"
$1350
Dunlop Formula FM901
9.63
noisy
$1150
Pirelli PZero Nero*
9.53
$1320
Firestone SZ50
9.38
$884
Bridgestone S-03
9.34
$1180
Toyo Trampio Gu:Wn
8.87
$892
Avon ZZ3
8.76
softest ride
$940
Hankook Ventus K104
8.20
$688
BF Goodrich Profiler G
7.71
$1140
Goodyear Eagle F1 GS-D3
7.53
$1516
Simex SM9300
7.18
$700
Kumho Ecsta Supra 712
6.90
Balanced, good feedback
$780
Federal 589
6.78
$632
*note: these aren't the tyres I used, I used Pirelli PZero C - a motorsport tyre - will demolish all the above around a track. Same goes for David's Yokohama Advans - different league to above tyres.
So for affordable street tyres to dish it up on the track the Michelins are hard to ignore. The Firestones look a good buy but don't have such a nice feel as the Bridgestones. The Dunlops are too noisy for me - I've been in two Soarers with them and it would drive me mad. For my money I'd go the Bridgestone S-03 - better in the wet than the Michelin, bit cheaper than the Pirelli. But then again Richard in UK had a terrible time with the S-03 on his Soarer. Hmmmm. So that leaves the Pirelli or the Michelin. So now I would have to go with the Michelin. It has terrific balance and control in the Wet (not as good as the Pirelli in wet numbers) and is the best in the dry by a long shot AND it is silent - no noise. Or save some cash and go for the Firestones.
From the above table you can see how much better the Dunlop is over the Kuhmo. I have Kuhmos on one of my three sets of rims - for regular street driving they have been fine - I have no complaints with them.
The V8's
| | | | | |
| --- | --- | --- | --- | --- |
| Award | car number | name | Car | Personal Best |
| Fastest V8 overall | 32 | Peter Scott | UZZ32 Active V8 | 2:03.92 |
| Fastest Supercharged V8 | 100 | Craig Dean & Tim | Supercharged UZZ31 Airbag V8 | 2:06.72 |
| Fastest UZZ31 Airbag V8 | 42 | Justin Hughes | UZZ31 Airbag V8 | 2:08.37 |
| Fastest V8 on Kuhmo Ectas 712's | 60 | Robert Hayden | UZZ31 Airbag V8 | 2:08.47 |
| Fastest Pearl V8 and best sounding | 140 | Aaron Elliot | UZZ31 Airbag V8 | 2:14.35 |
The Turbo 6 Soarers:
Award

car number

name

Car

Personal Best

Fastest Soarer!

Fastest manual turbo

2

David Ross

VVTi turbo manual

2:00.34

Most intimidating, most power, biggest wing.

130

Karl Hardy

TT manual

2:08.02

Fastest Auto Turbo Soarer

117

Stan Johnson

TT Auto

2:11.72
---
Rob scanned in the professional photos taken on the day. 3 for $40 - big and clear. Here are mine: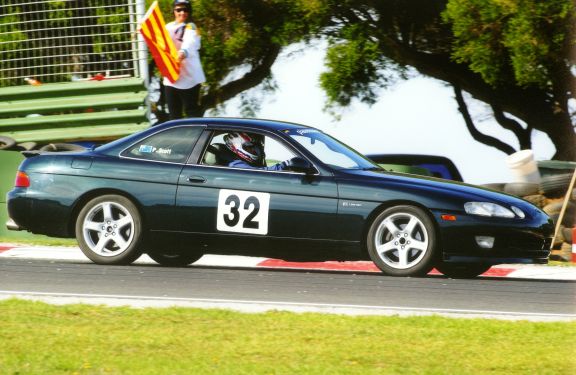 Red and yellow flag - in this case it was gravel on track - going into MG standing on the brakes as hard as possible.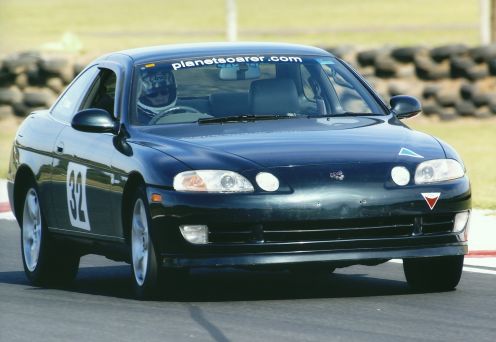 The UZZ32 turning right - I know the car looks as if it is leaning towards the inside of the corner rather than the outside! Exiting MG corner full throttle, keep it down until turn 1 end of straight.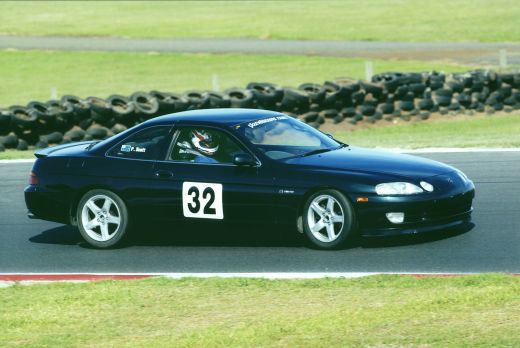 The UZZ32 always looks as if it is understeering in photos because it doesn't lean.
---
An airbag UZZ31 in sport mode, TEMS diagnostic short (TDS) not in place.
---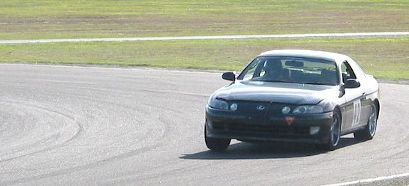 The above three photos are Juzza's UZZ31 airbag V8 on sports mode with TDS. I have no idea how Juzza and Rob Hayden punt these Airbag UZZ31's so fast - they are amazing. I've tried to drive a few of them fast - but I can't get used to the tiller, it's not a steering wheel, my Active has a steering wheel, these things have a tiller, you move it and the car just leans over, it doesn't really "steer" at all ! (ok, ok, - so I'm poking a bit of fun!).
---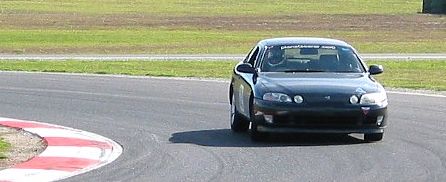 The above three photos are of my UZZ32 V8 Active suspension Soarer. They are easy to drive, the geometry doesn't change, they have higher grip levels, corner faster, have fabulous feedback, are easy to control, safer to drive and come with big brakes from factory. A dream on the track and road. Make me look good! I'm not a fast driver, I just got me a fast car! The other guys are sweating and I'm just cruising - it's easy in an Active.
---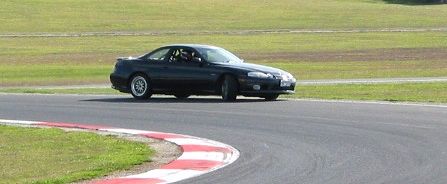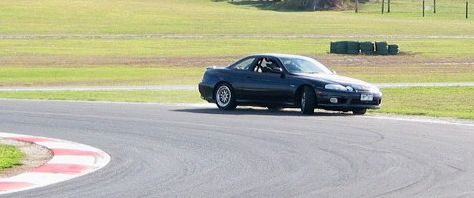 It's amazing that David cut so many hot laps in his fully kitted out Soarer and the one time he blows it we get it on video AND 10 sequential photos! Not Fair! but action is action!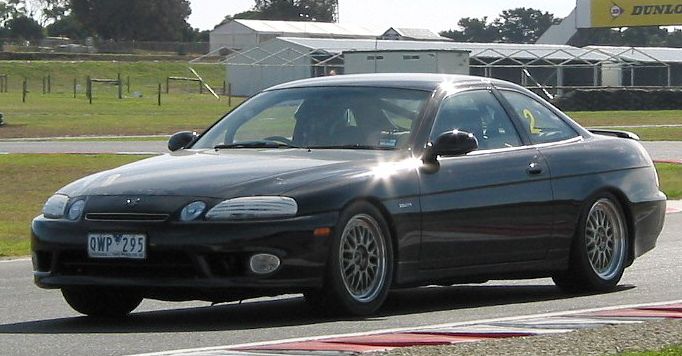 This is more like David - nice line - lot's of power down to the ground.
---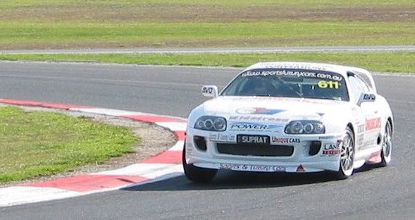 Craig Dean powering out- very fast.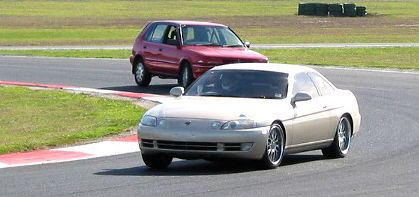 Stan's auto JZZ30 Auto Twin Turbo
The smooth Aaron Elliot in his UZZ31 airbag V8. Aaron sacrificed one of his sessions to take so many beaut photos and a video that is now on VCD.

What is it with racerboys and cameras? I saw the camera and turned it in nice and tight to light up the tires. That's about $30 of Pirelli Motorsport tyre in that cloud of smoke! My V8 lighting up the inside rear for the camera - wheelspin out of corners on demand with open wheeler diff - tight for wheel spin, go wide for grip. Too bad the camera wasn't on the other side of the car! Thanks go to Blair who took a whole bunch of photos with Rob's camera.

Karl Hardy ( http://importacar.com.au - he can get you a car from Japan - even a rare Active if you can wait) about to pull one of his favourite tricks, light the afterburners on his Saturn rockets and say bye bye to Mr Porsche.
Stan and Karl mixing it up.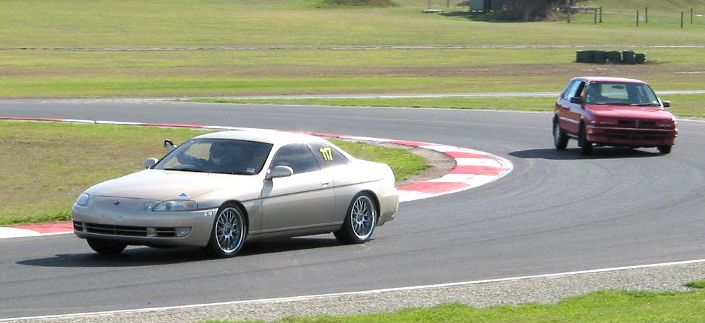 Stan indicating to the red car behind to overtake him on the inside. They tell us this everyday at the drivers briefing to indicate to the car behind using the hand - not the indicator. Must have worked - no one got a scratch and we all had a blast.
So we have lots of pics. And we have VCD - nothing better than to kick back with 35 mins of Soarer action. Aaron took most of it, put it on VCD for everyone and added some cool titles. Listen to us on Bullshit Saturday - Saturday is track familiarisation day, perfect time for mind games and general bulldust. Sunday is timed sprint laps - (when the flag drops the bullshit stops!). Juzza has it now and is cutting his own version - can't wait for that one. The VCD only works in a computer DVD player with DVD player software for me.
Some screen shots from the VCD: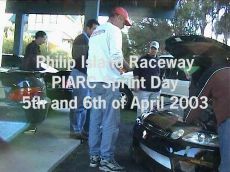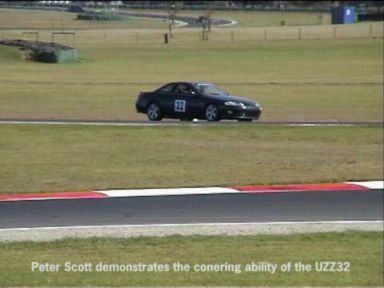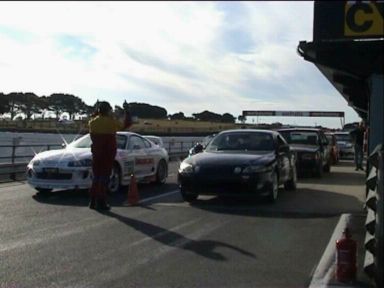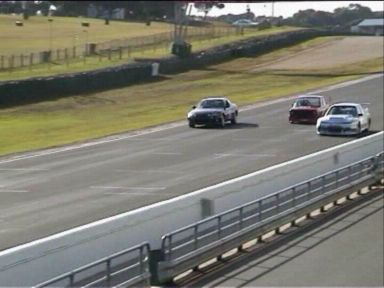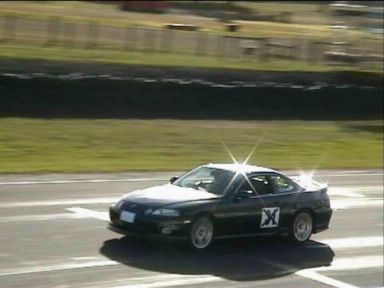 Well that's it from me. Next event on June 1st 2003 - check PIARC site for details. If the forcast isn't rain I'll be driving over for that one too. See you then!
Don't forget more pics and editorial by Rob Hayden on the ALSC site:
http://www.lexus.australia.as/meeting_pages/philip_island_april_2003_page1.htm