April 2003
by Peter Scott
The Phillip Island Circuit, Victoria Australia. This was a timed Sprint event. Not racing. So no-one is trying to get in front of you to win, cars are released in groups and faster cars are let through. Most of the time it's driving around by yourself. No one got a scratch - everyone had a blast. Check http://www.piarc.com.au/ for the Club that organised the day and lap records and rules and http://www.phillipislandcircuit.com.au/ for more track details and events.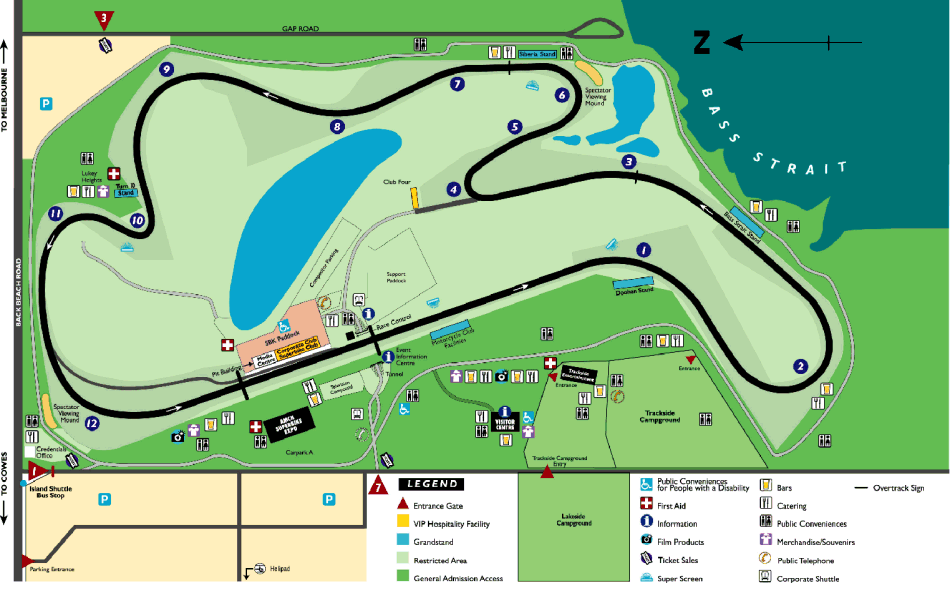 Friday Night: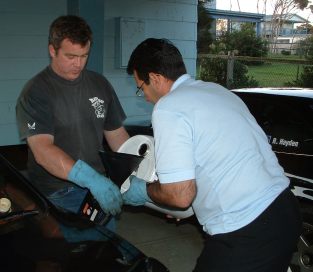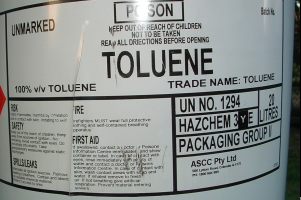 Me and Andrew Vlamos filling my car with Rocket Fuel. 5% toluene will give 1 extra RON - 20% is recommended maximum. So in theory this will bump up to 102 RON and allow the Japanese tuned V8 to flex it's full muscle without the dual knock sensors pulling back the timing. No dyno testing done yet. For further reading refer to the BP petroleum site: http://www.bp.com.au/products/fuelnews/faq.asp
quote "The octane of a fuel can be boosted by adding proportions of a higher octane fuel. Also available is toluene, which can be used as an octane booster in both unleaded and leaded fuels. Generally each 5% addition of toluene will increase the fuel's octane rating by one number. It is not recommended to add more than 30% of toluene to the fuel. Because of the dangers with incorrect mixing, individual motorist are advised against mixing additives with fuels without first consulting their car engine manual or their fuel supplier. "
Want more reading?
http://www.biznetonline.com/02-02/water.htm
http://www.geocities.com/TimesSquare/Alley/7026/autos_gasoline-faq_part3.html
http://www.vtr.org/maintain/gasoline-octane.html
http://www.elektro.com/~audi/audi/toluene.html
Aaron used Nulon -the best off the shelf octane booster - best you will do is about 0.7 increase in RON - often referred to as 7 points. Fuel at island is best bought at the Shell in Cowes - it's 90% Optimax, 10 % premium - average RON has been tested at 97.2 - It's an independent service station so Shell won't supply 100% Optimax.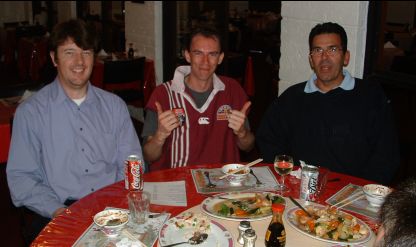 Off to the restaurant after the fuel.
Aaron, Juzza and Andrew (flew down from Queensland just to catch up with us!)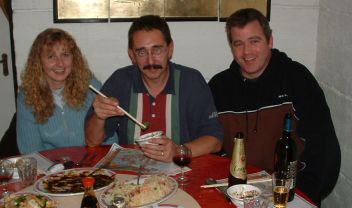 Suzanne, Rob and me.
Saturday:
Great weather, first thing on arrival is park the car out the back. That's me, Juzza in the middle and Stan on the right.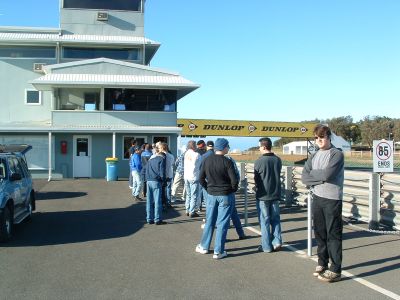 Then go and line up straight away - Aaron shows how it's done. We had to fill out a CAMS licence, $91 for a year, pay by credit card - all you have to do is tick a few health boxes and write down the name of your doctor. You get a temp licence, a briefing note and a scrutineering form. On the Sunday we didn't have to line up- just go in the other door and get another scrutineering form.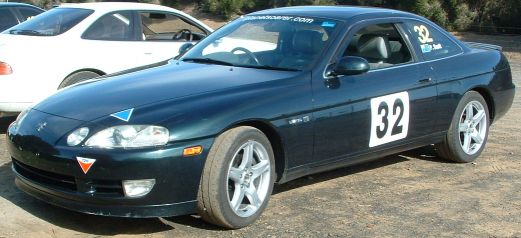 Scrutineering. You don't need any stickers except for the blue triangle where the battery is. The Yellow number on the side window is provided. Battery must be secure. Secondary bonnet tie down (can be a leather belt etc). Fire extinguisher mounted solidly where you can reach it.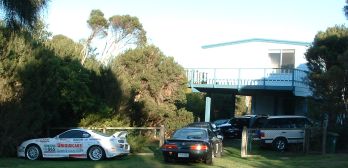 Rob rented a two storey party house on the island. Walk to the beach, short drive to the track.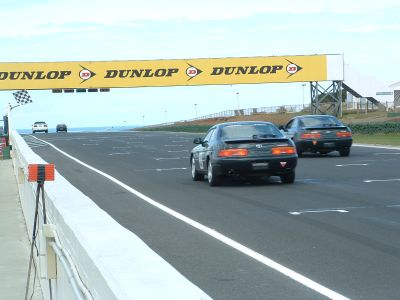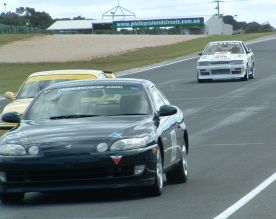 Saturday was familiarisation time. Cars in 4 groups, Purple (race), Brown (modified), Silver (standard - all of us together) and Green (small). Cars let on 4 at a time with gaps. No times - just blast around for 15-20 mins.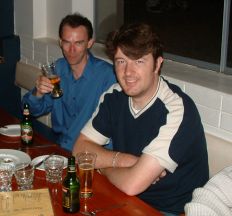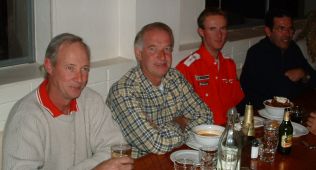 Sat night at the Jetty, Juzza, Aaron, David, Uncle Tony and Steve Malkin (Got Karl's car ready for the day and makes the braided hoses) Andrew Vlamos in the dark corner.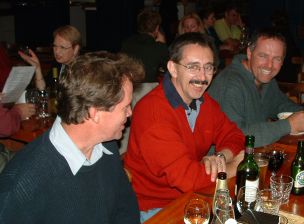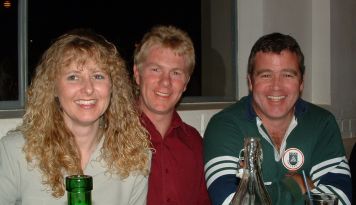 Tim, Rob, Karl, Suze, Craig Dean (fastest Soarer driver in Australia, 2nd outright in Targa Tasmania) and me. I spent 30 minutes pumping Craig for Track lines etc - he is the fastest and wins his class all the time.
Sunday timed sprint day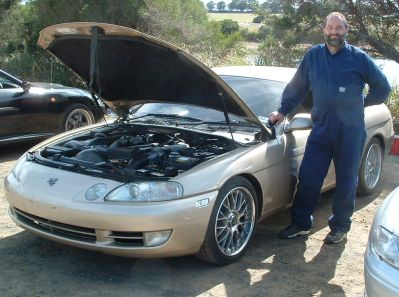 Stan Johnson and his Twin turbo automatic - 168 rwkw. Overalls fit the safety bill - ankle to neck to wrist clothing - cotton is good. Stan was great - always the first to help, always the first to get down in the dirt and suss out problems. Brought spare brake pads that kept Juzza on the track, very polite on the track. Top Attitude. Centre rear lap seat belt for bonnet restraint. "All soarers survived the track "get to know the track" day. No times till tomorrow. Only problem in the group is Juzza has got himself an oil leak. My own car had trouble with a miss fire on the new Iridium NGK plugs I fitted. Went back to old plugs and all ok. I also managed to spin the car on the back straight trying to keep up with Peter Scott. It's true what they say about Actives they stick like snot to a blanket! The EBC "green stuff" pads are great. Plenty of stopping power and no fade. "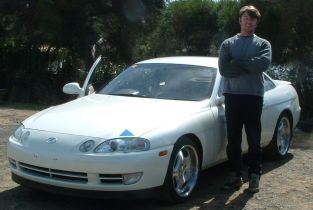 Aaron Elliott's UZZ31 airbag 142rwkw V8 - V8 dyno king two years running. Mr smooth, Car sounds great. Rear sear removed to mount fire extinguisher on top of black metal stereo covers. "Top weekend indeed - we must do it again sometime! I'll have an SVCD of the day ready this weekend - those that are coming to the Workshop Day and want a copy should bring down a blank 80 min CD as the notebook I will have can cut CDs. (Pete, I'll send you a copy) I am still yet to (learn to) edit - there is an excellent sequence involving Barry Rowe's feet, the ground, the pit wall, and the side of my car. All good stuff! "
I don't know who trained Barry Rowe up on Aaron's video camera but the training wasn't complete. The On/Off light got mixed up. Barry would set up for a shot, get it focused, then turn it off. After the session Barry would turn it on (thinking it was off). So later that night around the party house TV while we watched the video all beered up we go to see Barry's shoes as he walked around the pit looking for the next shot - then we saw the shot being prepared, a couple of practice pans, then it would blank as the cars came around - it was quite amusing actually!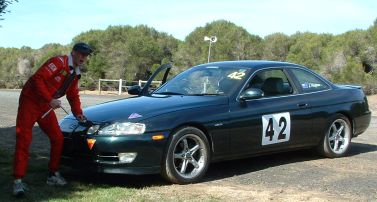 Justin Hughes the Passionate. 132 rwkw UZZ31 airbag auto V8. Plenty of guts, lots of enthusiasm. Did have a trans leak traced to overfilling - got fixed - rear pads wore down to the squealers - Stan had a spare set - The Maltech guys fitted them in no time! Dunlop FM 901 street tyres the best on the day - noisy - but lots of grip.
"Well that has got got to be the single most exciting and exhilarating experience ever !!
(save maybe 2 which I won't mention here !!)

I can't thank everyone enough for all the help and support over the weekend but here's a go at it ....

Suzanne for eats, drinks, encouragement and a cup of Tea

Robert for tips, pointers and generally telling us what to do and when.

Craig for guidance and inspiration.

The Maltech Boys for Pit Work, Tyre Pressure Action and changing my brakes.

Peter Scott for being a Legend and a funny bastard to boot !!!

Stan for giving me his half used brake pads after mine had expired.

Karl for putting up with my endless phone calls.

Gabrielle for filming my spin at the bottom of Lukey Heights

Mum for worrying and screaming when I spun + Pete(Mum's Boyfriend) for laughing and clapping when I spun !!!

Andrew for always being excited and enthusiastic upon our returns from Battle.

Aaron for calling me a Maniac and a Lunatic more than once.

.. again; Peter Scott and David Ross for pinching my "Pit Space" !!! I'm still cut about that !!!

plus all the other attendees from the ALSC who were fantastic and interested and supportive and thrilled and just as pumped as we were.

Also thanks to everyone from the PIARC as I felt Safe, well instructed and confident in the running of the whole event.

Whew !! that's it for now, I'm still buzzing in a big way, can't wait for next time ....

Cheers, Juzza."
"Turn 1 - Need Big Balls to brake late and fling it into this one (I didn't manage to grow 'em till Run #4, Day #2)
Turn 2 - Absolute Bastard of a corner !!! Peter Scott earns the unenviable accolade of being involved in my First Ever "Racing" Pants Pooing Episode !!!!
Turn 3 - I couldn't believe it when on one occasion I looked at the Speedo whilst cornering here only to find I was doing over 170 KPH. After overtaking Aaron on the outside around here he promptly labelled me a "Maniac".
Turn 4 - I out braked myself several times here, running off embarrassingly down the Pit Road entry, twice having just overtaken 3 cars (in a maniacal way around the outside on T3 of course!!!) Stan had a good old spin in front of me here doing hellish speeds which was very exciting !!!!
Turn 5+6 - When you do get T4 right it's 2nd Gear all the way through Turn 5, round Turn 6 and up the hill. I had a lot of fun here as the Soarer out handles most cars and I made up most of my ground nailing it through this snaky section and powering up the hill.
Turn 7+8 - More Pedal to the Metal Action, just grit your teeth and hang on here. This was also another favourite haunt of mine for intimidating other drivers and just sticking it underneath 'em on the set up to T9.
Turn 10 - Robert Hayden finally convinced me that I had the "Stuff" to cope with the most terrifying turn on the course. If you set it up right and trust yourself and your car, this is the most exhilarating experience for me since my wilder days. When my Balls grew big enough (( again) even BIGGER!!!! )) I planted the foot after straightening up out of T9, held my breath and SOARED over the crest down into the depths of T10. Having engaged 2nd gear on the decent and slamming on the brakes at the last possible moment it's an absolute rib cracker wrenching the car hard right and up the hill. My only spin happened here after following an M3 overtaking 4 cars through 7, 8 + 9. They had brown jocks after that too !!!!!!
Turn 11+12 - Again, Robert Hayden had all the answers about this section of track. It took me a while to put it into practice but when you get it right you really know about it and the car just loves hooting out of T12 and on to the Straight............ only to be held up at 179KPH. Bugger !!!!!!
Throughout the day on Sunday two voices were in my head all the way around the Circuit. Voice 1 " If you don't quite have the power, make the track shorter" - Craig Dean Voice 2 " Be aggressive yet smooth, and you'll be fast" - Robert Hayden Both these voices in my head speak the truth, and I shall never cast aside their words of wisdom.
Lining up in Pit Row was a fantastic feeling and on Saturday it was such a buzz to go roaring off with 15 - 20 other cars, and scary as hell hooting down to T1 with the lot of 'em. I loved it all !!!!!
I'd better stop here cause I haven't stopped going on about the Event since we got there and I think my friends and family are going to kill me if I don't shut up soon, so, all I can say to people who haven't done it is, " Do It " and I know I don't need to say anything to those who did do it, except thanks for being part of the best weekend I've had since Iost my Virginity !!!!!!!!!!!!!!!!!! ( Yeah yeah the weekend before - I Know, I Know !!!! )"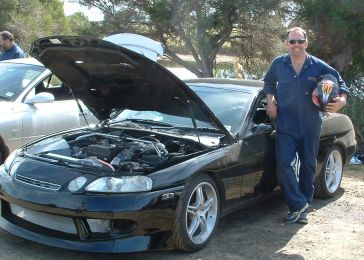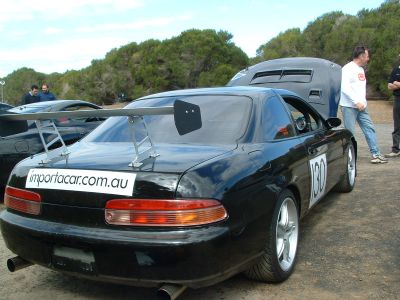 Karl Hardy 373 rwkw Soarer with Big Custom twin turbos, manual, roll cage, race seats, 3.0 litre 2JZ GTE block, heaps os custom electronic boxes, huge front mount intercooler. When you have the most powerful Soarer on the planet (373 rwkW = 500 hp at the wheels on low boost! - sheesh!) it's quite ok to have a big wing! Karl Hardy's car is fully imported from Japan with the works. Karl was untouchable down the straight, he just lined it up, lit the fuse and exploded over the horizon -Fantastic with a capital F. Go around a corner, line it up, then Kaboom! to the next corner, line it up then Kaboom again. He liked to play with the other cars who would pester him around the annoying corner bits and then eat his Twin Turbo dust as he launched it to the next corner - Gold!
"Hi all,
I've just walked in from an awesome weekend at "The Island".
WOW! What a blast! For you guys that didn't show up please form your right thumb and finger in the shape of an L and place it on your forehead.
Only joking! He He Ha He

I Learnt Soo Much! Started doing a couple of laps in a Race drivers Monaro and then Jumped in my Soarer and (at my own pace) worked on my lines and Keeping the 380+rwkW BEAST on the Track which wasn't an easy Job!
Every lap my times were getting better and better (with coaching from Team MALTECH!)and I was drifting more and more with power on in all corners until the 2'nd last lap when I joined the Peter Scott's school of Controlled Spins. Yeah I lost it! Luckily not while doing the 220 ish KM's I was getting to down the straight.
All I can think about are entry and exit lines!
Is it an Illness?
What can I do about it? When is the next Track day at the Island?
I need another fix!
Can we arrange some of you IT Guru's to collect Pics via e-mail etc and burn to cd and vid to VCD and make them avail to buy ???
This would be great!

On another note!
Thanks to everyone that came along to make this w-end come together so well, The Haydens for arranging the accom and food and the Malkins for their support in the "pits" I hope you guys had a good time. Your help with the cars was greatly appreciated by ALL! Thankyou!

I was a bit disappointed that we didn't have more club members just dropping down for a Bo-Peep.
It was great to finally meet Andrew "Bushes Guy" from Qld who came down Great effort! and Peter Scott! you'd think the guy was a Victorian!

Oh well I'd better feed my face and Jump on the Nest I'm Knackered. Happy Trails

Karl"
"When I first arrive it was all a bit Scary! Some fast cars with attitude and Drivers with even a Bigger attitude! Walking into the brief as everyone was studying flag colours and what they meant. What if I forget the colours? Meat Ball flag Blue, Red Wot The??? Oh well I can always follow the guy in front! What if he doesn't remember the colours and what to do?
From there into Jim's Monaro for a "driver training session!" What he said was "This track is like a St Kilda Hooker! She's wide and Inviting! But Turn your back or do the wrong thing and your F+*%ed!
GREAT!
Aim for the ripple strips wherever you see em! As you get to em aim for the next one!
OK Prostitute, Brakes, Ripple strip, Meatball !!!!!!!!!!!!!!!!!!
On the speaker was announced SILVER GROUP PLEASE MAKE YOUR WAY TO PIT STRAIGHT! Oh Shit here goes!
Everyone is Gawking pointing at my car, pressures on. All I'm goin' to do is take my time learn from everyone and have fun "Its not a Race!
Here goes! Shit its BIG out Here.
(1st Lap Recollection)
Corner 1 . Shit what line should I take. Shit That Torana is Bloody Close!
Pits on straight to corner 1 stuck at 178, Corner 2 Shit these street tyres are slippery and I'm not even accelerating much but then again I do have 380RWKW
Aaaaah a bit of a straight (foot down) Shit She goes then a Bit Drifty into Corner3
Corner 4 Gee this it a tight corner got to watch out for this little bastard!
5 aim for the ripple strip going into 6 Shit look at all those cars behind me if I spin I'm rooted!
Ok I'm around had better let them past.
Ah 7 & 8 is better a bit of speed Ooooops this lefthander Turn 9 unweights the car NO traction Shit! Slow down Slow down. (cant brake cant accel) OOOOOhhh that better God Brown Undies on 1st lap
Brake Hard Lock Up a little Turn 10 Nice Tight R Hander holding it close to ripple turn 11 in 3rd gear 3000,4000,5000,6000 into 4th at turn 12 at about 4500rpm
Aaaaaaaah the Straight!!!!!!!! Come to Daddy!!!!!!! 4th 5000, 5500, 6000 (180+km/h) 5th gear 4000, 5000 (220+Km/h Yahoo and a shocked look from a few faces)
Then OOOOhhhhhhhh Shit a RH corner Green Stuff. Please work!!!!
Stay tuned for more lap recollections Karl Hardy #130"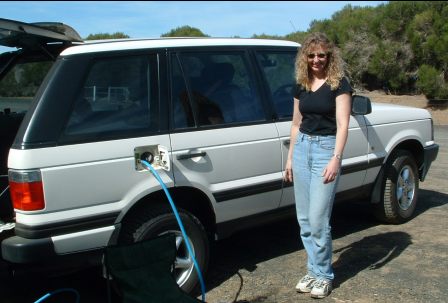 Suzanne Hayden had the Rangie stocked with essential racerboy food, namely both types of meat (steak and sausages) and coke. In the morning we'd have bacon and eggs - gotta keep the strength up! It was like living a dream, you'd go out and race the Soarer, came back weary and with a sore throat from yelling "YaaaaaaaaaaaarrrrrrrrrrRRRRRRR" for 20 odd minutes, then get back to Camp Soarer and then get handed a plate of marinated teriyaki Steak n stuff and a cold coke AND in the mornings the racerboys would sit around the table grunting at each other with messy hair and death breath and we get bacon n eggs n coffee! WE ARE NOT WORTHY!!!!!!.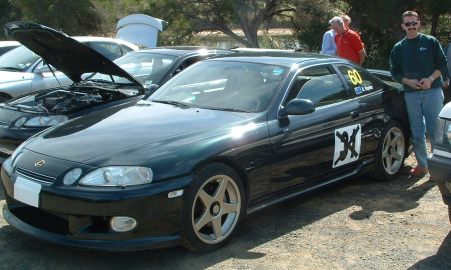 Rob "The Professor" Hayden. UZZ31 airbag auto 138 rwkw V8. Rob couldn't get number 31 - it was taken - that's why it's crossed out and a 60 is on the window. Rob knew the track, the best lines, and helped everyone out. Rob was very analytical, able to interpret every little the thing the car did, the effect of front and rear pressures, ride heights and able to recount whole laps corner by corner and describe what the car was doing. Frustrated by standard soft airbag suspension and brand new full tread depth squirmy street tyres, things looked up after using the TEMS Diagnostic Short (TDS) at the end of the day. Juzza had been extolling the virtues of TDS all weekend. The TEMS short is straight out of the Japanese workshop manual now available from Jeff Harper. It's used for diagnosing problems with the suspension. Side effect is it makes the shock absorbers one step firmer than SPORT mode. Open diagnostic port in engine bay (white grease is normal), open up a paper clip, stick one end in Ts and the other end in E1 - a white square will appear in Dash message area.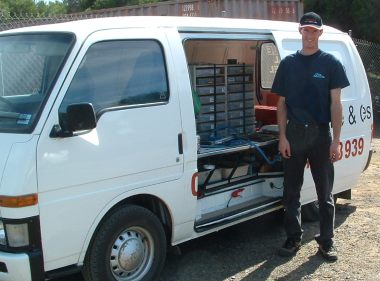 Steve Malkin from Maltech came down with his Dad and Uncle to help everyone out and enjoy the day. Steve makes the braided stainless steel lines. Steve had air for checking tyre pressures and changed pads for Juzza and helped out whereever it was needed. Much appreciated! "What a great week end, next time l will have my car on the track. Good to see everyone enjoying there cars and learning more and more each session."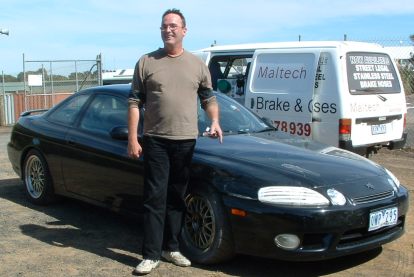 David Ross the BadBoy of the Island! 1998 VVti single turbo 192 rwkw manual with roll cage and race seats. At the drivers briefing the stewards kept on telling us not to mess up the gravel edges on the Sunday as they had made them all nice and neat for the V8 Supercars next weekend. Then they start picking on David during the day! "Driver of Car 2 please report to the stewards" not once but twice! Sheesh! The second time David rolled his eyes and went and told them what they could do with their stinkin' pretty gravel edges! "Hi all, To those that missed out on the day...bad luck! There is some good news though. On one of my trips to the Stewards, I was told that they run about six of these Track Days per year. When they send the results to all in the mail, they will notify us of the dates for the next one.
To Karl,
I sincerely hope I didn't do any damage to your paint with my Rooster Tail of gravel.
See you all at the next event."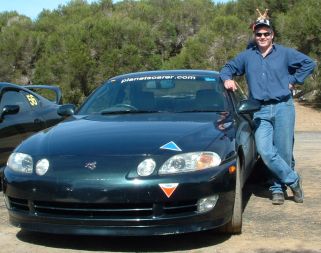 Peter Scott (that's me - commanding respect from Karl Hardy up the back!). UZZ32 Active suspension 137rwkw Auto V8. Don't know if the Toluene made a difference - there is no reference on the track for me to compare to. The car handled great - the Active Suspension made the car real easy to drive fast - it was hard to lose composure. The 2nd hand motorsport tyres were a treat - well worth the money. The ECM Japanese speed limit of 178 km/hr was annoying - all the way down the straight from the pits to corner 1 and after the bridge going into turn 4 it was stuck there. Driving at the Island is just you, your machine and the track, nothing else matters when you're straining against the g-forces in the middle of the giant sweeper onto the main straight - you just want to equal your own best entry speed under the Melbourne sign. The little personal goals are everywhere. Braking points at Honda corner, carrying enough corner speed so the trans won't change down when you boot it and leave, trying to get the entry point and speed just right to keep the car balanced and the power down. It's an exhilarating personal thing - you know when you have done a great personal best or nailed a corner.
It's hard to imagine a better driving experience.
During the Saturday afternoon passenger session Andrew Vlamos (who makes the great replacement rubber bushes for the Soarer) came for a ride with me for a couple of "80%" laps:
"What can I say, I have been in many cars over time and the run I had with you in your amazing 32 active left me shell shocked and will remain with me for a long while. To be brutally honest, I expected your car to lean as most cars (31s) do when they are driven hard into the corners as you did, but to my surprise that thing stuck like shit to a blanket...almost felt like a roller coaster from the passengers side...you know what I mean......Man that thing just hangs on and gives both the passenger and driver (I believe) that " in control feeling".... not bad for a street car and a 10 year old one to boot. If you check the LHS side of you console and arm rests, you will notice deep grains and indentations in the vinyl / plastic, this was actually caused by my knees as I was bracing myself. I believe you will do much better when you have a seat which will allow you to drive the car properly. The feeling I had when you were going around the track and in particular through the corners was one of confidence. I brought back memories of the Hot Laps day I had at Mt Cotton in the 4WD TT Porsche with group A ace driver Ian Luff. Once again Pete well done.
Best Regards Andrew"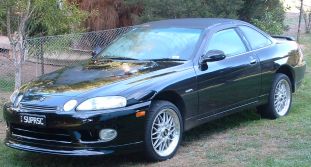 Craig Dean and Tim brought 2 cars, Craig's Targa Tasmania Supra and a late model C's supercharged UZZ31 V8 (167 rwkW) - pictured here in high mode to stop scrapes.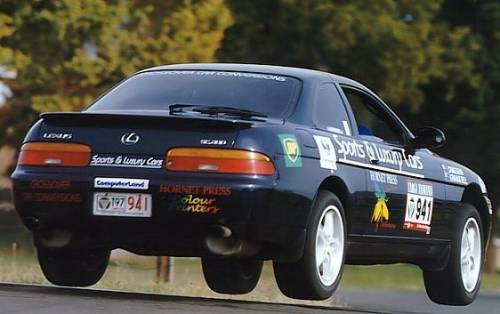 Craig's twin turbo Soarer racing during Targa - a great shot. http://www.sportsluxurycars.com.au/motorsport/TT_97.htm
http://www.sportsluxurycars.com.au/motorsport/TT_98.htm - 1st in class and 2nd overall.
Craig's main site is here: http://www.sportsluxurycars.com.au/mainpage.htm
Tyres
Street tyres soon overheat and go off while racing.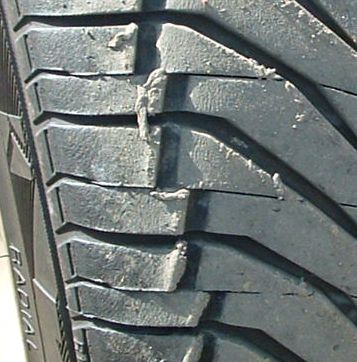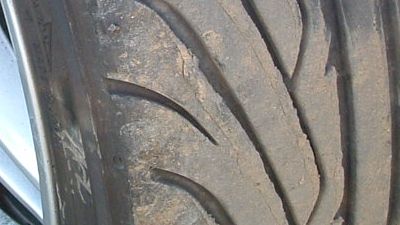 Typical of street tyres the tread block is pushed over while cornering and rubber builds up on the inside edge. Perfect for the street - not so great for racing.
Craig's Supra, David's VVti turbo manual and my car all had street legal race tyres - so much better than street tyres.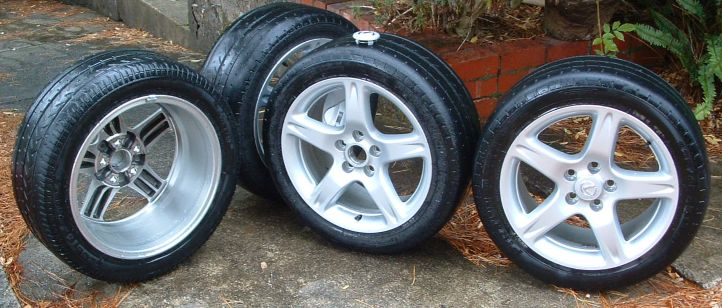 I bought this set of brand new GS300 rims, 17x8 +50mm offset to suit the Pirelli PZero C comp tyres.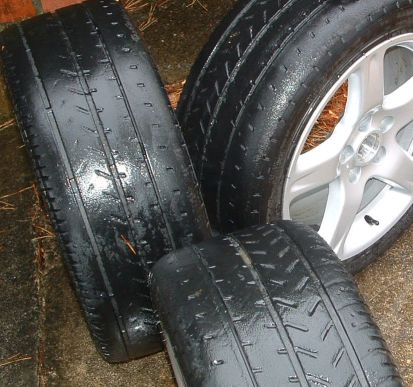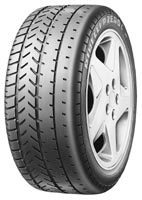 235/45/17 all round - maintained that great Soarer balance.
All the results, a look at the best street tyres for the track and cornering pictures and VCD screenshots:
More pictures on the ALSC site:
http://www.lexus.australia.as/meeting_pages/philip_island_april_2003_page1.htm
See part two for complete times and some more photos - not complete yet but here's a peek: