June 11, 2004
Tires tested:
Goodyear Eagle RS-A High Performance All-Season 205/50R17
Continental ContiExtremeContact Ultra High Performance All-Season 225/50R16
KUMHO ECSTA ASX Ultra High Performance All-Season 225/50R16
Pirelli PZero Nero M+S Ultra High Performance All-Season 225/50R16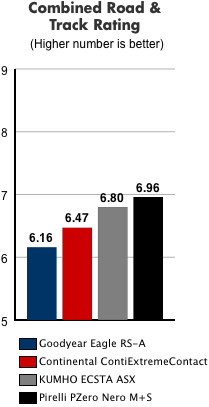 Vehicles used:
2003 BMW 330Ci
Today's Ultra High Performance All-Season tires are designed to deliver excellent clear road performance in dry and wet conditions while still meeting the intermittent need for all-season traction, even in slush and light snow. This gives drivers who live at the edge of the snowbelt the ability to have one set of tires on their vehicle year 'round, and still be able to have fun in the summer months, while coping with the occasional light snowfall.
Thinking about the different conditions found during each of the four seasons, it's easy to realize that the performance characteristics and engineering requirements of what is really a juggling act are at opposite ends of the spectrum – the elements that help provide plenty of winter traction usually cause some reduction in summertime performance, and visa versa. Just looking at the outside of the tire, tread depth, tread design and tread compound each play a critical role in defining a tire's performance in all seasons and all weather. Knowing this, the tire manufacturers have a choice to make when they set out to design an Ultra High Performance All-Season tire – provide strong summertime performance with at least some light snow traction, provide strong all-season traction with reasonable summertime performance; or provide a blend of both summer and wintertime capabilities.
To find out how several popular choices within the Ultra High Performance All-Season category behave in the early summertime conditions of northern Indiana, The Tire Rack team conducted a Real World Road Ride and Performance Track Drive to compare the Continental ContiExtremeContact, KUMHO ECSTA ASX and the Pirelli PZero Nero M+S. We used 2003 BMW 330Ci coupes, and installed 225/50R16 tires mounted on 16x7.5" wheels, which is a common Plus Zero size upgrade from BMWs "standard model" tire size (205/55R16) The tires were mounted on 16x7.5" AT Italia Type 5 wheels specially designed to clear the larger front brakes on some of the E46 chassis BMWs, like the 330Ci. Our evaluation used new, full tread depth tires.
We also included a fourth 2003 BMW 330Ci fitted with the Original Equipment 205/50R17 Goodyear Eagle RS-A High Performance All-Season tires mounted on factory 17x7.0" wheels. We have included this vehicle/tire combination in other tire evaluations, and have found it helpful to have an OE-equipped vehicle to evaluate the impact of installing the other products in the test.
Goodyear Eagle RS-A
The Goodyear Eagle RS-A is a High Performance All-Season tire produced with several speed ratings and in a wide variety of sizes. Its design is heavily influenced by its use as an Original Equipment tire by BMW, Volkswagen, General Motors, Chrysler and others. The Eagle RS-A features a subtle asymmetric tread design with larger tread elements in the outside shoulder intended to deliver more responsive handling, cornering, and steering. Smaller tread blocks on the inside shoulder combined with wide tread and lateral grooves are intended to enhance wet and snow traction.
Out on the road, the Eagle RS-A exhibited good road manners. Handling felt well-composed, while ride comfort and road noise were moderate, delivering a good blend of performance and comfort, and helping illustrate why so many vehicle manufacturers select the Eagle RS-A as an Original Equipment fitment.
On the test track in the dry, the Eagle RS-A offered handling that was appropriate for a tire in the High Performance All-Season tire category. But the Eagle RS-A could not keep pace with the other three tires from the more performance-oriented Ultra High Performance All-Season category, feeling as if it had a little more understeer in the corners than the others.
Under wet conditions, the Eagle RS-A has always performed well against other performance-oriented All-Season tires. This time around was no different, with the Eagle RS-A posting an average overall lap time good for second place overall, just edging out the KUMHO ECSTA ASX.
Continental ContiExtremeContact
As its name implies, the Continental ContiExtremeContact was designed for the extremes of all seasons. It features a unique multi-element, silica-based compound designed to respond to the conditions being driven in. A firm element provides stable dry traction while a flexible element provides wet weather grip. A third element remains flexible in extreme cold for snow and slush traction. This unique, homogeneous Tri-Net tread compound is molded into an aggressive, directional pattern (the most aggressive of this evaluation) featuring high-angle, lateral grooves to assist hydroplaning resistance, along with large notches in the shoulders and aggressive siping in each tread block to offer more biting edges for snow grip. Our own wintertime experience as well as that of those who have submitted online surveys indicate this tire excels (relative to other tires in this category) in winter weather.
Internally, twin steel belts are reinforced with spirally wound, jointless nylon cap plies to provide long term integrity under high speed conditions, reduce weight and help provide more uniform ride quality.
Out on the road route, the ContiExtremeContact provided reasonable road handling, along with levels of ride comfort and road noise appropriate for the Ultra High Performance All-Season category. The aggressive tread pattern of the ExtremeContact, which has proven to offer good winter traction, generated a bit more tread noise on all types of road surfaces than the other tires in this test, especially on the coarse, rain-grooved concrete portion of our route.
On the dry handling course, the ContiExtremeContact did not feel quite as nimble or connected to the road under hard maneuvering as the other test tires. Likely hampered somewhat by the tread pattern and compound tuned towards the winter side of the equation, the ContiExtremeContact was still able to finish 3rd in average overall lap time.
In wet conditions on the test track, the ContiExtremeContact could not keep up with the other three tires tested. Steering response felt a bit sluggish as this tire struggled to find traction when compared with the other tires, especially the Pirelli PZero Nero M+S.
Kumho ECSTA ASX
The ECSTA ASX (ASX for All-Season Xtreme) is a member of Kumho's race-proven ECSTA high performance tire family. It is an Ultra High Performance All-Season tire that was developed to blend responsive handling with dry, wet and year-round traction, even in light snow.
On the outside, the ECSTA ASX molds a high technology silica and carbon tread compound into an asymmetric tread design that features large outside tread blocks for quick response and sporty handling with high volume circumferential and high angle slant grooves to resist hydroplaning and enhance wet traction. Constant contact center blocks help reduce noise while providing continuous road contact to improve straight-line stability. Internally, ECSTA ASX tires feature Kumho's Dynamic Casing Shape Technology that controls casing tension throughout the tire. This allows the ECSTA ASX to increase ride comfort by absorbing bumps and increase handling by remaining stable when cornering. ECSTA ASX tires feature twin, high-tensile steel belts with spiral-wrapped jointless cap and belt edge strips to stabilize the tread area enhancing handling, high-speed capability and ride quality while minimizing weight.
On the road, the KUMHO ECSTA ASX offered sporty handling along with a taught, but not too harsh ride over the expansion joints and sharper bumps. The ECSTA ASX did not feel quite as crisp as the PZero Nero M+S, but felt much more connected than the ContiExtremeContact.
The ECSTA ASX demonstrated that it was well prepared for our dry handling course, too. The overall feeling of grip was good, helping produce average overall lap times close behind the first place Pirelli PZero Nero M+S. The ECSTA ASX felt stable under hard braking, but steering response was not quite as sharp as the PZero Nero M+S.
In wet conditions, the ECSTA ASX felt predictable and fairly responsive, making it easy to drive at its limit. The overall grip level was good, but in the end the average cornering g's around the skidpad as well as average overall lap time fell just behind the second place Eagle RS-A.
Pirelli PZero Nero M+S
The PZero Nero (ne' ro - Italian for black) M+S Ultra High Performance All-Season tire was designed specifically for the North American market to provide cars with a sporty disposition, year-round traction and handling. The PZero Nero M+S is Pirelli's choice for drivers who want to drive their car through America's various weather conditions, including occasional light snow.
On the outside, the PZero Nero M+S radial's silica-enhanced tread compound is blended to provide traction during high temperatures in the dry and low temperatures in the wet or snow. This compound is molded into an asymmetric tread design that features stable outside shoulder blocks combined with notched, continuous center ribs that increase footprint rigidity to enhance grip during acceleration and braking. Shoulder grooves and circumferential channels allow water to flow through the tread design to resist hydroplaning and enhance wet traction. On the inside, the PZero Nero M+S features twin steel belts to provide strength and durability on top of a polyester cord body.
The PZero Nero M+S felt sporty and nimble out on the road, like it was always ready to respond to the driver's input. Ride quality over the sharp, harsh expansion joints was firm, but better than expected, which may be due in part to the 16" tire size used in this test. We have tested with lower-profile 18" tires in the past, which produced a much firmer ride than this time around. While the rib-like tread pattern of the PZero Nero M+S is not as exciting to look at as some of the more aggressive directional tires, it did prove to be reasonably quiet over the variety of road surfaces in our test.
The PZero Nero M+S really felt at home on our dry handling course, behaving more like a summer-only tire than an all-season one. Sharing the same tread pattern as its summer-only counterpart, the Nero M+S proved superior on the handling track, producing the fastest slalom segment time, highest average cornering g's and average overall lap time of this all-season tire test.
In wet conditions, the PZero Nero M+S also performed well. Steering response was rated best of the test, while the level of grip in the steady-state cornering of the skid pad portion of the course was highest overall. Average overall lap times for the PZero Nero M+S were again quickest of the test.