January 2005
by Peter Scott
First up let me admit I got a thing for genuine Toyota wheels - I just love them. Just like Rob Hayden has a thing for Work rims - it's all he buys.
So why Toyota rims?
- correct offset (+45 to +50mm)
- correct size hub hole of 60mm - fit hub spigot perfectly
- nice and strong - top quality - don't easily dent or crack
- use Toyota wheels nuts with the shank - not cone type nuts
- look bloody good and stand out from the Aftermarket crowd.
I used to have the genuine Toyota 10 spoke rims: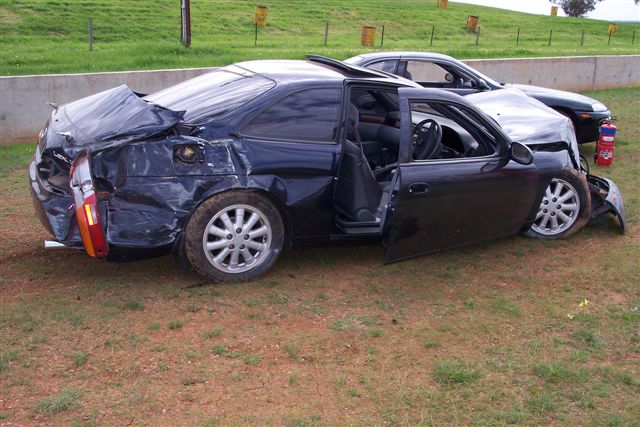 Ok this ain't my car! Like Frank (this is his car) I used the 10 spokes for racing. Frank was racing Porsches on the circuit when a racing incident cut short his session - doh!. Cool hand Frank snapped a bunch of photos waiting for the recovery vehicle! - tough as bloody nails.
Anyway my other favourite set of Toyota rims were from the Lexus GS400 (USA) or late 2002 Lexus GS300 - 17*8 rims with +50 offset: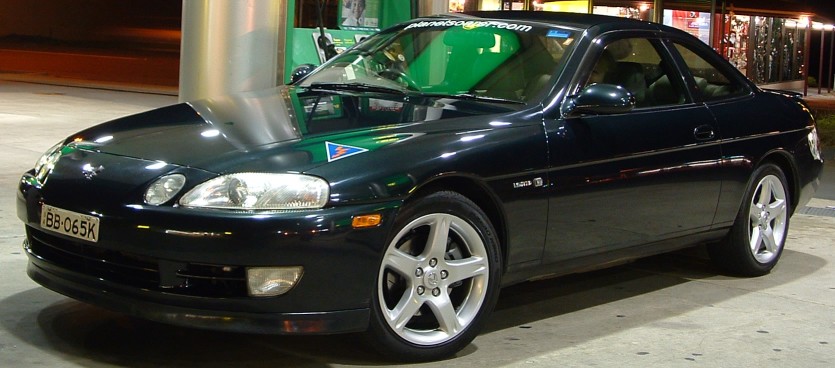 These rims are great!! I was all set, had my 16's, my 17's and my 18's - but then I upgraded the front brakes for some 4 pots: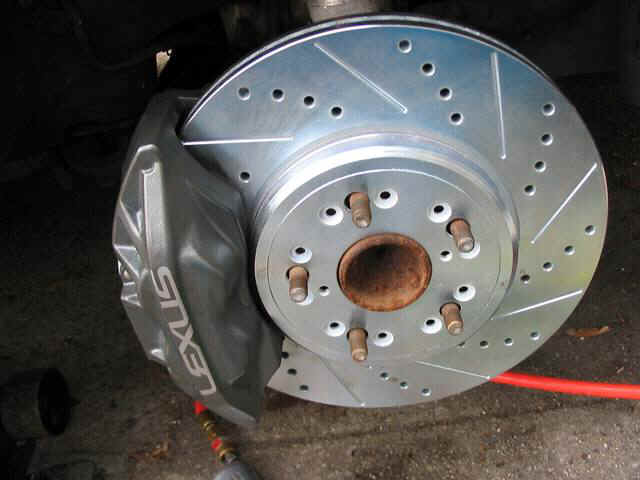 This Dennis' LS400 upgrade from Club Lexus - same as mine. The big calipers hit the spokes on both stock Toyota rims so I had to sell them. More on this brake upgrade later.
So now I had to get myself some rims to clear the big brakes. Since I had fitted 1998 Celsior brakes (Lexus LS400), some Celsior rims would fit the bill nicely. So I went shopping on Yahoo Japan thanks to Jeff Harper.
I wanted the genuine 16 inch Celsior rims from a Japan model Toyota Celsior - like the ones in this pic: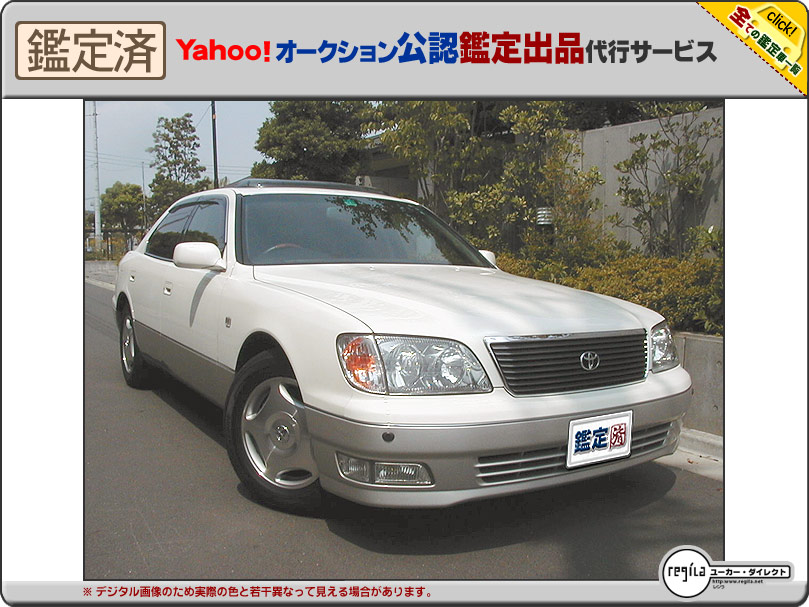 Being a Toyota Diehard - I preferred the Japanese rims with the Toyota symbols in the middle rather than the Lexus LS400 "L" emblem: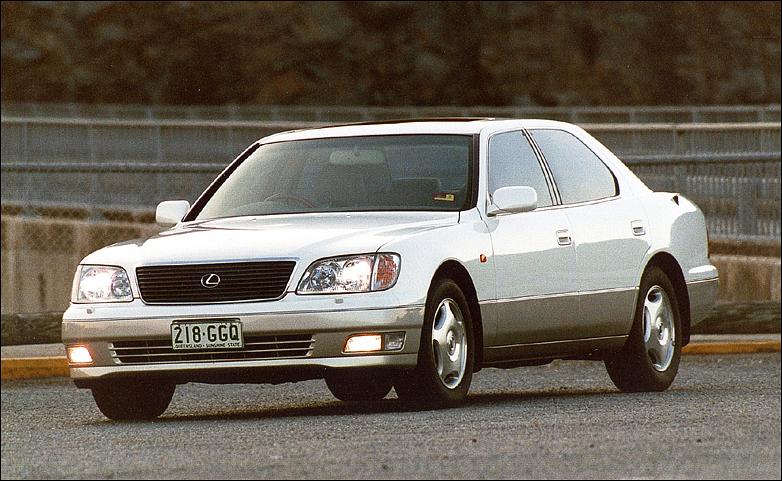 So I did a search for 16 inch rims and "Celsior" :
I click on Jeff's keyword search: http://www.f1kits.com/Keyword%20Search.htm and down the bottom I clicked on "16 inch and Toyota". But I wanted to narrow it down to Celsior rims so I copied the Japanese word for Celsior from Jeff's list "????" - I don't have Japanese font installed so it comes up as ????? or just boxes - doesn't matter it still works! I pasted the word for Celsior into the top left hand box and hit the grey search button. Then in the address bar I add "&mode=1" to the end of the address to display all the pretty pictures instead of a list. Here is the link:
Lots of the rims are scratched and prices vary a lot. I wanted a perfect perfect set. So I waited and these ones came up: 16*7 inch +45mm offset and clear the big Celsior brakes of course!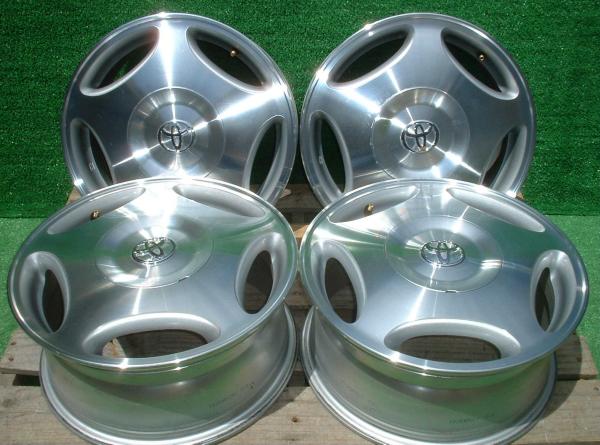 These were exactly what I had in mind - One bid at 39 000 yen ($493 Aud) and the full set of 4 rims were mine - no-one else bidded but the start price was high.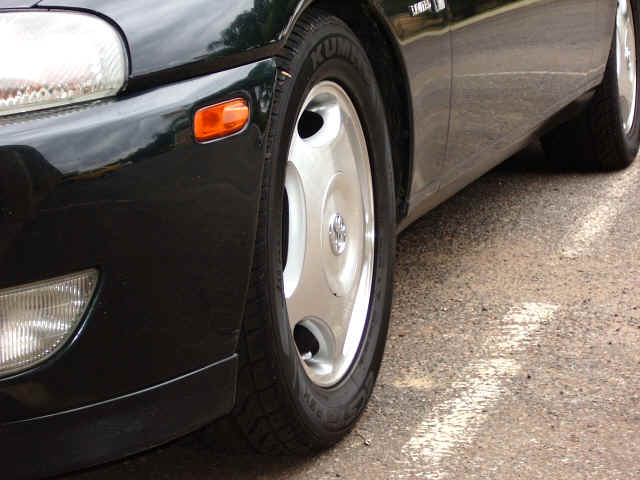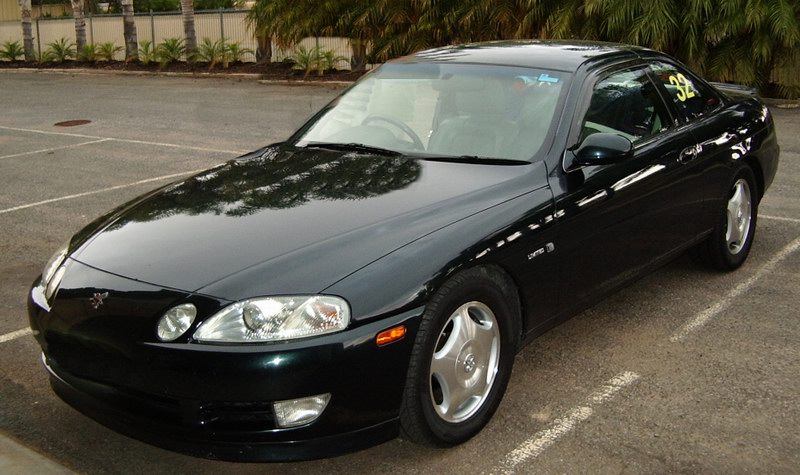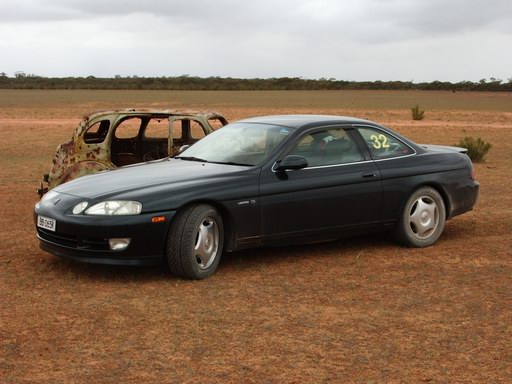 I like the prestige unique look of the car with these rims. And 16 inch rims mean tyres are cheap and comfy to ride in. More on that later.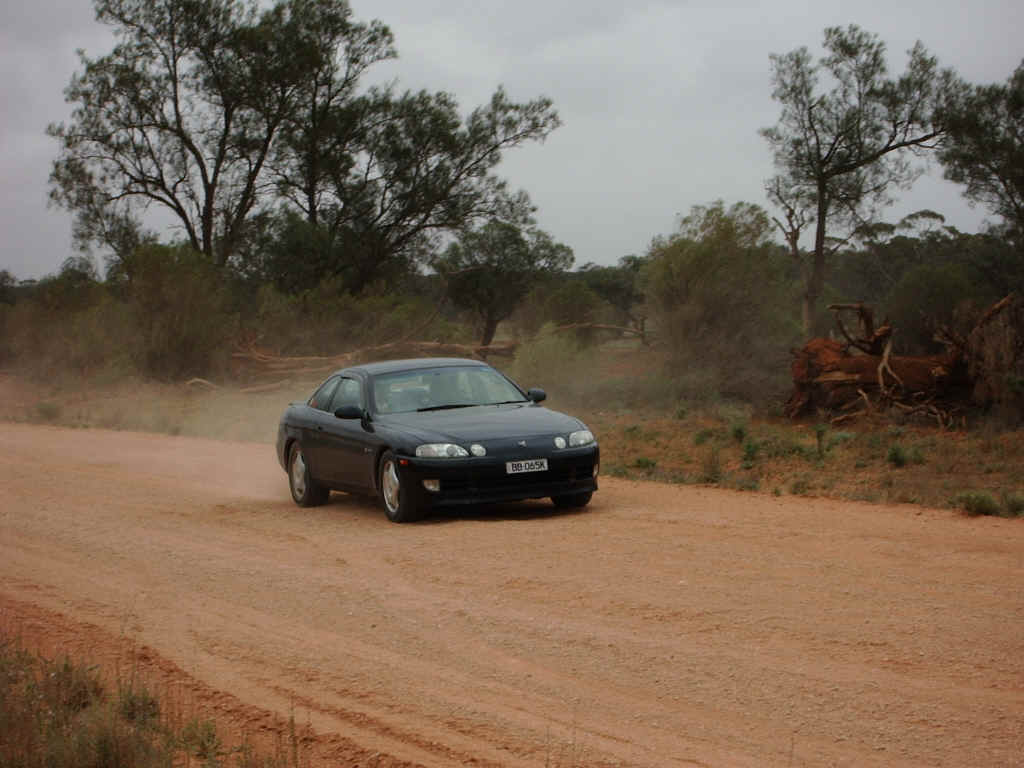 I like to take my Soarer everywhere and it will regularly see big day trips on dirt roads. I prefer 16 inch tyres in this sort of situation. I can afford a bigger tyre sidewall with 16 inch rims.
Next on the menu I wanted some Supra 17 inch rims.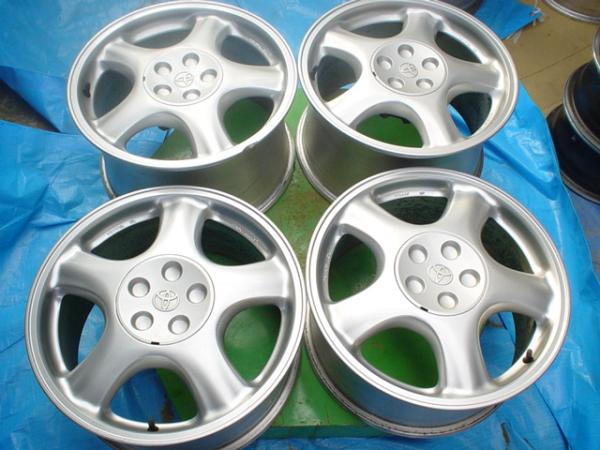 I really like the 1998 onwards rims with the 5 dots in the hubcap - looks much nicer. 17*9.5 on the back and 17*8 inch on the front with +50mm offset. Jeff has a link for "17 inch and Toyota" - but I preferred a more direct search for "17 inch and Supra". I reckon that searching for some Supra rim ads don't mention Toyota and won't come up in the Toyota only search.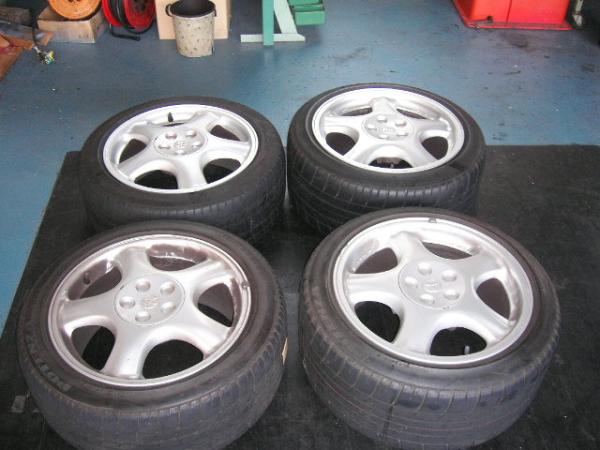 I came across these in the Supra search - they didn't show up in the Toyota search. I bid 10 000 yen ($125 Aud) and no-one else bidded. I got them with tyres for this price - I couldn't believe my luck!!!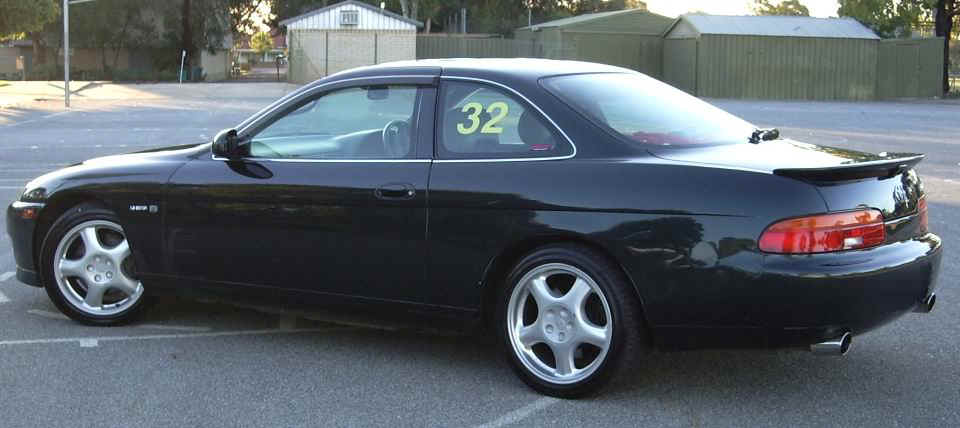 I reckon they look great. These are my sport wheels - Great for wet track days - gymkhanas and sports driving. The Bridgestone Potenza tyres that came with them are noisy, they tramline - but they grip!!!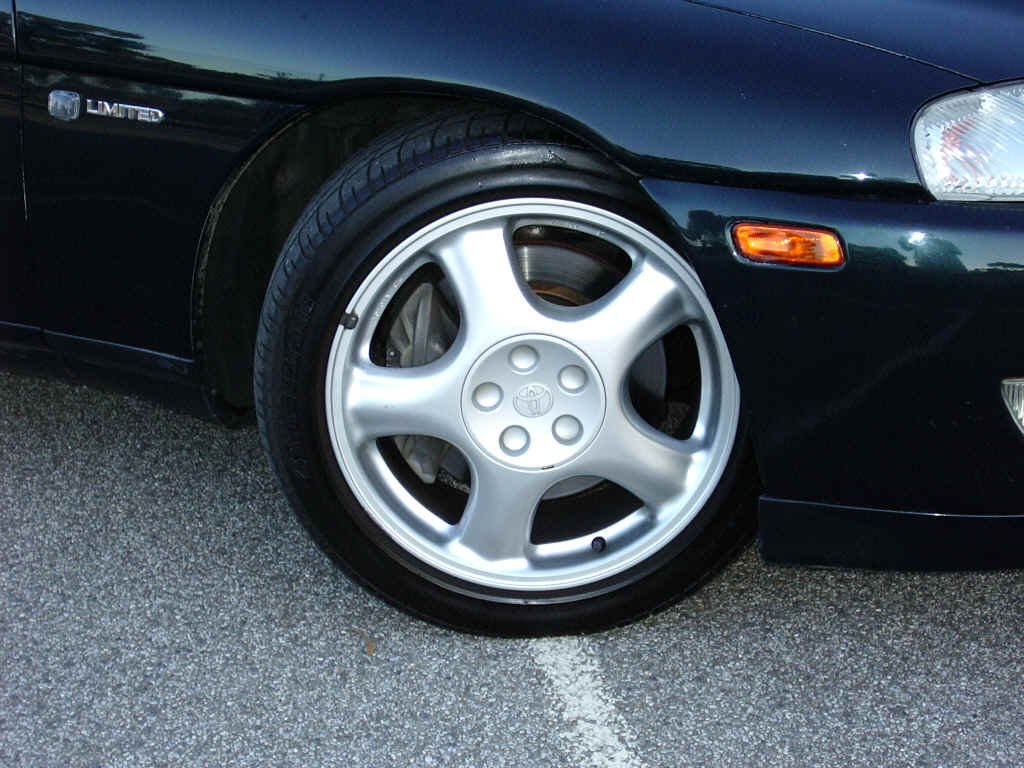 No problems clearing big brakes with Supra rims. As a rough guide I needed 70 mm from the disk to the inside of the spokes to clear the brakes.
Toyota rims have the rim size,17, by width 9.5 inches and then 50 for the offset.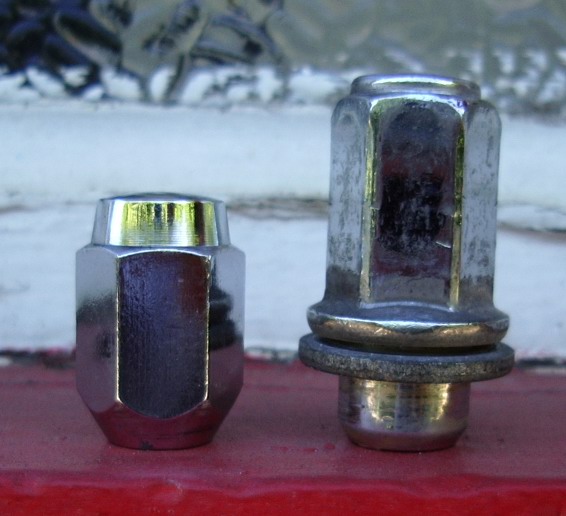 Genuine Toyota wheel nut with shank on the right - common cone nut on the left.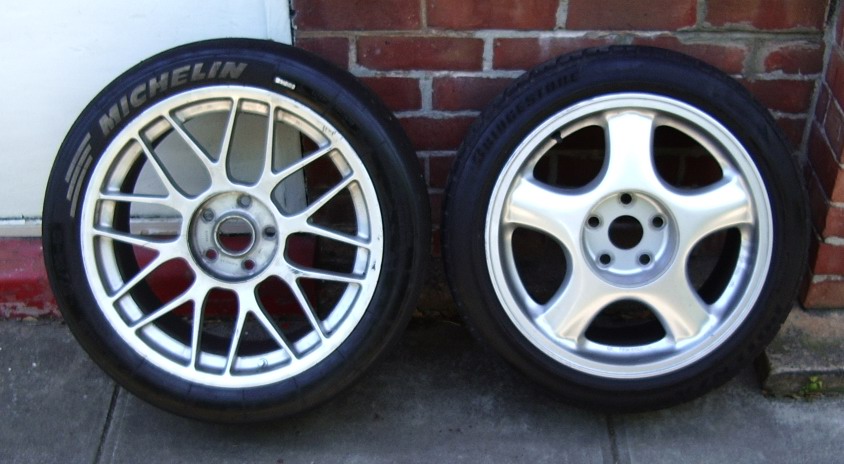 When I'm racing on go the 18 inch slicks. I have Forged BBS race rims - light and strong.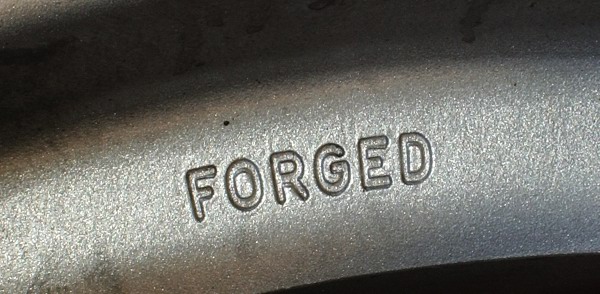 Forged wheels tend to be stronger, lighter and more expensive.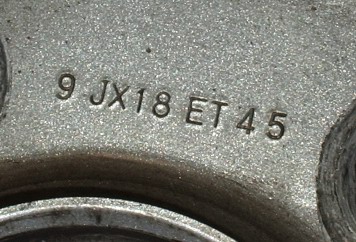 These rims are 9 inches wide by 18 and a 45mm offset.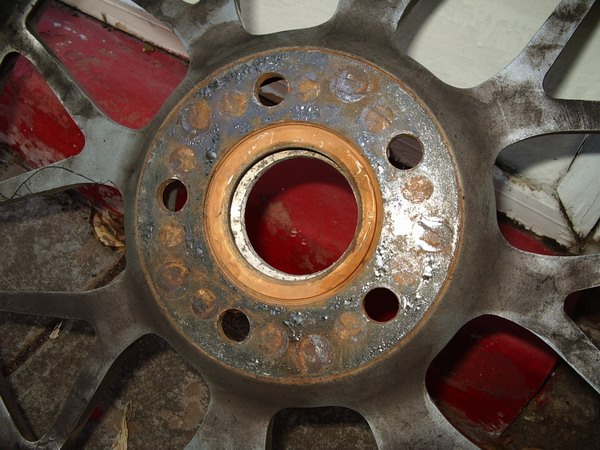 However the centre hub hole is too big and a spigot ring had to be installed for correct figment.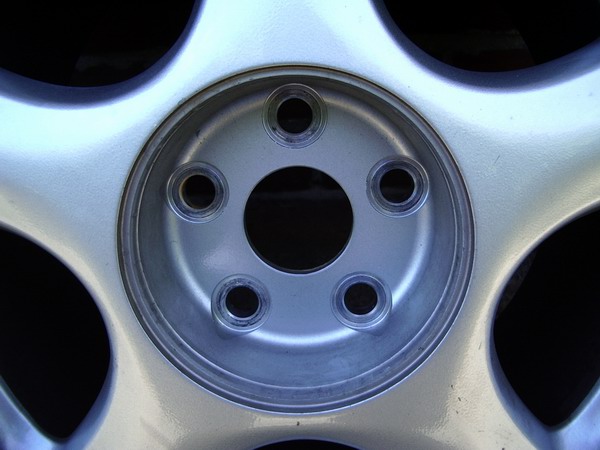 The Supra rims come with the perfect centre hole and flat wheel nut holes for Toyota wheel nuts.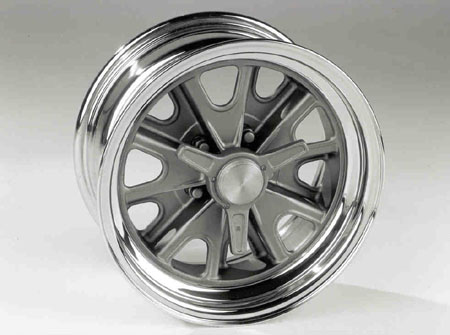 Ha! I would have loved some Halibrand type wheels - but I doubt they would have cleared the calipers and they are crookin' expensive.
Time to go racing!!: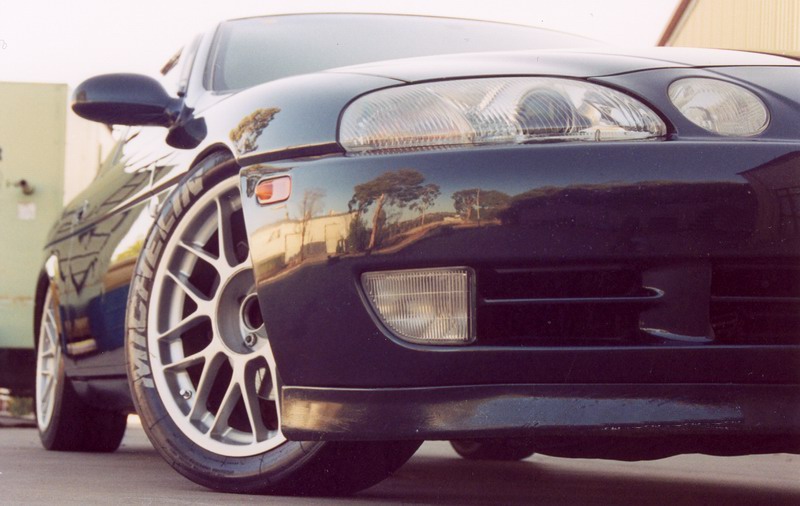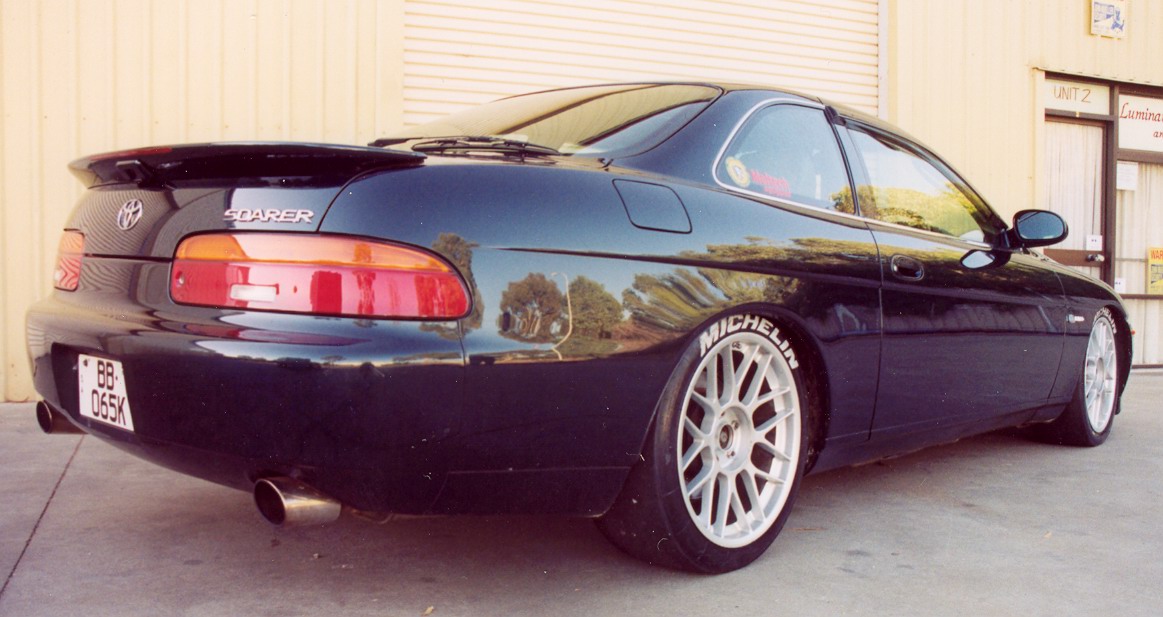 Oh one more thing - getting wheels shipped out from Japan costs a lot of money. I bought a van: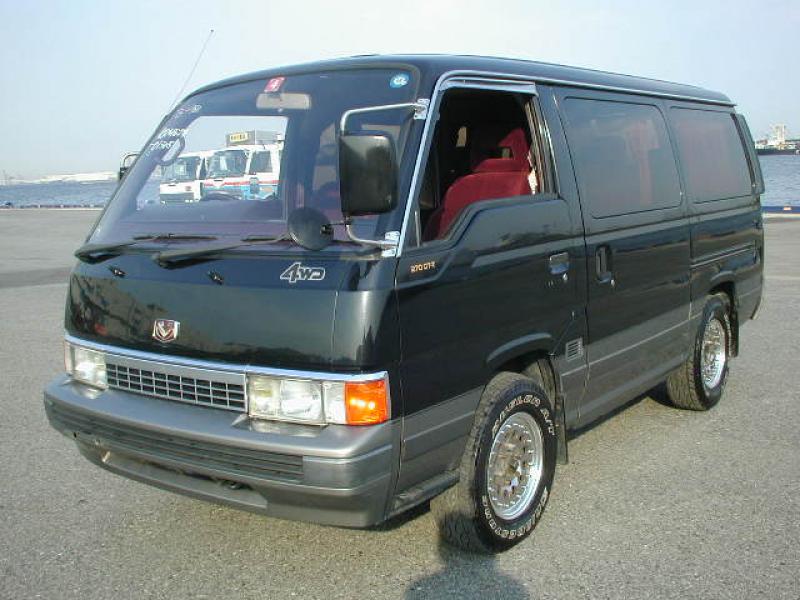 from Japan for 200 000 odd yen, and had the wheels shipped over in that. Saved heaps of money. Sure I still got the van and associated costs - but that's ok - I wanted it as well. I sourced the van from www.kobecars.com - they bid on Yahoo Japan for me, took delivery and packed the rims for a small 5000 yen fee per set. I believe Jeff Harper can help with this sort of mucking about as well. Getting a car from Japan means leaving tyres on the rims is easy. Sure buying a van to get a couple of sets of wheels isn't everyone's cup of tea - but it ain't so bad.