February 2005
by Peter Scott
October 2004 (episode 1)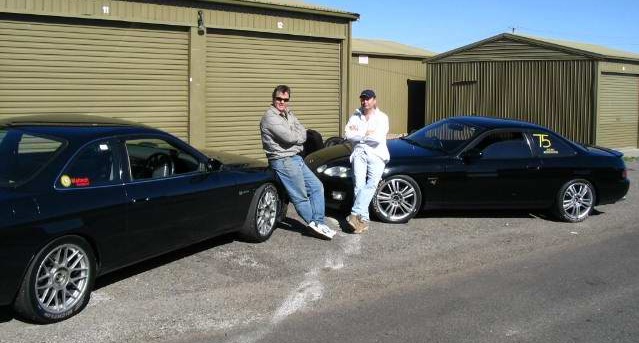 Nothing Gary and I like more than sticking on some 2nd hand 18 inch slicks, slotting in some Ferodo race pads and heading down to the local Mallala track for some CAMS sprint action. Sprinting on a race track is a great buzz - and completely cures us of any road race temptation. Once we've been on the track, calmness comes easy on the road!
Anyway I took the above photo and thought it would be funny to put a Darth Vader head on Gary - 'cause he's tall, his car is black, and it has lot's of power from the dark side (that's those twin turbos he has on his 1JZGTE). It all made sense- and I thought it was funny. I called him Darth Morris - I also put the vital statistics on the picture to show that poor old me was the underdog battling against the Empire etc etc. But quick as a flash Gary edits the photo too and changes my head as well - I didn't think that was so funny at all.......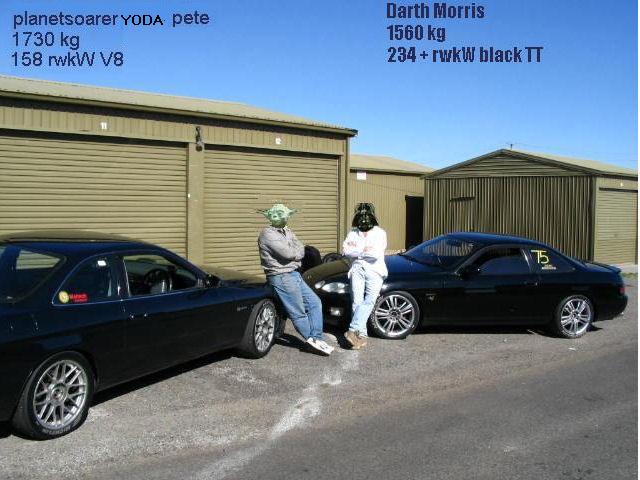 The bit I don't find funny was that I got Yoda - I mean I always imagined myself as more of a Han Solo sort of guy - you know dashing, big boofy hair style, good looking, charming - a rascal - that was me for sure. But Yoda? Surely not ?? Han or Yoda? What do you think it should be? Email me with Yoda or Han in the subject and I'll pass the results on to Gazza - and update here later :).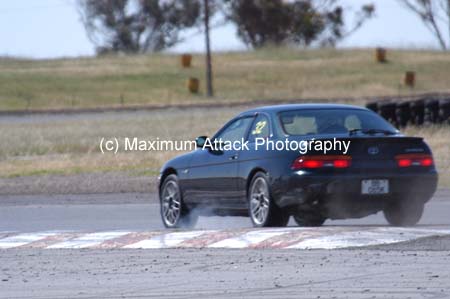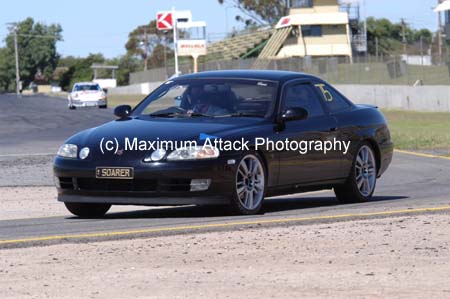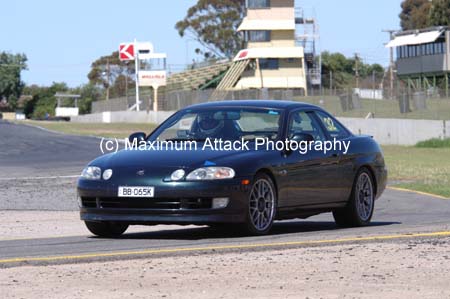 | | | | | | | | | |
| --- | --- | --- | --- | --- | --- | --- | --- | --- |
| Peter SCOTT | #32 Toyota Soarer V8 | 1:24.66 | 1:24.49 | 1:23.85 | 1:24.95 | 1:24.09 | 1:25.96 | 1:24.67 |
| Gary MORRISS | #75 Toyota Soarer Twin Turbo | 1:26.05 | 1:26.13 | 1:25.06 | 1:26.33 | 1:26.43 | 1:26.59 | |
Gary's turbo car gets effected by heat whereas my V8 trundles around with no ill effects. In qualifying Gary was in front of me by 1/100th of a second or something which put him in front of me during the sprints - then the heat slowed his car down during the sprints and he as getting in my way! - I'd leave a big gap and catch him up by the end of the session. I can't overtake him because he is so much faster down the straights - and since there is no over taking under brakes or cornering (where my car is strong) - I'm on his rear bumper 'til we exit the corner, then he gives me a little wave in the rear view mirror and he blasts away and I don't see him again 'til the next corner.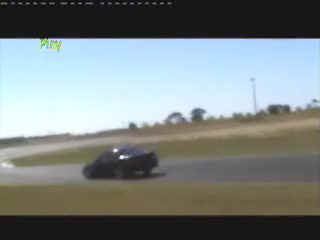 Short video (570kB WMV file) of my V8 chasing Gary's Twin Turbo. Love that V8 sound!
Full version of the above video and heaps more are available from www.trackdaymedia.com - A fabulous site - if you have broadband then this is heaven!!! After logging in, click on downloads, then on track videos, then scroll down to find the titles. Mallala is the first word in the titles, go to trackday media to find these videos:
Mallala 5Dec 04 #2 Gazza Porsche Sprint Day Popular
Description: Gazza in his 94Soarer TT .Best time so far at Mallala 5 laps 1 warm 3 timed 1 cool down
Version: Filesize: 46.79 MB
Added on: 08-Jan-2005 Downloads: 59
HomePage | Rate Resource | Details

Mallala 5Dec 04 Gazza in his 94 Soarer TT @ Porsche Sprint Day Popular
Description: Gazza going really well till runs out of Fuel!
Version: Filesize: 28.44 MB
Added on: 08-Jan-2005 Downloads: 56
HomePage | Rate Resource | Details

Mallala 5Dec 04 Gazza Soarer TT Porsche Sprint Day Popular
Description: Running out of Track chasing a Porsche
Version: Filesize: 33.39 MB
Added on: 07-Jan-2005 Downloads: 54
HomePage | Rate Resource | Details

Mallala Dec 04 steve passing Gazza
Description: Letting Steve Pass me to get some footage,not what i expected !
Version: Filesize: 4.50 MB
Added on: 08-Jan-2005 Downloads: 35
HomePage | Rate Resource | Details

Mallala oct 2004 Popular
Description: Mallala oct 2004 Two Soarers timed laps,TT Followed by active V8
Version: Filesize: 7.69 MB
Added on: 04-Jan-2005 Downloads: 74 Rating: 5 (1 Vote)
HomePage | Rate Resource | Details

Mallala oct 2004 Popular
Description: Gazza going around Mallala
Version: Filesize: 5.69 MB
Added on: 07-Jan-2005 Downloads: 54
HomePage | Rate Resource | Details

Mallala oct ver2
Description: longer bit of footage of gazza & scotty @ porsche sprint day
Version: Filesize: 13.34 MB
Added on: 06-Jan-2005 Downloads: 43
HomePage | Rate Resource | Details
6 December 2004 (episode II)
Gary and Steve Williams got to the Dec Sprint:
Steve Williams:
Great day, great weather, lots of fun had!

My best lap time was 1.3123
This is in a dead standard UZZ31 GT-Limited with 215/15 street tyres.

I was actually a little surprised I got it that quick considering.

Gary MORRISS:
Well what a day,great weather,great ppl, great times!fun filled day. Well i cracked my Qualifying time
,last time 1.24.8 and got a 1.24.2, was well pleased with that(you always think when you do well i'ts
a fluke!) so i was put in Group 2,right in with the Porsche's,Yehaa. Then they had a recount and because
 not enought cars,made first two groups six cars each,back into 3 Group Bugger!.
gee i wanted to be in group 2,just to stick it to Scotty. hehehe. Went off again at my favourite corner,
not bad ,just run off over gravel onto grass,no damage, car runs a dream, FMIC works a treat 
every time you go out in your group you stay in number ie 1234 etc.a 911 was 1 and i was 2,

it was great having this 911 in your sites and catching him up!id hate to be first probably 
wouldnt do as well.4th session was doing really well and catching the 911 even more,
had 3great laps, looked over to Timer ,(NOT WORKING) NOoooooooooooooooh,
Dam and Blast,came in and clerck of course said"would you like to go again now!" yep ok i said.
lined up , out we went, doing great,half way through 2 lap, running out of fuel ! 
NOoooooooooooooooh,Dam and Blast so that was it, coasted in,finished for the day
But had a great time,If only my Arch Nemisis had been there.
i have some in car footage,trying to put on dvd but coming out crap!,might have to take
 video camera around to the next Planet Soarer HQ Meeting!
Anyway Best Lap Time 1.23.9, so i've shaved 8.9 secs of my lap times since May.
and thats it till jan i think.
Steve had a good time, nice seing him slid that V8 around the track,smoking those tyres,Nice!


If i can figure out to do it,might try and put a Filmed} session up on the trackdaymedia web site!
| | | | | | | | | | | |
| --- | --- | --- | --- | --- | --- | --- | --- | --- | --- | --- |
| Steve Williams | #8 Toyota Soarer V8 | 1:34.87 | 1:34.21 | 1:40.76 | 1:31.23 | 1:32.28 | 1:32.32 | 1:35.76 | 1:33.57 | 1:36.77 |
| Gary MORRISS | #75 Toyota Soarer TT | 1:25.05 | 1:24.34 | 1:23.99 | 1:24.39 | 1:24.15 | 1:38.18 | 1:1:24.57 | 1:30.99 | - |
Febuary 06 2004 (episode III)
| | | | | | | | | |
| --- | --- | --- | --- | --- | --- | --- | --- | --- |
| Peter NITSCHKE | #46 Toyota Soarer V8 | 1:30.05 | 1:31.66 | 1:31.60 | 1:31.06 | | | |
| Gary MORRISS | #75 Toyota Soarer TT | 1.25.53 | 1.24.71 | 1:24.47 | 1.25.17 | 1.25.08 | 1.25.53 | 1.2687 1.2602 1.3606 1.2660 |
Peter Nitschke:

Bum, really hot, no shade, lotsa sunburn :-(
But I made it into Group 1 and kept hitting the rev limiter in 3rd down the back straight at 192kph.
Practice was timed also, so I started the day with 1.2967 :-)
Then it went down hill. Qualifying, lap 2, the yew beaut Hawk track pads decided not to work.
Sailed off into the paddock at the end of the back straight.
Fortunately Gary had some worn Ferodo's so we fitted them. And got a bit of air into the system,
so I missed the first sprint run.
Second run wasn't anything spectacular, it was very hot out on the track, 40+ apparently.
3rd and last sprint, the timer didn't work reset it in time to get 1 lap in, but by then I was out of whack.
But gee, group 1! Suck that! :-)..........................................Except they had the fastest cars in group 6 :-(
This has confirmed for me that if you really want brake pads, go the Ferodos DS2500's.
They were my first track pad, loved them, but wanted to see what else was out there.
OEM, 4th lap backstraight fade. $100/front set.
Lucas, don't give up even with 30 minute track sessions, very impressive for $68/front set
(the DS2500 are more like $365). The Lucas do feel a little spongy compared to the DS2500
however and get a little softer when they get really really hot.
Hawk, felt a bit spongey, handled one practice session OK (5 laps) but felt a tad spongey like
the Lucas, but they died on Lap 2 of qualifying, probably due to residual heat from the first session
even though it was over 30 minutes earlier. Brakes take a long time to cool down!
Ferodo DS2500. Now this is a mans brake pad. It always feels strong and solid. Every time.
No sponge what so ever. They like to be warm for best bite, but then every time you hit the pedal
it feels the same and the car stops the same. The downside is $365/front, they are a bit dusty and
noisy, but if you want serious stoppage you can't go past them.
Gary (1-r's) hammered is new Protex heat treated front rotors today. 40+ air temp, no idea what
it was on the track, full race slicks, and DS2500 pads, the Protex gave no problems at all.

His Protex rotors aren't slotted either, so no cheese grater eating the pads, and about 1/2 the price of DBA rotors.
We will have a good look at them when we have recovered (track days are very tiring).
After using the various other pads on track days, putting the worn DS2500's on was like stepping into brake heaven.

Seriously. Good!

Gary Morris:

Well im back from Mallala.
What can i say but " HOT"
Cars were pulling out all day, my best time was 1.24.4, so your still "numero uno" Mr Peter Scott.
" All hail the king"
Car temp hit the "Flashing at high" not good.
Had a real good look at my car and realised theres hardly any fresh air getting to radiator, ive got
my intercooler ,15psi, then have my auto trans cooler sitting in front of rad,also the big fan shroud,
so i need to move the auto cooler somewhere else!
ANY IDEAS! Manny! Muz! also think ill invest in a oil cooler when i relocate my oil filter!
after seeing the flashing H temp,sort of lost my concentration a bit,"out of the zone" i was.
Peter N had a few dramas with his brakes,but he will talk about that im sure,Just Peter N (Pen)
and myself was there,"where were you guys?" we missed you heaps!.
so not my best day,but not my worst either!
couldnt take any footage as left my remote at home as well a digital camera! " AH DUH!"
so Steve hope you got some at Winton!
cheers
Gaz
Scotty - The only thing id like from your V8 Mate,is the Sound.
anyway, why would i want a rubber band when i have a hairdryer !.
Your still King of Mallala to me Scotty - till the next sprint! ,so enjoy your fame while it last's !
your sincerly
Gary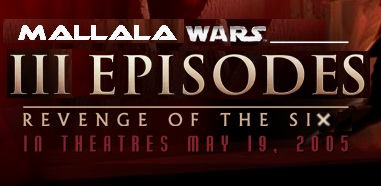 Well after all that your probably wondering why I called the page The Revenge of the Six ?? Well I really thought that Gary would beat my time from back in Oct 04 (1:23.85) - but heat and other factors kept his best to 1:23.99 - still 0.14 seconds behind me - That's roughly a car length at Mallala. If he beat me then the web page would make sense being called Revenge of the Six - and with the Revenge of the Sith Star Wars movie coming up next month I thought I was being especially clever. Ohhhhhh but no!!! Gary couldn't do it in time - but I'm sticking with the title anyway 'cause it's so clever - hahahaha!
Well actually after further deep thought it does make sense. Gary's 6 cylinder was beat in episode I - then he extracted revenge in episode II and episode III against the V8 opposition so really it does make sense after all - thank goodness!! :)
And I know I did a crappy photoshop of the StarWars sign - reckon you can do better? - email me if you got the goods - I'll credit you. Cheers.