27 Porsches versus 1 Soarer (Round 2!) Mallala
August 2003
by Peter Scott
Well I went back and had another go on Sunday August 3rd 2003. I wasn't planning to, in fact I had driven to Ballarat (about 7 hours drive) when Karl rang and told me Phillip Island was all booked out. I hadn't booked ahead this time, my car wasn't ready until the Thursday night, and they always have spots available if you just turn up. Not this time! So I turned around in a cheery mood and went home. I had left Adelaide 10:30am Friday and didn't get back unitl 1:30am Saturday - great! So instead I turned up at the Porsche club Sprint in Adelaide on the Sunday. 1st time out for me was 24 Porsches versus 1 Soarer. I chopped a second off my personal best time to record a 1:27.72. But I'm not competitive with the Porsches - too much Soarer weight and too little power and not enough driving skill. It is a blast though - I like drifting (not big stuff like those High Performance Imports videos.....there is only so much drifting you can do with a low power V8 and open wheeler diff) and sliding - going as hard as you can on a racetrack. None of the cars suffered a scratch - no one had a crash - couple of spins (not me this time - did have a big sideways but no spin for me this day.) So really it's not me versus the Porsches at all. It's just me fanging around in my own world - and they don't mind me turning up - I'm an associate member and they really need 42 people on the day to break even with the track costs, CAM costs and Ambulance costs. They are a good bunch of guys (and gals!).
---
Qualifying
Well first up is practice from 9-11ish. Then everyone has one session of timed practice - this determines the groups for sprints in the afternoon. I qualified better this time - got promoted to last of group 4 rather than 1st in group 5! :)
Qualifying: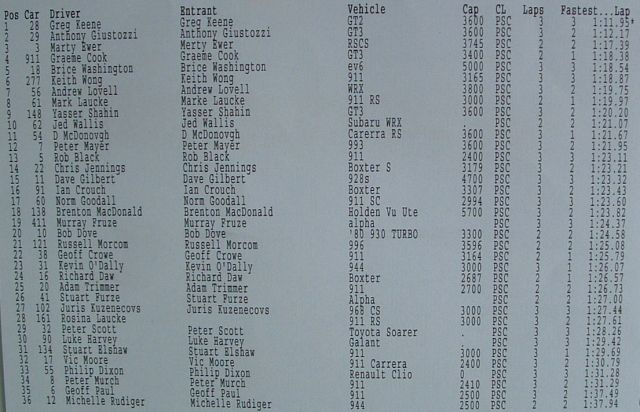 So there I am down at number 29 (out of 36 - or 22nd out of 27 Porsches). The Washington Father/Son combo was back in the GT3/Evo, as was another father/son - the Fruze's in the red Nissan 350z (called alpha on above list). The Laucke's (husband/wife?) shared a white Porsche RS 911, Rod and Michelle were there too - no driving for Rod - he was stuck with official duties. Kym Somerville's daughters waved the flags so it's all about volunteers and family fun.

Mods for this trackday included a can of black paint for the wheels (ha!), four point harness (see trackday preparation ), new set of pads all round and 0w full syn oil. I also disconnected the Active boot g sensors to put suspension in limp home mode. I did this to get rid of the bounce during high speed cornering around right handers with the sticky race tyres. Theory at the moment is that the lateral g sensor is playing up - still under investigation.
---
The Shift Kit
Last of all was an MV Automatics shift kit (only $385 fitted! - available as complete valve body change over with DIY instructions too) and trans cooler - no more slurring between gear changes - trans changes very quick.
MV Automatics:
Michael Vidau (Soarer guru)
1 Stirling Road
Blackwood 5051
South Australia
ph 08 8370 0430
fax 08 8370 0431
I finally took the plunge and had a stage 1 shift kit fitted, new solenoids (old ones were changing 1st to third sometimes) and a trans cooler fitted (getting ready for supercharger in couple of months).

The shift kit is a love/hate relationship. When I'm in the mood I love it - shifts fast and hard instead of smoothly slurring into the next gear - faster for sure, measurable difference in acceleration times. The TRC (traction) warning light flashes every change if turned on - if not it's chirp wheels time!

Other times when I'm just quickly accelerating the hard change is a bit much - it's then I miss the super smooth standard shift.

http://planetsoarer.com/sounds/v8shiftkitchirp.mp3

The above is very small 106 kb sound file - hear wheels chirp 1st to 2nd gear. Cruising with the ECT switch to Norm the change is quite ok - you can feel it - but other drivers who have tried my car and passengers reckon it's ok. Drive quick though and it is really noticeable.

---
Sprint #1
After qualifying was the lunch break - the ambulance crew needs half an hour break anyway so no racing during lunch.
Session 1 after lunch:
This is just a photo - couldn't be stuffed doing an excel file and cutting and pasting the official pdf file - that took too long last time! Cars are in car number order - best of three laps is underlined. My third lap was fastest - despite the feeling that I was running out of brakes. I reckon my brakes are great normally. I've done everything I can using the larger TT callipers which are stock on the UZZ32 (new slotted rotors, greenstuff pads, braided brake lines, fancy brake fluid) and I still get fade at Mallala - the worst track in Australia for brakes. Phillip Island is a breeze compared to Mallala.
---
Brakes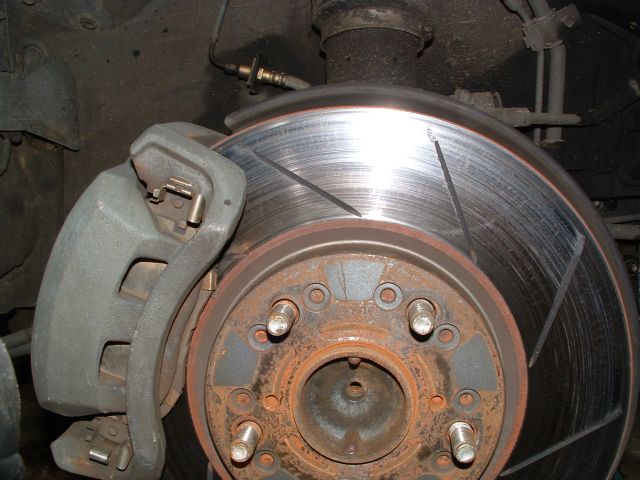 After the first experience with Mallala I now go easy on the warm up lap to conserve the brakes as much as possible.
I can get 1.5 to 2 laps before the brakes start to fade.
Phillip Island I never had fade after 7+ laps. For example Honda Corner is the hardest braking place at PI - braking from 180 kph odd down to about 70 kph. MG corner I use the brakes but not as hard. Then I have 2 minutes for the brakes to cool.

Compare to Mallala where at the end of the main straight it's 180 -60 braking, then another couple 150-60 odd corners in 1.5 minutes - the brakes heat faster than they can dump heat. Everyone tells me Mallala is the worst track in Australia for brakes - it sure is harder than Phillip Island.
Lap 1 at Mallala I have that great max power brake feeling - third lap your hitting the floor with the pedal, pressing as hard as possible, pulling on the steering wheel hard and checking for runoff areas - the worst that has happened to me is getting off the racing line into the marbles while braking. Forget about ABS - it just doesn't click in with race tyres and stinkin' smoking brakes with maximum fade. There is zero chance of locking a wheel under brakes once the dreaded fade sets in. So now I change my racing habits and look after them at Mallala. At Phillip Island or in the Adelaide Hills the brakes are always ready with max power - but at Mallala the big Soarer brings the brakes to it's knees.

After a session at Mallala I cruise into town allowing the brakes to cool evenly. Stopping when brakes are so hot and smelly means the discs cool unevenly - the calliper part stays hotter - so I drive until they cool - keep them rotating until they cool.

The greenstuff pads on the front with the slotted rotors last longer than the rear kevlar pads on smooth rotors. If I can get yellow stuff pads for the front I'll try them on the track - but for the road I'm a dedicated greenstuff person. No dust with greenstuff too.

Slots still fill up with pad material at Mallala - that never happens on the street or at Phillip Island.
After 6000 kms. my pads were stuffed. Street driving doesn't affect them much. 4 days at Phillip Island and 5800km of mixed driving and I had well over half the pad material left going into Mallala. 200 km later and 1 day at Mallala and the pads were nearly all gone. The front rotors have heat cracks in them now - those superfine ones across the surface. The nice green pads go black once they are bedded in and cooked.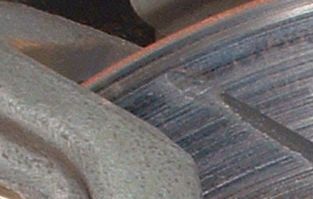 Close up of the slots - I had to scrape them all clean for the pad change.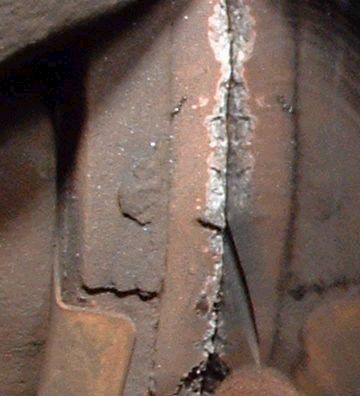 Front EBC greenstuff pads and slotted rotors - always outlast the ECU kevlar rear pads on regular rotors. Yellow Stuff for the front for trackdays would be a good idea - I think they might be available now.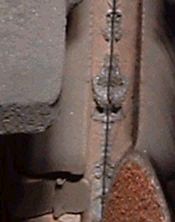 The rear EBC kevlar pads. Front and rear pads installed 6000 km ago. The 5400 km of street driving didn't hut them, the 500 km at Phillip Island wore half of them, the 100 odd km at Mallala wrecked them!
---
Tyres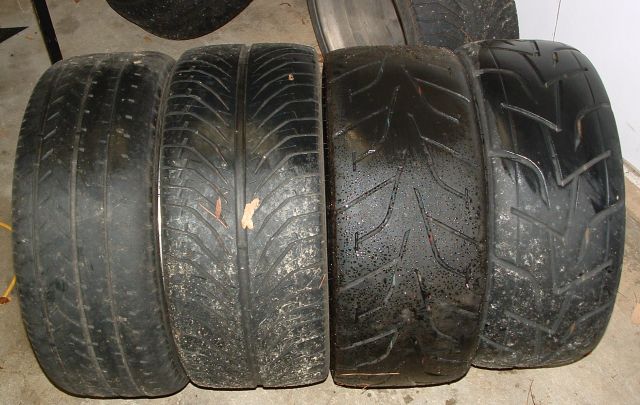 Track tyres I use now are the 225/50/16 Bridgestone 540s on the right - kings of grip - noisy and tramline on road - but fabulous on track wet or dry. On the left is my 235/45/17 Pirelli P Zero Comp tyres (still have the set of 4) - not as much grip as the 540s - but so much nicer on the road - I love them. 2nd from the left is my old 265/35/18 Kuhmo 712 Ecsta - nicely balanced road tyre, good price, last pretty well, bit slippery (relatively) and grip nothing like the rest of the tyres here (but not a fair comparison, the 712 is a street tyre - the others are comp tyres) - but they (712's) last 25 000 km, Craig Dean gets 3000km from the 540s during a Targa Tasmania. 2nd from the right is a 265/35/18 Dunlop DO1J - lovely tyre - heaps of grip - not as long lasting as the Bridgestone 540 semi slick tyre.
Compare my Pirelli to a new one: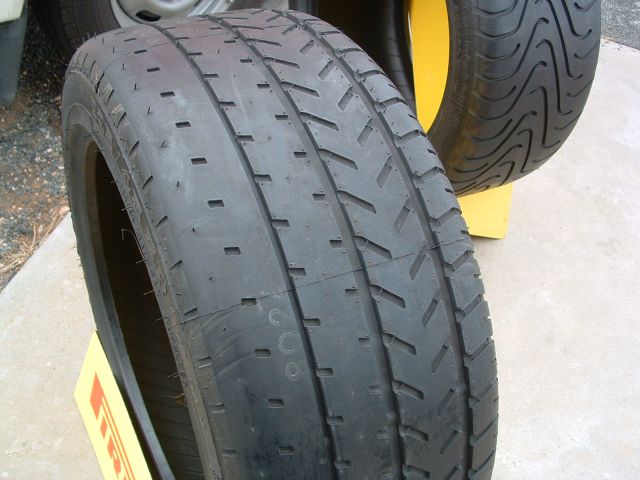 Pirelli dealer was track side - new Pirelli's on sale!
The Kuhmo Victoracer is a competition tyre - $255 for a 225/50/16 - good price: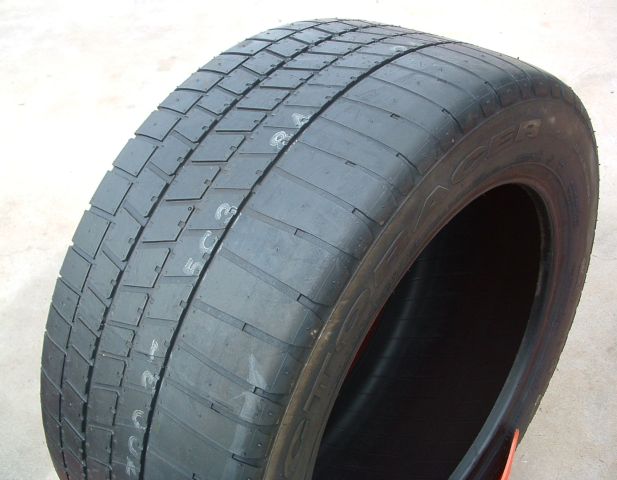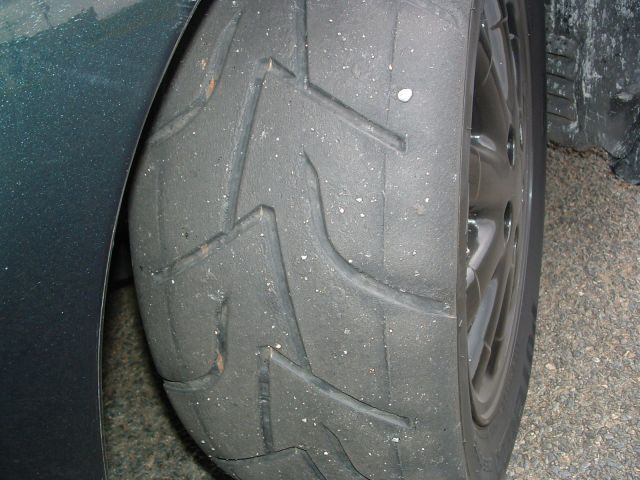 My Bridgestone 540s Potenzas - still holding up just great. After a track session I tend to leave them on the car for a couple of weeks. There is nothing like hooting around the Adelaide Hills with semi slick race tyres - it changes everything. The car is so controllable and the grip and feed back and braking is awesome. I never have brake fade street driving. One of the best things about the Soarer is that when you have finished playing racerboy, you can cruise home (whether that's 1.5 hours from Mallala or 11 hours from Phillip Island) with stereo pumping and TV showing fuel economy graphs in comfy leather seats with cruise control, heated ultrasonic shaker mirrors, auto headlights , speed sensitive wipers front and rear, very low levels of noise vibration and harshness (NVH), power windows, memory seats, LCD dim rear view mirror, GPS sat nav showing car moving through suburbs of Japan (wrong of course but novel), 3D digital dash and auto trans. The car's a treat.
---
Sprint #2 & #3
Dave Gilbert (1500 kg, 187 rwkw 928s V8 Porsche manual) was watching my car come out of the esses onto the start finish straight.
Afterwards at the pub over a couple of coldies he tells me how my car looks a lot different to the other cars. There is an off camber corner with a bump in it coming on to the start/finish straight. He was describing to me how my back wheel tends to "fall away from the car" going around the bend. On all the other cars the back wheel tucks up into the wheel arch as the body leans over. He said on my car the body stays level and the wheel goes down - the other cars the body leans over and the wheel goes up.
So I told him about the Active suspension etc. It's interesting that he was able to pick it just watching the car on the track.






The above thumbnails are from http://www.maximumattack.biz/
2nd session was my best time - a 1:27.72 - again fastest lap was the last one - the lap I struggle with brakes the most and when the car feels like it is moving around on the tyres the most.
3rd session was a bit hopeless for me, I was a bit tired, there was some coolant on the racing line and I tried a bit too hard which saw the Soarer understeer into corners and oversteer out. But it was fun!
During this 3rd session I tied the tape recorded in the boot. It was suspended by elastic straps. No carpet in the boot so you hear everything. Lap three I had a real big sideways on corner #1 - and here is the mp3 file for you listening pleasure! You'll want to look at the map of Mallala while you play it so here it is: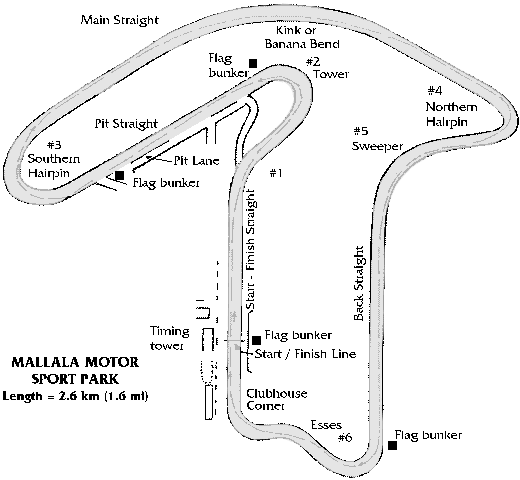 The mp3 file (1.3 MB)
http://planetsoarer.com/sounds/Mallalalap2.mp3
Commentary:
At 6 seconds - entering esses Corner #6
at 14s entering start finish straight
20s - 2nd to 3rd gear change - 130 kph
23s - brake too late for corner #1

24-26s lurid sideways slide after #1
26s - stop sliding - keep going.
35s spin tyres around corner #2
39s - 2-3gearchange at 130 kph
44s - brake for #3 southern hairpin
51s - spin tyres out of corner
1:09s brake from 190 kph for #4
1:16s spin tyres out of hairpin
1:24 change gear 2-3 at 130kph
1:31 brake for #6
1:45 clubhouse corner onto start finish straight.

The 540s tyres are so sticky you here them flinging up the stones into the guards.
I thought the car was going to go right around during that corner #1.
I was approaching it too fast and I saw Richard Daw's Boxster parked off track on my left. That's the same Boxster I had the dice with last time at Mallala. In the wet I had the advantage - in dry he is faster than me.
Anyway Richard never spins off I was thinking as I sailed past my braking point. (Found out later that coolant had been spilt - that might explain why this lap was so slippery - I thought it was me just driving a bit ragged - but coolant might have helped. Richard hit the coolant and spun off).
So I enter #1 too fast and out goes the back - I thought here we go again, another big spin - but managed to hold the car on full lock, it recovered and then I was waiting for the big snap back, letting out the steering at the precise moment is critical. It didn't snap back too bad at all in the end and I just kept on going.
Spinning or sliding where there is heaps of room is no sweat. Braking too late is probably the worst feeling.
No-one got a scratch for the whole day. The white GT2 race car had a big spin 1st sprint lap - and a red Porsche did a helicopter spin 1st lap too - it was the snap back that spun him around twice- both at corner #1 - it is the most entertaining corner to watch for sure. I got both on video - plus some video of my car hooting around too. Dave Gilbert in his 928 (twice club champion) is always gutsy through #1 too - he drives the pants of his 928 - great to watch.
Chris Genning is putting it on a CD for me. He has a bumper camera as well so we'll get some footage doing a lap of Mallala as well. I'll let you know when it's ready! I'm going to ask Chris to follow me for one lap next time - see what the car looks like from behind driven in anger.
---
More Pics
The white GT2 race car (above) was LHD and full blown race car - just as fast as a V8 Supercar around Mallala.
I was right behind him for his first practice lap. We leave the pits together and I'm hammering it giving him what's for.
He's weaving like mad trying to warm the slicks ups and braking heavily now and again. I'm just hanging on - while he is doing this I have it flat to the floor trying to catch him - my only chance.
Then he floors it and BAAAARRRRRRRRRPPPPPPP he slingshots away before doing some more weaving and braking - this is where I catch him again - I had the foot flat to floor the whole time.

Then BAAAAAARRRRRRRRRRRRRRRRP - he disappears again. Wow what a car!
Three laps later during my cool down lap he comes past again bbbaaaAAAARRRRRRRRRRrrrrrppppp- around the outside - so fast, so bad, so mean. I was in awe.
Some more Mallala snaps:
Car 10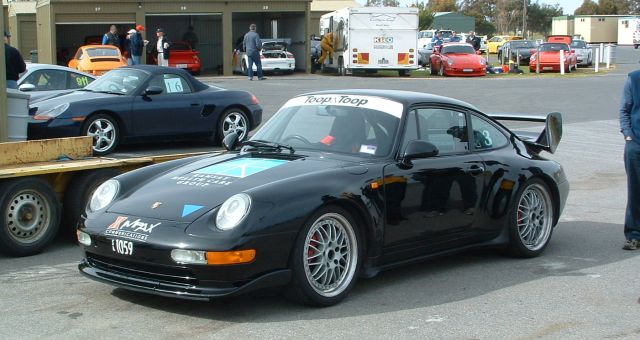 Car 3 - very nice! Back on the left is Richard's Boxster. It really is worth turning up just to have a sticky beak at the Porsches and then watch, hear and feel the cars blat around the track.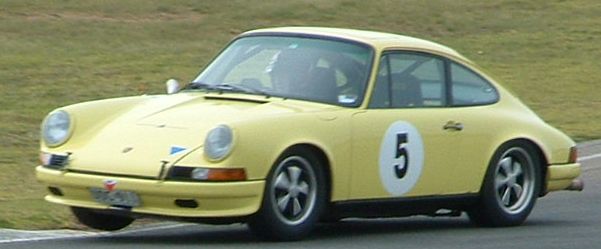 Car 5 - check that front wheel!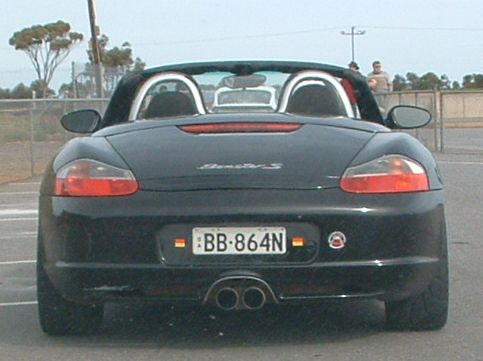 Chris's Boxster - very fast. He has a colour camera installed in the front bumper! hmmmm - gives me and idea! Chris sent me some bumper footage from Mallala - it's great to watch his Boxster go around track from a position so close to the track - reminds me of Gran Turismo.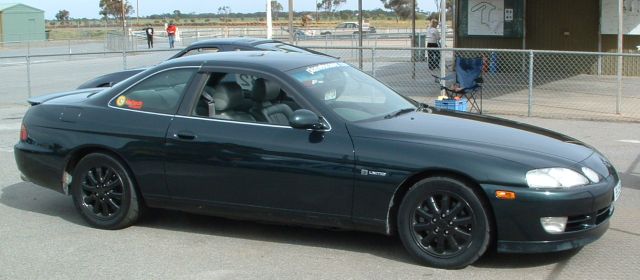 The scrutineering carport right behind me - just make out the only 928 on the day behind me.

The VR4 in the background on left, new Rex, that white Boxster on the right has a 911 engine transplant.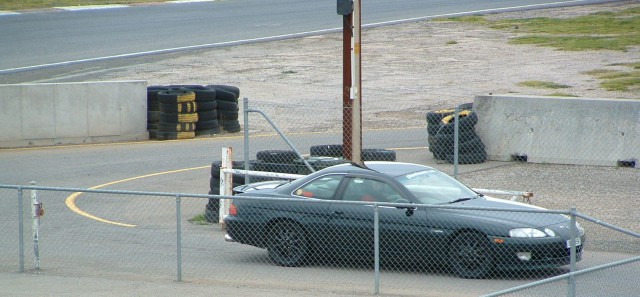 Leaving track coming back to carpark.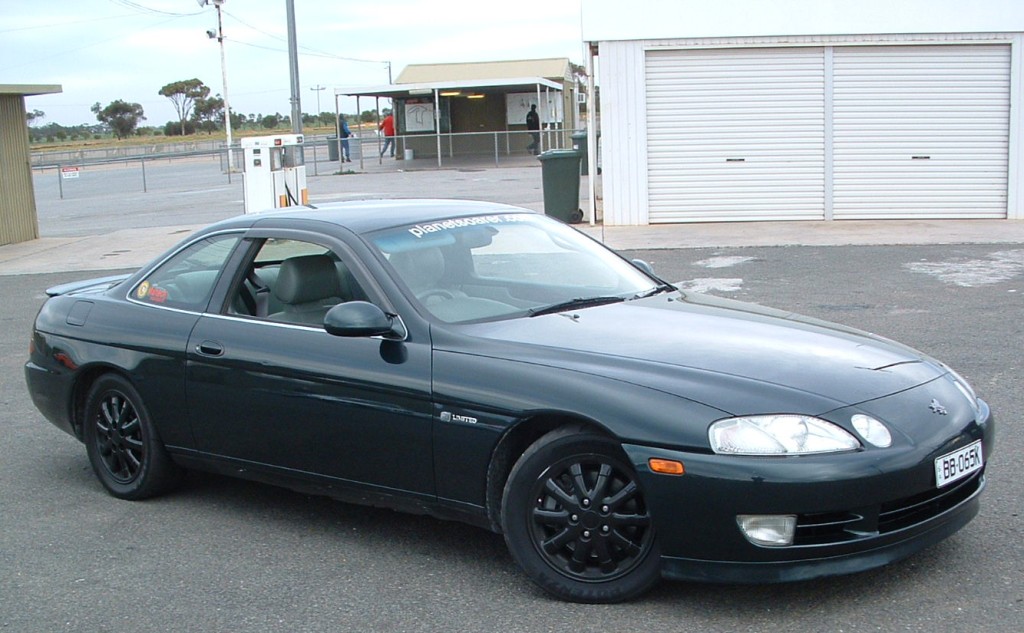 More gratuitous shots of my car! - this is end of day - about to go to Mallala pub for beer - not too much though as still have an hour and half drive home. But that one beer is just so perfect after red face sprinting!

Just gone past corner #1 - not much traffic! I mean look at the place - nothing much to hit - it's in the middle of no where.

Blasting up Pit Straight - looks like I have the whole track to myself.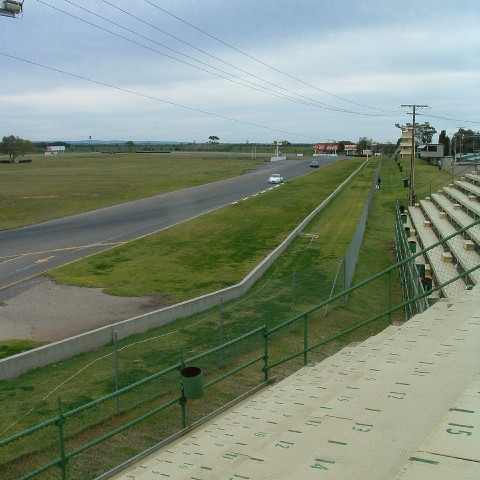 The Start-Finish straight - leads on to the infamous corner #1. Still plenty of seats available during amateur days like this.

That's me behind the Porsche RS up front - we had a good close sprint - I was more aggressive under brakes - the RS leaves me for dust on the straights. That's Murray jumping out of the Nissan 350 Z and his son Stuart getting in. I've seen a father/son sharing a stock Camry (v6) at Phillip Island - it's not the car it's the experience! Using a control car means you really find out who is the quicker driver! Rod is one of the many Porsche club volunteers who help run the day and don't get to drive. Kym Somerville works his guts out too. Today Michelle wanted to drive the turbo red 944 (again!) so Rod got the pit duties! (that's him with the clipboard).

Exiting corner #2 onto Pit straight - crowds a bit thin!

On pit straight -the next car in front is that red Porsche 968 - lots and lots of room.

With the Active suspension forced to go into limp home mode - it's softer and the car will lean a bit more - not much - but a bit more - still Active - but not quite as fast reacting - a bit more conservative.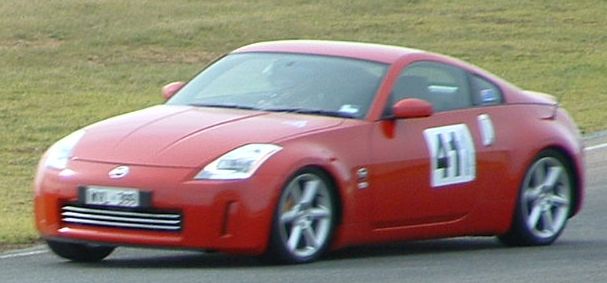 Stuart punting the Nissan 350z through corner #1. Common trick when sharing a car is to have the same number with an extra 1 at the end or the beginning. At Phillip Island you are given two yellow numbers for the window - you cross out one then the other with some race tape.
---
Links:
http://www.mallala.com/

- check the list of practice days - $70, a helmet and a licence is all you need.

24 Porsches versus One Soarer

. If you want organised Sprint days with flag marshals and timing in South Australia - the friendly Porsche Club is the go.

Professional pics of the day - http://www.maximumattack.biz/ - browse the photo gallery for the Porsche Club Supersprint Mallala - 03 Aug 2003

Check page 2 for my pics - see how the Active suspension keeps the car so flat compared to regular suspension cars?

http://www.pcsa.asn.au/

- Porsche club of SA