| | |
| --- | --- |
| | This is a look at the Wheels Magazine May 2006 235/45 R17 tyre test. The Article is quite long and involved - this is just a look at the summary tables.Nine tyres were tested in the popular 235/45R17 size: |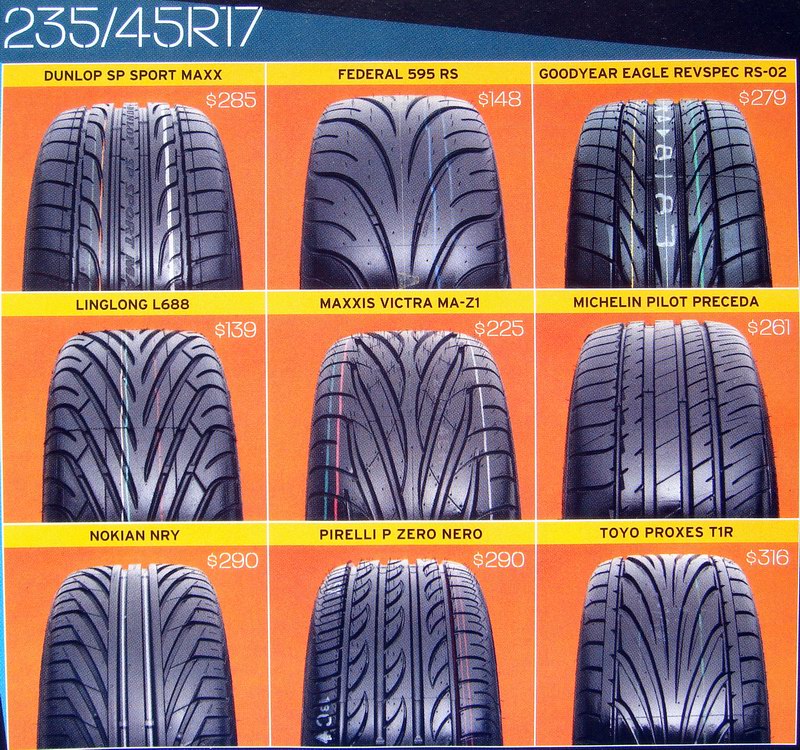 I've never heard of LingLong before! Cheap at $139. Dearest was the Toyo Proxes T1R at $316. I'm a fan of the Michelin Pilot Preceda and I've had a set of Pirelli P Zero Nero. This tyre test doesn't consider noise, wear, or what the tyres are like when half worn. It's unfortunate that the most important things to me are very hard to measure without personal experience.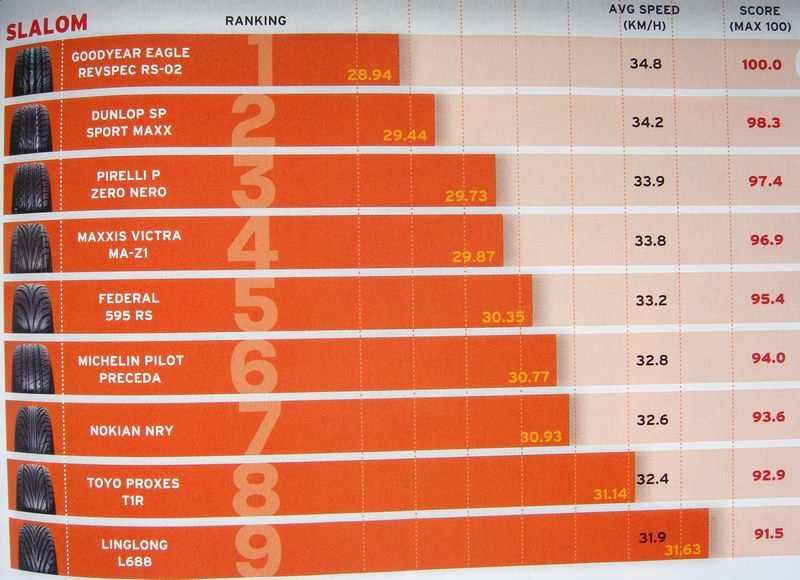 The Goodyear Eagle Revspec RS-02 has won other tests along with the Dunlop SP Sport Maxx. No surprises that are at the top of the Slalom test. The dearest Toyo Proxes T1R and cheapest LingLong L688 both performed poorly.
Several times I've read that the Maxxis Victra MA-Z1 performs well in the wet. Dunlop SP Sport Maxx does well as well. Again the Toyo's and LingLong's bring up the rear.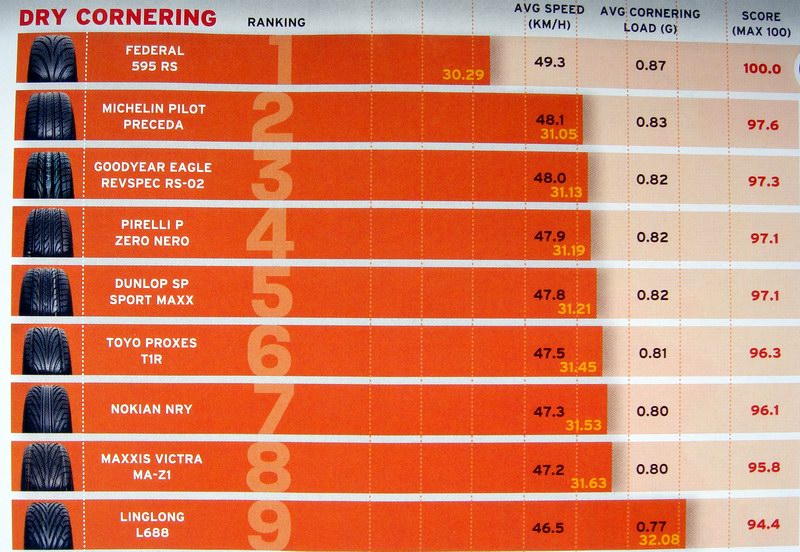 The cheap Federal 595 RS has lot's of rubber on the road. Cheap at $148 and fabulous grip in the dry.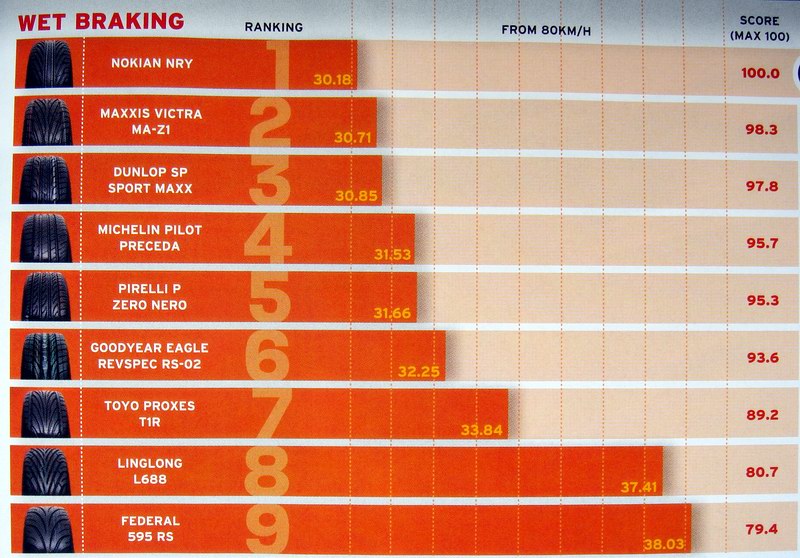 I'm not familiar with the Nokian NRY, yet again when it's wet the Maxxis Victra MA-Z1 does well. Reasonably priced at $225. Looks like the Federal 595 RS is great in the dry, poor in the wet.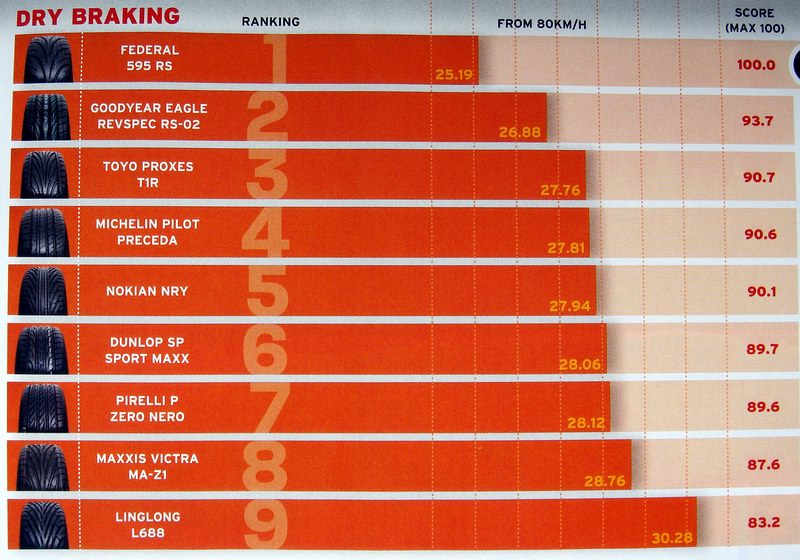 Again in the dry the cheap Federal 595 RS beats the others.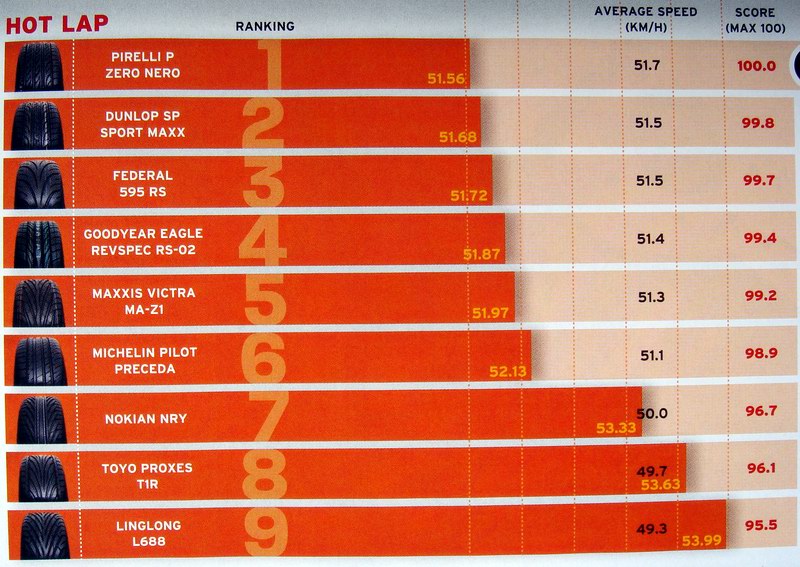 Toyo Proxes and LingLong disappointing again.
The Dunlop SP Sport Maxx and Goodyear Eagle Revspec RS-02 did well over all. Not many owners find the limits of adhesion in regular driving - usually it's the emergency braking in the wet that counts most. For this the Maxxis Victra MZ-Z1 could be the way to go. For a Sunday car in fine weather the Federal 595 RS with it's excellent dry weather grip would have to be considered?
Previous tyre stories:
May 2004

Best tyre for my Soarer and Magazine tyre tests
34 A4 pages:- 5 magazine tyre tests, personal experience and some circuit tyres.

Januray 2005 (These tyres are on my Celsior, still going strong - will buy again.)

The budget Pirelli PZero? The low cost Michelin Pilot Preceda? Not as much grip - much much higher treadwear coefficient - quiet and steer very well. My new 16" rims needed some tyres and Kumho ASX tyres fit the bill.