"Shopping for New Wheels?"
"What to consider in choosing a wheel/tire package"
By: Gary Allison, General Manager, Ronal USA
Are you considering changing your wheels? If you are --- you are probably considering "changing the appearance" of your vehicle and/or obtaining a better handling/performing vehicle --- than you presently have! You may also be thinking of a set of "dedicated" snow wheels & tires, for winter use - usually one size smaller than the factory sized wheels.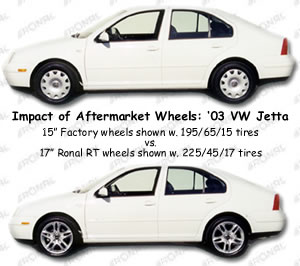 Generally speaking, the single most distinctive and advantageous accessory to a vehicle is to change, or plus size, the stock wheels and tires with a set of high quality, lightweight, alloy wheels mated with a set of hi-performance tires! This will enhance the vehicle's performance, handling, cornering, braking, safety, and, of course --- appearance!
We, in America, more so than most other countries consider "our cars are our toys" and are free to accessorize them as we choose. We, at Ronal USA, --- located in California --- see this ever-changing industry continue to emerge in new directions, daily. I've found that people accessorize their vehicles, be it sedans, sport cars, trucks, SUV's, etc... based on my FIVE "S's" --- they want to project success, status, style, sophistication, and sex. Some say that the car is a projection of one's personality, and the car industry desperately tries to touch our "hot buttons" with new and innovative designs, options, and advertising. Aftermarket wheels, more than anything else allows one to be distinctive, and unique - and, continue to be the "in thing" --- never has a phrase had more meaning - than "size matters" and bigger is better!
One simply has to look at the trend with the car manufacturers and the sizes of factory wheels and tires. Only a few short years ago, the norm was 15-16" wheels. Currently, these same sized cars, are now sporting 16-17" sizes and some even have 18"+ for mid size cars!! It's evident that the OEM manufacturers also realize the trends that the consumers are dictating.
Well, what should one consider, when upgrading a vehicle with a set of new wheels and tires?
The US marketplace, at present, is flooded by thousands of different wheel styles, manufactured all over the world, from the USA, Europe, to S. America, Africa, China, Japan, etc..-all with varying quality variances! Generally speaking, the USA marketplace is driven by design-styling, and cost --- but what about QUALITY?? The "QUALITY ISSUE" in the sale of wheels, is without a doubt the most "overlooked issue" in the consideration of making a wheel purchase! The general public has the "perception" that if a store sells it and it's a wheel, with the proper styling and at the appropriate price then it's OK to buy and is safe --- but is it?
Most people are not aware that in the US marketplace there are virtually no safety requirements or standards placed on aftermarket wheels! Unlike in Europe, which has the TÜV Organization, a governing organization, which regulates how and which products can be used to accessorize a vehicle. These products must pass rigorous testing and are allowed ONLY for sale once they've passed these testing procedures. Vehicles have different weights, load ratings, power, and torque. Wheels should be designed, testing to meet and exceed load ratings and stress rating due to power and torque, and in consideration to the road surfaces and usage of the vehicle!
So, I suggest, that the word QUALITY be considered when purchasing new wheels/tires for your vehicle! After all, --- your life is dependent on the wheels and tires you drive on!!
So, what makes wheels different?
The car industry today, worldwide, utilized aluminum wheels on app. 50% of all the vehicles manufactured-vs steel wheels, and this percentage grows yearly. Some car manufacturers, utilize an almost 80% ratio in aluminum vs. steel wheels. The reason that the car industry has shifted from steel wheels to aluminum wheels is that aluminum wheels are lighter, look better, and therefore, offer better gas mileage with weight savings and better performance and handling.
Most aluminum wheels are CAST one piece wheels. This comprises approximately 80% of the marketplace and are the most common. There are different casting methods and heat treatments available, as well. Finally, the quality of alloys used, from recycled aluminum cans to hi-grade alloys, affect the porosity and hence, the strength and durability of the wheels. These production processes are also the most cost effective, hence you will see these as the most common type aluminum alloy wheels used in the factory production cars (OEM) industry, as well as the aftermarket industry. The quality in the final prep and painting of the wheels naturally affects their appearance, and reflects a certain quality standard in regards to their durability to rust, corrosion, and appearance.
A trend among the hi-end marketplace, is that of modular wheels. MODULAR wheels are referred to as multi-piece wheels, and come in 2 piece or 3 piece versions. A 2 piece wheel (Ronal-LZ) consists of a barrel, with the face of the wheel affixed, via mounting or assembly bolts to the barrel. Ronal uses titanium assembly bolts. A 3 piece wheel (Ronal SX, LX), on the other hand is a bit more complex - consisting of the face of the wheel, an inner and outer rim section which are all bolted together to form one wheel. These wheels are generally substantially more expensive, and offer a very sophisticated, elegant, sporty look. They also have advantages, in that as modular wheels, they can be repaired, usually, by replacing the damaged portion of the wheel, only - rather than replacing the whole wheel. They are generally manufactured with higher tensile alloys, hence are stronger, and generally lighter. These wheels are generally only available in 17"+ sizes and create a striking addition to any wheel. One point to note, --there are many one piece wheels designed with fake assembly bolts or rivets, to create the appearance of a modular wheel!
A new and growing trend are Forged wheels. Generally speaking, these wheels are generally lighter and stronger --- but this is not always the case! However, due to their high temperature heat treating, and new rotary forging process, these wheels, generally do have an advantage over cast wheels. However, in light of the high cost of manufacturing, they still comprise less than 10% of the marketplace. Their sales price is also quite high.
Another method of making wheels is termed the Billet wheel. These wheels are "milled" out of solid aluminum, and can be hand crafted to any design, easily, with today's technologies. They are strong, and expensive and can bee seen generally on older custom hot rods, and some trucks/suv's.
Another material used in the manufacture of wheels for many ears has been magnesium. Magnesium wheels, have long been used in the racing industry, especially Formula 1, etc. Magnesium is an extremely light metal, however, not recommended for long-term road use, but for hi-end racing-it has its advantages. These wheels comprise less than 1% of the marketplace.
I am quite certain, that in the near future, the car industry will see composite wheels. Ronal has already developed some of these extremely lightweight wheels, but more research must be undertaken, but I feel we are not far away from such wheels.
Another factor in the appearance and quality of the wheel is the finish. Most wheels, today, are painted in different shades of silver paint, or other colors. Some manufactures clear-coat the wheels, for protection and durability. As in alloys, there is a distinct difference in the quality of paints and the type of clear-coat paint that is used. This will be evident immediately upon comparison of a Ronal wheel vs its competition, in that Ronal uses state of the art robotic painting machines and only the finest paints and heavy clear-coat, for durability.
Some wheels are made in a polished finish. This allows the metal to be polished to its bare metal, removing all the paint and its quite shiny. The drawback to polished wheels is that they tend to oxidize very quickly, which reduces their luster and they have to be continually polished and kept up.
A popular finish on wheels is the chrome finish-which resembles a bright MIRRORLIKE finish. This is accomplished by stripping a wheel to its bare metal and applying different layers of metals finishing off with a nickel layer, which creates the shiny finish. These are often seen on dark vehicle colors, and are very striking.
Another finish is called machine face cut finish, which is a metal that's polished and clear-coated. It creates a two-toned finish to the normal silver painted finish, and is ideal on flat surfaces. Other forms of finishing a wheel are done by various methods, ie: sand blasting, ball-bearings to create a luster, and other forms and different types and colors of paint.
All these are designed to attract the customers attention, and touching their hot buttons to purchase the product-but as always...be aware of quality when choosing a wheel. What a wheel looks like initially, is not always the way it will look after a period of usage...but quality wheels will hold their luster and sheen, and not tarnish, fade, or rust.
To preserve the finish of any wheel, it is advisable to clean the wheels once a week, while they are cold and not hot. A simple solution of soap and water and a non-abrasive cloth is all that's required if the wheels are maintained on a regular basis. If a "wheel cleaner" is to be used, care must be taken, in that the correct cleaner is used for the CORRECT FINISH it was intended for, otherwise, the finish can be completely ruined. It is always recommended that the wheels be regularly cleaned, especially with today's brake pads, which emit so much brake dust, in that they are non-asbestos pads. I highly recommend switching over to an aftermarket brake pad, which eliminates 80%+ of the normal brake dust, without harming the brake rotors, and enhancing the appearance of those special wheels on your car!
In choosing an aftermarket wheel, one should, in my opinion, --value QUALITY--as a criteria in making this decision. Ronal's quality is its claim to fame. That is why most of the car manufacturers rely on Ronal to manufacture their wheels, from MBZ, BMW, Porsche, AUDI, VW, SAAB, Rolls Royce, GM, FORD, Honda, Nissan, TOYOTA, etc. to name a few. Even the hi-end European Tuning Companies, like Lorinser, Brabus, Alpina, AC Schnitzer, Hartge, Irmscher, Oettinger, etc. depend on the quality manufacturing of RONAL to produce their wheels. These wheels all bear the "Ronal" stamp in the back of the wheel.
A recent scientific, independent test, conducted by the German TÜV organization-the watchdog for the German automotive industry-once again proved that Ronal was chosen as the BEST QUALITY WHEEL. The Ronal R28 was subjected to extensive tests for rim strength, paint durability, corrosion, and alloy content in a comparison of the major 15 rim manufacturers around the world, and hence was chosen as the superior wheel and winner in this scientific comparison test. This indicated that some of the competitors wheels actually broke or cracked during the testing! Therefore, shouldn't QUALITY be at the top of your decision making process, when choosing a wheel for your vehicle?
In today's marketplace, most people exchange their existing wheels and tires for larger wheels and tires. Generally they move from 15-16" OEM, factory sizes to 17-20"+ aftermarket sizes. The trend is towards bigger is better, and it's never been more evident than in today's marketplace!
What should one consider in upgrading to larger sizes?
A primary rule of thumb, when upsizing to larger wheels and tires is to maintain the same rolling diameter - especially the newer vehicles. In maintaining the same rolling diameter, the ODOMETER, SPEEDOMETER, and modern ABS brake systems all function similarly as prior to upsizing, without any modifications. This occurs in that for every size one moves up, "generally" the contact patch of the tire to the ground becomes wider and the "profile height" or the height of the sidewall becomes shorter-often referred to by the term-low-profile tire.
Today's top tire manufacturers, like Pirelli, Bridgestone, Michelin, Dunlop, Continental, Yokohama etc, have developed tire compounds and tire strengths, that allows customers a comfortable and stable ride quality, without sacrificing ride comfort, when upsizing their vehicles. Most customers relate that the ride quality is actually enhanced by upsizing.
An example of plus sizing would be as follows, typical for a mid-sized vehicle:
STOCK OEM tire size: 195/65/15 tire which has a ROLLING DIAMETER-RD=25.04"
Plus zero= 215/60/15 - RD= 25.17" --------Plus one = 225/50/16 - RD= 24.88"
Plus two= 225/45/17 - RD= 24.98" --------Plus three = 225/40/18 - RD= 25.08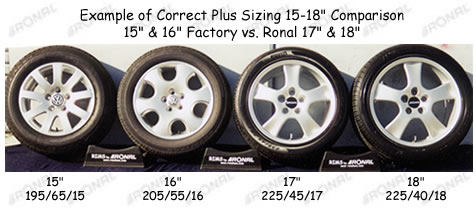 One can see from this example, that the rolling diameter stays consistent from moving from 15" wheels and tires all the way to 18" wheels and tires. However, the footprint has increased from a contact patch in 15" at 195mm=7.67" has increased to 225mm=8.86" - a 15% increase in contact patch. The advantage in this is that the wider footprint on the ground makes the car much more stable, in cornering, everyday driving, and if one had to undertake an evasive maneuver, the vehicle would be much more stable and responsive, and hence safer. Braking distance is also shortened with a broader contact patch on the ground, which creates more gripping or stopping friction.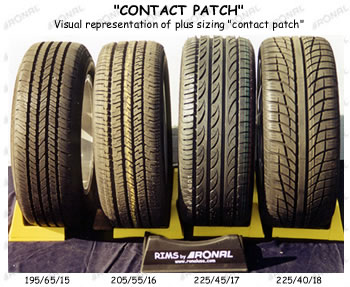 This is particularly advantageous for trucks and SUV's, which are normally very top heavy, and have a tendency to be unstable in evasive maneuvers. An example might be of a Chevy Yukon 16" Factory size to that of 17" vs. 20" comparison, ie:
Stock 245/75/16 = RD 30.41", contact patch of 9.6"
Plus one 17" w. 285/60/17 = RD 30.4" contact patch of 11.2"
Vs. 20" w. 295/45/20 = RD 30.4" contact patch of 11.6" - a 21% increase in contact patch!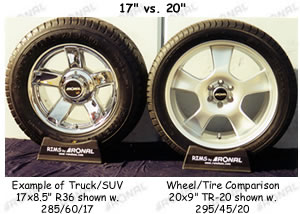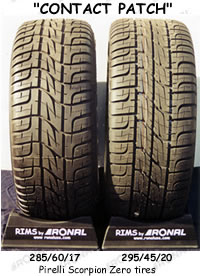 It is plain to see the advantages of upsizing these trucks/suv's would have, on stability, control, handling, braking or larger wheels/tires. The Ronal 17" R36 and 20" TR-20 are ideal for these types of vehicles.
**CAUTION: Some tires today, have broader shoulders and larger contact patch areas, ie: 2-235/45/17 tires from different manufacturers, can vary in come cases by as much as 3/4"+ in wider contact patch! Even though you may have the correct tire size, it may not fit, due to the larger dimensions of the tire. Rubbing issues, usually arise in these situations.
If you have never felt the difference I suggest you drive a vehicle with the optional larger tires in a correct fitment, and I am quite certain, you will not want to go back to the smaller sizes. The feeling of safety, security, and increased handling, and responsiveness will make you a convert! Finally the appearance factor is a definite PLUS!
Finally, when upsizing... it is important to remember that wheels and tires should be matched and load-rated for the particular vehicle. Most important, the wheel/tire combination must fit the vehicle properly!
In choosing a wheel/tire package, FITMENT is the key. When done properly, it is a seamless transition, but done improperly, it can create a myriad of problems.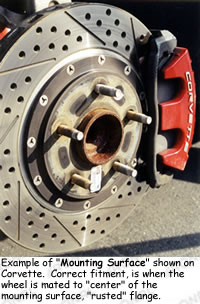 The wheel/tire combinations must fit properly within the fenders and suspension components, with the correct rolling diameter. The wheels should have the correct BOLT PATTERN, OFFSET (or backspacing), clear of all aspects of the mounting surface (brake calipers, protrusions, etc.) suspension components, be HUBCENTRIC (centerbore of the wheel fitted exact to the hub of the mounting surface) and new lug nuts/bolts should be provided and used with new wheels. Finally, after proper fitment, a new wheel alignment is recommended after installing different sized wheels and tires. Let's briefly address these issues.
Rolling Diameter: It is vital to maintain the same rolling diameter, when changing to a different sized wheel/tire combination. Today's vehicles, whether cars, trucks, and SUV's all have a form of ABS brake system. It is important to stay with 3% of the recommended rolling diameter when changing your wheel/tire package. Some NEWER vehicles even have computer driven suspensions which make this even more critical. The speedometer and odometer readings can also be affected. Incorrect sizing, will create a safety RISK! Use the correct air pressure for size of tire in reference to the vehicle they are mounted on. Older cars have more leeway with these constraints.
Bolt Pattern: Bolt patterns vary from manufacturer to car type. They vary from 3-8 lug variations, based on the vehicle type. The variations of the 5 lug bolt pattern, are the most common! The bolt pattern is designated by the distance between lug holes, measured in millimeters. These are seen where you attach the lug nuts/bolts to affix the wheels to the car. At the Ronal Website, you can refer to the INDEX of CARS SECTION, which lists the vehicles and bolt patterns. The bolt pattern is SPECIFIC to each CAR!
Offset: This is the most confused term in wheel fitments. It simply refers to how far out the wheel sits from the mounting surface when mounted on the car - another term that most people are familiar with is back-spacing. It is important to note --- that offset values change when upsizing a wheel! Generally speaking, an offset value will decrease when going from a factory 15x6" wheel, to ie: an 17x8" wheel. It is common sense to see that the additional 2" width has to be split, both inboard and outboard on the wheel. Therefore, the wheel has to be moved somewhat with a different offset, so that it fits properly with the newer, larger sized tires, and clears the inboard suspension geometry, and then does not rub on the outside by the fender - whether while driving in a straight line, at a complete lock turn, or under heavy load conditions. Proper offset, is the key when upsizing to larger wheels and tires!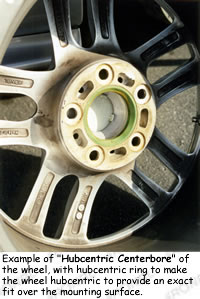 Hubcentricity: A wheel that is mounted on a vehicle, should be hubcentric, to assure proper fit, and hence will eliminate such issues as vibration, shimmy, and erratic tracking! A hubcentric fitment, is one where the interior of the backside of the wheel - referred to as "centerbore"-is an exact fit to the "hub"-that protrudes from the mounting surface of the wheel. The relevant issue here is that the WEIGHT BEARING of the wheel on the car is done on the HUB when it is "mated" to the wheel! This has to be an exact fit. The LUG NUTS, simply affix the wheel and hold the wheel to the car and do not affect load bearing. In fact, lug nuts can loosen, while driving, especially if the wheel is not hubcentric to the car and you can risk loosing your wheels and have annoying issues of vibration, etc while driving. It is very important to have a wheel that is hubcentric to the specific vehicle.
Ronal, makes all their wheels hubcentric to the vehicle that they are sold! Ronal provides a "mounting hardware kit", designed specifically to the vehicle they are purchased for. This includes lug nuts/bolts specific to the vehicle, and a "patented" centering system, TÜV approved. This system allows the use of a common centerbore opening, and then downsize it, to the appropriate specific centerbore of the vehicle the wheel is to be mounted on. These snap in rings, as shown in the photos, withstand all weather conditions and provide security while driving, becoming an integral part of the wheel.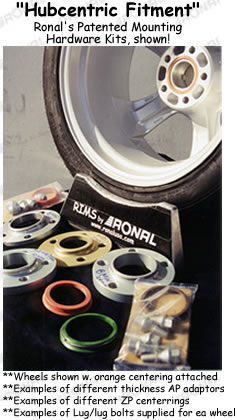 Mounting Hardware-lugs, bolts, etc:
Ronal provides the specific mounting hardware for each wheel specific to the vehicle it is to be mounted on! This includes the correct lug nuts/bolts which have the correct length, pitch and thread specific to the vehicle. Lug nuts/bolts usually come in a conical or ball seat version. Wheels should have the correct mounting hardware specific to the wheel. This allows proper mounting. Care should also be taken when mounting the wheels to the car that the correct torque values be used! Ronal, generally recommends an 85 ft. lb. torque value, and the wheels should always be hard torqued! Over tightening wheels, can lead to wheel damage, warped brake rotors, etc. It is recommended that app. Seven turns be accomplished when wheels are secured, and that a periodic check be made that they are torqued accordingly. Lug nuts do loosen over time! A final point to remember, is that the lug bolts, if threaded too deeply into the mounting surface, can interfere with the interior brake systems - and sometimes a distance as small as 2mm, can affect whether or not you have major damage. After mounting the wheel/tire on the car, rotate it a few times to make sure there are not obstructions! Another precaution, is that once the wheels/tires are mounted, is that the wheels should be turned, full radius in both directions, to check for clearance. A final drive test, should also be done!
Spacers: This is a mis-understood term! Many years ago, spacers were used to vary how far out the wheel sets from the mounting surface. These were basically pieces of slab metal, put between the wheel and the mounting surface. It was soon found, that these generally created uncomfortable drivability issues, of vibration, shimmy, etc...and in some cases some very unsafe conditions.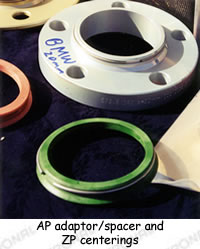 TODAY, new HI-TECH spacers are used by the upper echelon wheel companies. In fact, RONAL has patented its designs, and has been the pioneer in these! Ronal uses a patented "hubcentric adaptor systems" that can allow the wheel to be pushed outboard from its mounting surface. These aluminum adaptors become a "back-pad extension" of the wheel. These adaptors become an integral part of the wheel - being secured to the back of the wheel. The adaptor is hubcentric to the wheel, and then is hubcentric to the vehicle's mounting surface. Longer lug bolts/nuts are also supplied. This TÜV adaptor system, is often used on such hi end vehicles like Mercedes, BMW, etc. You can rest assured on the quality and correct fitment of these.
Brakes: A word of caution in choosing wheels. Naturally they must clear the brake calipers for proper fitment. Some OEM brakes, utilize a floating brake caliper. This will allow some wheels to fit, once the brakes have worn down some, however when the pads are replaced, the wheels will not fit, in that the caliper will hit on the back of the spokes. Take care to consider this when making your purchase. Considerations should also be taken if you are planning in purchasing a larger brake caliper kit, too.
Wheel Alignment: It is highly advised, that when you change your wheel/tire combination that a complete wheel alignment be done. This will provide the correct tracking of your vehicle, and assure that your tires will wear evenly, and correctly.
Tire Pressure/rotation: When upsizing to larger wheels and tires, it is important that the correct air pressure be utilized. Since you have gone to a lower profile height, and wider contact patch, you will generally need to increase your air pressure, from the stock OEM settings. The amount of your air pressure and the strength of your sidewall are very important and play an integral part of the durability of your wheel/tire combination. Ronal always provides you with a guideline of air pressure, specific to your vehicle. It is important to increase the tire pressure, not only to prevent damage to your new wheels and tires, but also to increase the performance, handling, and life of your tires. Incorrect air pressure can ruin a new set of tires, very quickly, as they will "cup" and make a much louder sound while rotating, almost a howling/or whining effect. This cannot be corrected once it occurs.
Another overlooked item is tire rotation! Most modern tires, especially performance tires, are directional. This means they are to be run on only one side of the car, and therefore, most tires in today's marketplace require rotation of front to rear on the same side only! Most car manufacturers have required intervals for tire rotation, usually at 7-10,000 mile intervals. It is important to remember, that under heavy driving conditions, fast spirited driving, places more wear on the tires. Therefore, it is even more important to maintain the correct air pressure and rotate the tires more frequently, based on one's driving style. FRONT WHEEL drive cars, especially, place most of the wear on the front axle, and these tires can wear out especially fast if not rotated more frequently.
All Wheel Drive vehicles, are not nearly as prone to this, but care should be taken to check the tires periodically for excessive wear with all vehicle types. A point to remember, check both the inside & outside sections of the tread on a tire, especially the front tires, for wear. The inside edge is often overlooked and often, that is where the excessive tire wear is!
Tire Monitoring Kits: A new law has recently been passed by the Department of Transportation, which will require new cars, starting in the 2005 model year, to have on-board tire monitoring kits on board, to advise the driver of LOW AIR PRESSURE. Some vehicles, in today's marketplace already have this, ie: Corvette, Mercedes, Audi, etc. and soon all new vehicles must have such a system.
RONAL USA, has been offering a kit, for the past 5 years called Smartire. This wireless kit, consists of transmitters attached to the inside of the wheel, and transmit the air pressure and temperature, of each individual tire, while the car is in motion. Alarms, are also set off, in case of a faulty parameter, ie: a leak in the tire, etc. Contact Ronal USA, about this option for your protection and safety.
SNOW wheel/tire packages: Generally speaking, for winter use, in areas where snow is present during the winter, people have two sets of wheels. One set, a hi-performance set for spring, summer and fall use and a dedicated set for winter use. It is important to recognize, that hi performance tires, with their rubber compounds are extremely ineffective in cold, snow and ice conditions. It is advisable to have this second wheel/tire package for winter use. The general rule of thumb, is to downsize, one size for winter use, as the narrower contact patch, and higher sidewall, will provide you better traction, along with the winter rubber compounds and tread patterns.
To summarize, choosing an aftermarket wheel/tire package should take some careful considerations! I suggest you make your choices based on QUALITY, with the correct set of wheels/tires specific to your car. Choose a manufacturer based on Quality Standards, who do they make wheels for, how long in business, warranty, etc. Make certain, that it is a correct fit for your car. I hope you will consider Ronal Wheels as your choice...after all, MILLIONS of satisfied people have been driving on RONAL wheels since 1969!