October 2003
by Peter Scott
David, Chris and Steve Malkin, Nikky and Lew Radbourne all put together an excellent cruise. We all got info sheets with the directions and distances travelled etc - it was pretty damn good!

More pics :Lam's pics ............ (and audio stuff)



Super Size picture like the one above is here (550kb)
It was Neil Griffiths Birthday, he had tears in his eyes holding his big birthday card while one hundred of us sang Happy Birthday, he was so overwelmed that he missed Steve Malkin, Lew, Rob and Suze tell everyone that the speed limit in Victoria was 100 kph!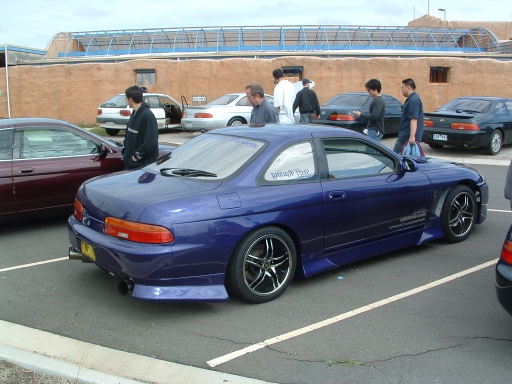 Jodi's carwas a standout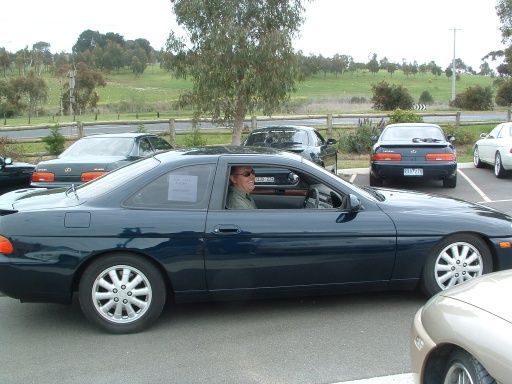 Sometimes 135 rwKW (rather than 430 odd) is enough for Karl. Karl left the beast at home and brought a stock TT for the day.
There was so many of us leaving the Epicentre we created a 25 minute Soarer traffic jam just getting out of the place!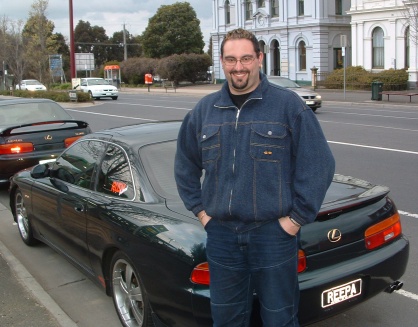 Rob A. at Colac, end of the day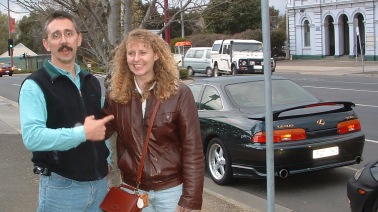 Rob and Suze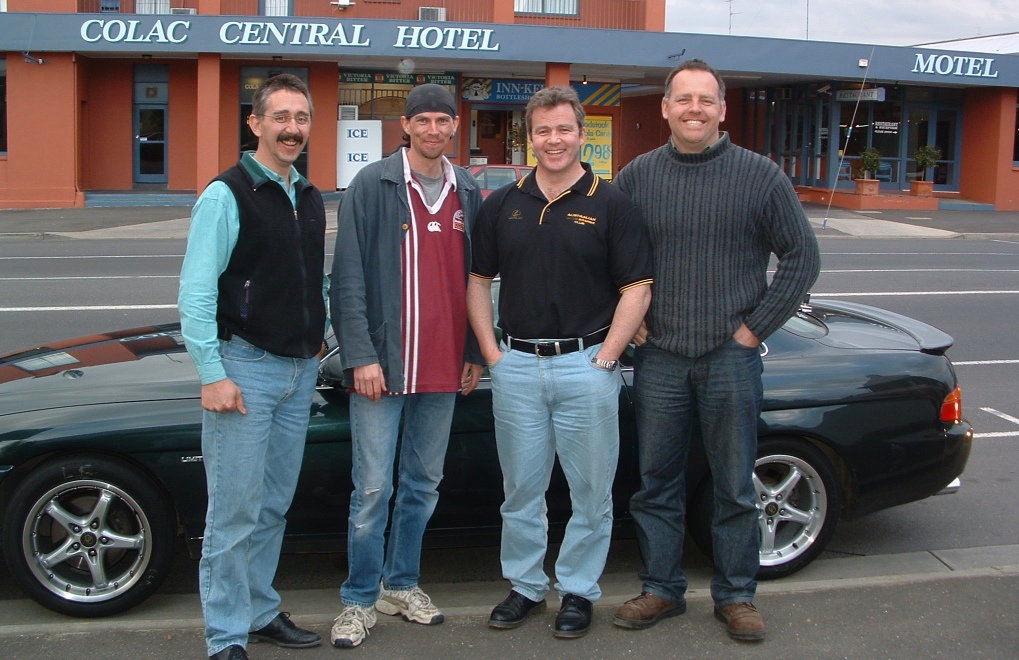 Rob, Juzz, me and Karl - planning the next Phillip Island trackday.
I thought Rob Hayden was the only one to carry a plastic box full of car care products in the boot ALL THE TIME. Wrong! Ian Wood does too. Woody thinks it's normal. I counted at least 5 different types of polish - sheesh!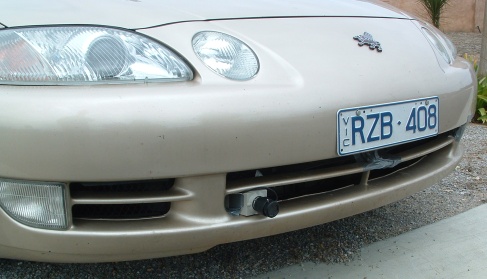 Stan has mounted cameras front and rear - and has a drivers camera as well. His technical adviser (son) helps him with the switching - roll on Phillip Island!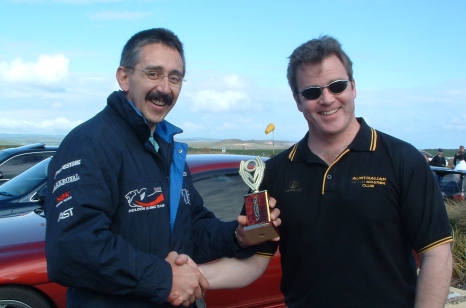 Well Karl got the trophies engraved so Rob did the presentations again - I hammed it up but forgot my speech notes.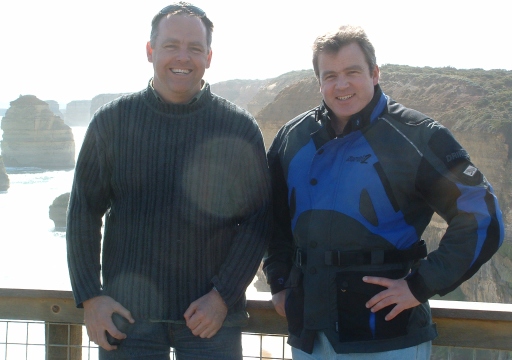 Me and Karl at the 12 Apostles - I reckon we would have sun flare shooting into the sun and we did.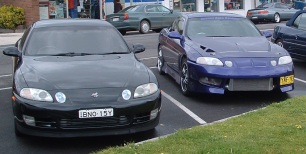 Mild and wild - all sorts of Soarers in the cruise

We arrived at Apollo Bay and booked the place at. Same thing happened at Port Campbell. While at Port Campbell Juzza took my car for a spin - main topic was the shift kit - (scroll down the linked Mallala page)and the new 7500 redline ECU. I could tell from Juzza's maniacal laugh that he approved. Next me and Peter N. drove and compared cars - this time we were discussing the merits of 40 mm offset versus 50 mm offset wheels. When we got back it was time to move on.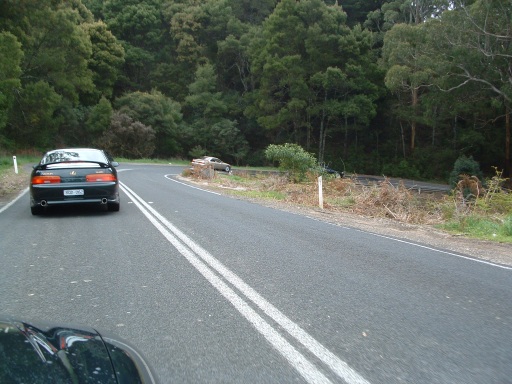 Holding the camera out the window trick - That's Rob H. in front. Roads from Apollo Bay are my favourite.
Once a year there is a big West Coaster cruise from Geelong. Next big meet is the Easter Show at Wagga.
Big convoy from NSW for this cruise - they don't mind travelling.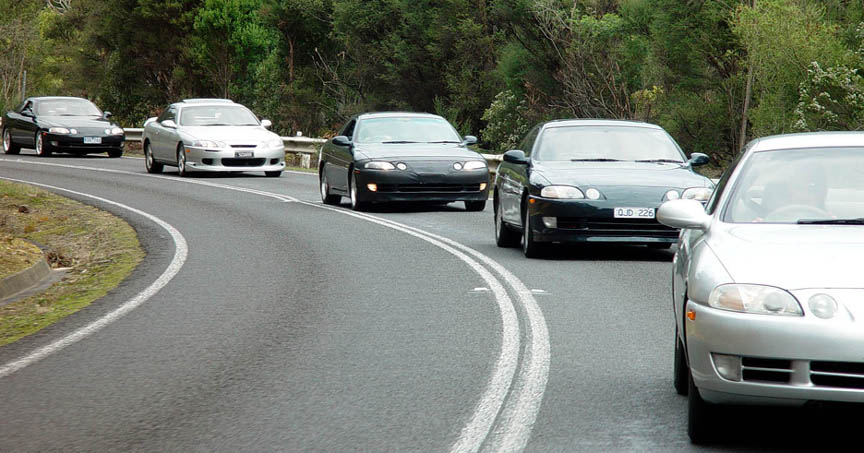 Another great Daina photo - here's 5 Soarers, times that by 10 that's what the cruise was like!