July 2003
edited by Peter Scott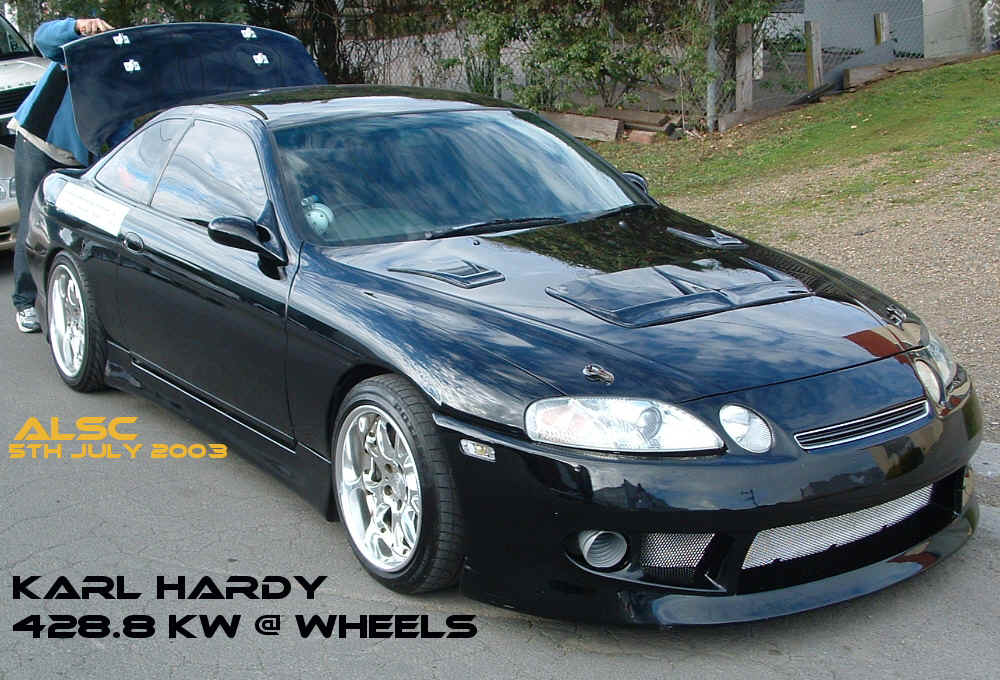 Karl checks that his afterburners are turned off and shut down for the trip home, and clears a spot for his trophy. Karl is a dentist so we can't show you his face. Alright so he's no dentist, but I've seen Karl, he's turned up at my place at midnight to crash, and we aren't missing much.......hahaha
Results:
name

category

rwkw

rwhp

specs etc

Soarers - Turbo manual

Karl

Hardy

TT

428.8

575

3.0 litre HKS build, 23 psi, big bucks

Danny

Dinh

TT/MT

200.6

269

14psi (boost control not working properly)

Craig

Dean

SingleT-VVTi/MT

176.1

236

13psi

Soarers - Turbo automatics

Lew

Radbourn

TT/AT

241.3

323

Twin GT28 turbos, Dumps, exhaust, dumps, FMIC, 16psi

Julian

Wee

TT/AT

194.1

260

FMIC, SAFC, exhaust, 14psi boost,

Andrew

Meiers

TT/AT

184.1

247

FMIC, BFI, EBC

Darvin

Hansen

TT/AT

184

247

BFI,Exhaust, FMIC, IFT chip, 12 psi,

Stan

Johnson

TT/AT

178.3

239

BFI, Exhaust, A/F ratio mod, RSM

Shom

Bhattacharjee

TT/AT

176.3

236

FMIC, Pod, electronic boost controller, Manny style exhaust,

Jodie

Noy

TT/AT

166.9

224

Exhaust, FMIC, BOV

Freeman

Tang

TT/AT

166.2

223

BFI/pod, Dump pipe

Ian

Wood

TT/AT

164.3

220

BFI, Exhaust

Jose-Antonio

Castillio

TT/AT

149.3

200

BFI

Soarer - V8 Automatics

Peter

Scott

V8/NA/AT

163.7

219

BFI, exhaust cams, MiNes ECU, Headers, xpipe exhaust, no fanbelts.

Barry

Anderson

V8/NA/AT

155.3

208

BFI, headers, Exhaust

Rob

Andreacchio

V8/NA/AT

147.8

198

BFI, Exhaust, Speed green neons

Marshall

Hughes

V8/NA/AT

147.6

198

BFI, 2.25" exhaust

Luke

Sevior

V8/NA/AT

146.3

196

Stock

Caesar

LaRosa

V8/NA/AT

141.4

189

3" Cat-back exhaust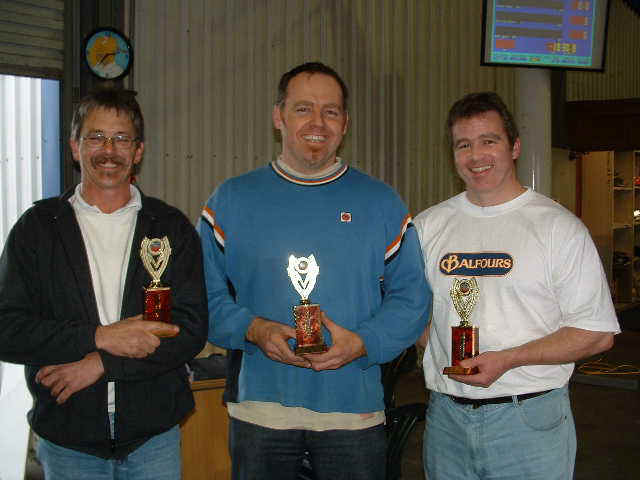 Winners! Lew (auto TT), Karl (manual TT) and Peter (auto V8).
---
TT Manual - Karl Hardy.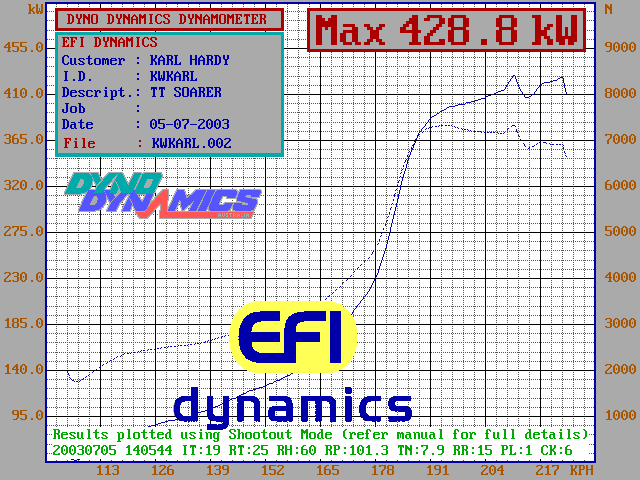 Karl Hardy's car was the big news of the day.
He had it tuned in Geelong and then drove to Lilydale with the C16 race fuel and pulled the same numbers.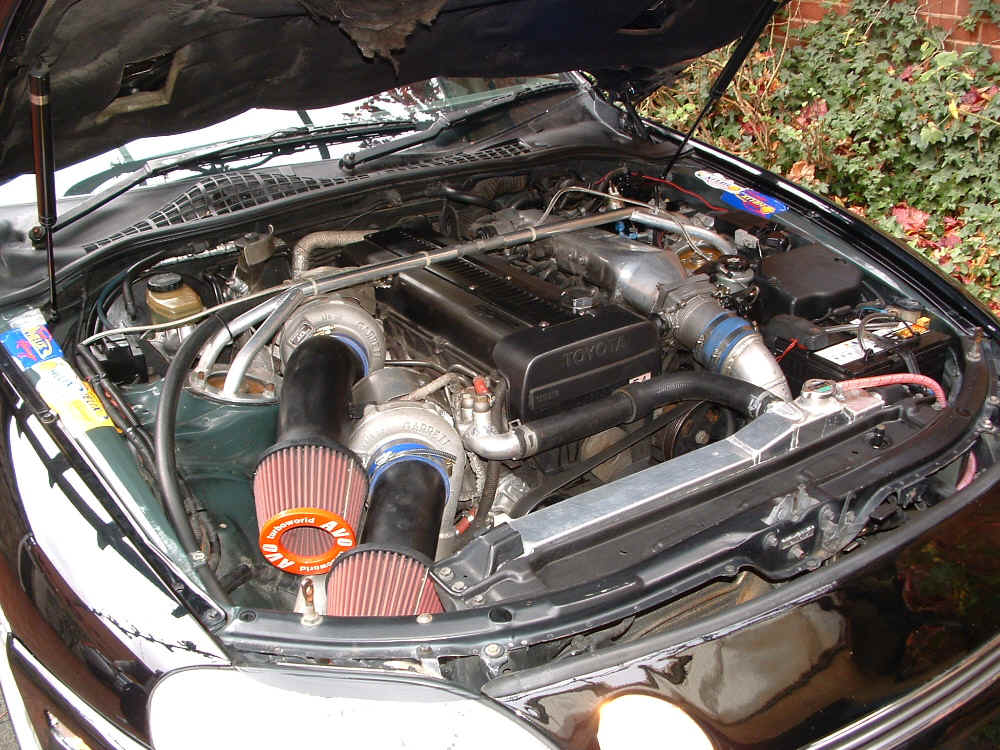 Karl Hardy's 2JZ 3.0 block, 1JZ-GTE head flowed and ported (often called 1.5JZ-GTE) HKS forged pistons and H beam conrods, large HKS inlet manifold, bigger throttle body, HKS 264 cams and gears, HKS GT3037 Pro Kit consisting of 2 water-cooled, ball bearing HKS 3037s turbos (enough air for 740 kw), massive TRUST intercooler, twin external wastegates, 700 cc injectors (HKS FCON management) with extra row of six 550cc injectors (Greddy Rebic Simulator microfueller). Engine assembled HKS workshop Tokushima Prefecture Japan. Getrag 6 speed manual, OS Giken triple plate clutch, TRD LSD, JIC coil overs.
---
TT Automatic - Lew Radbourn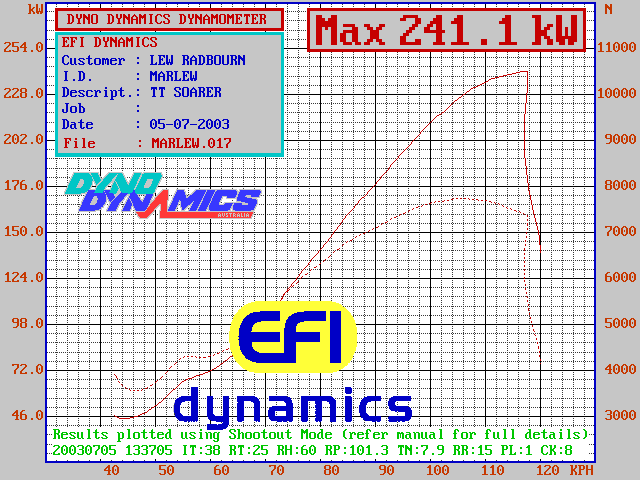 Lew's automatic Twin Turbo Soarer - the autos were dynoed while locked in 2nd gear - in 3rd gear the autos kept kicking down to 2nd making a 1:1 ratio difficult.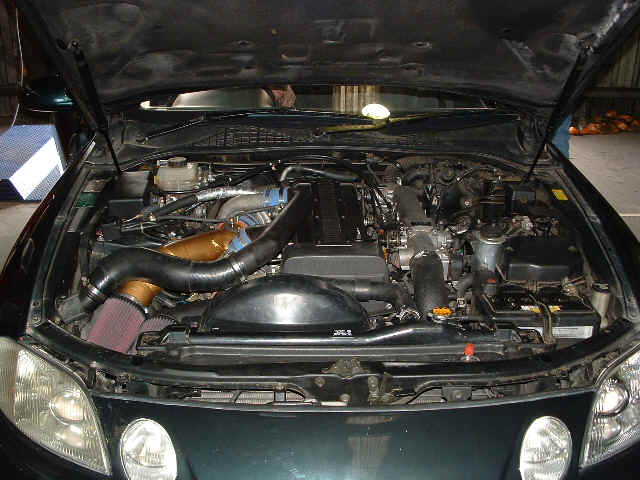 ---
V8 Automatic - Peter Scott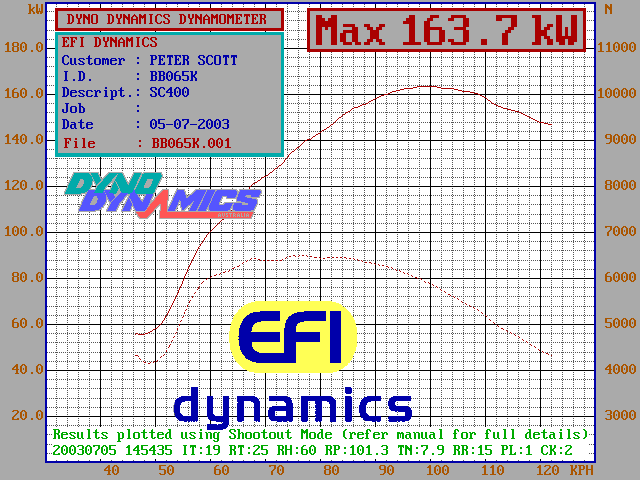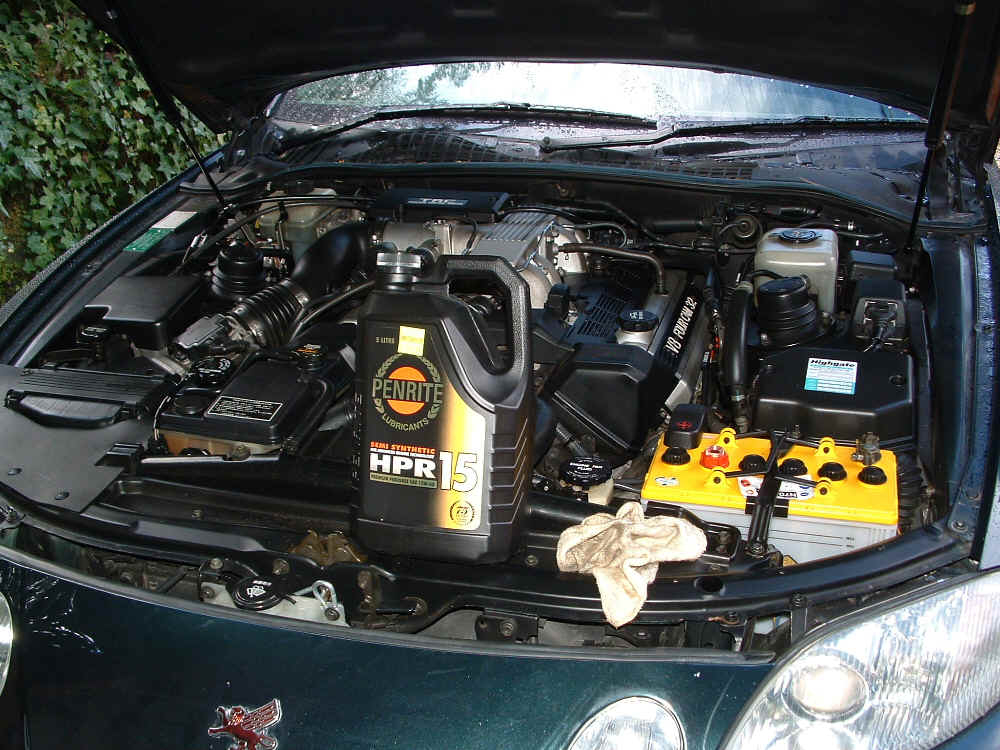 Peter Scott's V8 with BFI, 253 duration high lift exhaust cams (229 degree duration is standard), Headers, xpipe 2.5 inch dual exhaust, MiNes computer (more timing, higher redline)
Last year on a Friday I pulled 138 rwkw at Caulfield Jag Dyno, then turned up to Errol's place and pulled 145 rwkw no change. Errol reckons with shootout mode his dyno reads around 5 kw higher again. He might of got this figure from Barry's 150 rwkw going to 155 rwkw in shootout mode.
Couple of weeks ago in Adelaide I pulled 141 rwkw.
Mods since then:
1. Different middle mufflers - hotdogs instead of big round cylinder straight thru's - don't reckon any power there.
2. 0w Castrol R full syn oil. Very thin. Was running a 5W Shell full syn oil at Adelaide from memory - might be good for 1-2 rwkw (guess)
3. No air filter both places - good for 0-1 rwkw - not much.
4. Nulon Black bottle octane booster on half a tank - poured in 1 minute before dyno. In Adelaide ran 25% toluene - so not much there I wouldn't think.
5. ECU reset - no.
6. MiNe's computer - Rob sacrificed his car and gave me his hot ECU (same as one Harry is making). Used standard ECU in Adelaide. Don't know what difference it made. Have seen two cars get less power with MiNes over standard - Andy's supercharged '32 got more power with it - didn't do a before and after with MiNe's in car - can't prove what difference it made. Rob drove car to dyno and car was chirping wheels and sidestepping during full throttle changes with both of us in it. Rob didn't like the changes - but he was laughing his head off. The car was strong for sure.
7. Every UZZ32 I have seen has made less power in same trim I have seen. I had to stick longer duration higher lift exhaust cams in my 32 to be competitive with other V8's. Always suspected the big suspension pump/power steering pump (one big unit) was sucking power at 5500 rpm.

Andrew Vlamos was the inspiration for the belt removal - he used to drag race Chrysler V8's and he always took the belts off.
Two belts on '32 V8 versus 1 on all other V8's. The long serpentine belt drives alternator (power saving? - not sure - too many changes at once to tell) and hydraulic fan fluid. Water pump is driven by cambelt on all V8's - no overheating problems. The "fan" belt has to come off to get to bottom suspension belt - tensioner by bolt under engine. Taking both belts off and I got constant red bings and Japanese warnings. Just hoped that with Active suspension error and all other errors that engine wouldn't go into limp home mode - it was a risk. Car was hard to drive - no power steering - suspension was bouncy. Got it on dyno and told Errol it had no belts on - he said no sweat she'll be right. Went and signed form with Barry and told him about the belts - watched big screen TV for dyno graph. Couldn't believe it when 163.7 rwkw came up - I was living a dream. All the mucking around had paid off.

Had driven all day from Nhill (left Adelaide 7:30 Friday night - too late to make it too Melbourne). Rang Rob and did oil change with Zero weight in his driveway while Rob did ECU change. Rang Rob A and asked him if it was still going - he said "shit yeah". Left with Rob driving which is always interesting. NO one drives like Rob on road or track!
Karl rang and said "do I give out trophies now or wait?" Karl told me Barry had a 155.3 and was miles in front. I didn't know where I was going to get another 10 rwkw from (previous best at Errol's was a 145) but maybe the MiNes would let the hot camshafts sing and the removal of the lumbering suspension pump from the power drain just might get me there. Or I might get limp home mode and do a 118 rwkW! But it turned out ok on the day.
8. Exhaust cat removal - didn't have time to do this. Exhaust has been modified with flanges. Can unbolt the cats and x-pipe. So when I get back to Adelaide I can have twin system, converge pipe and h-pipe bolt in systems to test. Will have one of these for the Phillip island day.

When I drove off the dyno and turned into the street the car was very different (besides very heavy steering). The car leapt of the line, noise raised in air (no active suspension) and felt very alive. Usually the 32 is pretty tame off the line. So if I ever do a quarter the belts are coming off - might do some Apexi times back home.

So thanks to Rob for all his help getting the car ready, Rob A for encouraging me to come down - I nearly didn't, Karl for holding it open and the trophies, Barry for running the event - it was a very well organised and smooth running event, Errol and his workshop.
It was also great to catch up with all the Melbourne guys and gals again - didn't catch up with all of you - got there a bit late!
So thanks again to all of you - had a blast.
cheers
Here is dyno graph of me and Barry. Barry and I have similar exhaust and intakes specs. I have a larger diameter rear section of the exhaust but they are pretty similar.
Biggest differences between cars is exhaust cams, MiNes ECU and no alternator being driven by a belt. Barry has UZZ31 with air suspension so no big suspension pump on his car (or mine effectively on this graph as belt was off it too). Too hard to attribute kw saved to each mod as too many changes done at once.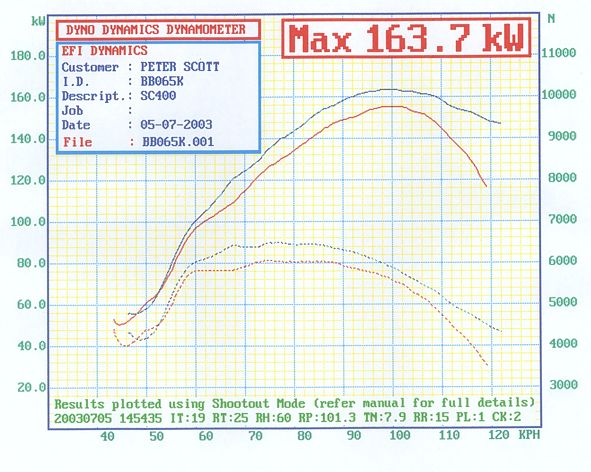 ---
Darvin come over from Tasmania for the weekend. Reminds me of when Steve Cheetham came over for the first ever ALSC meet.
I just wanted to publicly say thanks very much to Andrew for helping me with installing the EBC, and both Andrew and Shom for the help in sourcing the parts needed.

It was a whirlwind of a trip! I thought that since I had planned on getting the mods anyway, it would be cheaper to get them done in Melbourne at the same time, instead of spending $400 extra on boat fare every time I wanted to modify the car.

Initially I had only arranged the exhaust through Ross, but a night on the Spirit with a mobile phone teed me up with James at OH Performance to do my intercooler on the Saturday morning. I also got pointed in the direction of Errol at EFI Dynamics as to the fuel-air chip.

On the Friday I rolled off the ship and into Ross's shop at exhaust fix. I can't give Ross enough credit for the job he did - there is NO drone, doing the y piece forward 3 inch cost me a total of $600 GST inc. I priced in Tassie - it costed the local guy $650 for JUST THE CAT, ex freight!!! So you can see why I went to the trouble of getting it all done at once.

While at Ross's, I called Shom and he put me onto a Malaysian guy called Calvin who found me a used HKS EVC 3 boost controller for $450. I also called Errol and arranged to get the chip installed and a cursory tune (as changing the FMIC would require changing the fuel air ratio again), with tuning after the dyno day for the FMIC. Ross noticed I already had an aftermarket JASMA exhaust on the car. Apparently he only needed to change the y piece forward to get it amply free flowing.

While Ross was working hard, I managed to see the Hulk, and when I came back I was ready to go off to Errol's at midday. Errol got it on the dyno, with IFT chip and the exhaust/BFI all working together, it spat out 167rwkW. Beauty.

Calvin met me out at Errol's in his R34 GTST. Although I would have bought the EBC without testing it, he went to the trouble of showing that it worked on his car before selling it to me. That done, it was time to call Andrew, who was going to help me out with installing the boost controller. We didn't have time to mount the boost controller, but we did get all the cables hooked up well enough. Again, thanks very much Andrew!

All up it took maybe 6 hours out on the nature strip, and the boost controller was hooked up.

It was now midnight. I drove very conservatively (not) over to St Albans, where James lives. By that time I was so tired, instead of booking a hotel I just pulled into a school parking lot and crashed. It was around 2pm at this time.

7:30AM Saturday: Over at James's, I had a coffee and he started work. The intercooler he does for the club is around $1k, but it is only 57mm thick. I spied one (and there were several), of very similar design but 70mm thick. We negotiated price, and I paid $1500. It was more of a pain to install than the other one, and a little bigger - kits on the internet retail at $1695 no labour included - so I was happy enough with the price.

The reason I went with the bigger cooler is that my goal is to get 220rwkW out of the thing, and so I don't want to be spending another $1500 down the track doing the same job over again. My philosophy is that with pipes, if you have even the hint of a desire for big things, it's best to go bigger and have the thing more efficient - it should save some petrol anyway.

I thought about getting him to leave the stock intercooler in there and route it in parallel with the new one, but I'm glad I didn't or I would have missed the boat ride back. Maybe in the future if I really need it - before that though I will have to mount pressure sensors before and after the intercooler, and temperature sensors.

One thing I will have to do is duct the air to the IC - the front space in front of the IC can be as much as a 1/4 of the frontal area of the IC, but if there is a path for air to bypass the IC, I know where it will go - around. It's the same as if you hook a 10k resistor up to a battery - (analogous to ducting), and then hook up a 2k in parallel - yes the voltage is the same provided by the battery (pressure), but the current is all through the 2k (bypassing the IC).

I think (hope) I am right on that one. If not, blame Corky Bell.

By now with no breakfast, stomach acid had partially eaten through my stomach wall and I raced over to KFC, then on to Lilydale again. Somewhere around highway 44, I took a wrong turn and lost 40 minutes of time.

At around 4pm I arrived at Errol's, and I saw two soarers leave. D'oh!

But fortunately he was able to complete the tune and I was left with a car that is equipped pretty much the same as Andrew's.

All in all a great trip, unfortunately I didn't get to meet anyone I hadn't already met from the club. Oh well.
---
Other dyno graphs - these are all I have.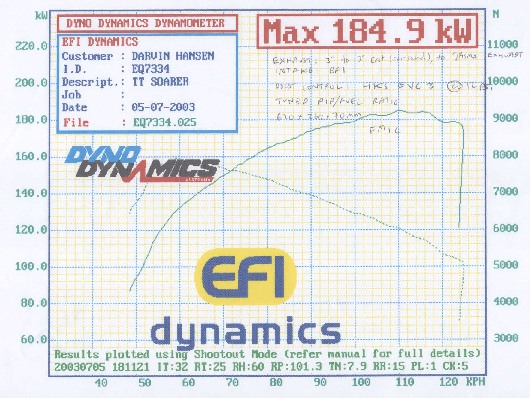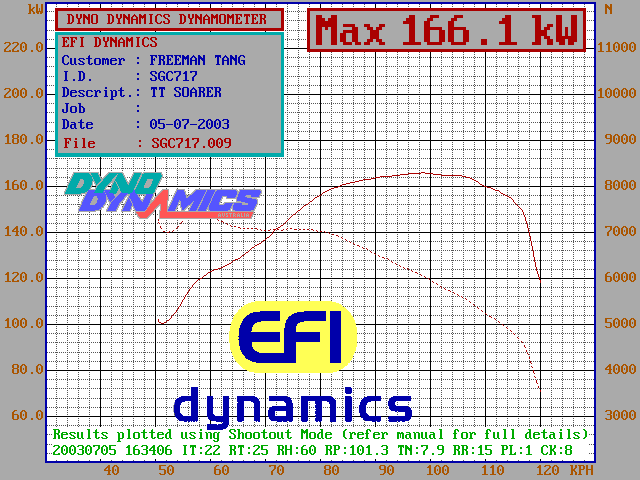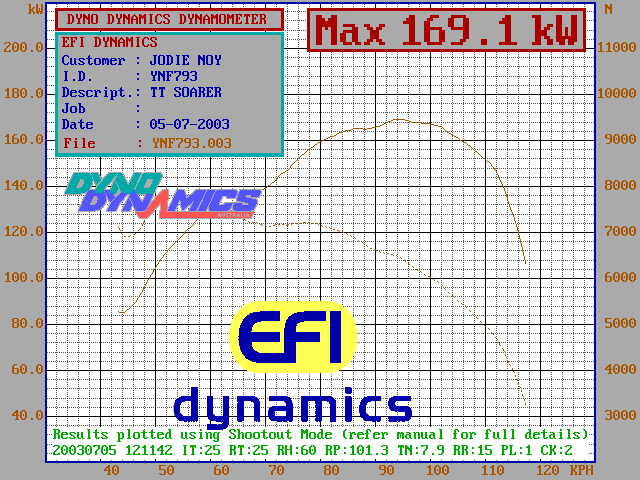 Hey everyone!
Well we made it home obviously, at 1am this morning! Was so happy to meet all of you, and to finally see what the car did before any mods start happening!
I am happy with the effort the car put out, after driving 900kms and only on 12psi.
Could someone explain to me the curve though and why it doesn't seem to curve like other TT's?

Great effort by a lot of people and their cars, I thank all of you for making us feel welcome, but geez those roads confused me and I ended up in Essendon but fluked it to the Hume Hwy by 6pm, and that was after I studied the Street directory!

Just wish I had the "special" hooked up but unfortunately time didn't allow us to get the correct nozzles. But I hope to be back down there soon, I had fun!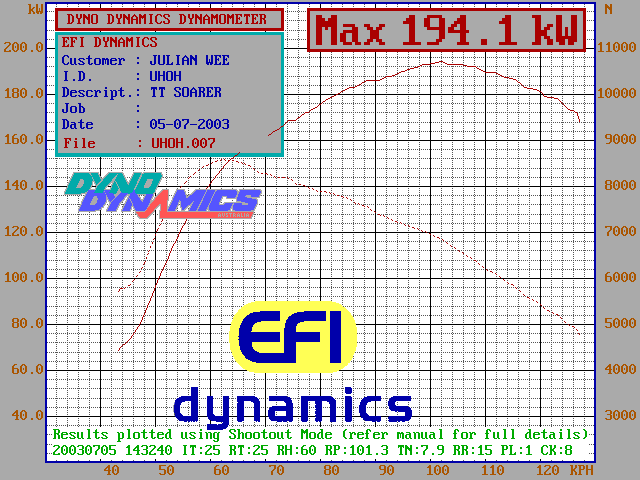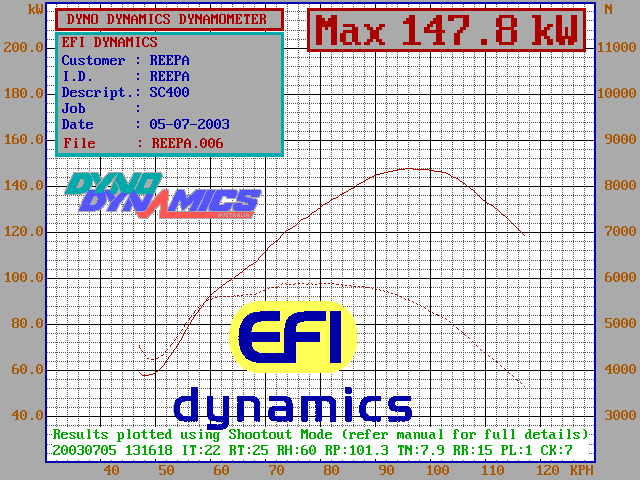 ---
More pics from the day: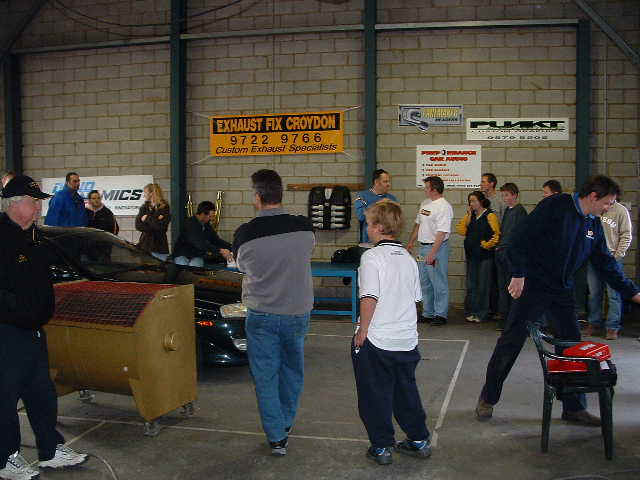 Errol's (that's him on the right) EFI dynamics workshop at Lilydale ( EFI Dynamics ). Errol's a good bloke. He can get your TT cooking no sweat and will be fitting V8 supercharger kits soon.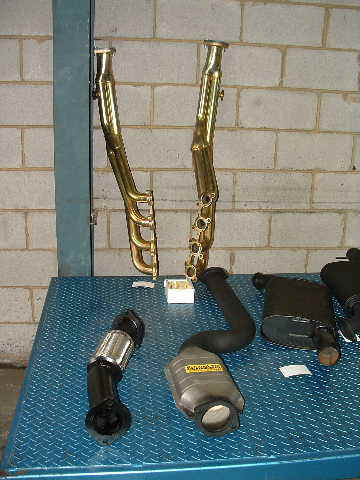 Croyden exhaust fix have single dumps, twin dumps, V8 headers, x-pipes - all the good stuff ready to go for your Soarer.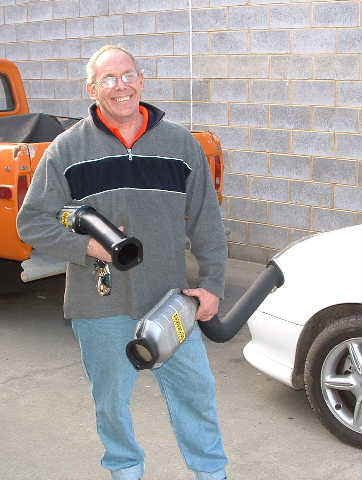 Mr Exhaust himself - ring Ross on 9722 9766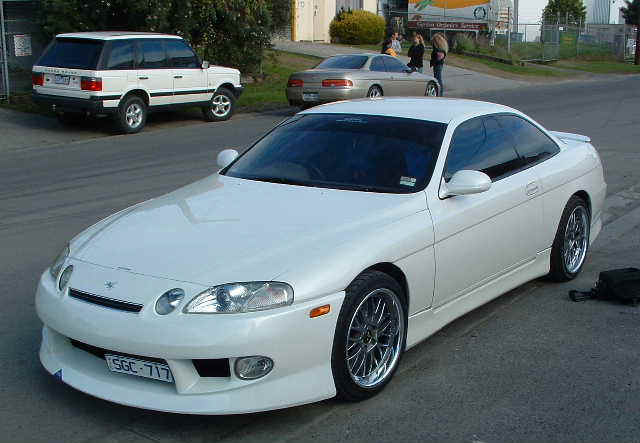 Freeman's TT - those rims look a treat.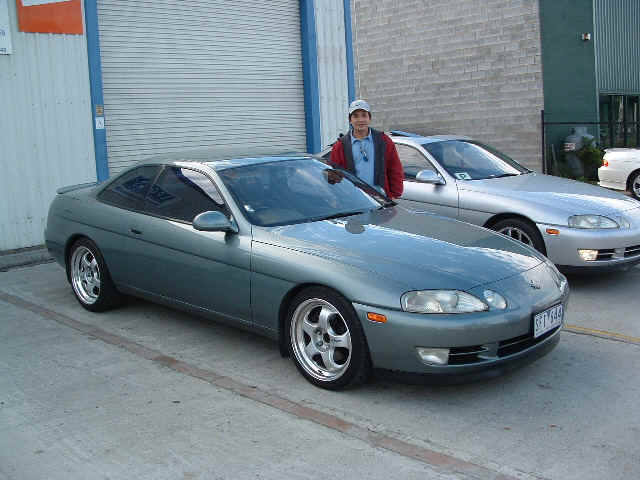 Another good looking rare icemint TT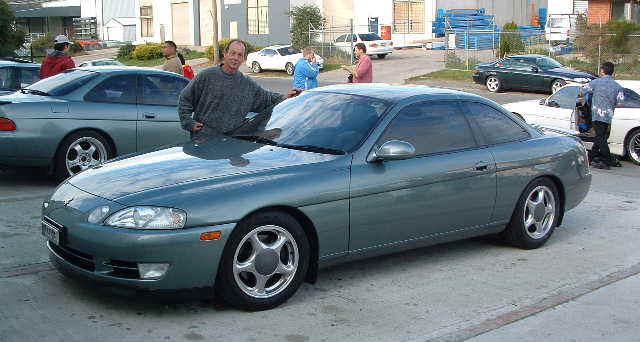 Ian Wood's TT - he just fitted 16*9 inch Supra rims on the back.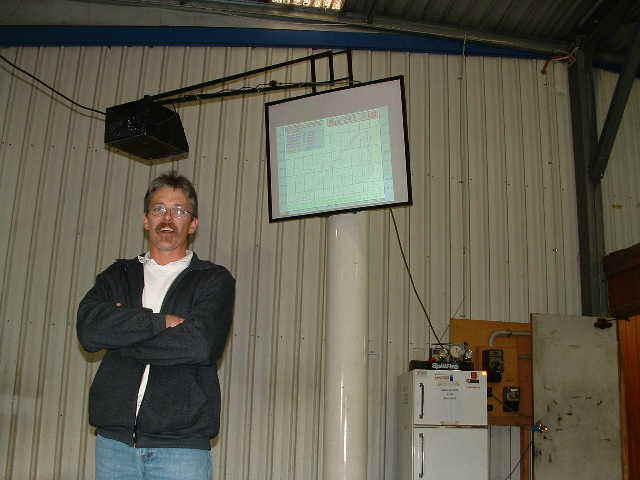 Errol projected the dyno graphs live onto the big screen so we could all see what was going on. I got there too late to see Karl's car but people tell me it was an amazing thing to watch, listen and feel.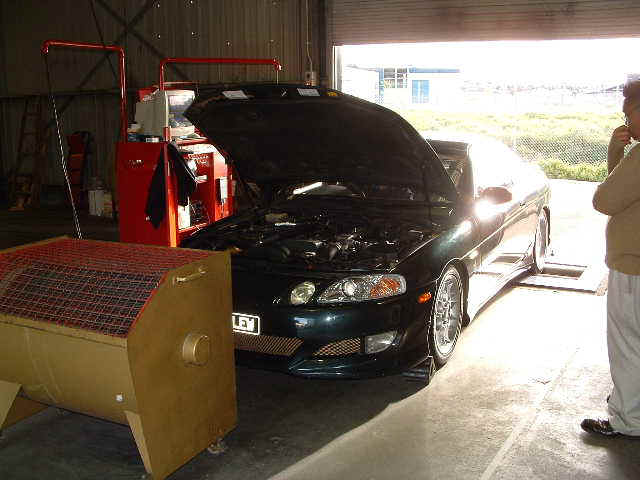 Lew's car on the dyno. Afterwards Lew stayed on to get Errol to do some more tuning.

My V8 behind Karl's TT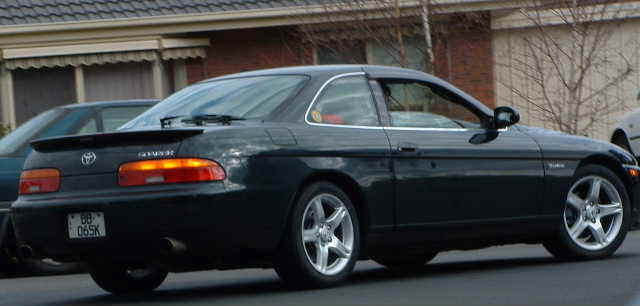 My car with new Lexus GS rims - me and Rob went for a big fang the day afterwards - up through the Blackspur: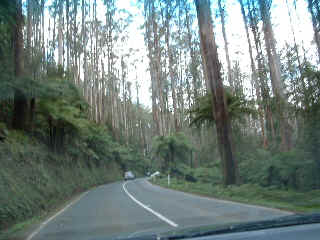 Now comes all of the handshaking and trophy photos! And there are plenty of them!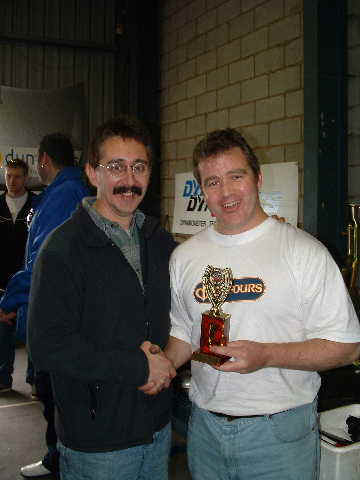 I changed the oil to the super thin 0w full syn oil for the dyno while Rob Hayden sacrificed his own Soarer to fit his hot MiNes ECU to my car for the dyno run. Rob drove to the dyno place with his special "train the ECU for power" method - which to me seemed to be pretty much chirp the wheels in every gearchange (shift kit fitted) and drift through every corner and laugh like a possessed maniac the whole way there - seemed to work though!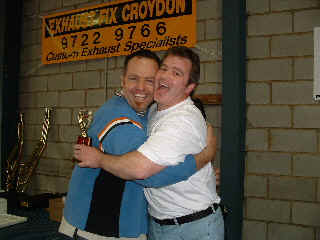 Karl's been threatening to hug me ever since I gave Andy a great big hug on the previous happiest day of my life - and he did.... - yecchh! :)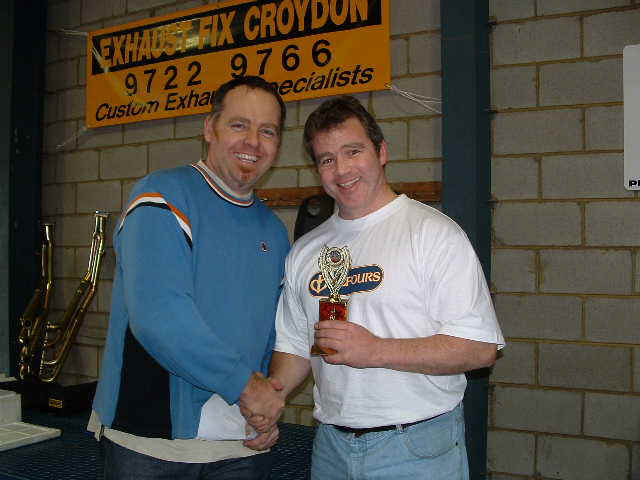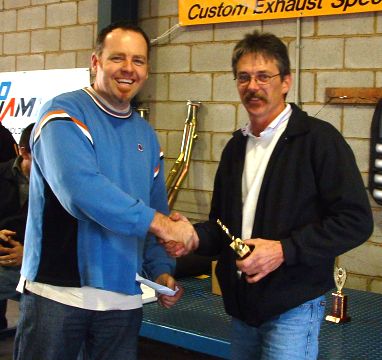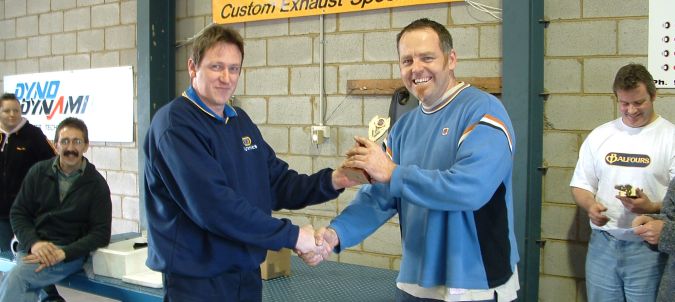 Karl put up some trophies for the day, we go Errol to present Karl's trophy since it's not much fun to present yourself with a trophy. I was hoping for one of those giant sized cheques, but Karl said that if I wanted I could get the optional 4 foot high 3 column stand for the trophy - now where talking!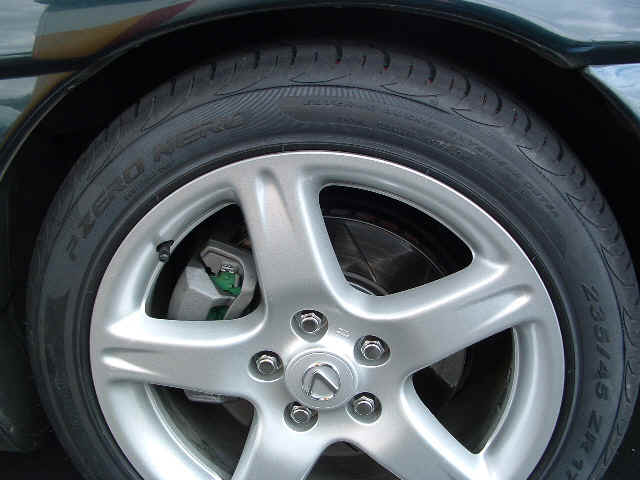 I bought these PZero Neros just for the trip over to Melbourne - I had just fitted new EBC greenstuff pads as well - here they are nice and new and green - The previous ones were black and fried from Mallala race track. The tyres are fabulous.