August 2004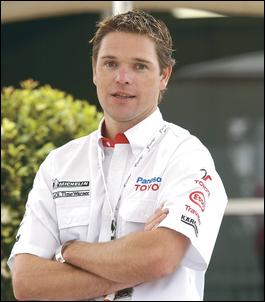 Galway, 37, is Toyota Australia's newly appointed motorsport development manager. In fact not only is Galway new to the job, so is the job itself.

It was created on January 1 and Galway sat his bum in the hot seat for the first time only on January 5.

The job was established to manage Toyota's existing national racing commitments like rallying and co-ordinate local marketing of international efforts such as Formula One.

But, crucially, a key part of Galway's new gig is an in-depth study of all aspects of Aussie motorsport and where Toyota needs to be to gather maximum bang for its big bucks.

His study, which he will complete and submit before the end of 2004, will cover Toyota's existing commitments and everywhere else it could get involved in the motorsport maelstrom: speedway, club racing, off-road racing, Karting, et cetera et cetera. Oh, and V8 Supercars.

Toyota has had a couple of looks at V8s in the past, twice getting quite serious internally about it, but being cooled down by head honcho John Conomos, a man who knows a lot about selling cars and is not convinced by the marketing value of motorsport – particularly a segment of the sport where Toyota has no relevant vehicles. Both of its local offerings, the Camry and Avalon, are front-wheel drive and have V6 engines as standard, as compared to the category's rear-wheel drive V8 regs.

But the times, they are a'changing at Toyota. Conomos is grooming a whole bunch of smart young dudes to take over as the next generation of managers and keep the sales graph moving upwards.

One of them is a guy called Scott Grant, the marketing general manager. Since he arrived in the job after a four year stint in the USA there's been an increased focus on Toyota's need to sex up its image and grab a more youthful audience. And he sees motorsport – and in particular V8 Supercars – as a way to do that.

It's no surprise then that Galway sits within the marketing department and reports to Grant. Not that Galway's post is the only recent Toyota initiative in this regard. Another job has been created for Toyota Australia veteran Greg Gardner to commence a study into the pros and cons of a Toyota SVO (special vehicles) division. Hot cars and V8 Supercars? Now where have we seen that work before?

"The two roles very much go hand in hand," confirmed Galway. "Probably for Toyota and

motorsport to really move to the next level we really need the SVO organisation to step up to the next level as well. Those two things need to combine.

"The HSV and FPV models are working very successfully at the moment, and the V8 Supercar series is a very good collaboration of those two properties.

"The dream is we have a successful SVO operation, producing enhanced vehicles, which is going to be exciting, it's going to move the brand proposition up to the next level. You need to probably tie that in with a successful motorsport operation as well, and those two need to work together creating a synergy to drive the brand further."

At the moment, Toyota is dabbling in the hot car waters with the Sportivo name, but Galway says no decision has been made on whether that will be the branding going forward.

Galway uses marketing terms like 'branding' and 'synergy' a bit, a reflection of the fact he's a Toyota veteran with two stints at the company totaling 10 years. So he knows his way around the halls of power at Woolooware Bay in Sydney and Port Melbourne.

But he's no motorsport rookie. Galway's a uni graduate in mechanical engineering who in his first stint at Toyota voluntarily got involved in motorsport activities after-hours. He helped out rally ace Neal Bates and was team manager when Juan Fangio II (nephew of the great one) raced in the Bathurst 12-hour in a Toyota MR2.

He left Toyota to chase his dream of working in Formula One – racing Karts had convinced him that he wasn't going to be a driver – and moved to Albury to pick up some experience with Brad and Kim Jones, who in those days were racing the Audi Super Tourers.

A year there and he headed for Europe at the end of 1996. Thirty interviews and numerous knock backs later he made it into Jordan as a truck driver and tyre changer through then team manager, Aussie Jim Vale, who had been at Wayne Gardner Racing when Galway first met him, and has more recently worked for Larry Perkins.

Jordan technical director Gary Anderson promoted Galway to the research and development department in 1998 where he met and worked with another talented Aussie – Sam Michael – who is now chief operations engineer at Williams F1.

In 1999 it was back to Australia and a return to Toyota Australia in the product planning division – completely out of motorsport until now.

So come on Phil. Is Toyota going to go V8 racing?

"At the moment everything is on the table," he says, avoiding a direct answer. "As part of my position the idea is to get in and analyse all aspects of motorsport, work out where the opportunities are and is that going to fit with our strategy going forward. V8 Supercar will certainly be one of the things I look at."

Galway chooses his words carefully and stresses his research is not intended to provide the final decision on whether Toyota goes V8 Supercar, rather to put the options up there.

But he admits, even at this early stage, that political rather than engineering obstacles present the greatest challenge to a Toyota V8 bid.

"Moving forward there is going to be an awful lot of research and communication with the various participants and regulatory bodies such as AVESCO before we are even talking about entering.

"The series is obviously a very successful formula. And that will be one of the concerns going in, because no-one will want to change the formula to make it any less attractive than it is. And we, obviously would not want to go in if it was to turn into something unattractive."

Translation: If Holden and Ford follow through on their threats to pull out of the category if Toyota – or Mitsubishi for that matter – comes in then Toyota won't enter. Sort of a Catch-22.

"We don't want to turn it into a Toyota one-make series," Galway says emphatically.

In fact, Toyota wants just the opposite.

"Let's keep those guys in, let's get us in and let's get some other manufacturers in," he says. "I think competition is a great thing and I think that's why motorsport is so exciting. You want to see the championship going down to the last race and ideally you want to have the winner crossing in front of the second place by a split second.

"That's what motorsport is all about - excitement and competition."
Source: V8X - online magazine and hardcopy

---


A Yen for Success
source: http://www.racingone.com/column.asp?artnum=16433

Last weekend's IRL season opener might give fans of stock car racing some cause for concern. No, it doesn't appear either open wheel series is going to give NASCAR a run for the money as far as fan base any time soon, but have a look at the results column from that IRL race. This season Toyota and Honda have switched allegiance from CART (now a spec engine Ford-Cosworth series) to the IRL. And you might say the Japanese manufacturers did all right their first time out in the IRL. A Toyota engined entry won the race, claimed second and third place to boot and six drivers finish in the top 10. The other rookie, Honda, took three more of the top 10 finishing spots. Upholding the honor of the Red, White and Blue, Scott Hornish finished 10th, the only Chevrolet (and I use that term loosely) powered driver to finish in the top half of the field. And Hornish is the driver who won the last two IRL Homestead races as well as the series title the last two years. The Chevrolets were said to be giving up 40 horsepower to the Japanese make engines. And that was in the foreigners' first race. Imagine what those Japanese manufacturers are going to be doing once they get this series figured out. They'll dominate just as they did in CART and probably subscribe to the same credo; I came, I saw, I conquered, I split.

As an aside it seems in an attempt to win the open wheel pissing match with CART, the IRL has lost sight of its mission statement. Originally the IRL was to feature open wheel racing on oval tracks to give American sprint car drivers a venue to aspire to. It was to be the "low cost" alternative to CART, with low cost being a relative term in auto racing. Here's a hint. That winning Toyota engine wasn't pried out from beneath the hood of a wrecked Camry down at the salvage yard by some guy named Sparky. And when you hear the names Helio, Gil, and Dario, you probably don't guess that's the name of the guys on the league winning bowling team from the textile mill in Randall. Both chassis manufacturers are British, while an all American IRL chassis venture spearheaded by Michael Kranefuss has yet to sell a single unit. Yep, the IRL is about as American as serving sushi at afternoon high tea.

When it comes to doing business, and racing is a business, this is the Japanese way. They throw incredible amounts of money into the project. (Toyota spends more on Formula Development than the Gross National Product of some emerging nations like Vermont). Any expense is allowable. Failure is not. Even success is not acceptable. Only complete domination and humiliation of ones rivals will do. And the Japanese auto manufacturers have been frighteningly successful at most series they've attempted.

If NASCAR is going to earn even fifteen bucks and a couple of free T-shirts off of Toyota entering the series it will inevitably happen, but by and large NASCAR's fans don't seem to think much of foreign manufacturers entering our playground. In a recent Winston Cup poll, 85% of respondents were against letting Toyota race. The argument is made in today's global economy there really is no such thing as an American car anymore. Chrysler is owned and run by Mercedes Benz. Ford and GM assemble a lot of cars outside our borders, buy foreign parts for cars that are assembled in the lower 48 and even rebadge Japanese vehicles and sell them as Chevys. Toyota, Honda, Mercedes and BMW all assemble cars here in the States assembled by American workers. (And that's been going on for about forever. In the early 20th century Rolls Royce was building cars in Springfield, Massachusetts.) So which vehicle is American, the Camry built here or the Chevy pickup truck built in Canada? As with any business, follow the money. The profits from that Chevy pickup truck wind up here in America. The profits from the Camry are converted to Yen and shipped back across the sea.

During Speed Weeks Toyota unveiled a show truck to announce their entry into the Craftsman truck series starting in 2004. That of course is a stepping stone to Winston Cup, but it's also important symbolically. There are three types of vehicles where the Japanese have never been able to dent American sales superiority. In the case of performance cars the Japanese have never produced a worthy competitor to the Mustang, Camaro or Corvette, despite some attempts with twin-turbocharged six cylinder engines and rotaries. But there's never been an affordable rear wheel drive V8 coupe that came from the Land of the Rising Sun. As far as large displacement Cruiser motorcycles Harley Davidson continues to rule the roost despite repeated attempts by Japanese manufacturers to clone the mystique or offer any number of weirdly powered permutations of the Big Cruiser ethos dumped on our shores at a loss. And while Toyota has tried hard, and Nissan is about to enter the fray, the full size pickup truck market remains a battle between Ford, Chevrolet, and Dodge. (Oh, and GMC which are just Chevrolet pickups assembled with lockwashers.) I'm told Toyota makes a very fine pickup truck even if you rarely see them on the highway, at a jobsite or parked outside the Home Depot. That's all well and good but I'd rather go to a biker bar in a pink Tutu and stiletto heels than be seen in a Toyota truck. It might be reliable but it's effeminate and wimpy looking and even effeminate wimpy guys prefer to be seen at the wheel of an imposing looking rig while hauling a five pound bag of potting soil home in a three quarter ton truck. Perhaps by going fender to fender, mano on mano, with the F150s, Rams, and Sierras Toyota thinks they can toughen up the image of their line of trucks? They'd get better results creating a Tundra Monster Truck to crush lines of new Toyota Echoes. At least the people in the grandstands would be cheering.

With the cost of racing already out of control, and rapidly escalating, Toytoa's entry with their "Cost Be Damned" attitude can only be bad for the sport. Since Toyota doesn't offer a pushrod actuated valve V8 in any model sold domestically they can design their engine starting with a fresh piece of paper and no concerns how the design is going to hold up in a street vehicle that might be operated 50,000 miles between oil changes while towing double its rated capacity. NASCAR will try to keep things in line by mandating minimum bore/stroke ratios and cam heights as well as minimum weights for the reciprocating assembly but Toyota has a deep engineering talent pool. They'll come up with something.

And therein lays the confusing part. If Toyota begins to dominate the way their corporate culture says they must, NASCAR will immediately shuffle the rules deck to slow them down and allow for some semblance of parity. That's contrary to the Asian mindset, but will probably be seen as another challenge to overcome in an attempt to drive Ford and GM from the field of battle. And once the American manufacturers are gone, attendance is down because of a loss of interest in the series, and race tracks are declining invitations to stage a second annual event, one can imagine Mike Helton in a Kimono kneeling down before the Toyota overlord begging him not to pull his factory support from the series lest NASCAR go down the drain.

Toyota is coming to NASCAR. I'm resigned to the fact it's going to happen because the opinion of fans isn't worth a cup of warm spit to the powers that be anymore. But that doesn't mean I have to like the idea and I most assuredly don't.


---
The Real V8 Supercars in Australia - by Peter Scott.
Holden and Ford both sell rear wheel drive V8 manual sedans. Sticking a V8 in a Camry and calling it a V8 supercar meets the same rules - but what on Earth will that relate too? - same for Mitsubishi - it just seems like a bit of a joke. There are plenty of V8 rear drive models in Japan that Toyota don't export to Australia, currently only the LS400 is sold locally as a Lexus in Australia - the only logical model for a V8 supercar. The only Toyota V8 Supercars in Australia? - There are only two I know of - Justin's UZZ31 V8 Soarer and my UZZ32 V8 - the only Toyota V8's I know of getting around on a track in Australia!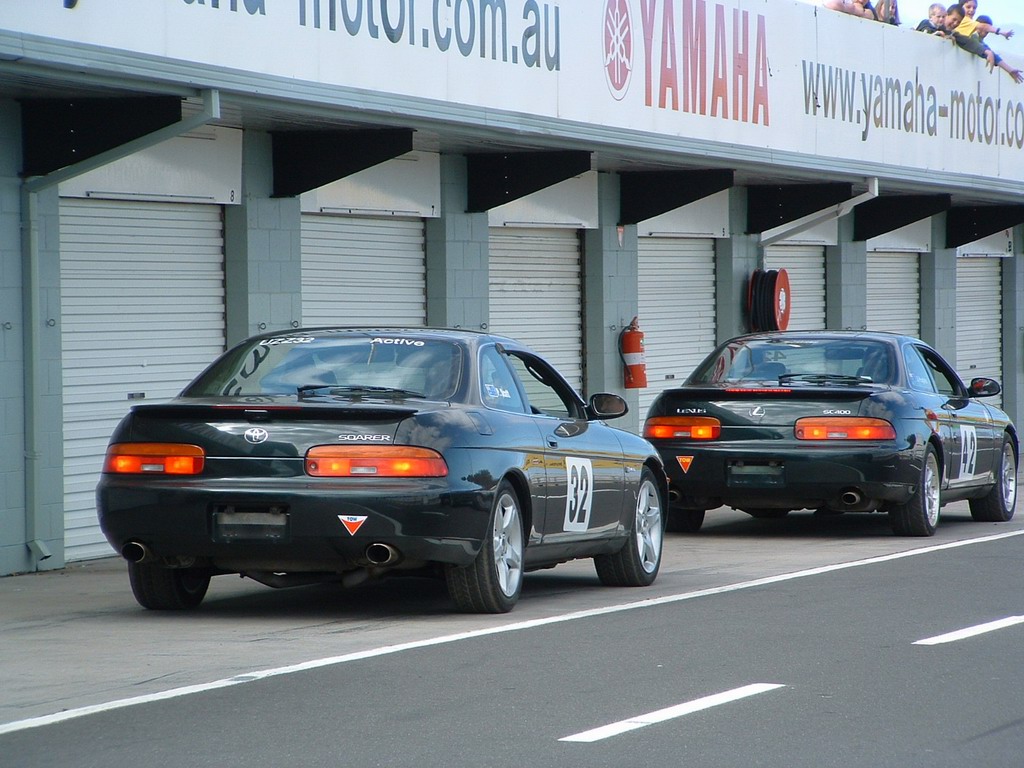 The Real Toyota V8 Supercars! :)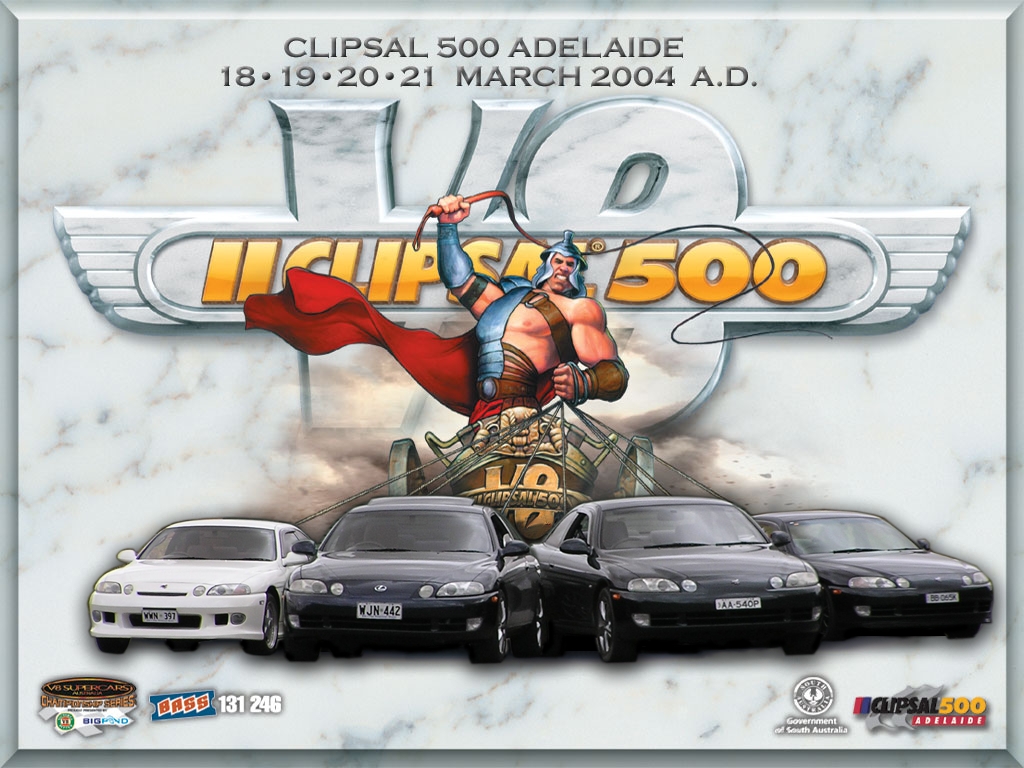 Time Attack! - Australian V8 Toyota Supercars in Action!