September 8th 2005
by Peter Scott
2nd ALSC South Australia Soarer meet, September 8th 2002 - Words/pics by Peter Scott - Shootout pics by Andy's Partner. -thanks! Audio and Richie Benaud voice over by Craig - you had me laughing when I got home!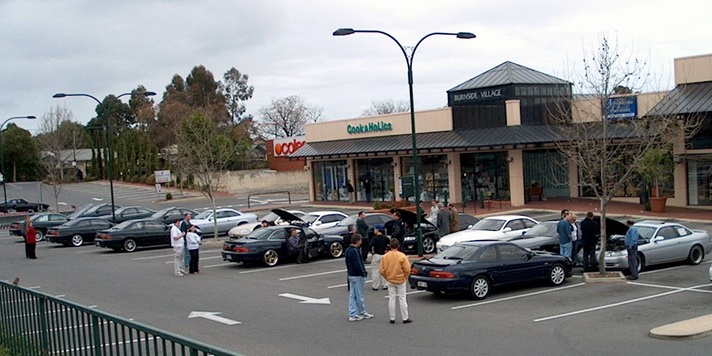 Burnside Shopping centre 2pm - 17 SOARERS (Ed's Black V8 hadn't arrived for this photo - that's why only 16 here)
In Alphabetical order (Stuart's dark blue stock TT and my car pics in Shootout below) :
Andy's TT - looks stock but goes hard.

Craig's TT - this is a real nice car - one of the best condition TT's I've seen inside and out. The ALSC login board is next to him - that's how I remember everybody!

Ed's stock V8

Franks TT, 17 inch alloys, turbo timer

Geoff's stock 1994 V8 - excellent condition - engine bay looks new

1st - longest distance, 450 km (280 miles)

Jimmy's stock TT

Leon's V8, 18 inch rims, suspension height controller

1st - Peoples choice

1st - V8 hill climb

Martin's TT, 256 cams, PowerFC, TEINS suspension, HKS cooler etc 258 kw (345 hp) at the wheels on standard turbos! Beautiful paint - super desirable motorcar.

2nd - Peoples choice

1st - Most Power

Matt's TT, exhaust, intake, B/V

Mike's TT, alloys, exhaust, air pod, lowered

Mike's stock UZZ30 V8. Twenty years ago Mike and I worked together - took us 3 hours to figure out why we looked familiar!

Peter's UZZ30 V8 - Gold looks great and Pete's car is an excellent example inside and out.

Stan's 251 km/hr '31 V8, Apexi RevSpeed meter, exhaust, intake.

Wayne's TT, Sard front bar, intake, exhaust, 18" alloys

1st - TT hill climb

William's TT with 17 inch alloys

Stan has made a custom sealed cold air intake plumbed to the front bar.

Jimmy's aftermarket pop out TV in a TT

Martin's TT uses standard airbox modified and standard turbos
| | |
| --- | --- |
| | About a 3/4 of the Soarers didn't have Lexus badges |
| | People's choice voting was done at Burnside with the presentation at Mt Lofty after a curise up the Mountain. Food and drinks here in Mt Lofy restaurant. |
| | Mike's TT dipstick clearly says Dexron II, BUT he too had the world infamous transmission shudder that disappeared after a 12 litre flush with Toyota Type IV transmission fluid. So Mike is another convert to type IV. |
| | |
| | A small section of the cars at Mt Lofty carpark - and the black lines weren't us! |
| | After the greetings, the cruise, the eating, the drinking it was time for the SOARER SHOOTOUT. Fastest car up the mount to 100 km/hr wins. Here is Andy's TT launching - Peter K's gold V8 in the background. |
Shootout rules were simple - you only get one chance 0-100 km/hr up the mountain with me in passenger seat timing on the stopwatch watching the digital dash. Not real accurate - but bags of fun - I get a ride in every car and everyone laughs, cheers and shouts encouragement -except the driver who sits there in grim determination- sweat beading on the forehead ! TT's mid to high sevens, V8's mid to high tens - The TT's really leap away from the line.

Andy's TT on the return track - that's me in the passenger seat.
| | |
| --- | --- |
| | Stuart's TT taking off - that's Craig in the background taping the Melbourne/Kangaroos match for me. Never underestimate the importance of training before introducing complicated equipment to untrained audio technicians - It's my fault for not pointing out the Tape/Radio switch before giving him the full power of Record! So we got a tape of the footy instead of the first 7 Soarers. |
| | Stuart cruising back down after his run through the Adelaide Hills |
| | William's TT going up... |
| | and back... |

The hectic start line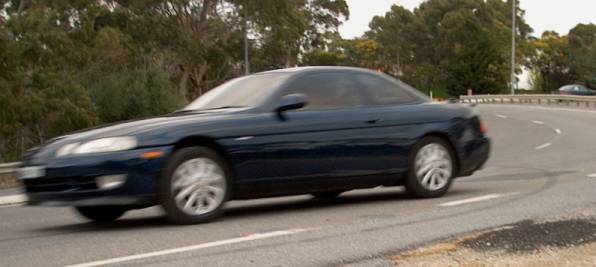 Some TT's are too fast for any camera!
Matt's TT about to go - Matt likes to warm up the tyres beforehand........

and he's away!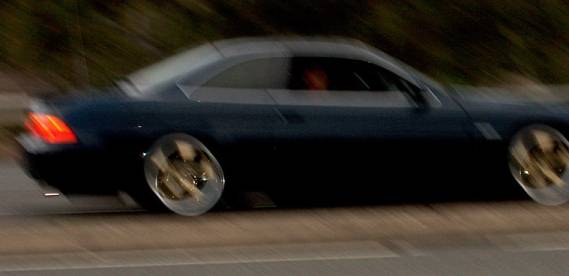 Leon's V8 - getting a bit dark for the camera.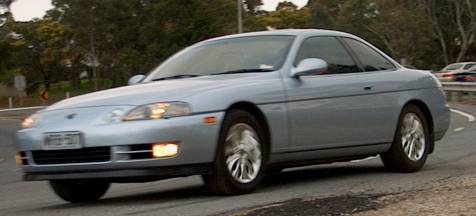 Geoff's immaculate V8

Craig's fabulous TT.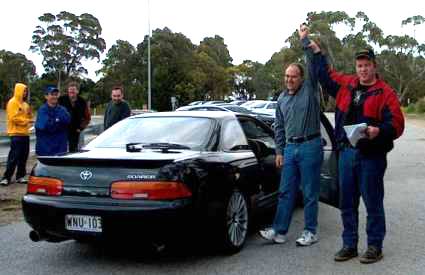 Wayne King of the Mountain! Listen here: WayneTTrun.mp3 (77kB)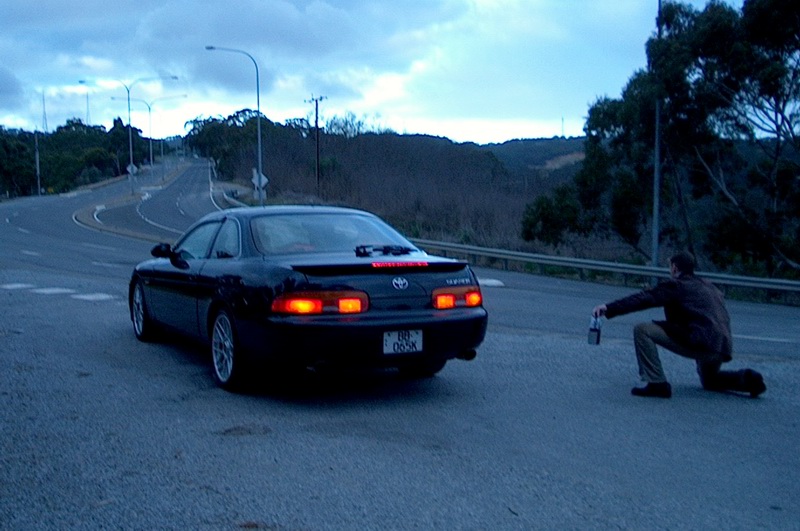 My V8 at the start line. Listen here: PeterV8run.mp3 Includes special guest commentator Richie Benaud!
| | | |
| --- | --- | --- |
| Top 7 | driver | time |
| 1 | Wayne | 7.49 |
| 2 | Matt | 7.64 |
| 3 | William | 7.70 |
| 4 | Andy | 7.78 |
| 5 | Stuart | 7.85 |
| 6 | Craig | 7.92 |
| 7 | Jimmy | 8.77 |
After my run I took some TT guys for a ride, Craig had a drive and loved the smoothness and precisness of the Active through the hills. Then we all went for bit of a blast up and down, the TT's could destroy me off the line but I could get my own back through the twisties
It was a great day - good to see so many new faces with a zest for Soarers and life.
What's next?
Frank is going to find out about a track day at Mallala and Stan is looking at a long cruise to the Barossa. Wayne (King of the Mountain) wants a dyno day to show just how powerful his winning TT is!).
I'll be in Geelong for the West Coaster cruise (it's west of Melbourne see....) on October 20th 2002,
and in Melbourne for the SuperCharger meet on Nov 2nd 2002 - check the ALSC forum for details and let me know if you want to go too.
best regards
Peter Scott