Thursday 26th September 2002
What will it be like to supercharge the Soarer V8? Preliminary discussion in V8 Soarer Supercharged - here is a closer look at the Jaguar supercharged solution.
Forced Air Technologies are working on an Eaton style kit right now - should be on the road November 2002. The 1UZ-FE engine is similar to the Jaguar XKR which uses an Eaton MP112 blower - this is what it looks like:
http://www.jag-lovers.org/brochures/press_98_uk.html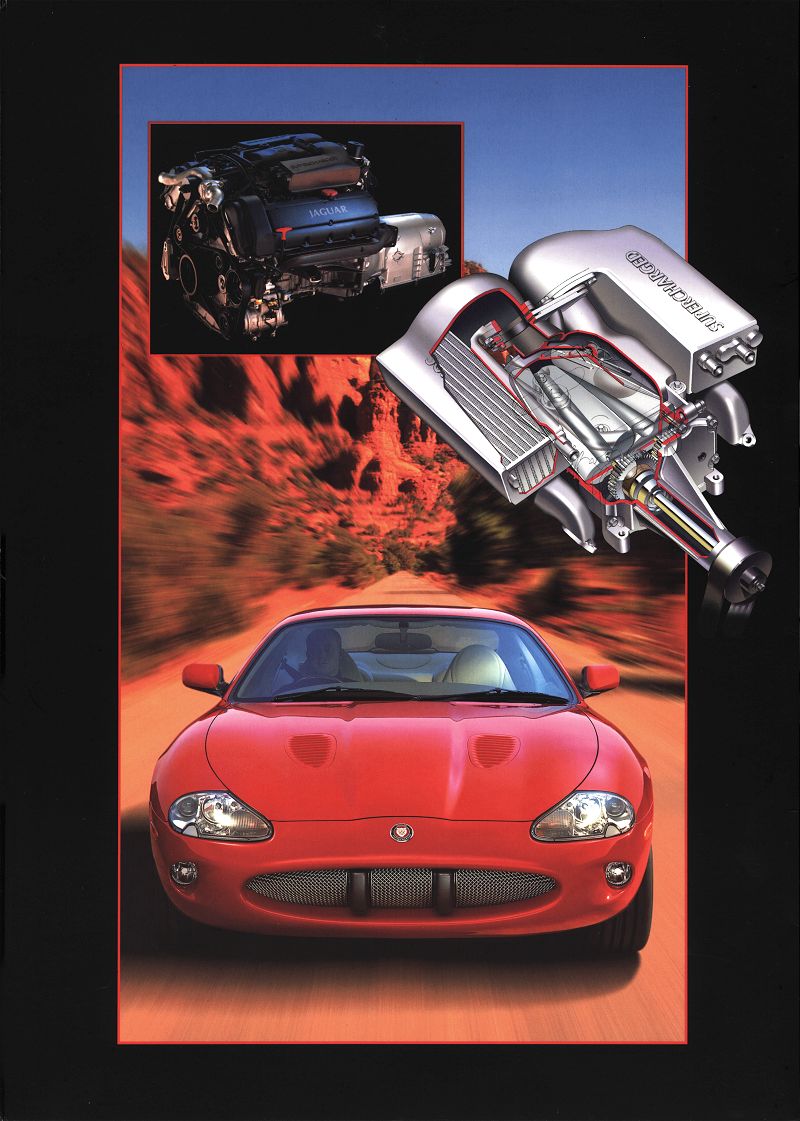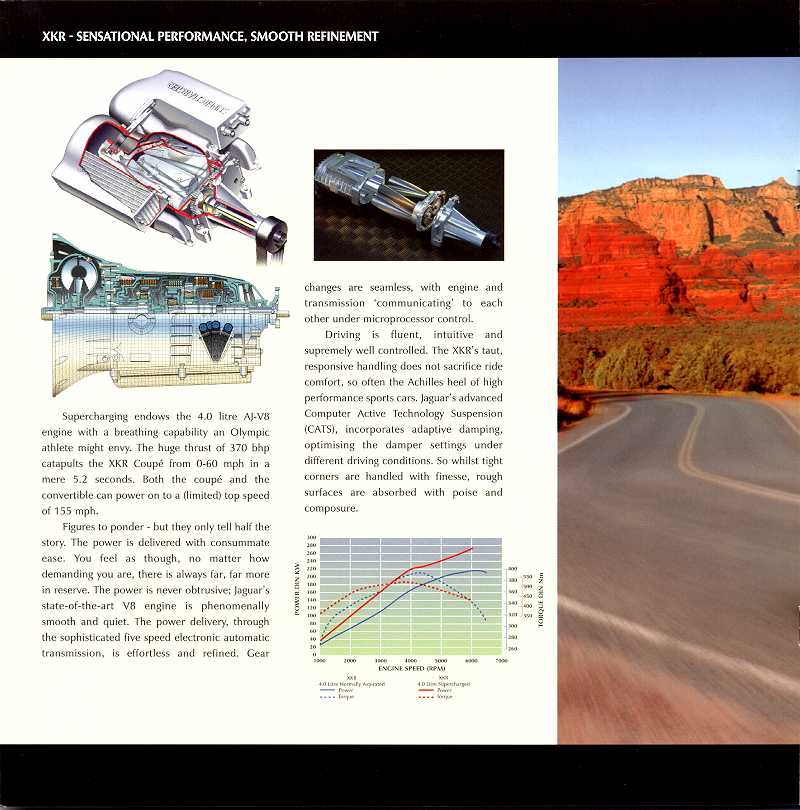 http://www.caranddriver.com/xp/Caranddriver/roadtests/2000/January/200001_roadtest_jaguar_xkr.xml
Despite the spectacular looks, it's the engine's magnificence that defines the XKR's character. As in every other factory-supercharged automotive powerplant sold here, the device doing the work is a belt-driven Eaton Roots-style blower. In the 370-hp, 4.0-liter DOHC AJ V-8's case, it's the same 112-cubic-inch Eaton that Ford uses on its other supercharged V-8, the 360-hp, 5.4-liter SOHC V-8 found in the SVT F-150 Lightning pickup. On the Lightning's long-stroke, two-valve engine (which redlines at a mere 5250 rpm), the M112 supercharger spins at 2.1-times engine speed and peaks at eight pounds of boost. Atop the relatively short-stroke four-valve AJ V-8 (which spins to 6200 rpm before a fuel cutout turns off the fun), the blower turns at 1.9-times engine speed and huffs out 11.6 pounds. The relatively low supercharger drive ratio, says Jaguar, "enhances the refinement and reliability of the supercharger installation." That, and the fact that the blower nestles under its intercoolers, also means it runs more quietly compared with the same unit's operation in the Lightning. Whatever their differences, Ford's two M112 supercharged V-8s both yield majestic wells of low-end torque. At 1600 rpm, says Jaguar, the supercharged AJ V-8 is making more than the unblown version's peak 290 pound-feet of torque on its way to its own peak 387 pound-feet at 3600 rpm. Toe into the accelerator, and there's no telltale sensation that this engine is supercharged other than the massive thrust. It's not some old big-block muscle-car engine (it revs too eagerly and silently), it just pulls like one. The XKR coupe is seriously swift, bounding to 60 mph in 5.2 seconds and through the quarter-mile in 13.8 seconds at 105 mph.
http://www.edmunds.com/reviews/roadtests/spin/44429/article.html
Photo of engine - looks like the Eaton M112 is mounted upside down, air comes out the top and is split to two water/air intercoolers before going into engine banks on each side. http://www.edmunds.com/reviews/roadtests/roadtest/44140/article.html
http://www.jimmy540i.com/xkr.htm
Clearly see supercharger and water/air intercoolers here. Small intake resonator, rear entry for air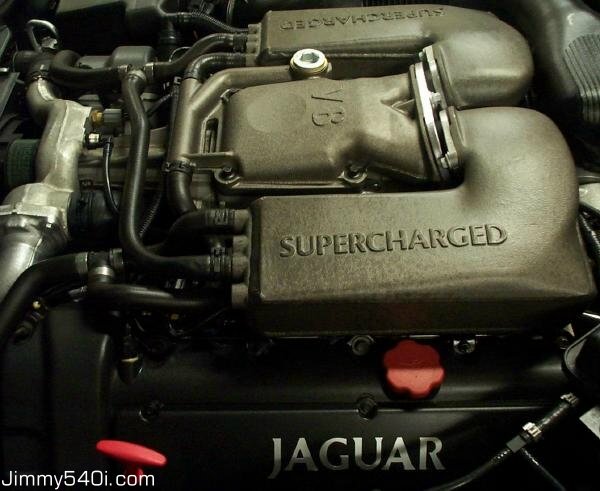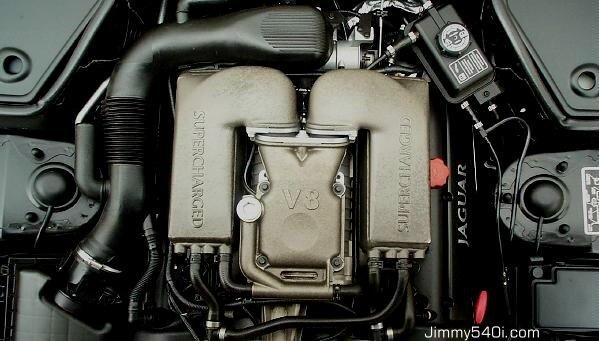 Other cars using the Eaton MP112 Supercharger include:
Supercharged Corvette
http://www.caranddriver.com/xp/Caranddriver/features/2002/april/200204_specialtyfile_lingenfelter.xml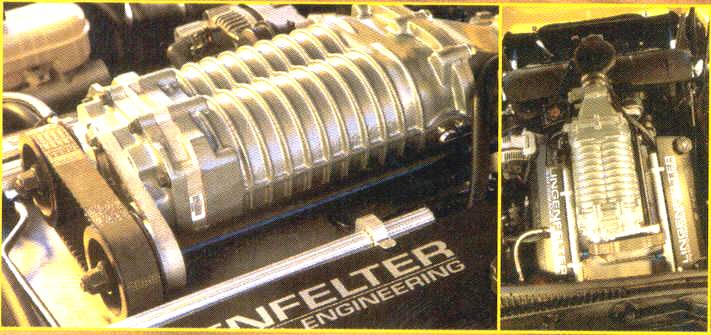 does 60 mph in 3.7 seconds. One hundred mph arrived in a startling 7.7 seconds, then to 150 mph in 17.9. For those taking drag-racing notes, the car cleared the quarter-mile in 11.7 seconds at 126 mph. Eaton MP112 supercharged V8
Saleen Cobra
Sixty mph arrives in a raucous 4.3 seconds (4.5 seconds for the Cobra R, 4.3 for the Z06); 100 takes just 10.1 seconds (Cobra R, 10.7; Z06, 10.0); and the quarter-mile flashes by in 12.9 seconds at 111 mph (Cobra R, 13.0 at 111 mph; Z06, 12.7 at 113 mph). The Stage 3's top speed of 164 mph is 4 mph less than the Z06 flat out and 13 less than the Cobra.
http://www.caranddriver.com/xp/Caranddriver/features/2000/April/200004_specialityfile_saleen_s281supercharged.xml