| | |
| --- | --- |
| | From Russia With Love |
February 2003
by Peter Scott
I know a fair bit about Russia, I mean I've seen all the James Bond Movies, take Golden Eye for example - it's all snow, pretty girls and vodka. So when Denis Belikov (SOARER DIEHARD) sent me an email and a couple of pics from Vladivostock I thought right here we go, more snow etc.
But no! - here we have guys working on their tans in speedos watching Soarers and WRXs in drag racing! So Vladivostok might be a long way away - but it ain't so different to the rest of the world.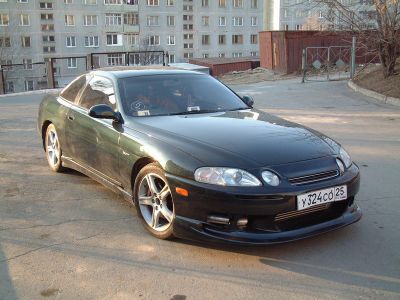 You can see the big front mount intercooler behind the custom front bar. Other mods include: HKS SQV blow-off, HKS GT2540 twinturbo kit, HKS Slidecam pulleys, 2jz-gte injectors, 2jz-gte fuel pump, Blitz SBC-id II Boostcontroller, Blitz PowerMeter-id II, Apex'i S-AFC, HKS SLD, Trust Boost Cut Controller, Auto Meter Phantom Air/Fuel ratio Auto Meter, Phantom EGT meter, CUSCO front strut-bar, RACING slotted brake rotors (front), HiStreets brake pads, GOODRIDGE steel brake lines, OBX air filter x2, Trust V-SPL, FMIC Greddy Oil Catch Tank, GP Sports Exas exhaust system x2 GP Sports silencer x2.
Next up will be a 2jz-gte short-block, installation of 262' camshafts , ZEX wet nitrous system, LSD and adjustable KYB shocks.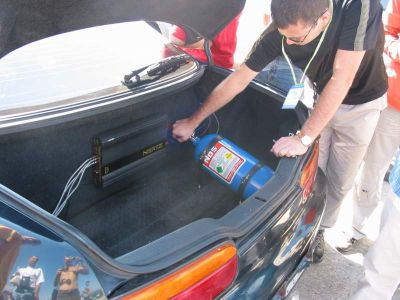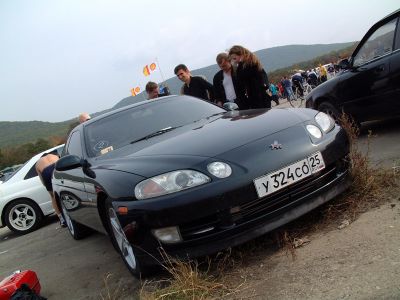 Now that's a NoS bottle! With the standard nose cone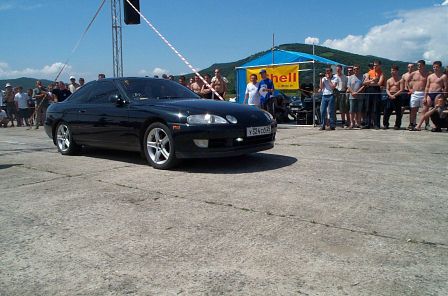 Here's the guys working on the tans!
And there off!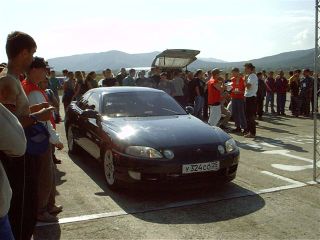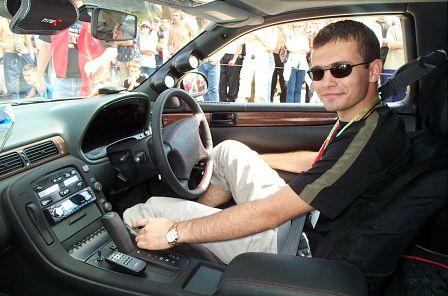 Like me Denis prefers the Auto so he can eat burgers or shave and still drag race !
He's looking to upgrade the auto to handle the torque - not many places locally he can get the auto upgraded so he might have to get some parts sent in from overseas.
Also looks like he has the limited TT with woodgrain trim - even a cup holder and fancy custom leather trim with neat stereo install and pod gauges.
The big full size pics from Denis are available here:
http://grant.pisem.net/1.jpg (it looks like this now) http://www.auto.vl.ru/gtclub/pictures/life/150902/IMAG0017.JPG http://www.auto.vl.ru/gtclub/pictures/life/290902/DSCF0606.jpg http://www.auto.vl.ru/gtclub/pictures/life/240302/DCP_4383.JPG http://www.auto.vl.ru/gtclub/pictures/life/150902/100-0073_IMG.JPG http://auto.vl.ru/gtclub/pictures/life/110802/DCP_09863.JPG http://auto.vl.ru/gtclub/pictures/life/150902/DCP_4512.JPG