Yamaha Royal Star - Supercruiser
V4 1300cc Tour Classic, 350kg, 1695mm long!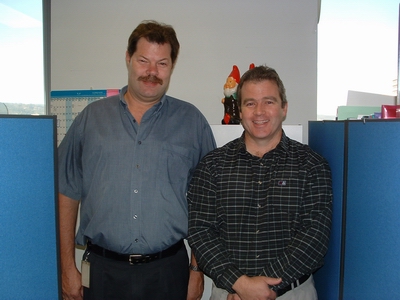 (Stop press - April 2005 it's Dave Wheatcroft's Bike!)

September 2003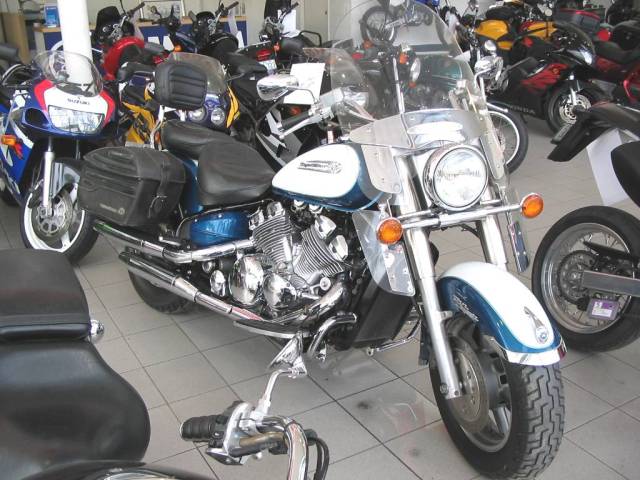 The 1996 Royal Star Tour Classic as on the Yamaha Pitmans website. It was a consignment bike. Started at a price of over $13 000 Aud. Had been there for 6 months or so. Hardly any interest. Royal Star's are such terrific value now second hand in Australia. You get so much bike for the money.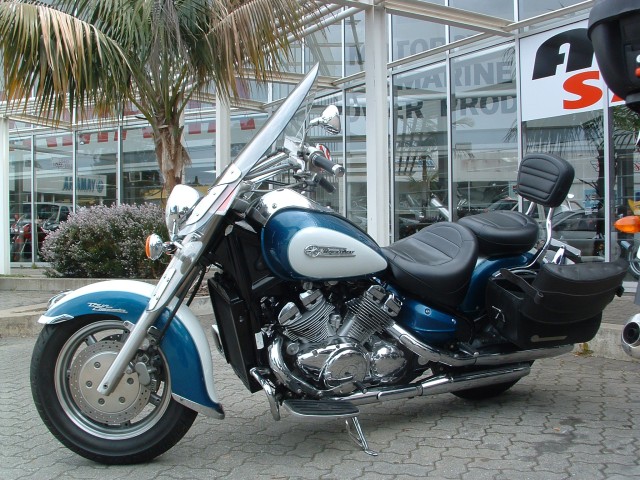 In the Carpark ready to go home for the first time. Is there anything more exciting than buying a bike?
The following comments from MotorcycleCruiser.com.
"...my favorite of these four bikes would be the Tour Classic for its beauty and comfort, with the Road King a very close second. "
"There is a lot to like about the Tour Classic. It handles better than the Road King and exudes quality workmanship. The windscreen and seating position are the best of the bunch. For my six-foot frame the handlebar is comfortably positioned -- unlike the Road King's handlebar placement which requires an uncomfortable reach"
"If an adult passenger figured prominently in my plans, I'd consider the Royal Star. "
"The Tour Classic also appeared to welcome her (the passenger), and to Centeno's relief, it actually did. The saddle and riding position were the best of the bunch, and the backrest was appreciated as well. It was roomy and had enough suspension to keep most bumps comfortable. Although it vibrated more than the others, it still wasn't enough to annoy her. "
"But in the end, there were just two categories of bikes for Centeno: the Tour Classic and all the rest. Once she confirmed her initial impressions with a second brief sampling of the other four, Brandi never wanted to ride anything else. And after a two-hour stretch on the Royal Star, her smile wasn't a bit strained. If you are buying one of these bikes and plan to do most of your riding with a passenger, the Royal Star Tour Classic is a great way to avoid a pain in the rear."
"The bike that won the most plaudits was the Royal Star. Despite its reserved paint scheme, the Yamaha's quality and detailing stood out to everyone who saw them all. The Royal Stars have set the standard for finish quality since their introduction, but the Silverado (new Royal Star model with no screen) hits to an even higher level with its tasteful use of beautifully sculpted billet. "Now that is what a cruiser should look like," exalted one fellow motor-cyclist we met on our travels."
"The Silverado offered the exclusivity and quality we were looking for in a flagship cruiser. The billet additions create the look of a premium bike, and the RS five-year warranty--which includes roadside assistance--gives confidence to match. High Points: Unmatched finish and detailing, Elegant, classic style, Improved suspension, Strong brakes, Five-year warranty and roadside service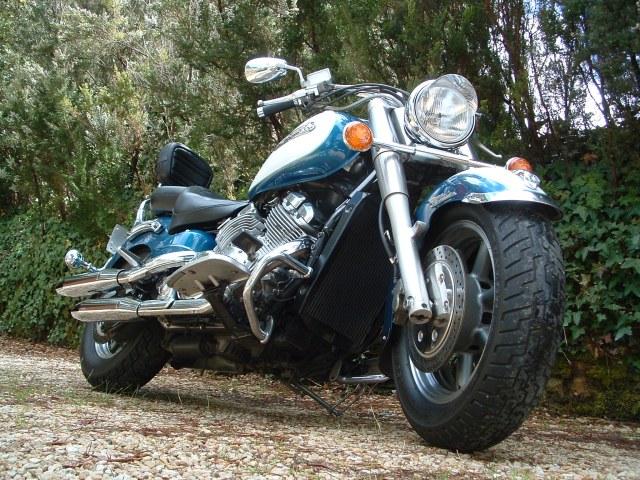 Got the Bike home and took the screen off to polish all the bits etc - left it off because the air coming over the top of the screen buffeted my helmet at 100 kph - it was terrible. Have to fix that somehow. I like the look of the bike without the screen too. First mod was a headlight visor!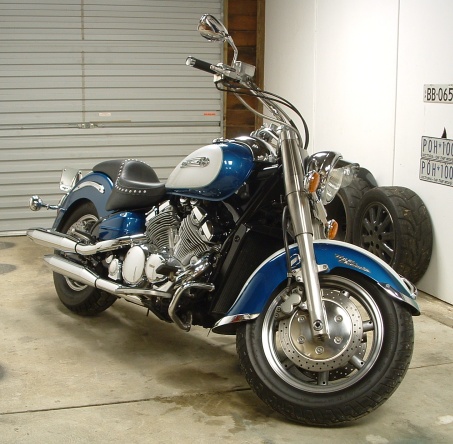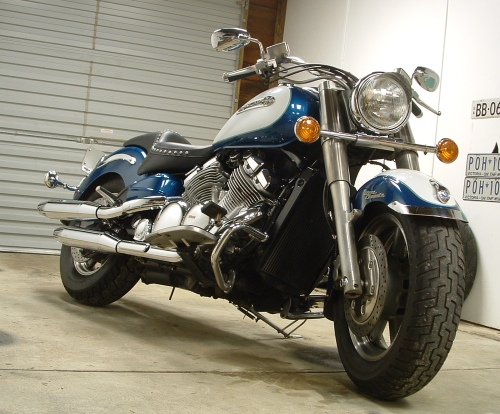 There was only one Royal Star dealer in South Australia - it was Pitmans. Being a Royal Star dealer meant you had to have a big display, fancy banners, lights, big posters, accesories etc - I remember seeing them in the corner of the shop when they first came out. I remember thinking how nice the Royal looked and how much it cost and how much the fancy accessories cost. When Yamaha pulled the plug on the Royal Star, there was no need for the Flagship display. The one in Darwin for example folded just like all the rest. The Darwin Royal Star parts were shipped to Pitmans in Adelaide. There were boxes and boxes of them - Pitmans still have stuff left over too - very slow moving parts. Most of the Royal parts and accessories are available for just over cost. I was allowed to have a rummage through through the boxes of parts for the Royal that were sent down from the Darwin store. I was like a kid in a toyshop - so many nice new Fancy Royal billet accessories. Then I spied it - the genuine Yamaha leather studded Gunfighter Solo seat - Yeah Baby! Was tagged at $780 odd dollars, Brenton Pitman said I could have it for $550 - Sold!! The seat was second mod. Not only does the seat look great - it has a sexy name - "Gunfighter" - now that's a great name for a seat!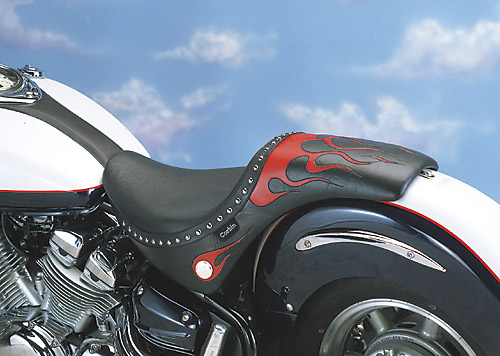 This is the Corbin Gunfighter seat - I think it is pretty much the same as the Genuine Royal Star part- leather seat pad with vinyl sides - no flames on mine - ah well....Notice the seat overlaps the fuel tank - looks better than stock. Because my Tour Classic came with a standard Sissy Bar - when I took it off I had nothing to to cover the bolts holes in the rear fender. Pitmans still had three sets of stock standard chrome fender accents (like in photos above) on the shelf! Brenton shook his head - he couldn't figure out why anyone would order three sets as spare parts but there you go. Three sets on the shelf for seven years! So I now have a new seat for my bike to go with the Gunfighter saddle. Again I got them at near cost for $126 for the pair, plus $12 for the stainless allen key bolts. So $688 all up for the Gunrighter seat - a bit extravagent I know but I love it. Current list price for the Yamaha Gunfighter seat is over $1100 if you can get it.
Gunfighter saddle gives your bike a radical, modern solo look and incredible rider comfort. We've designed this saddle with a maximized seating position that works its way into a fastback tail section that gives the rider bucket additional back support. This is a design that Mike made popular over 12 years ago and continues to be one of the hottest designs in the motorcycle market. The sculpted bucket design gives you ergonomically engineered support for proper weight distribution and elimination of hot spots. Our tapered nose area helps your ground reach to aid in controlling your big cruiser at stop signs. Because it is padded and upholstered, Gunfighter's tail section allows for short trip passengers on the back.
The entire saddle is built up with our exclusive Comfort Cell« foam to provide a firm supportive perch and long range comfort. Over time, Corbin's foam will break in to take on your shape and give you a personalized fit to your posture. The saddle is built on a Fibertech basepan that provides a perfect fit to every arc and contour of the bike and is firm enough to support the foam shape and keep the proper shaping. Rubber bumpers are placed on the saddle bottom to protect your beautiful paint job.
All Corbin saddle models include genuine leather seating for a true touch of class. Naturally you can decorate your saddle to suit your taste with a wide range of options all included. Leather seating will provide you with years of enjoyment of your new saddle. Over time, the leather will adapt along with the foam shape and provide a personalized fit to your posture. With proper care, leather will age gracefully and develop its own unique character... just be sure to care for your new saddle properly with a quality conditioner like Corbin's Saddle Cream. On the side panels, we use a coordinating vinyl material to support the foam shape and keep the saddle tight.
State of the art materials, perfect fit, unbelievable comfort, genuine leather and a host of decorating options... no other seat maker offers you this kind of value for your hard earned dollar! Trust Corbin for the finest accessories available for your Royal Star... Yamaha does!
I really like the seat. It is squarer to seat on - with legs on ground the edges dig into your thighs. It is harder and flater. With feet on boards the harder edges don't matter. Driving the bike in "sports" mode the seat is a treat - it's a bit lower - provides greater feel - you can move around more too if you feel like it. BUT for the pillion it is TERRIBLE! only takes about 5 minutes to swap them.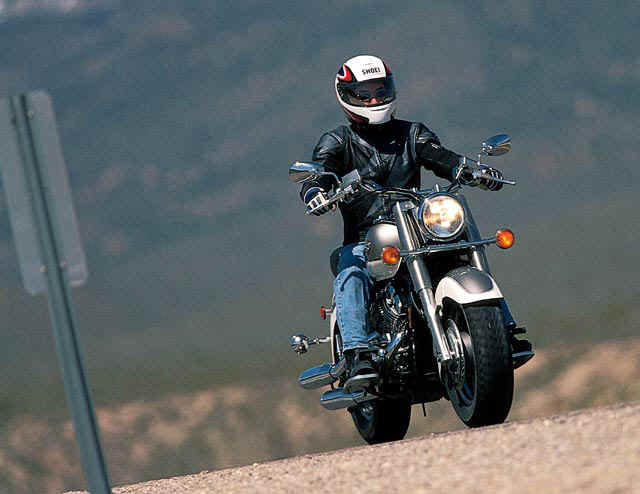 Yamaha Flagship - Royal Star Silverado - that's not me - it's a magazine shot.
So now we have a bike that is great for both of us. Single up the Royal is a blast through the Hills - I really enjoy riding it. And boy it looks great.
---
Reviews:
Mountain of youth
http://www.bsmotoring.com/2002/02feb16_5.htm
The legendary Indian Chief's spirit lives on, in Yamaha's colossal Royal Star
The supercruiser – which is the right class to slot in such massive metal monsters as the Chief or the Royal Star – is presumably not for five-foot-nothing underfeds commuting no greater distance than the ten kilometres to the office. They can have their scaled-down pseudocruisers, streetbikes and pocket rockets. No, giants like these require riders of equal stature, in mind and body, and smooth roads with the never-ending promise of a lover. That, at least, is what will justify the sheer dimensions.

---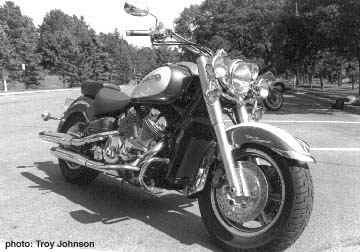 Minnesota Motorcycle Monthly
September 1996

http://www.motorbyte.com/mmm/pages/reviews/roystar9_96.htm
I loved the Big Boy. I heartily recommend this cruiser. The Royal Star represents change. It breaks those old stereotypes, and challenges us to experience a new way to get those same old kicks. Cruise on, my friend. Beep-Beep. Make way for the Royal Star.
---
New Motorcycle Review: Yamaha 1300 Royal Star
12 October 1998
http://www.theautochannel.com/news/date/19981012/news018687.html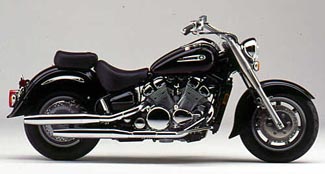 The Royal Star is certainly not a bike to mess with. Equipped with one of the finest and smoothest V-4 engines, tuned to deliver massive torque from low revs through one of the sweetest gearboxes you'll ever have the pleasure of using
---
Stock Yamaha Pictures - 1996 Royal Star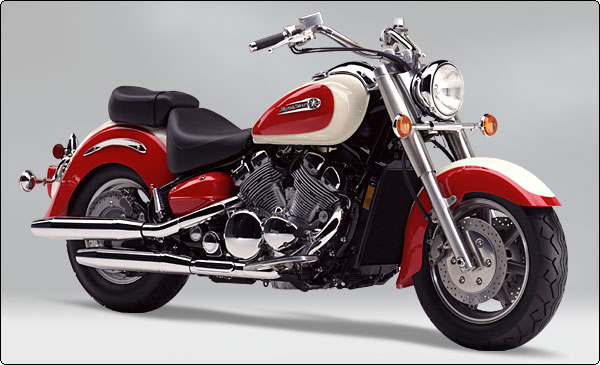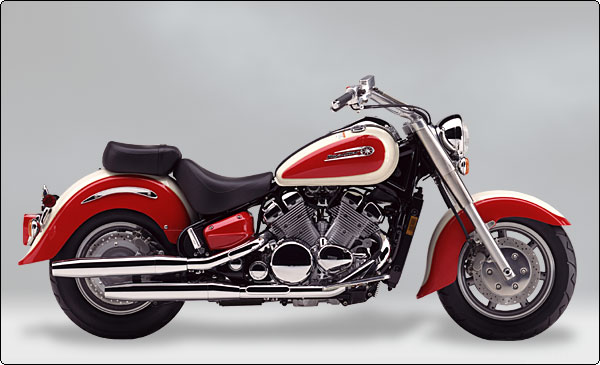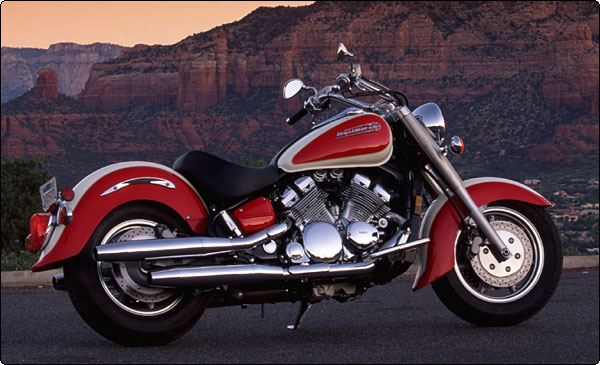 ---
Custom Royal Stars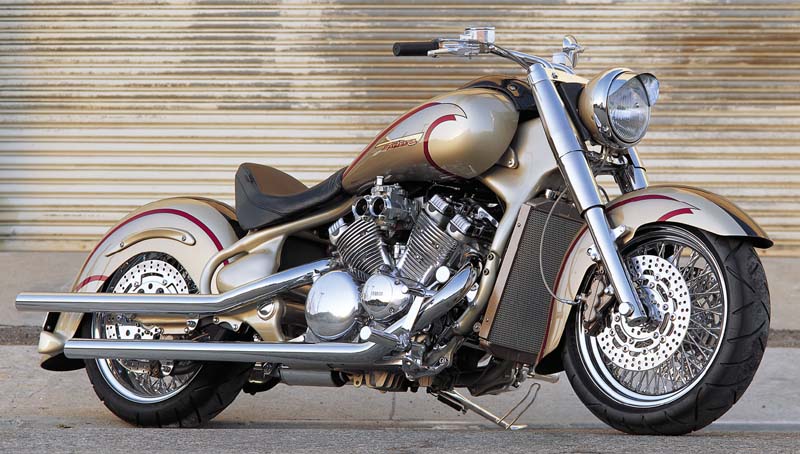 Cobra Yamaha Royal Star custom by Motorcycle Cruiser magazine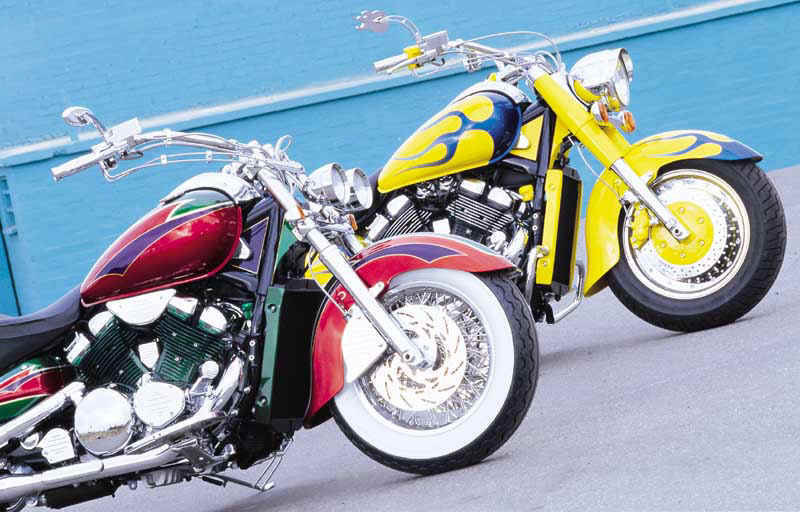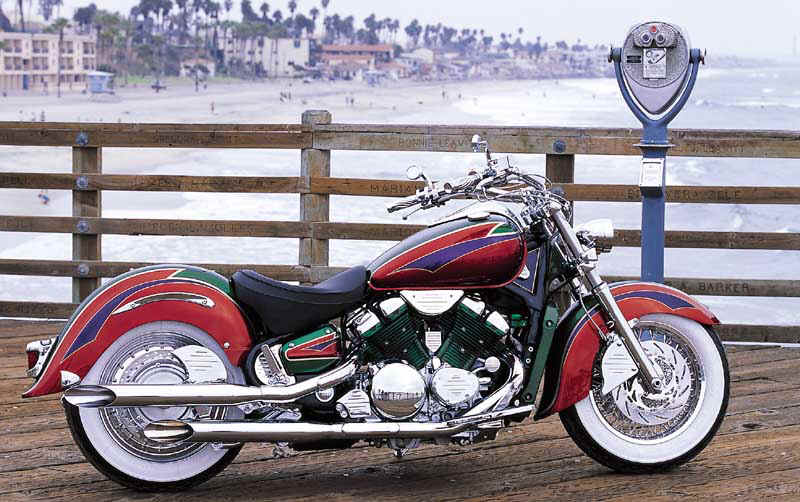 Two dazzling Yamaha Royal Star customs from Motorcycle Cruiser magazine
Two dazzling Yamaha Royal Star customs from Motorcycle Cruiser magazine
http://www.motorcyclecruiser.com/tech/Rylstars/index.html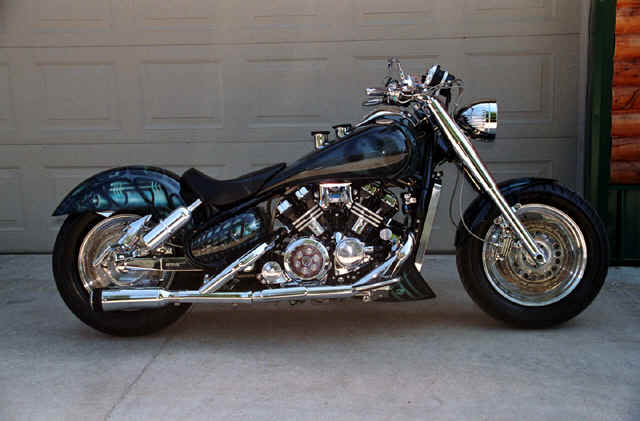 Kelly Welling
(Kelly's Cycle) of Reed City, MI - "The BATMAN Bike"



http://www.startouring.org/newweb/new_frame.cfm
I have been working on this bike for five years. The engine took one year to install. Presently I have installed Nitrous Express/Sport man Piranha Nitrous Kit, Two 1╝ lbs polished bottles, braided lines, etc. adding 100 horsepower to the Bat Bike's already 145 horsepower.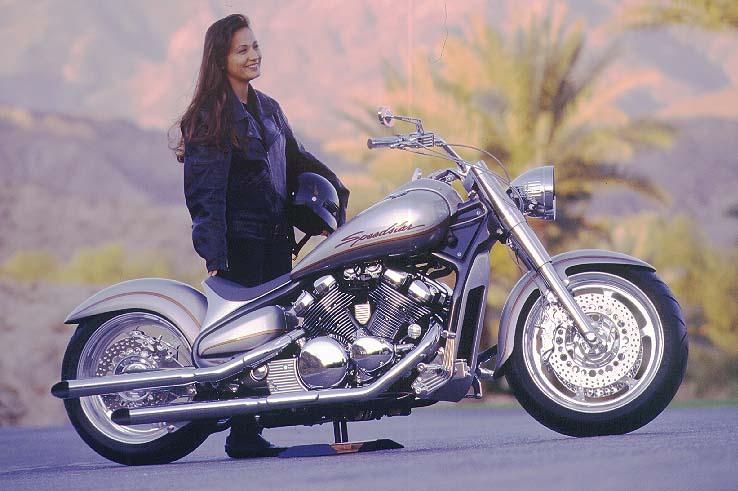 ---
Project Royal Star Life With Yamaha's Ultra-Cruiser Part One: Getting Acquainted By Tom Fortune, Editor-at-Large Photos by Fortune and Yamaha USA Something in human nature seems to require that we make judgments by comparison. ... Sure, even we at Motorcycle Online subjected the Royal Star to a shootout with a V-twin in our Road King vs. Royal Star ...

http://www.motorcycle.com/mo/mcyam/customstar.html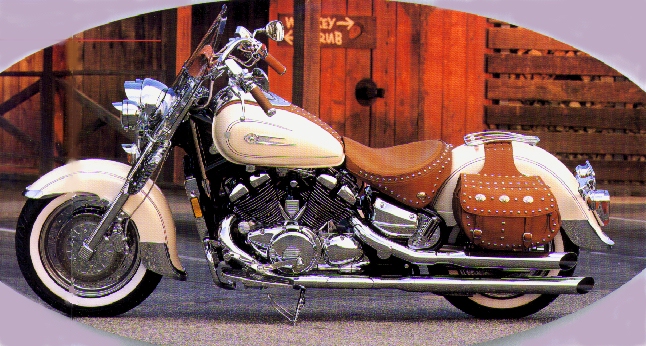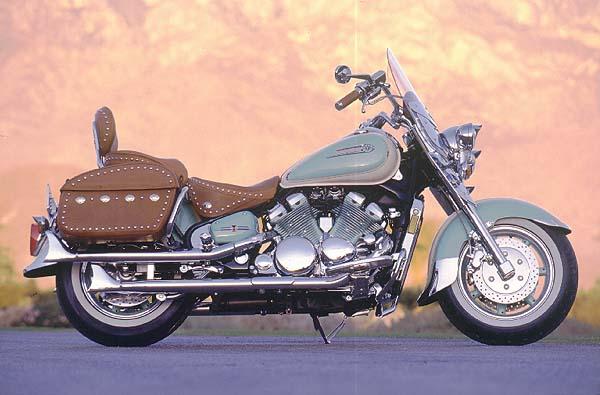 Tan leather looks pretty good with right colour scheme.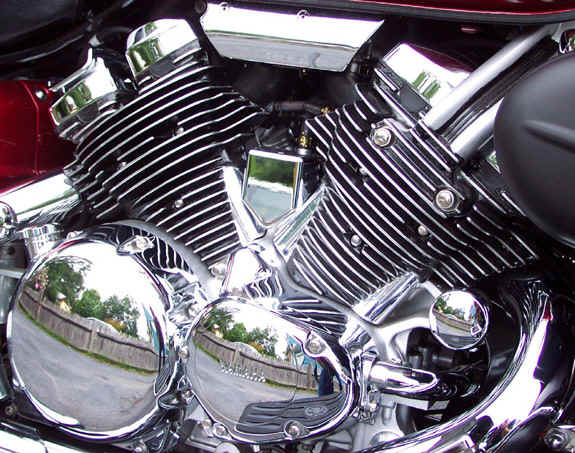 Painting fins with exhaust temp black and sanding back the fins.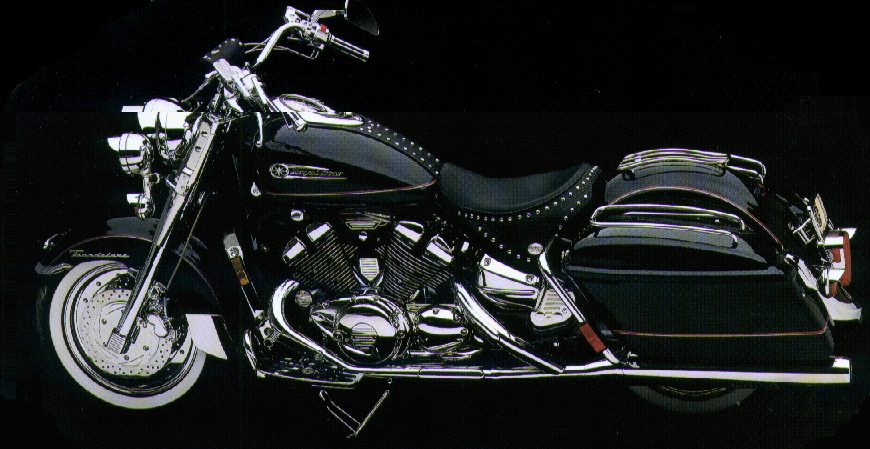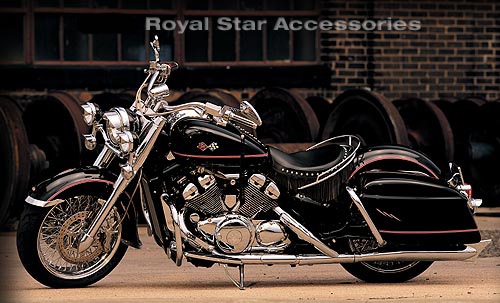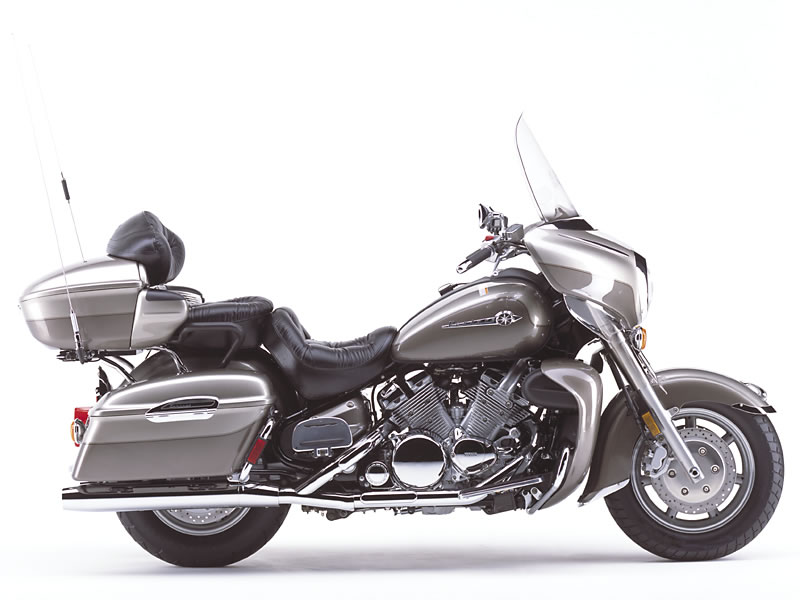 The Venture. Bigger 32mm carbs (versus Royal Star 28mm - Venture carbs don't fit - different frame rail at top) and bigger lift intake cams (1mm bigger?) give Venture more power and torque. Fitting Venture intake cams and valve springs gives more torque down low than fitting Vmax intake and exhaust cams which move power up high.
---
Links
http://www.motorcyclecruiser.com/streetsurvival/drag/index.html
Practice dragging the floorboards on your Royal for safety
http://www.motorcyclecruiser.com/accessoriesandgear/customtireBG/index.html
Tyre guide
http://216.37.204.205/Partsfinder.htm
Online microfiche! - very handy
Screens for Bikes
152 Leamington Street
Reservoir VIC 3073
Tel: 0412 102029
Contact: Peter
John Davis of Victoria
Recommendation from ISRA Australia - makes screens for Royal Star. I need something - stock screen for me buffets helmet (I'm 5'11" or 179 cm - need taller or shorter screen or one of those lips).
http://www.laminarlip.com/index.html
Lips reduce turbulance on screens
http://www.saeng.com/edging.htm
stealth edging for screens
https://www.yamaha-motor.com.au/ssl/yshop/
Yamaha Australia on-line - parts available for Stars - not bargain priced
Pirces are on average three times the price in Catalong (US dollars plus import etc)
At least you get to see what is available and how much.
metric_cruiser_customs@tpgi.com.au
New shop in Brisbane - pirces run at twice catalog price
http://www.maxairengineering.com/company/contact.htm
Sell the Dyna Performance Ignition D3K7-4 for the Royal Star $256 US
http://www.gobike.com.au
Parts store online.
http://www.vanceandhines.com/pages/Tech.html
List of Vance and Hines exhaust dealers around world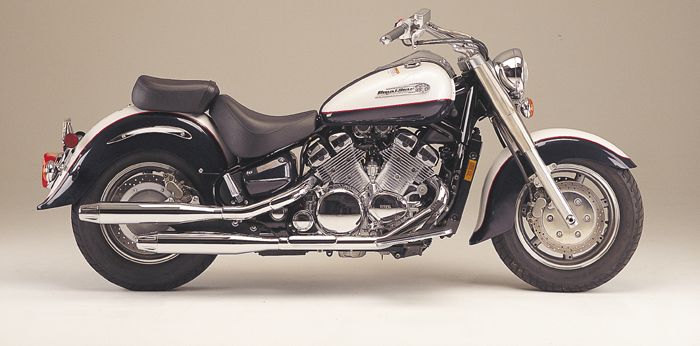 Vance and Hines slip on mufflers
| | | | | |
| --- | --- | --- | --- | --- |
| XVZ1300 Royal Star | 96-02 | Straight-Cut | 2200-18565 | $ 599.95 (US dollars) |
Instructions for 18565 ROYAL STAR 1300 96-01 STRAIGHT CUT SLIP-ONS
http://www.dynobike.com/contact.htm
Melbourne Australia dealer for Vance and Hines exhausts
http://www.supercycles.com.au/index.htm
Western Australia dealer for Vance and Hines exhausts
http://www.imotorcyclestore.com/html/Street/vance_hines/classic_cruiser_slip.html
US site for Vance and Hines exhausts - cheapest at $599 US?
http://www.cruisercustomizing.com
Accessories for Royal Star- includes part reviews. Big Air Kit (4 KN filters) and dyna ignition - dearer then Maxair site.
http://www.vheurope.com/products/cruis_classic_spec.html
Europe site - pic of Vance and Hines on Royal Star
http://forums.delphiforums.com/star_riders/start
International Star Riders Forum - Has a Royal Star section
http://www.star-riders.org/
International Star Riders Association - includes Royal Star bits.
---
Yamaha Royal Star Items on eBay
Find "Yamaha royal star" items for sale on eBay. Discover millions of products at low prices - all on eBay, the World's Online Marketplace.
http://www.ebay.com

Bike Bandit
Factory-fresh ATV and motorcycle parts at great prices. Over 4.3 million Honda, Kawasaki, Suzuki, Yamaha and aftermarket parts available online.
http://www.bikebandit.com

Discount Exhausts for Yamaha Royal Star
Online sales of discount exhaust systems for heavyweight cruiser motorcycles including Jardine 4 into 4 slip on mufflers for Yamaha Royal Star.
http://www.cycleexhaust.com

Yamaha - Motorcycle Online, Royal Star Tour Deluxe
Find an analysis of the Yamaha tour bike made to handle more than boulevard cruising. ... 1997 Yamaha Royal Star Tour Deluxe. Yamaha's New Star is Their Brightest Yet ...
http://www.motorcycle.com/mo/mcyam/rstdlux.html

Yamaha - Star Touring and Riding Association
Organization of Yamaha Star riders sponsors rides, rallies and local riding chapters. Includes message boards, news and dealer maps. ... STAR Multi-Media Presentation. Mission Statement ... What is STAR Touring & Riding. Member Advantages ... Yamaha Service. BYOB Yamaha. EPIC Yamaha. copyright┬ę2002 Star Touring & Riding ...
http://www.rstar.org/

Yamaha Motor Corporation, USA - Build-Your-Own-Bike
... Road Star. Royal Star Venture. Royal Star ... Choose from more than 75 Genuine Yamaha Star Accessory items for the Road Star Warrior, 100 for the Road Star, 65 for ...
http://www.yamaha-motor.com/products/mcy/byobintro_rs.htm

Yamaha - Motorcycle Online, Royal Star Tour Classic
Check out the wide body and classic styling of Yamaha's extra-large cruiser from 1996. ... With the introduction of its new Royal Star line, Yamaha has thrown its hat into the fray of the "American born" retro-style, ...
http://www.motorcycle.com/mo/mcyam/royalstar.html

New Motorcycle Review: Yamaha 1300 Royal Star
The Royal Star is certainly not a bike to mess with. Equipped with one of the finest and smoothest V-4 engines, tuned to deliver massive torque from low revs through one of the sweetest gearboxes you'll ever use, this basically is the bike Harley ...
http://www.theautochannel.com/news/date/19981012/news018687.html

2003 Yamaha Royal Star Venture: MD Ride Review
2003 Yamaha Royal Star Venture: MD Ride Review There are a lot of motorcycles out there, and only so much time and staff to test them. In choosing the motorcycles tested by MD, there are two obvious categories to choose from.
http://www.motorcycledaily.com/21january03yamaha03royalstarventure.html

Royal Star Review--Sept. 1996
Minnesota Motorcycle Monthly Yamaha Royal Star by Michael Kamrad Ready to get outside, shake those cobwebs loose and bust open that "cruiser" stereotype? ... import it (yep, that's right, Butch, import it), you wind up with the Yamaha Royal Star. This bike breaks a few molds. ...
http://www.motorbyte.com/mmm/pages/reviews/roystar9_96.htm
Go to Overture for more results
Mustang motorcycle seats for YAMAHA ROYAL STAR.

http://www.westernpowersports.com/mustang/royalstar.html
ARAI Helmets, Shoei Helmets, motorcycle parts and accessories for Honda, Suzuki, Yamaha, Goldwing, Honda Shadow, Vulcan, Intruder, Virago, Valkerie and Royal Star ... Yamaha Virago, Valkerie and Royal Star, Yamaha Royal Star, motorcycle parts, motorcycle accessories, Bike Week, bike ...

http://www.jimwalker.com/walkspec.htm
http://www.venturers.org/NextGenTech/V2tech.html

ENGINE & DRIVETRAIN
Type: Liquid-cooled 70-degree tandem V-4
Valve arrangement: DOHC, 2 intake valves, 2 exhaust valves per cylinder, adjusting shims
Displacement, bore x stroke: 1294cc, 79 x 66mm
Compression ratio: 10.0:1
Carburetion: 4, 28mm Mikuni downdraft CV
Lubrication: Wet sump, 4.5 qt
Minimum fuel grade: 87 octane
Transmission: Wet multiplate clutch, 5 speeds
Final drive: Shaft, 2.566:1
CHASSIS
Wheelbase: 66.7 in.
Overall length: 97.8 in.
Rake/trail: 30 degrees / 5.0 in.
Wheels: Cast-alloy, 16.0 x 3.5-in. front, 15.0 x 4.0-in. rear
Front tire: 150/80-16 Dunlop D404F tubeless
Rear tire: 150/80-15 Dunlop D404 tubeless
Front brake: 2, double-action, four-piston calipers, 11.8-in. discs
Rear brake: Double-action, four-piston caliper, 12.6-in. disc
Front suspension: 43mm stanchions, 5.5 in. travel, adjustment for air pressure
Rear suspension: Single damper, 3.8 in. travel, adjustable for spring preload
Fuel capacity: 4.8 gal, (0.9 gal reserve)
Wet weight: 784 lb
GVWR: 1175 lb
Handlebar width: 33.3 in., 1.0 in. diameter
Seat height: 28.5 in.
Inseam equivalent: 33.3 in.
ELECTRICAL & INSTRUMENTATION
Charging output: 320 watts
Battery: 12v, 18AH
Forward lighting: 7.5-in. 55/60-watt headlight, dual spotlights, position lights
Taillight: Single bulb
Instruments: Speedometer, LCD odometer/ tripmeter; warning lights for high beam, turn signals, neutral, oil pressure
PERFORMANCE
Fuel mileage: 30 to 39 mpg, 37.5 mpg avg.
Average range: 180 miles
RPM at 60 mph, top-gear: 2690
200-yard, top-gear acceleration from 50 mph, terminal speed: 70.6 mph
Quarter-mile acceleration: 14.41 sec., 92.3 mph
http://forums.delphiforums.com/star_riders/messages?msg=25504.1
The Performance library for the Royal Star from the the ISRA fourm. Charles put this together and it's terrific - saves so much time.
I'm trying to compile some info all in one spot, & was wondering what your favorite royal star threads were..please feel free send a message # to me by email from my profile, & I'LL ADD IT.. to the list if I can: (message thread name & # work fine for me) or start a new thread with what you want to have added..
most of these are about bigfoot, vmax rear, dyna ignition issues, but that is where I started on mine.
if the links break the message # is beside the thread I am naming this ROYAL LIBRARY VOL.1 (Performance issues) hopefully there will be future volumes with your input
Don't Shift ** (7758.1)
V max Diff ** (9779.1)
Rejet Considerations (10763.1)
Bigfoot Plus (12451.1)
? about Bigfoot Mods (12927.1)
Rlystar Carb/cyl Numbering (bigfoot) (11189.1)
Airbox Mod (shim) (14714.1)
Last of the 3 step V max rear hints** (22312.1)
Thanks for the Fuel Smilage (mileage with all mods done) (22378.1)
Rode a well tuned Royal Star (Glenn's) (23022.1)
Dyna 3000 (3rd thread) (23353.1)
Dyna 3000(2nd thread) (15200.1)
Dyna 3000 (1 st thread) (13539.1)
throttle Response (21266.1)
Is it worth the change? (Dyna 3000) (22665.1)
V max diff/V&H Exhaust/Dyna (22335.1)
Any regrets (V max rear) ** (21530.1)
Royal Star V max gear Mod ** (15047.1)
Service Bulletins ** (24320.1)
Swapping R/S rear for a v max one (17443.1)
Some Q's about the V max rear gear swap (18361.1)
V max gears in a royal (14090.1)
and can't for get the bigfoot article
Glenn & Terry Go Looking For Bigfoot
thanks to all the members & Glenn & TC who helped me alot on this..