Soarer Rear Muffler replacement
Friday 4th January 2002
The standard rear muffler on the Soarer is restrictive to say the least. It is built for durability and quiteness. When I removed the originals you could hear the water/acid condensate sloshing around - not a good thing for mild steel mufflers. The goal was to give my Soarer a more meaty exhaust note and increase performance. Here is the muffler I replaced it with. It is a Lukey Ultra Flo Stainless Steel straight through design (you can see straight through it). It is a double off-set design just like the original. I went for a 2.5 inch diameter (same as the biggest part of the standard exhaust). Exhaust brands Walker, Dyno Max and Lukey are all the same now. Genie have sold off the muffler division and then it was sold again making the Genie Tornado hard to find. The Genie Tornado has the same specs as the Lukey Ultra Flow.
It should be available Australia wide - the part number is LSU17272. Like the HKS mufflers the perforated tube is wrapped in stainless steel mesh to prevent the fibreglass from blowing out. Recommended retail price is $179. Tips are also available (extra cost) that just about match the originals. (Some people are getting quotes twice as much, contact my brother if you are having trouble - he can send you some :Andrew Scott, Motormate,1249 South Rd, St Marys, South Australia, http://www.motormate.com.au/ , ph 08 8374 1500, ph 08 8357 4211)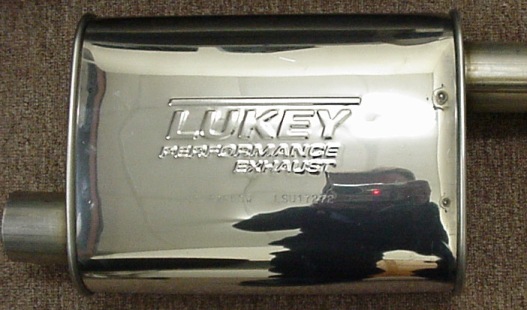 As you can see it has a mirror finish and looks great (that's my brother Andrew taking the photo in the reflection - he owns the autoparts store!). I didn't want one of those round section mufflers that stick out like dog's balls. The large oval chamber gives a more pleasing mellow sound - the round ones I have heard sound a bit blatty.
The muffler is smaller than the original (top).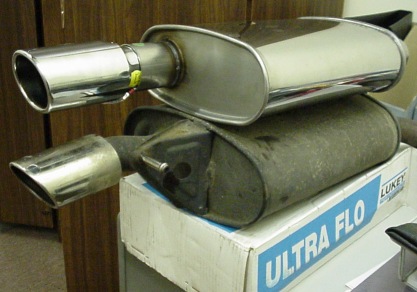 I will be getting tips like the one pictured - match the originals very well. Well it looks great but how does it flow? So out to the shed to the high tech flow bench. I wanted to know how it compared to the standard muffler and how it compared to a piece of straight through pipe. The Standard muffler was tested first. Then on with the Ultra Flo - the difference in pressure loss was huge as you can see from the graph. The straight piece of 3 inch pipe beat them all of course. The Ultra Flo gave a 97% improvement in flow!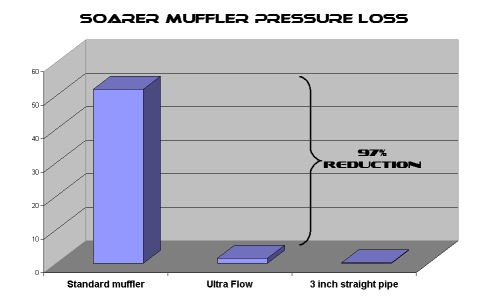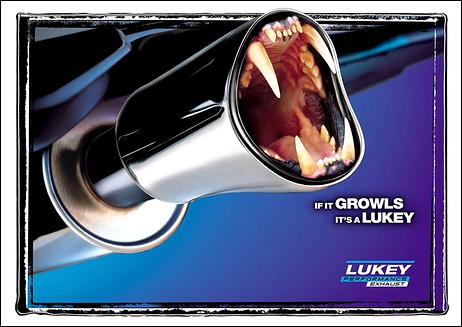 The blurb that came with the muffler;
UNIQUE STRAIGHT-THROUGH DESIGN maximizes flow and power.
ALL STAINLESS STEEL MATERIALS for optimum appearance, corrosion resistance and longer life.
Withstands the heat of competition with durability up to 1900F (1038 C), includes high chromium content,
high luster T-304 cover and heads.
Exclusive CONTINUOUS ROVING FIBREGLASS for deep, powerful true performance sound. Won't blow out for long life. WITHSTANDS TEMPERATURES of 2000F (1093C).
LARGE DIAMETER PERORATIONS maximize sound adsorption and minimize turbulence.
High chromium content STAINLESS STEEL MESH for high temperature durability and long life.
Available in nipple diameters from 2" up to 3 1/2 " to fit a wide variety of motorsport and street applications. If you demand maximum performance, improved fuel economy, and a great sound, ULTRA FLOW is the muffler for you.
Another blurb;
We can fit high performance mufflers like the WALKER ULTRA FLO muffler. Features of this muffler include;
Precision engineering from Australia's leading exhaust manufacturer. Long lasting stainless steel.
Up to 15% more power at the rear wheels.
Unique straight through design.
Maximised exhaust flow for peak efficiency.
Up to 34% better flow and 24.5% less back pressure.
Better fuel economy.
Totally street legal.
Environmentally friendly.
Powerful throaty sound.
5 year unconditional guarantee.
More Links to Lukey stuff;
If you have trouble locating them email me.
This counter is not used for any admin. purpose and is reflective of the total number of visits ever!