---
---
Bought mine over the internet, couple of phone calls and it was delivered to my driveway - piece of pie. Here is one the photos provided. Got some Japanese history and the Auction Grading Sheet (Grade 4 - woohoo!). It is number 663 of only 871 ever built with Active Suspension and 4 wheel steering.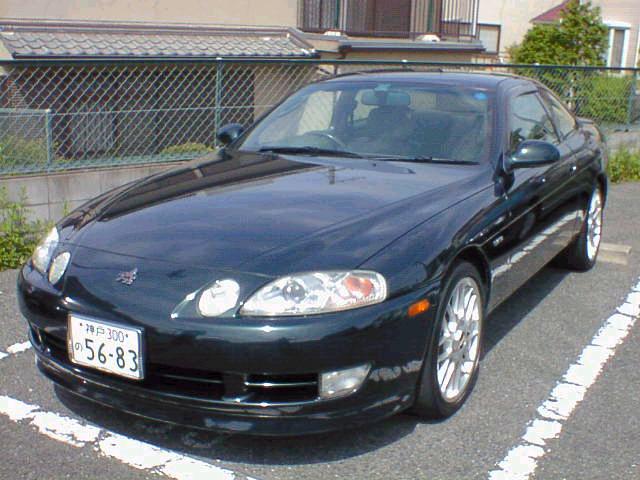 Lexus Supercharged V8's Bullet Lexus Supercharged V8 in MX5 and 2000 hp 1UZ-FE
Headlight Cleaning Fixing brown headlights filled with water.
Oil Analysis links to oil stuff and the results of my V8 oil analysis
V8 SuperCar exhaust This is a 3 page colour pdf file (119 k)
Twin Turbo Stuff Replacing Soarer ceramic tubos with Starlet steel ones.
Soarer V8 Ram Air Intake On going saga of testing and building proto-types. Latest is 50% larger intake using injected foam.
Soarer Automatic Transmission Fluid There is only one Trans Fluid for a Soarer and it ain't no Dexron.
Soarer Rear Muffler Replacement Stainless steel straight through rear muffler over the counter for $179
Soarer V8 Exhaust Measurements Pressure loss and mass of the standard V8 exhaust components.
Soarer V8 Exhaust sounds V8 Soarer gets louder as you remove the exhaust components - listen here.
---
Hot List (and some harsh reviews!)
Some good stuff here including contacts for other Australian owners. I am number 264.
No nonsense tech site - Warning messages, Diagnostic screens, removing trim, headlight clean, cruise delimiter etc.
Plenty of pictures including Rand's V8. Rand is also the Surfer King, he has found all sorts of stuff on the web regarding the Soarer
Check out Todd's 12.30 sec Soarer V8. Standard except for NOS. Todd is also the guy to get Lexus badges from if you feel the need.
If you need to get someone to fix your V8 now then this is where you go. Don't forget to read the FAQ. Top Speed delimiter available.
A lot of this stuff is applicable for all cars - give it a read for sure.
Magazine site. This place is an absolute breath of fresh air. So much free stuff and real cheap. An absolute must. I have waded through so much rubbish, one sided advertisments, endured countless re-telling of myths - especially performance myths - and read brainwashed lemming's opinions of over the counter "performance" products, that I was beginning to think that no-one could independently think for themselves. Gullibles' who read the side panel of a "performance" product and then start sprouting it's virtues from a postion of expert authority. If you have had enough of this sort of stuff then AutoSpeed is for you.
I reckon these magazines are pretty good too. This is where you go to order back copies etc. I have referred to specific issues and Soarer articles elsewhere here - so if you want your own copy this is where to start looking. Sometimes it is best to ring 1800 801 647 to see if they have your copy in stock - the entire list is not on the website either. Grab a copy from the newsagent for little pictures of past issues.
---
Got any links, ideas, questions, information? e-mail me. I am especially interested in experiments/investigations relating to Soarer performance.
Peter Scott
Adelaide, South Australia

Electronic mail address

Web address
http://users.bigpond.com/pgscott
---
Last revised: August 26 2001