Saturday 7th December 2002
Replacing old rubber brake hoses with Stainless braided hoses lifts braking performance and gives great braking power and improved pedal feel.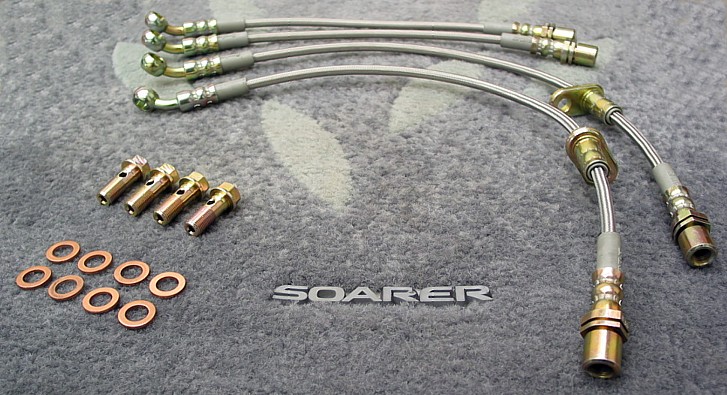 I always wanted braided brake hoses for my Soarer - I used to be right into motorcycles and braided hoses always transformed the brakes - superior feel, more power etc. So I checked out the local Goodridge braided hoses. I would have to get them custom made, you buy the hose, cut to length, pick out the fittings and they assemble them for you. A length of hose was $100 and $25 for each fitting - so one hose for the rear would be $150 - so for the set it would cost $600 - then you need to find the fitting that supports the front hose in the middle. Quite a bit of money. Then I heard ages ago that Steve Malkin was making a kit and getting them road legal. Best news of all was that a complete ready made kit for the Soarer would only be $345 for ALSC members .
Hoses and hardware are two of the most neglected areas of brake maintenance, and the gradual degradation of these components can contribute to poor braking. Original rubber hoses tend to swell when the brakes are engaged, which results in a spongy brake pedal and increased stopping distance. My genuine 1991 Soarer rubber brake hoses are now getting on 11 years old - I expect them to last, but really they aren't designed with ultimate braking in mind.
Stainless Steel Braided Teflon Hoses could very well be the easiest and least expensive way to upgrade a braking system.
Steel braided Teflon flex hoses are popular and for good cause. These hoses are stronger and provide the driver with a more firm pedal as compared to the standard rubber type hoses which can swell under pressure. This situation can be aggravated by heat, both radiant (from the rotor) and conductive (from the brake fluid). The stainless steel and Teflon hose both handle heat very well and tend to maintain a constant cross section under these conditions. Braided hoses are a very worthwhile upgrade and perfectly compliment good pads and rotors.
In any braking system there is flex - in the pedal, in the caliper, but most of the flex is in the hose. Every time you step on your brake pedal, up to 1500 pounds of pressure moves brake fluid from the master cylinder to the caliper. Most of the way, the fluid moves through rigid steel lines. Unfortunately, these steel lines can not complete the journey all the way to the caliper because movement in the line is necessary to connect a non-moving part (the chassis) to a moving part (the brake assembly as attached to the wheel). Factory hoses are made from rubber and nylon. Even with the nylon braiding inside the hose, when that much pressure hits it, it will expand. This expansion, or flex, weakens the braking system as it allows for loss of energy meant for the calipers. In a Stainless Steel Braided Teflon Hose, this flex is reduced dramatically. This means quicker pedal response and shorter braking distances. Rubber hoses are cheaper than Stainless braided hoses. Every race vehicle upgrades to stainless hoses - one of the first things done in preparing any race vehicle.
I had already upgraded my brakes with DBA front slotted rotors, EBC green stuff pads front, machined rear disks with EBC Kevlar pads - my brakes were now as good as they could get with standard rubber brake hoses. Now I could tell for sure just what sort of difference the new hoses would make with everything else in tip top condition.
How hard to fit?
The hoses arrived all packed up nicely in a bag - works of art all of them. Great to feel and hold - they just ooze quality. Unfortunately I never get to see them much now that they are installed! - but it's nice to know they they are down there tirelessly working and braking my big heavy car again and again and again.
I did the rears first.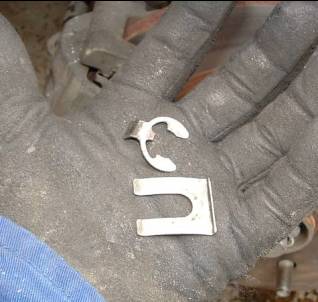 There are two clips that hold the hose in place to the body at the rear. The circular clip is larger than the flat spring clip.
These clips have to change position with the new hoses. With the rubber hoses the flat square small diameter clip is on the bottom of the body bracket. This has to be moved to the top of the bracket with the new hose.
Makes no difference to operation of braking system. But I tried to put clips back in same position and it just wasn't going to happen! I didn't check the grooves beforehand! So the clips have to be matched up with the correct slots.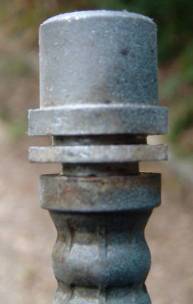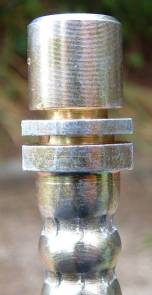 New rear hose on the left, small diameter groove above
- circular clip goes down the bottom.
Old rear hose on right, small diameter groove is below-
circular clip goes up the top.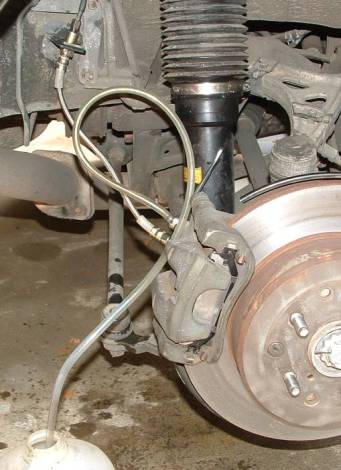 Once the hose is fitted the brake system has to be bled. I like to use a length of clear plastic hose that fits neatly over the bleed nipple - only $1 or so from local hardware store. Stops brake fluid going everywhere, putting a loop in the bleed hose keeps air out and makes it real easy to see bubbles and old fluid being replaced with new fluid.
My car is a UZZ32 - that's why you can see the rear steering control arm in this shot, as well as the Active oil suspension strut and Twin Turbo (larger diameter) type brakes. The rear pads are the same across the range I think, but the larger diameter disc gives greater leverage to the brakes increasing force. You can see that on this disc the inside of the disc isn't used - the pads run around the outside only.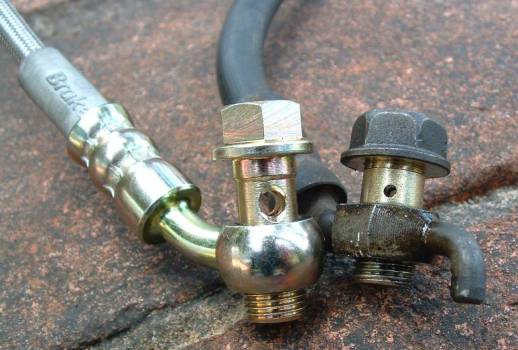 The new and old hoses. The new set came complete with everthing I needed to complete the job - new banjo bolts, washers etc included. The bolt head is a smaller size. That short grey rubber outer sleeve with the word "Brake" on it is the key to getting the hoses street legal. It is this rubber sleeve that protects the stainless braided hose during the infamous "whip test" - where as part of the testing procedure the hose is pumped up to massive pressure and then "whipped" or rotated in a machine at high rpm for hours and hours. If the hose shows any wear after this test it fails.
These hoses passed no sweat!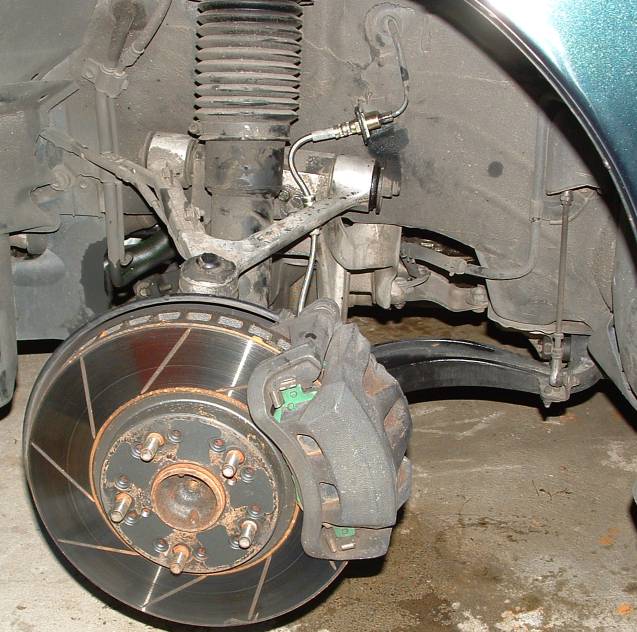 On the fronts, the clips that hold the hose to the body bracket stay in the original position. You don't have to swap them like on the rear.
The fitting that holds the middle of the hose is chunkier and thicker than the original. The bracket that holds this middle fitting doesn't perfectly fit anymore. The first side I did I just fiddles aournd and bolted it up and no worries.
On the other side I removed the braket (two small bolts - real easy) and filed it so that it would be a perfect fit. I had to make the half moon cutout a bit bigger so that the thicker fitting would fit perfectly - this was also very quick and easy.
I should have done it to the other side rather than mucking around trying to get the fitting bolt back in.
The hoses were very easy to fit and if you know how to bleed brakes then the whole procedure is a simple DIY.
So what were they like?
My brakes were already excellent from the pad and rotor upgrade.
Now with the braided stainless hoses the first thing that struck me during the test drive was the POWER!
For the same pedal pressure with the old rubber hoses I was now getting the ABS to activate on a dry road in a straight line. The pedal feel was better, but the brake power I was getting was the real nice surprise. Now when I mash the brake foot I get a much better response. Don't have to press so hard anymore to get same braking perfomance.
I still remember clearly those first few stops with the new stainless braided hoses - I could feel it in my face - my cheeks getting pulled forward as the big Soarer pulled up. The first right handed T-junction, the approach to the railway line, over the creek bridge and another stop. I was in heaven! Big brakes are so rewarding.
Since fitting them I have done about 1500 km - mostly Outback blasting to see the eclipse in Lyndhurst. No problems at all. Gave them a big workout and the performance was faultless. I wouldn't hesitate to recommend these hoses - they are top stuff.
The hose used is extruded Teflon tube with a stainless steel single wire braid cover. It has a temperature rating of -73deg C to +232deg C and is rated to 7000psi. Its applications include Brake and Clutch hoses, fuel injection nozzle hoses, fire extinguisher lines, turbocharger oil feed and boost hoses.
On the Soarer set you have a banjo fitting, a metric female fitting and on the front hoses a centre support. All of these fittings are machined from steel and have either a gold zinc plating or a satin plating that can be further enhanced by polishing.
The insert that is used between the hose and the fitting is a special compound formulated to make the hose assemblies pass all the nessecary ADR 7/00 requirements.
Steve makes these hoses for all applications. On his Twin Turbo manual Soarer he has also replaced the clutch hoses and just about every other hose under the bonnet as well! Steve can take the appropriate length hose and fittings for any application, assemble and crimp the fitting to the hose using a hydraulic crimping machine. Once the hose is made he then pressure tests each hose to 3500psi and stamps it to indentify the manufacturer.
How did I pay?
$345 Aud is special price for ALSC members at the moment - (rather than $420) about about $195 US or £124.
Postage & Handling Costs:
Australia, Capital cities and surrounding suburbs will arrive the next day after postage, all other places will take 2 days after postage. Cost $11.00 Inc GST
UK $23.00 Inc GST 7-10 days (8 1/2 pounds)
US $20.00 Inc GST 7-10 days ($11.30 US)
Maltech
Brake and Clutch Hoses
Steve or David Malkin
Phone 0418 378 939 or email:
Just had Steven Malkin's lines fitted with stock Toyota pads (I had already bought these prior to purchasing my car - didn't realise that I'd be able to get TRDs at a discount then !), my brake system flushed and refilled with Motul RBF600 brake fluid, and front discs machined, in anticipation of PI in 2 weeks.

For those contemplating where to get the fluid - I got mine from various bike stores in Melbourne. It comes in 500mL bottles, and for the flush and replacement, Mark from S&LC told me he got by with just the one bottle.

You've read the reviews on Pete Scott's site, so you know what to expect with awesome discs and pads. I guess my upgrade is the baby one :-)

And it's teeeee-rrific. The pedal feel from the moment of driving off is noticeably firmer, and obviously there's no squeaks from the pads anywmore. It being a rainy day on B'wood Highway, I couldn't resist a few high speed stops. Goddamn, I say, that ABS is finally working ! And where it feels most evident is in the last portion of the stop - it pulls up hard enough compared to the old system for it to hurt. Mark claims that as things settle in, the performance should improve measurably in the next 48 hours or so.

I can only imagine what the Supra rotors/Pete Scott's combination must feel like - I think it would be devastating, but alas money's the thing.

BFYB, I think this kicks major butt even on an otherwise stock system (albeit with large TT brakes). Thanks to Steven Malkin for an awesome product ! Definitely recommended guys and gals !
Not enough has been said about Steve and David Malkins recent efforts for the benefit of the club and it's members.

I have had the Maltech stainless lines fitted to my old girl for some time now, and, as is the norm, you get used to the car and become somewhat complacent.

I have had the pleasure of living with Craig Deans supercharged 1997 V8 for a couple of days, and although the car is a delight to drive, give me my stoppers any day.

My V8 runs TT calipers and rotors with greenstuff pads which I put in to do Philip Island. It's fitted with Maltech stainless lines and it's a joy to drive and better to stop.

Get into a low Kms 1997 model and you would naturally expect the brakes to feel firm and fresh, but how wrong could you be. Spongy, soggy feel to the pedal, lack of feel under hard braking, and a total lack of the progressive rate of pedal hardness that follows the fitment of the Maltech lines.

Anyone that has fitted the Maltech lines will attest to the fantastic feel that they give to even unmodified braking systems.

Treat yourself to a set of these, and whilst you're about it, change and flush the fluid to a DOT4 type, and forget about wiping off 5. These units will do it for you. Talk about an improvement.

Now if you think I'm blowing sunshine up their arses, then you're right. Both Steve and David attended at Philip Island to be support crew for all of the guys racing there. They were kept on the go all day with minor repairs and they provided a service van full of tools and 'on board' air pressure for tyre inflation / monitoring.

Now we're at the next scheduled function, and here they are again. Crawling over Barry's car, fitting a set of lines, and bleeding and flushing the system. Demonstrating to the guys how to fit their own lines and flush and bleed the systems.

It's a bloody long way from Drysdale to Philip Island to turn around and come back to Melbourne a week later for the next event, yet this week they even bought Steve's shabby looking TT for a spin to blow the cobwebs off as well as the work van.

Many thanks to Steve and David for their support of the club and for their assistance generously given to the members in recent times.

Do yourselves a favour and have Maltech stainless lines fitted to your Soarers. After Vlamos bushes, they must be the next best thing to sex!!!