Soarer Intake and Exhaust Acceleration - Results
Friday 28th September 2001
Results:
So this is the time it took for my big heavy car (1880 kg = 4145 lb) to accelerate up a slight hill in 2nd gear.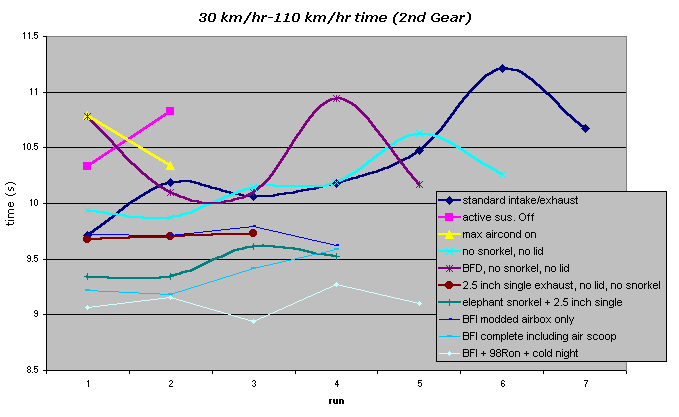 The first thing I noticed is how the times fluctuated.
Also the times increased the more runs I did.
This is probably because of heat soak (manifold and air intake pipes absorbing heat and then heating up incoming air) and the air inside the engine bay getting hot and entering the engine.
After each run, I stopped long enough to record the time and then drove back to the start point and try again.
The car didn't have time to cool down between each run.
So even the extra heat from 3-5 runs effected the car and slowed it down.
So a pod filter would suffer terribly unless you made a sealed heat shield for it.
It's always a good trick to get rid of the high and low values and average the rest. Once you do that a pattern emerges.
Turning off the Active Suspension didn't make the car go faster - no use doing that.
Turning off Air-cond did make a difference.
The bigger intake duct (BFD) was a load of crap. It was all noise - sure felt faster but it was worse. Probably because it didn't have a resonator chamber. Another case of trying to improve on the manufacturer and failing miserably. My advice is to be very wary of smooth aftermarket intake pipes with no resonator.
Taking snorkel and airbox lid off helped, but increased hot air intake which slowed car down. Fitting the elephant snorkel was better again and no hot air. The elephant snorkel finished under the headlight - no ram air effect.
Went out again last night for another blast. Ran out of fuel again so had to roll down to the service station again! Bloody Hell. When my orange warning light comes on it means I am stuffed, the mountain road to the service station is so steep that the car runs out of fuel going down the hill, it will usually restart on the flat at the bottom. Anyway the Mobil is back in service again so I filled it up with Mobil 8000 Octane RON 98. It was a cold night so I went and did some more testing. Got the best times yet.
If you would like to get a real rough estimate of rear wheel horsepower you can try the following
Switch display to trip odometer
Mine is digital, I drive real slow along an empty road and watch for it to click over from say 54.1 to 54.2. and stop, take note of a nearby landscape feature (pole). I find it too hard to then boot it, watch for it to click over to 54.6 (400 m) and glance at the terminal speed. It's easier for me to then drive along road and slow down when it gets to 54.5 and watch for it to click over to 54.6. I then stop and note another landscape feature. On my favourite test road It gives me a yellow sign to start at and a roadside marker to finish at. I now have my rough 400m or quarter mile. I line it up, stick the boot in and as I flash past the final marker I can see digital speedo clearly - the terminal speed is more important than the time.
Once you have the terminal speed, you need to know the weight of your car in lbs. with driver and fuel.
Then go to this site: http://www.smokemup.com/utilities/calc/hp_mph.cfm
Out pops the hp at the wheels. I got 138 km/hr going up hill, 144 km/hr back the other way - average of 141 km/hr (divide by 1.6 to get mph) = 87 mph. Mass of 1880 kg (times by 2.2) = 4145 lbs, out pops 185 hp or 138 kW at the wheels - sounds about right. If you don't have an active then your car will be at least 100 kg (220lbs) lighter than mine.
It's pretty rough but I get the same terminal speed everytime - so it can be another good tool to determine if any mods make a difference to your car. 0-100 and 1/4 mile times are far too dependent on launch technique and are not always the best way to measure improvements.