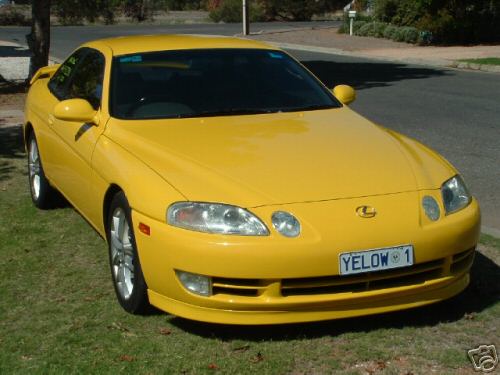 passed in on Ebay on 14-Apr-07 starting AU $9,000.00 buy it now AU $11,000.00
toyota soarer/lexus 91 imported in 2002 second aust owner head turning skyline yellow great light grey leather 17 inch roh wheels good sports tyres, new bushes all round dark tint original uzz32 limited no mods last hundred thou k's country k's selling due to just had baby and getting people mover. cd stacker not loading but will include cd dvd mp3 player touch screen repaired works a-1 only one small hairline split in passenger arm rest hardly visible repaired. new cat converter trans serviced oil changed needs new coolant level sensor will try to replace before sale tint has some feint scratches in it only visible up close paint is immaculate, all usuall soarer faults already fixed due for timing belt and suspension fluid change rear brakes in next 5000k
Hi mate, I was wondering what you're reserve is, and also what's been done to the car, and any problems that you know of??
hi it's stock except for new cat converter, spoiler.needs a new coolant sensor as warning low coolant when full i just unpluged it but on initial start up will show warning.i will try and replace soon when can get one from wreckers.it was already yellow when i got it 4 years ago and i just had it repainted $4ooo,ooo looks imaculate not a scratch or swirl.my reserve is $9000,000 firm as is
hello could i have pic of the engine bay? does the car have Service history and books. how long have you owned the car? and what the reason for selling it? when was the car imported? have you had any problems with the car? does the car have any minor or mayor problem with it? how much does it cost to fill a tank? and how far does 1 tank of petrol get you? has the car been crashed/stolen? have you done any mods to the car? Does the car have Engine Immobiliser? does the car have any damage on it? (eg paint damage/missing ,dents cracks? does every think work on the car 100% percent? (( like POWER, WINDOWS , ELECTRIC SEATS , Dash )) thanks mate....
i have owned car for four years originally imported by viper motor sport adelaide.the paint is immaculate except for dour handles as they were not removed when resprayed and have some flakes of clear coming off very minor. everything works i have had touch screen repaired which included mod so it wont break down. only thing i need to replace is the coolant level sensor as it is warning of low coolant level when it is full. i have unplugged it as its not required as i check levels weekly.the active suspension could do with a fluid change only a slight bounce when first started up and drive over bump at normal speeds drives like on rails.i have receipts for all work such as bushes, power steering, aircon compressor and hoses, cat converter sports,servicing etc.the tint is realy dark maybe illegal ive never had any probs with cops but it does have some scratches and could do with new to match the quality of rest of vehicle, i have put a lexus badge on front also the console cup holder is missing replaced with yellow blank. the leather on side of drivers seat has usual wear and discoluor due to where the belt rubs.see discription for any other details.60litre fuel tank 10-12lt per 100ks.will send pic seperate they all look the same black and silver and lotsa black boxes n hoses